"Nice shoes!"
Blank stare.
Imagine getting a compliment face-to-face and just… not responding. Awkward. But when it comes to online reviews on sites like Facebook, G2Crowd, TrustRadius, and the app store, many companies are radio silent on customer reviews, unless they're negative. 
Your happy customers deserve responses, too. Replying to these reviews will not only show your customers that you value their business, but it will also show potential customers how you will treat them. Below we'll look at:
Why it's important to respond to positive reviews

Real examples of how to respond to positive customer feedback

Why you should develop a plan to share feedback with your team
Why it's important to respond to positive feedback
No matter if you're getting feedback on your customer service, your product, your blog, or anything related to your business, it's important to respond. Replying to positive reviews goes beyond just having good manners—although that's a good reason, too. Saying thank you to a customer or just acknowledging their positive review can have a knock-on effect. This simple step can put you at a massive head start compared to your competitors. Replying to positive reviews can:
Bring in new customers: If people are window shopping and reading reviews, they're trying to decide whether or not to buy from you. How you respond to reviews can make a good impression for prospects. 

Improve customer retention: Replying to positive reviews shows your customers that you care for and appreciate them.
Real examples of how to respond to positive reviews
What to include in every reply
Get personal & say thanks
Talk to your customers like you would if you were on a phone call or seeing them in person. When responding, don't begin with "Dear customer." Use their name instead. If their name is Bill, start your reply with "Hi Bill" or "Good afternoon Bill". It's that simple.
Next, say thank you to the customer for taking the time to leave you a positive review. You can fill in the rest of the message with other specifics about their review, but starting and finishing your reply with a "thank you" is important.
You should also be mindful of using generic templates to respond to feedback, even when you are just saying thanks for a positive review. One scroll down your list of reviews will expose this lazy tactic, and your customers (and prospects) will pick up on it.
Get specific
Making replies as specific as possible will show the customer that you actually read and absorbed what they said.
This is an active listening technique that shows the person you're talking to that you are listening to what they say. Repeating what the customer said or picking up on a particular product or service they mentioned is an ideal way to do just that.
Look at this example:
By repeating the brand of car the customer has, the garage owner is clearly showing them that they not only appreciate their positive review—they've actually read it.
Be human
Here's something you may not know—responding to reviews (positive or negative) can help boost your search engine rankings. This doesn't mean you should stuff them full of keywords to try and rig the algorithm. It's actually the opposite—you should keep your tone of voice as human as possible.
Reply template example: Rave reviews
Learning how to respond to positive reviews is a bit like accepting compliments—it can take some getting used to.
For businesses, there's nothing quite like seeing a 5-star review pop-up. When responding to rave reviews (which you should do ASAP), stay humble and appreciative. Remember, these customers are the ones that are going to tell their circles about your product, so keep it all about them.
Check out this response Made.com wrote after a happy customer posted a rave review on Trustpilot: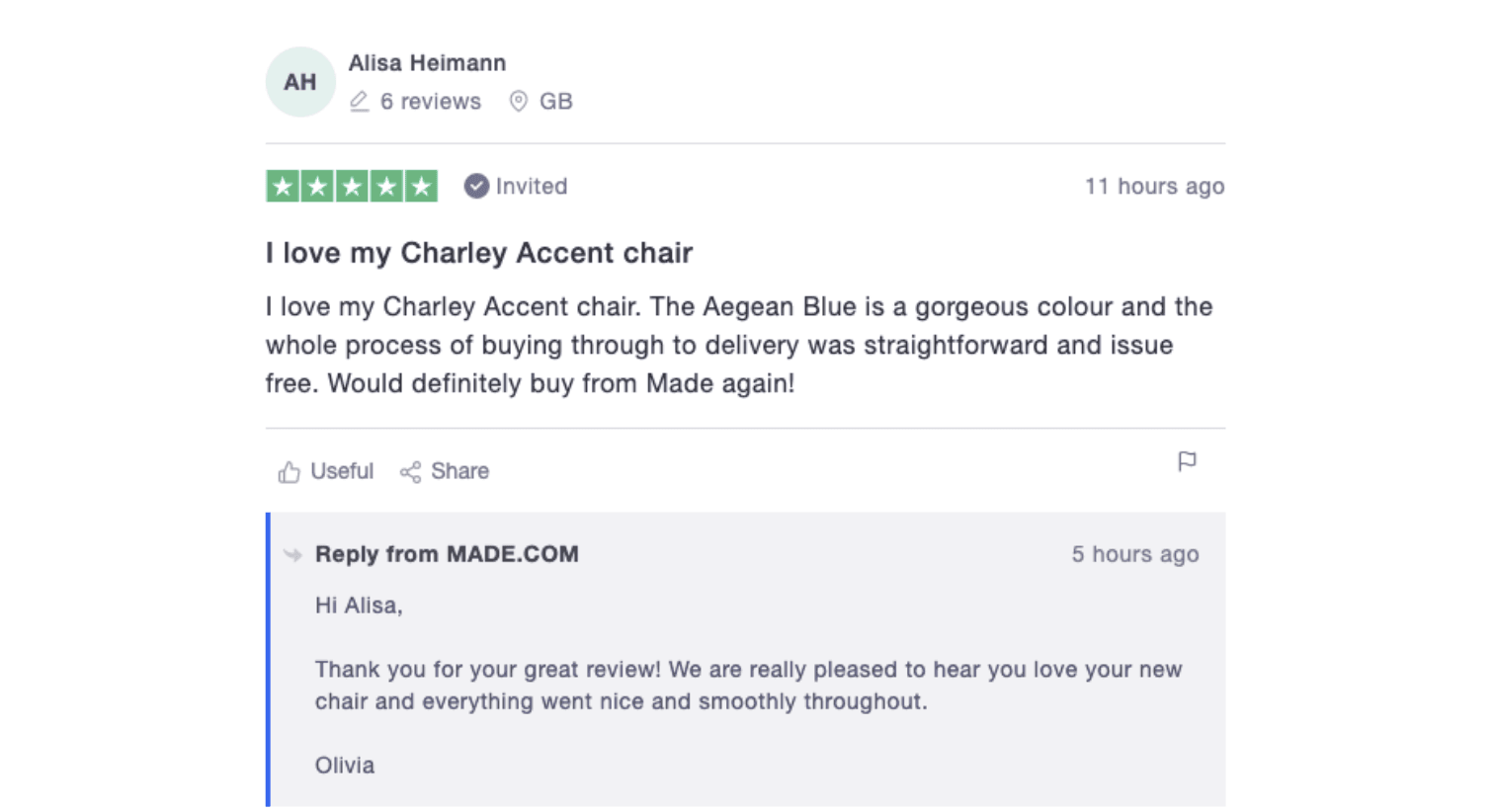 This response ticks a lot of boxes because it:
✅ Addresses the customer by name
✅ Is written just 6 hours after the review appeared online
✅ Mentions the product the customer purchased and thanks the customer for their business
How to steal this positive response
Got a rave review to respond to? Try this:
Hi [CUSTOMER NAME[,
Thank you so much for your amazing review! We are so happy to hear that you are enjoying your [PRODUCT PURCHASE]. Please let us know if we can help you with anything further, and thank you for taking time out of your day to leave us this super kind review.
From all of us at [COMPANY] family, we look forward to seeing you again soon!
[YOUR NAME]
Reply template example: Storytellers with a LOT to say
Sometimes, reviews take us on a journey.
They are so happy with a product that they want to paint us a picture of how they came to find it: what problems they encountered and how your company has solved them. Like any good story, these reviews are structured and have a start, middle, and end.
Like this review from a restaurant patron:

The customer clearly came into the restaurant for a drink with his friend, but it was the staff's attention to detail that won him over. The restaurant's response was perfect because it took the praise while highlighting the bartender's hard work:

How to steal this positive response
If you get a storyteller review, here's how you should respond:
Hi [CUSTOMER NAME],
Reviews like yours make our day because it makes all the hard work worthwhile. It's so fantastic that [PRODUCT OR SERVICE] has made such a difference and has finally solved your problem.
Thanks again for choosing [COMPANY], and we can't wait to see you again!
[YOUR NAME]
Reply template example: Customers who love your product and want to help
Even customers who are super happy with your product want to offer constructive feedback in their positive reviews.
Replying to these types of reviews is important as it shows customers that you are actively listening to suggestions on how to improve your product. When we receive these types of reviews at Front, customers tell us how to improve the product to make their lives easier.
Check out this review we received in 2019:

The review was very positive (check out that 10/10!), and we're lucky to have helpful customers who want to make our product better. The constructive feedback was noted in our response:

This response works because it:
✅ Thanks the customer (and addresses them personally)
✅ Acknowledges the positives (it's making the customer's life easier)
✅ Takes on board the workflow issues and reassures the customer that the development team is working hard to fix them
Two years later, and we're happy to report that the issues have been fixed.
Reply template example: Stand-up comedians—people who try to be funny
Customers like to have fun like the rest of us, and sometimes it spills into their reviews. Check out how this comedian-turned-reviewer praised a company when they purchased… a gallon of milk.
This whole review is a ride, and the customer is obviously dabbling in sarcasm. But reviews like this open up the door for companies to mix up their replies and have a little fun as well.
Here's how we would respond:
Hi [CUSTOMER NAME],
Thank you for your review. Our entire ethos at [COMPANY] is to nurture up-and-coming Nobel Prize laureates—and it looks like we've achieved it!
Have you tried out our chocolate milk? It's ideal for late-night study sessions.🥛
Thanks again for your review,
[YOUR NAME]
Share customer reviews with your team
When your company gets feedback (good or bad), the rest of the team should know.
Our friends at CustomerSure said it best: "If the first mistake is to ask for feedback and do nothing about it, the second mistake is to get valuable customer comments but only let a few people see them." So, how should you do it?
Companies often make the mistake of gathering feedback and summarizing it before giving it to their team. If your team gets feedback like this, they won't have any context about who the customers are and what their problems were.
To make sure your team knows exactly what your customers are feeling, develop a plan to share feedback with them. You can do this in three easy steps:
Figure out a way to present customer feedback to your team

Make customer feedback easy to understand

Automate the process so it runs on its own
Related reading: Check out our detailed guide on how to share customer feedback with your team.
Have unanswered reviews? Time to get replying.
Replying to reviews—whether good, fine, or ugly—is an important part of customer service.
What may seem like a simple "thank you" to a positive review on your end can change how customers (and future customers) view your brand. Responding to positive reviews shows customers that you care about them and take their feedback into consideration.
But it also does something more—it humanizes your brand. A company that shows public appreciation for customers and says thanks for positive feedback is a clear message to future customers: we got you.
Written by Kimberlee Meier
Originally Published: 8 June 2021