Teams have to make inevitable trade-offs as they grow. People are distributed across multiple offices or time zones. There are specialized or segmented roles, so finding the right resource for a customer is difficult. And you definitely can't have everyone sharing gifs in the same #random Slack channel.
Luckily, workplace transparency — one of the most cherished aspects of a small team or startup — is one thing you don't have to give up. You can preserve the feeling of a smaller team with a shared email inbox, which makes sure critical information doesn't get siloed or lost.
You might worry that a shared inbox can get unwieldy, flooded with emails and unclear responsibilities. The trick is to set up a clearly defined, automated prioritization system that makes important information accessible, but funnels every message to the right place.
Automate prioritization
As your business grows, it makes sense to open up as many lines of communication with your customers as possible. You want to build a community around your product and make sure your customers can reach you easily when they have a problem. That means you'll be getting messages from multiple email accounts, through SMS, Facebook, Twitter, and even over the phone. And those messages can be about anything — from a support question, to a job application, to just a friendly "hello" from your biggest fan.
A shared email inbox aggregates all those inbound messages and allows you to reorganize them in a way that makes sense for your team.
This is a basic example, but you can build in several layers that dispatch a message to multiple people, entire teams, or even fill up a queue where a message can be claimed by anyone. A properly configured shared inbox ensures that every message — regardless of where it came from — gets to the right person, without any human interaction needed.
Here's how you can make that happen.
1. Merge communication channels into your shared inbox
It's easier for your team to manage all customer communication in one shared inbox — but customers have their own preferences for how they like to communicate. Reconcile this by integrating all your communication channels into your shared inbox, so all of your messages funnel into one place.
In Front's dashboard, you can create a shared inbox from your Settings: select Inboxes and Add a team inbox. From there you can add the channels you need: email, Twilio SMS, Twitter, Facebook Messenger, Intercom, Smooch, and more. You can have a separate inbox for every channel, or you can group channels together into multi-channel inboxes: like "Social" for Twitter and Facebook and "Support" for Intercom, Email, and SMS. Once you've connected these channels, your team can receive, organize, and respond to customers in all of these platforms directly from Front.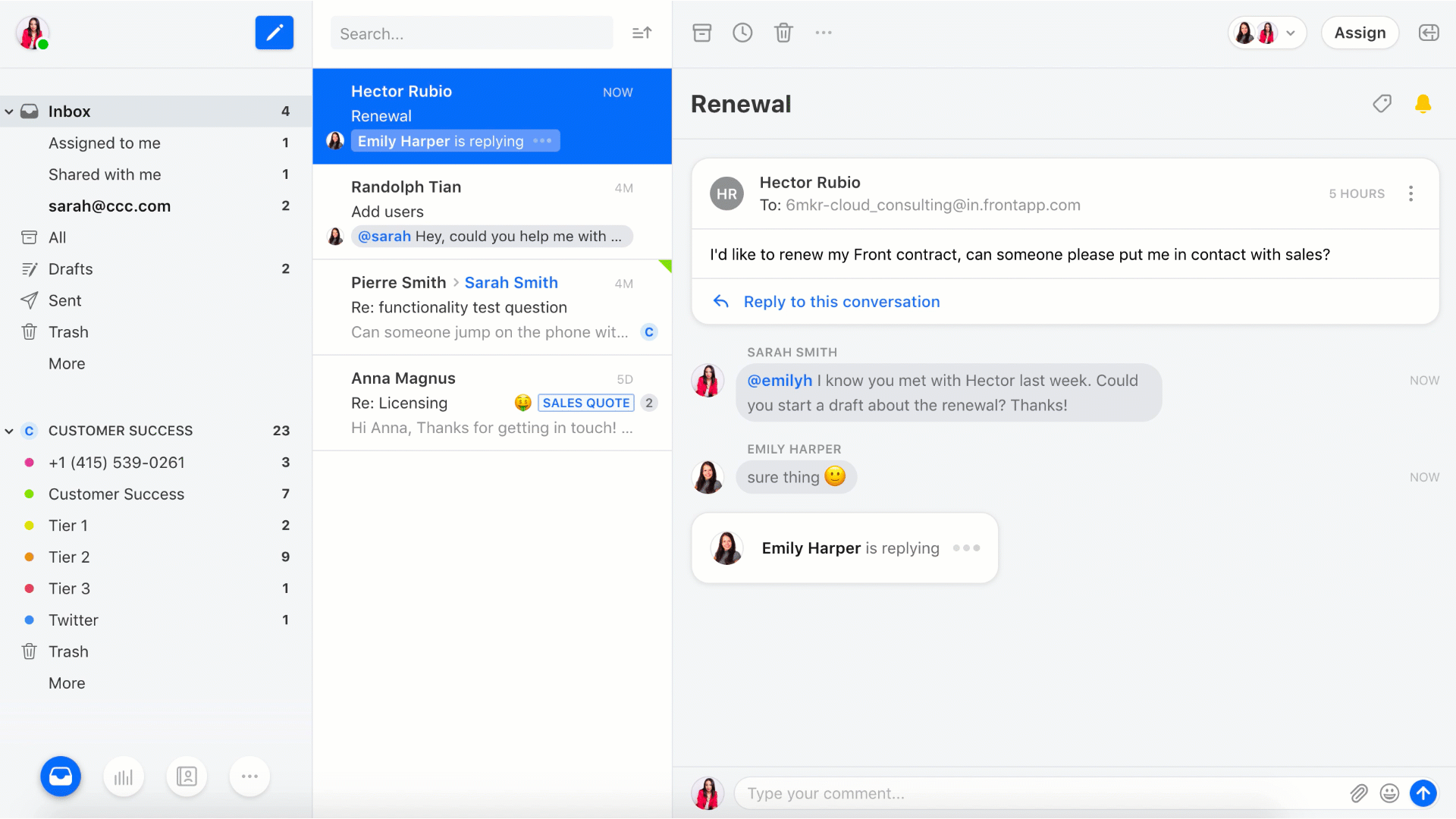 On the left side bar, you can see the different inbox channels, which you can combine however you like.
If you're not using Front, you can hack together an alert system with Zapier or IFTTT. Just use each incoming message as a trigger and have it send an email to your preferred email address. You won't be able to respond through email, but you'll reduce the amount of time you spend on email triage.
2. Build an automatic workflow to make "inbox zero" easy
Most teams using a shared inbox have at least a few rules set up to assign messages or filter out spam. As your team gets larger, you'll need to use a combination of rules to put together a completely hands-off workflow that brings each message in front of the right person.
Front's powerful rules engine lets you automate certain actions in your inbox.
Here are a few ways to improve your automation game:
Use API integrations for your favorite tools like Salesforce, JIRA, Intercom, and Asana to make every tool you use a part of one unified workflow.

Set up a tagging structure and use rules to automatically tag messages.

Create message response templates that can be triggered with rules for common customer questions.
This set up can require more work up front but saves hours every week for your team. Teams that rely on rules rather than manual sorting see a drastic improvement in their response times. Bellhops, a moving services startup of 79 employees, uses 69 rules to keep their inbox clean and their team productive — and they're able to handle external communication 3x faster than they did with their separate inboxes.
3. Set up analytics on shared inboxes to keep improving
A workplace is only as strong as its systems. You can have all the talent, all the best tools — but without efficient and organized systems, work will slow down as your team scales. It's critical to set up analytics reporting to evaluate how well your system is working.
You should track:
Individual and team performance. Look at response times and reaction times (for when team members do anything with a message such as reassign or add a tag). Gauge the average for your team and see where individual team members get tripped up.

Volume of activity. Look at how many new messages are coming in to evaluate team bandwidth.

Most active customers. Look at customers who send in the most messages to make sure you're paying special attention to frustrated customers and engaging with potential reference customers.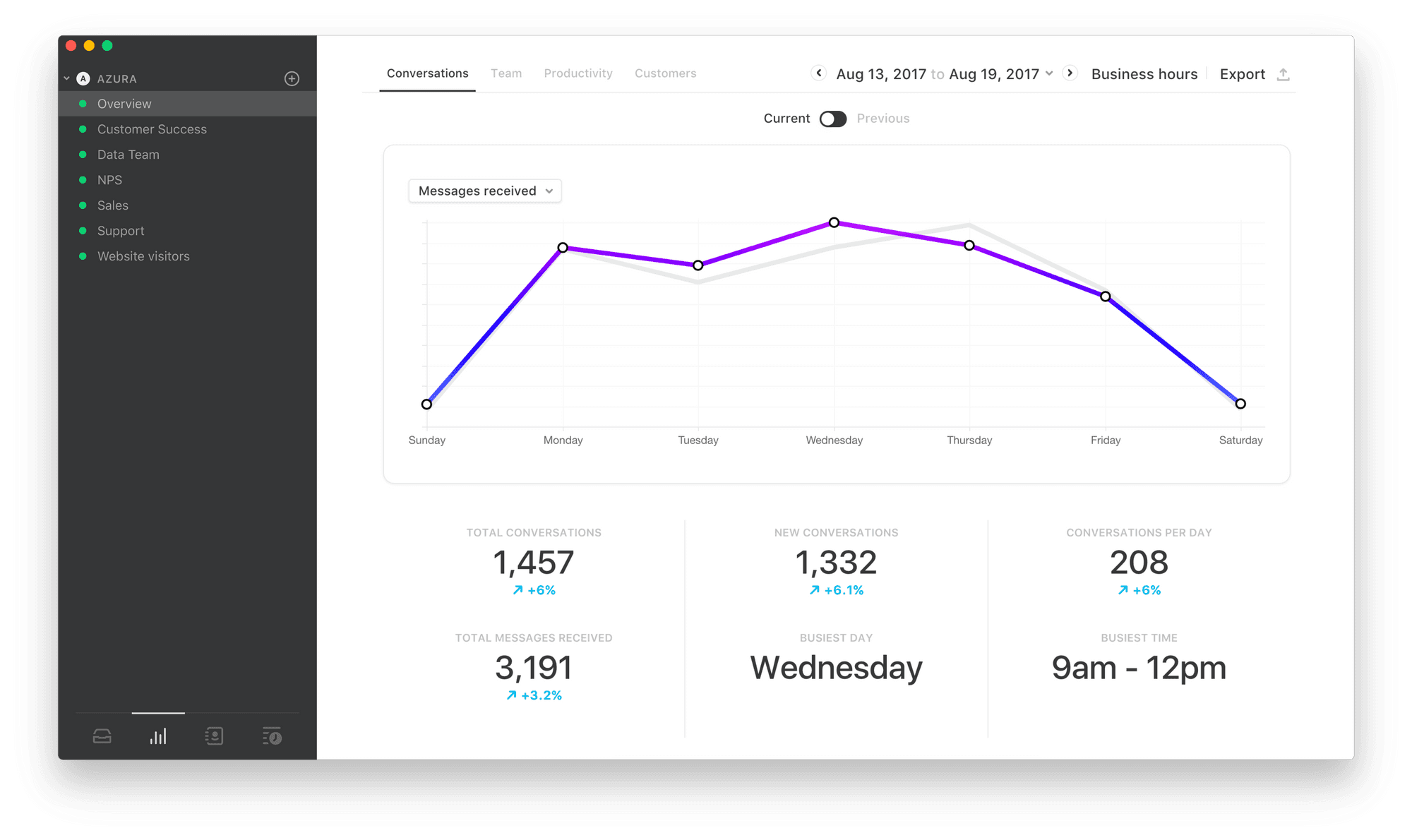 You can set up different analytics views in Front to see how well your shared inbox is working.
Preserve transparency for healthy growth
Maintaining transparency is one of the toughest challenges for a growing team, and any type of inbox can turn into a muddled mess with more and more people in the mix. But poor communication is fatal to your business. It can lead to hot leads falling through the cracks, product teams working inefficiently, and happy customers getting fed up and leaving.
You can avoid the communication challenges that come with growth: set up an automated system early and iterate on it over time. Shared inboxes are an investment that grows with your team — maybe with the help of a few new rules.
Written by Mathilde Collin
Originally Published: 17 April 2020