Writing a formal email can feel a little awkward and stuffy. There's no "haha" and probably no emojis — no GIF of your favorite Michael Scott quote. It might feel stiff.
That's why it's great to stick to a set structure. If you know how to form the body of the email and use the appropriate salutation, you can turn the process of writing a formal email into a quick and simple one.
Below we break down what a formal email looks like and the five steps you can follow to start writing formal emails to any organization. Whether it's a job you're trying to land, new client outreach, or any other formal email, the structure below can help you get your foot in the door and get the response you're looking for.
What makes a solid formal email?
The hint is in the name. A formal email is an email that uses formal language, introductions, and signatures compared to other emails. Its structure is also different because it should follow formal writing standards. Yep, that's right—no comma splices, no sentence fragments, and no informalities.
Formal emails also have a certain way they're structured and delivered. The punctuation is more professional, the greetings are traditional, and they're shorter in length. So, when are these emails normally used?
You can use formal emails for all types of situations, whether you're trying to win a contract with a new client, respond to a complaint, or reaching out to an official or CEO. The nice thing about formal emails (especially for those of us that are stuck for time) is that no matter who you're sending them to, all formal emails have the same basic structure.
Breaking down the structure of a formal email
Informal emails tend to be a little more carefree. They don't have a set structure, and they can be long or short, funny or serious, with GIFs or emojis. Formal emails? Not so much. Obviously.
A formal email structure is nearly as important as the greeting you use or how you sign off. Because formal emails should be relatively short in length, you only have to get four elements right:
The subject line: It should be short and specific. Anything over ten words is probably too much!

The salutation: Always mention the recipient's name and a suitable greeting. Lose the "Hey" and replace it with a "Hello" or "Dear."

The body: Like any other email, formal emails have a body of text. This section is short, uses proper grammar, doesn't have sentence fragments, and only has one ask.

The signature: Your signature needs to be as formal as the email itself. It's also essential that you use your first and last name and include your company's name if the email is being sent on behalf of them.
5 steps to writing a formal email to an organization
1. Write a subject line that catches the person's attention
Start writing your formal email from the top — its subject line. We've already talked about keeping it to 10 words or less. But how many words is the right amount? According to Marketo data, subject lines with seven words or less get opened more, on average.
As you have so little room for error when writing your subject line, it's best to plan out what you're going to say. When writing out subject lines, think about:
Your recipient: Are you emailing the owner of the company? A CEO? The head of sales? Knowing what inbox you're aiming for will help you with messaging and targeting.

Your connection: How are you going to get their attention? Think of something that can grab their interest. If you have a meeting scheduled, mention it. If you've had the recipient on a demo, include it. If you are cold emailing, mention a problem you can help solve.

Your credibility: This is a big one. Don't spam your recipient's inbox with subject lines that try to trick them into opening your email. If you don't have a meeting booked, don't pretend you do. If this is the first email you've sent, don't write that you're following up on an earlier email just so they open it.
Here are some subject line examples you can use to start your formal email:
How is (company's name) handling (problem?)

Nice seeing you at (event)

Regarding this week's demo call

Following up last week's meeting

Meeting RE: product demo

About your interview with (company name)
2. Start with the right tone
It's always difficult to switch to a formal email tone, especially if you don't write them that often.
Now, formal emails don't have to be stiff. But they do have to be professional and match the nature of your message and your audience.
This is called the salutation of the email, which is a posh way of saying how you first say hello to your recipient.
As business coach Barbara Pachter writes in her book The Essentials of Business Etiquette, the salutation will set the tone for the rest of the email, so she suggests scrapping informal expressions like "Hey" or "Hi folks."
"The relaxed nature of our writings should not affect the salutation in an email," she says.
"Hey is a very informal salutation, and generally, it should not be used in the workplace, and Yo is not okay either.
"Use Hi or Hello instead."
She also advises against shortening anyone's name. If you are writing an email to somebody named Joseph, don't assume they'll be okay with you calling them Joe. HubSpot's Meg Pratersays you should also steer clear of stuffy salutations like "Dear Sir or Madam."
"It should be avoided for a few reasons: First, today's digitally connected world makes it easier than ever to find out who you're emailing," she says.
"Second, this greeting may not be reflective of the recipient's gender.
"And third, it's vague and a bit lazy."
Use these salutations to start your formal email instead:
Dear (their name)

To whom it may concern (Although we'd recommend doing a little research to find the person's name that you're looking to contact!)

Hello (their name)

Hi (their name)

Greetings (their name)

Good morning (their name)

Good evening (their name)
3. Make one key point
Data shows that you have a whole seven seconds to get your recipient's attention once they open your email, so don't waste it. That means you have to cut the fluff — here are some words and phrases to leave out of your emails.
Skip the "I hope you had a lovely weekend" or the "I hope you are well" niceties because they not only waste time but they also don't fit in with what a formal email should look like. Instead, jump straight into what you want the reader to know.
Harvard Business Review (HBR) calls this the BLUF strategy; writing your Bottom Line Up Front so the recipient can quickly answer the five Ws: who, what, where, when, and why. HBR's Kabir Sehgalsays the strategy works because the reader can quickly and easily digest the email's intent.
"The reader doesn't necessarily want to know all the background information that led to the decision," he says.
"He or she likely wants to know "how does this email affect me?" and the BLUF should answer this question every time."
Here's an example of how this strategy works in real life in a formal email about a meeting: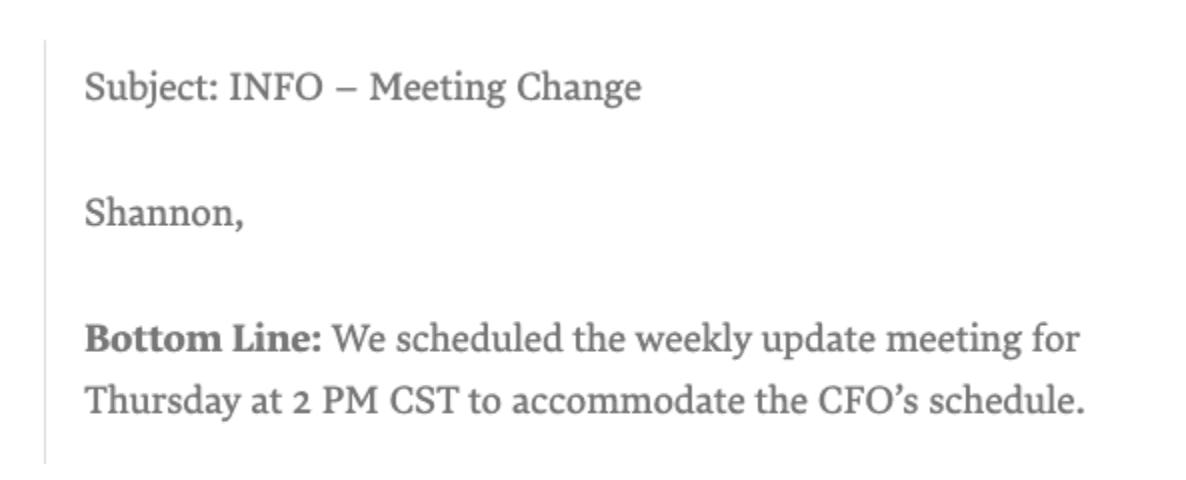 See how quick to the point it is? Formal body text like this works because it cuts right to the chase and only shares important information with the recipient. Remember, these types of emails aren't about you—they're about your recipient.
4. Close it as you started it—formally
Tie it up with a signature that reflects the tone of the email—formal and polite.
You should always include your first and last name when signing off on a formal email, as well as your company and your position. If you have a title, include it:
Dr. Jane Doe, or

Dr. Doe, or

Jane Doe
Don't just write Jane.
An easy way to make sure you're ticking all the boxes is to include an electronic business card at the bottom of every email you send. Using a tool like Front, you can create formal signatures, which are automatically added to the bottom of every email you send. All you have to do is create your signature in the dashboard, save it, and it'll appear on every email you send!
5. Put all the pieces together to create the perfect formal email
All that's left to do is to put each step together and write out your email. Let's say you were emailing the CEO of an organization regarding a demo meeting. Your formal email should look something like this:

The best part? Formal emails follow a rigid process that doesn't change much no matter what the aim is or who you are sending them to. You can use message templates to save time. A message template is a fancy term for an email template, so instead of writing formal emails from scratch, you can use a template to save time.
Here's a walkthrough of how easy it is to create, use, and edit message templates in Front.
Formal emails should be no-nonsense
Writing formal emails doesn't have to be boring, and it doesn't have to be a time suck either. The first step is realizing that formal emails are quite simple to write. All you have to do is write a clear subject line, include a formal greeting, and cut to the chase about why you're sending the email in the first place. No nonsense.
If you stick to these steps, use proper grammar, and drop the informal banter, you'll be left with a foolproof formal email you can send to everyone from new clients to CEOs. And once you've created the perfect formal email, you can save it as a template so every time you send one—you'll be confident it's ticking all the boxes.
Read why Front is a better way to manage your email.
Written by Kimberlee Meier
Originally Published: 26 November 2020