Email is a mess.
It's confusing (ahem, forwards and CCs), stressful (hello, post-vacation email pileup), and often redundant (looking at you, reply-all).
The internet is filled with theories of email's impending doom, claiming email is outdated, inefficient, and a waste of time. And they're right: email's not cut out for the way we work today.
Designed in 1971 as one-to-one communication, it was built to send a single message from one person to another. Over the last 50 years, our work has become increasingly collaborative. We're trying to force email to be something it's not:
You forward or cc an email to your teammate to share it with them — which creates a whole new copy of the same email thread. Confusing.

If your team uses a distribution list or group alias, it's impossible to know if anyone has replied — unless you reply-all.

When you need help responding to an email, you have to email internally back and forth or take your discussion to a separate chat tool, adding to the chaos and disorganization.
But businesses of all sizes and industries across the world rely on email as their primary means of communicating. From scheduling sales demos, to sending invoices and providing customer support, email is core to almost everything we do at work.
We can't work without email — but it does need a makeover. Front is your email inbox, plus five revolutionary improvements that help you work more efficiently.
1. Access every message and app in one inbox.
From CRMs and file storage, to customer support and project management, new tools pop up every day. And with time, there will be more. If we're going to get work done, our inboxes need to integrate with these new tools.
Since traditional email is separate from our other message platforms and apps, we spend time searching for context, switching tabs, and copy-and-pasting critical information. To save you time and make it easier to get work done, Front brings this context into your inbox:
Manage all your messages in one place. Send an SMS text, reply to a Tweet, or start an internal discussion to hold a chat conversation with your teammate — without switching tools.

Access your apps and tools in your inbox. From customer data, to pricing plans and past conversations, Front's integrations pull all your critical information into your inbox, right where you need it. You can create tasks in Asana, update customer records in Salesforce, or manage issues in JIRA directly from Front — so you don't have to switch tools or enter information twice to get work done.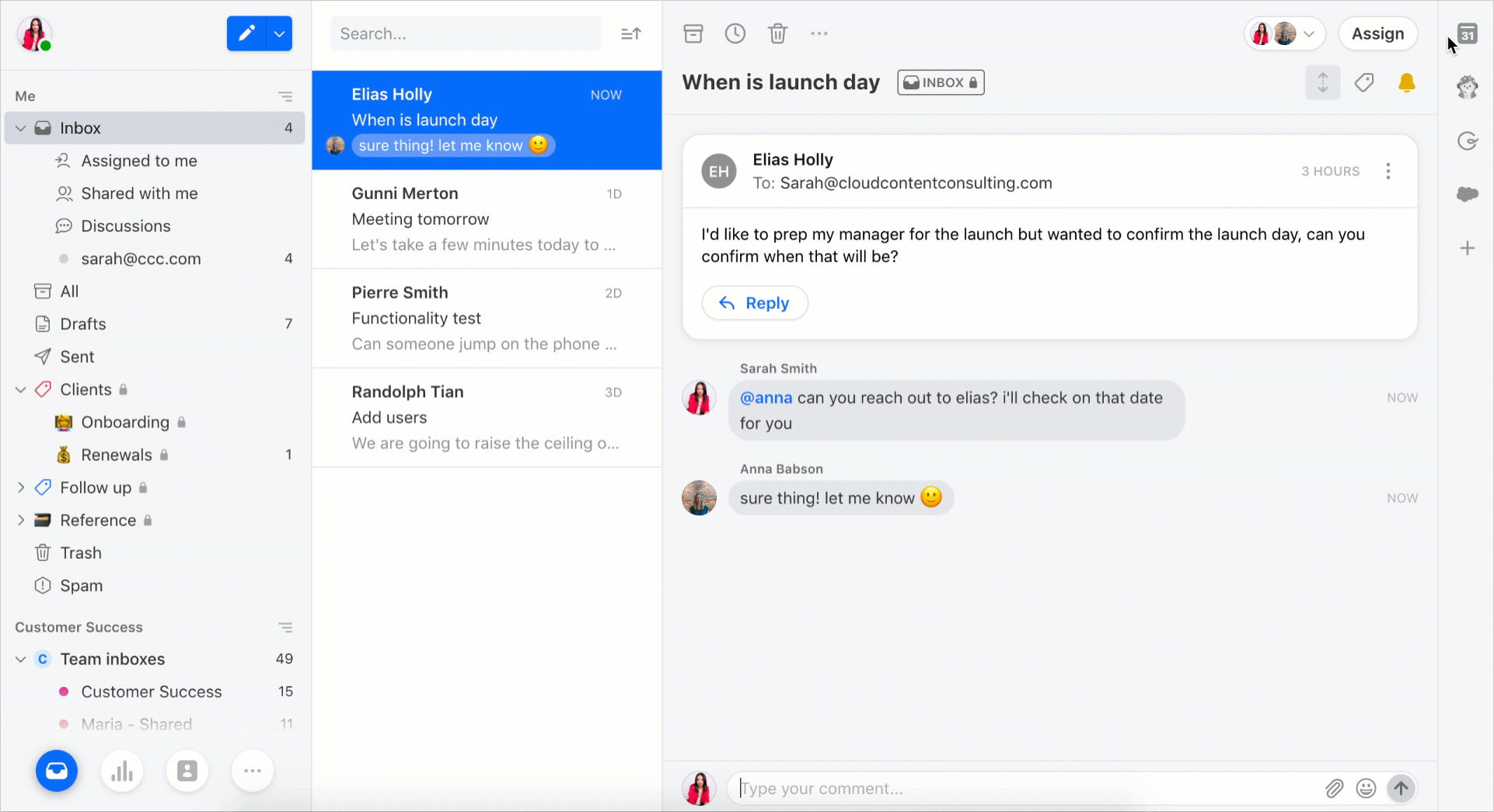 2. Tag teammates on emails and work on drafts together.
Whether you're forwarding a message to your boss to ask a question, or shooting an FYI to your entire team, you need to be able to discuss and share emails with teammates. That's why many teams turn to chat apps like Slack to ask quick questions and discuss issues in real-time. This creates a few problems:
The conversation happens separately from the original email, so when you look at it later on, you have no context on the situation.

When you go to find that context, you have to search through multiple apps to find it.

Chat messages can be distracting, and when they happen separately from the email itself, you have to message more to explain the email's purpose.
Front brings the discussion to where it should be: with the original message. Loop teammates in on a conversation with an @mention, or get a second opinion on a reply by sharing a draft. With Front, you can get the context you need to work more efficiently.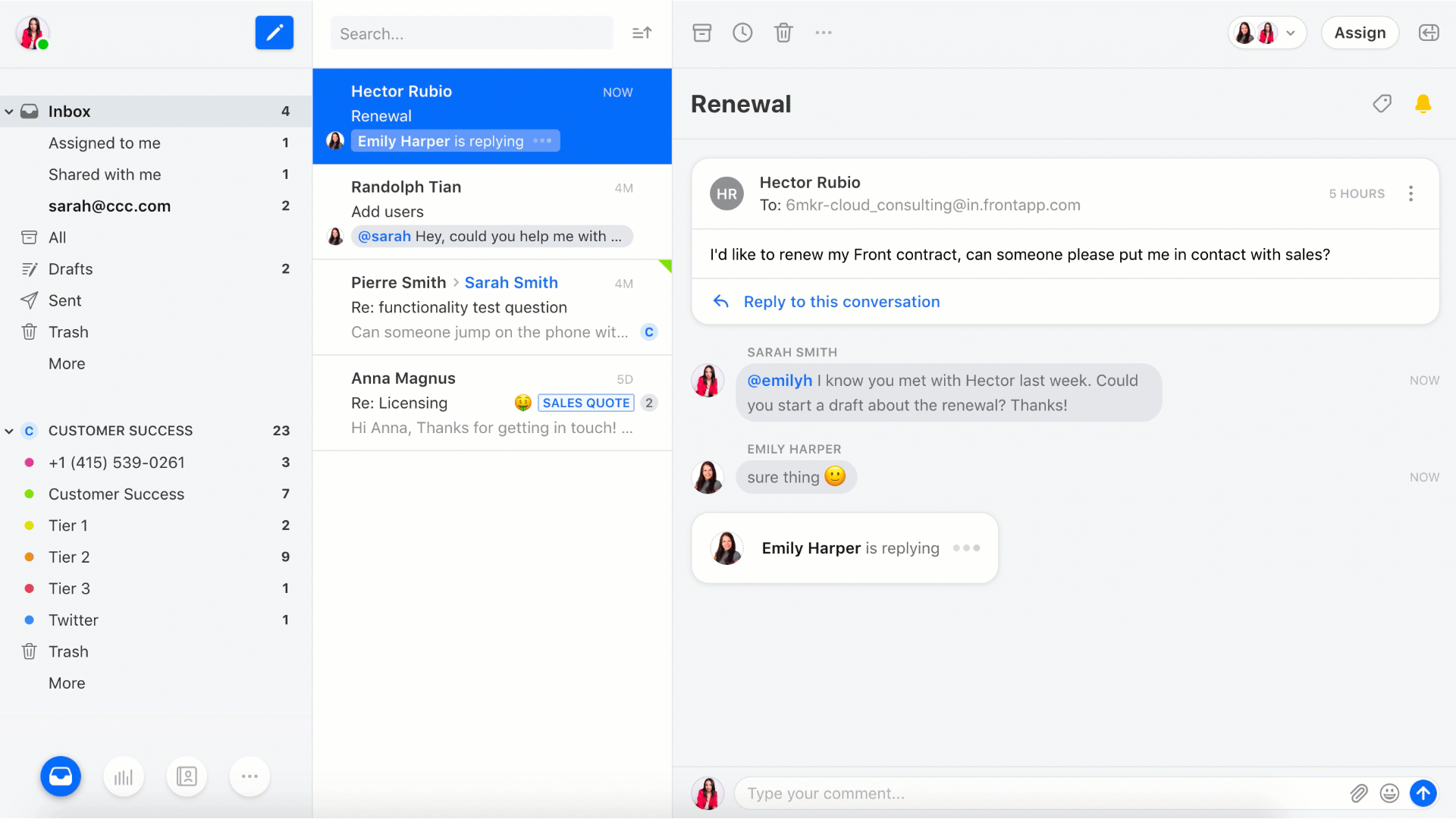 3. Automate the tedious tasks that suck up time.
We do the same things over and over with traditional email. We move emails into folders, forward emails to teammates, reply with similar answers — the list goes on. Front can do repetitive work for you with rules.
Using "if, then" statements, you can organize your messages based on trigger words, or route messages to certain people on your team at specific times. With Front, your email knows where it should go, and what it should do, all on its own.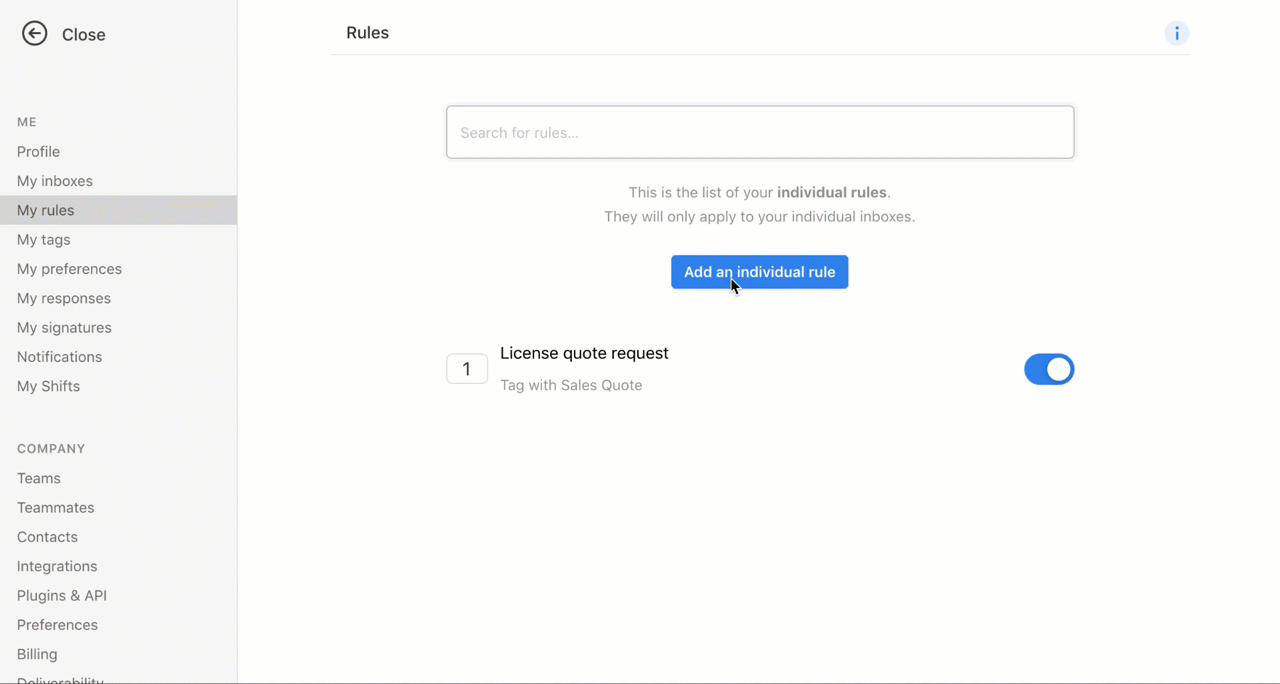 Teams come up with amazing time-saving automations using rules. Some common favorites include:
Assign emails containing a certain keyword to the right teammate: If the message contains "billing", route it to the accounting manager.

Add tags to emails so you can quickly scan your inbox for urgent items: If the message is from Acme Corp, add the tags VIP Customer and Urgent.

Archive emails you don't really need to read: Auto-archive calendar accepts or CRM record updates.
For more ideas, check out the Front Rules.
4. Manage group email in shared inboxes to save time.
Got emails to distribution lists, Google Groups, Outlook shared mailboxes, or some other group alias, like contact@, team@, or support@? Front completely changes the way your team manages these emails to save you hours every week. With Front, you can create shared inboxes to manage messages as a team.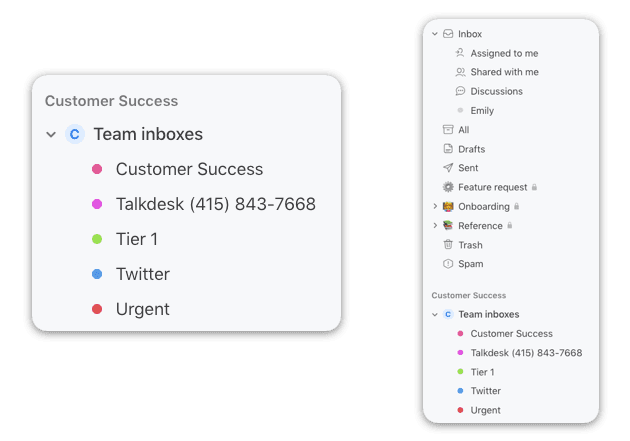 1) Create a shared inbox for anything, like "Success", "Support", or "Marketing", for instance. The shared inbox lives in Front right below your individual work email, so it's easy to find.
2) When someone sends an email to these inboxes, like "success@", anyone who's part of that inbox can see the same copy of every email.
3) When one person replies, everyone can see that it's been answered.
4) If you know the best person to respond, you can assign it to them so everyone knows who's responsible for what.
5) When you reply to an email in a shared inbox, it's archived for everyone and moved out of the queue. Poof.
Shared inboxes drastically cut down on the number of emails you need to look at everyday. Instead, you're working through your group emails together.
5. Organize your inbox to work more efficiently.
With endless messages and very limited attention spans, we need a better way to organize our inboxes. Gmail and Outlook have tried solving this with spam, folders, and labels like "important." These depend on teammates to sort messages individually, though, so everyone has to spend time organizing messages. The way you organize your inbox is probably very different from the rest of your team.
With Front, your team stays organized as a whole and can find information you need faster with team tags. You can make tags stand out in your inbox with colors and emojis, or view tagged messages at once like folders. You can also create your own private tagsto organize messages for your personal workflow.
Don't kill email; just fix it.
Email is the most widely-used workplace technology on the planet, but it could use a facelift. Front is your reliable, dependable email — redesigned for today, so that you and your team can work more efficiently. To learn more on how to handle a high volume of messages while maintaining quality communication, check out how Aircall is using Front to drive retention.
This article is an updated version of the story: How to work smarter and happier: Fix your email.
Written by Emily Hackeling
Originally Published: 17 April 2020