Behind every email your team sends to customers, there's a lot of internal coordination happening. You're assigning tasks to other teammates, checking on statuses and history, referencing orders or shipments, and much more before you can hit "send" on that perfectly crafted reply.
Managing all these moving parts often means using project management tools to work together, stay aligned, and get back to customers quickly. That's why our customers love connecting tools like Asana, Trello, GitHub, and Jira to Front to manage projects right alongside their customer conversations. These integrations all take advantage of Front Links, a special kind of tag that connects conversations to your external apps and tools so they stay in sync, no matter what.
Today we're excited to announce our new Front Links API. You can now build Link integrations with any project management or tracking system of your choice, so your team can keep customer communication in sync with everything that's happening in your business. For your inspiration, here are a few of the workflows your team can harness with the power of the Links API.
See orders, tasks, shipments, and other items related to a conversation
Say a customer emails you asking for an update on their order that's arriving next week. Or, a client needs to change a shipment that was supposed to happen in the next hour. With the Links API, your entire team can easily see orders, shipments, or tasks related to customer conversations. No more sifting through tabs, searching to find your customer in your database, or frantically asking the last person who communicated with the customer for an update—your team can simply click on the Link that's connected to the email to instantly get the information you need.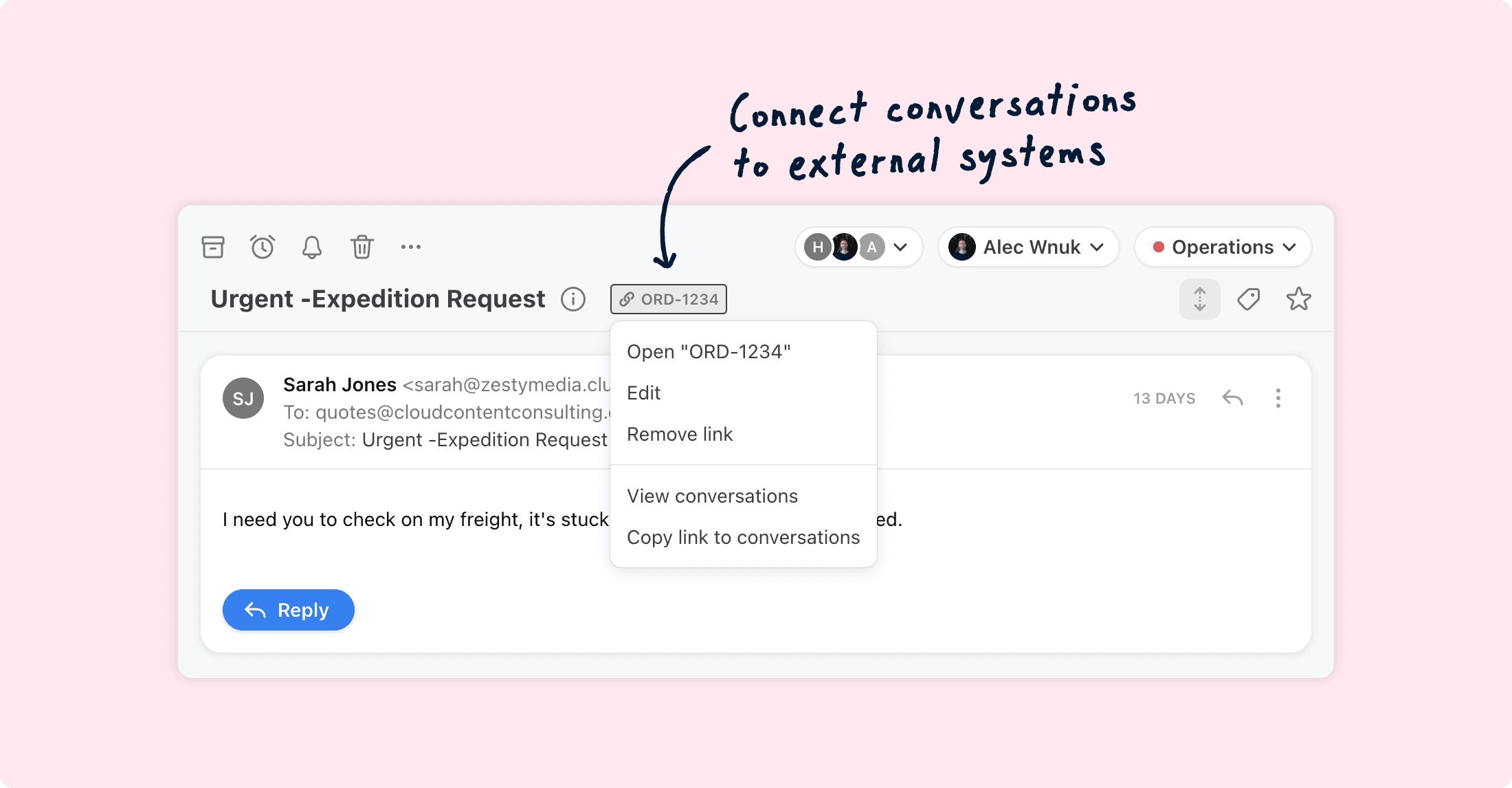 You can also attach multiple Links to the same conversation, so if a customer has many orders happening at once, for instance, your agents can get the full picture at a glance. Giving customers the most updated information on statuses and projects in flight has never been easier.
Access all conversations related to the same Link
Sometimes you might have an update that applies to many customers at once—so you need to see all the conversations that are related to a task, order, or shipment. Now you can reference all the conversations related to it. Just click "Related conversations" from the Link dropdown, and you'll see every conversation connected to that Link. Each Link also generates a unique URL in Front which you can store in your project management tool to make it easy to reference these conversations all at once.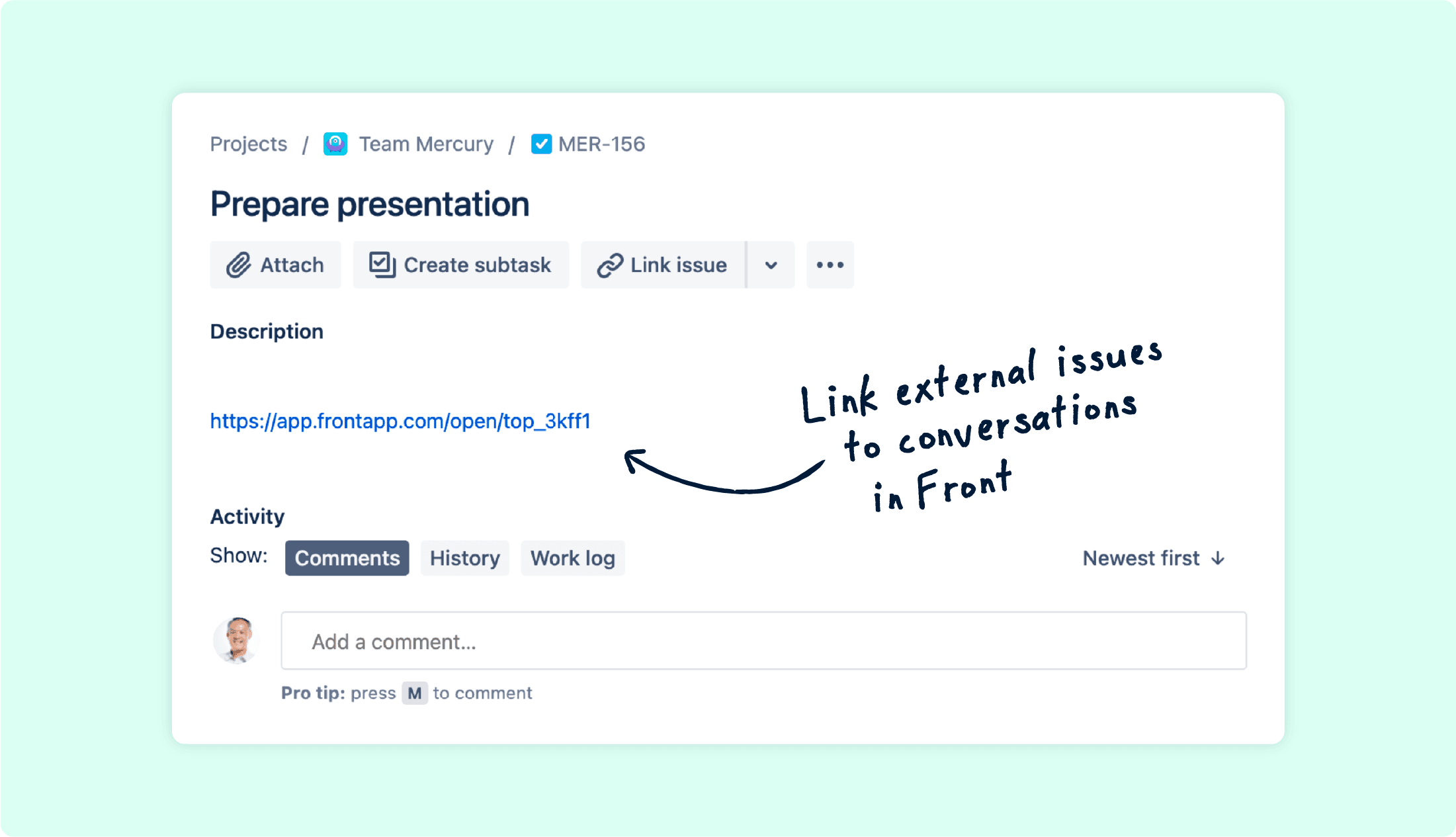 Automatically keep conversations in sync with the latest updates
Connecting tools using the Links API allows your team to take action and get back to customers faster. Maybe you want to let a customer know that a shipment will arrive early, or a feature they've requested has finally been completed.
The Links API enables you to trigger actions in Front based on updates to the Link. A change in order status, for example, could instantly re-open related conversations or assign them to the next teammate that needs to jump in. Wave farewell to the days of messages getting stuck in limbo between teammates. And your customers? All they see is a swift, thorough reply.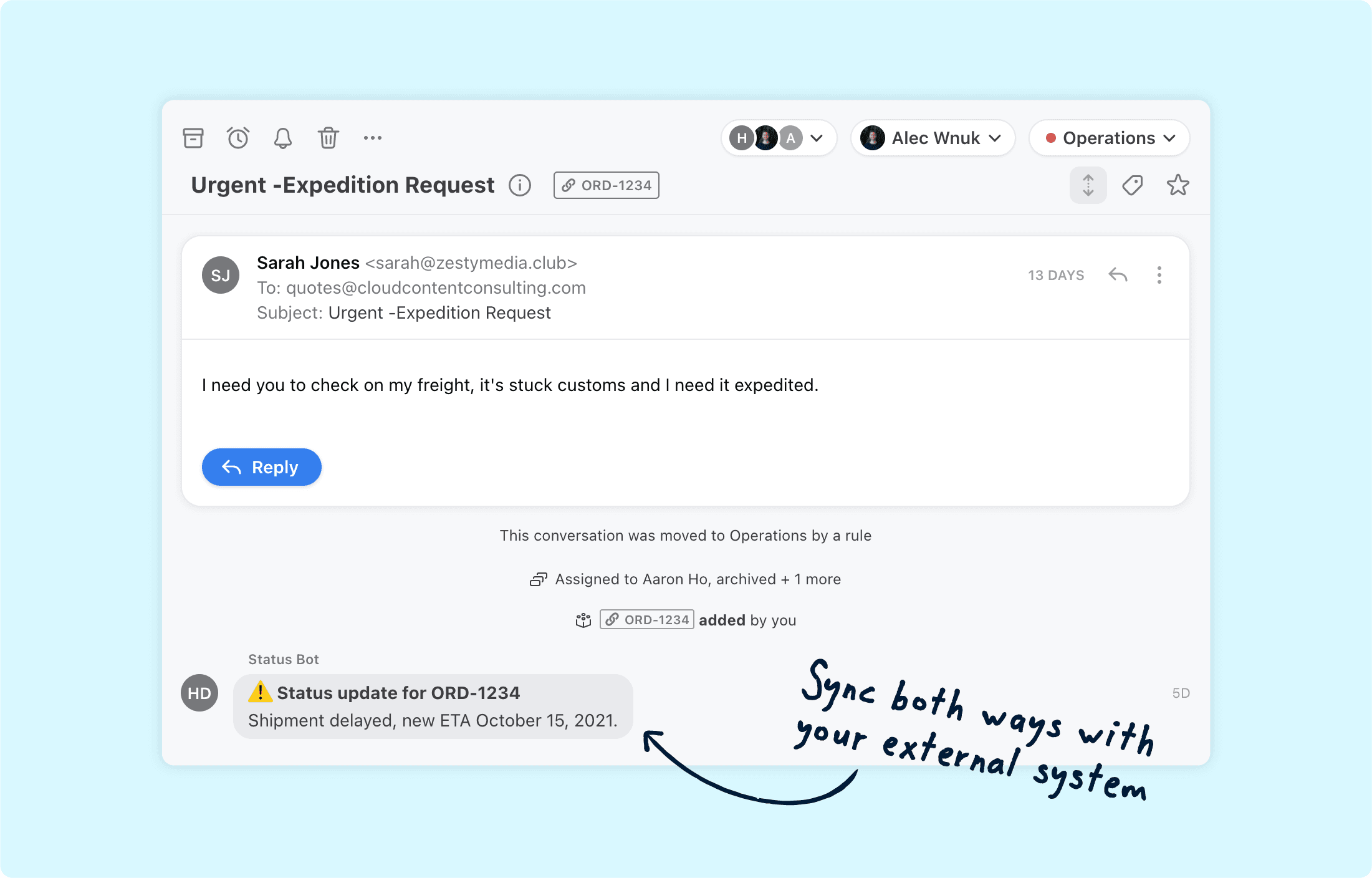 Build the workflows your team needs to deliver extraordinary experiences
With the Links API you can empower your team to manage projects seamlessly, without having to switch back and forth between Front and your project management tool or tracking system.
Want to learn more about using the Links API? Head to our Help Center.

Interested in building with the Links API? It only takes a few days of development time. Head over here for our step-by-step guide on building an integration.
We know that smooth internal collaboration is key to unlocking exceptional customer experiences—and we can't wait to see how you'll use Links to "wow" your customers!
Written by Emily Hackeling
Originally Published: 12 October 2021