You're emailing a client and need to schedule a Zoom call, because, well, it's 2020—nothing's happening in real life. So, you sift around in your inbox to find some key project details your teammate sent earlier. Then you open up your calendar to find a time, type out dates you're available to meet, and hit send.
The client is in Poland, so he emails back overnight and says none of those times work for him. The next day you check your email. You find a few other times, send them back, repeat that workflow, and before you know it, you've spent 4 days trying to find a time to meet for 30 minutes.
Something as simple as scheduling a client meeting should never be this hard—and working remotely has made the woes of connecting worse. We conducted a survey of 2,000 Americans working from home and found that:
Half of respondents say they receive more than 20 additional emails each week than they did before working from home—which means emailing about scheduling meetings isn't helping.

63% feel more disconnected than ever from their customers—so there's even more urgency to set up that Zoom call.
What makes it so hard to connect with clients?
There are two critical pieces of information you have to hunt down when you need to schedule a client meeting over email.
You and your team's availability: You need your calendar (and sometimes your teammates' calendars) in order to figure out when you can meet.

Context about your client and what they've been discussing with your team: You usually need information about the meeting—whether it's a recent conversation with your support team, details from the last conversation you had, or some quick info from Salesforce about their account.
If you're using Front gone are the days of digging around for information and availability to schedule a client meeting. It's a customer success managers dream. With Scheduling and the Recent Communication Indicator, you can save time on the back and forth of scheduling and gathering context—and for your clients, meeting with you is refreshingly simple.
1. Schedule common meetings without the back-and-forth
Say you're scheduling a certain type of meeting. If you're in customer success, maybe it's a QBR. You can make a QBR Scheduling link. Choose a length of time, recurring available times each week, and even set questions for the client to answer while scheduling. Boom. Insert the link without leaving you inbox. The client can see real time availability and pick a time that works best.
You can reuse that same link to send availability, whenever you need to hold a QBR. If you've got a booked day on a certain Monday that's usually in that window? No problem, the scheduling link stays up-to-date with real-time availability no matter what.
2. Send better replies with context right before your eyes
Your client Hector sent two separate emails to your company about pricing. You're about to reply, but you see the Recent Communication Indicator banner pop up, alerting you about other conversations he's had with your team. You click into it and see your teammate Patrick replied to his other email already an hour ago. No wasted time searching an inbox to find an email thread, no wasted time messaging your product manager to get the timing update.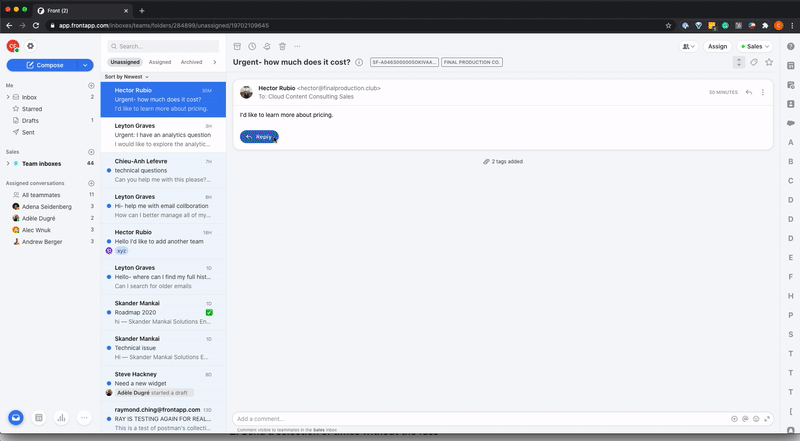 With the Recent Communications Indicator in Front, you're proactively notified of any recent communication the team has had with a client—over any channel in Front, like email, SMS text, or live chat—over the last 7 days. If you want to drill into any particular conversation, you can simply click on it and read through to get context.
It's great for Hector too—instead of making him fill me in on anything he's discussed with another teammate, I can simply come back to them with an educated, up-to-date reply.
3. Send a selection of times without the fuss
Now, say you're scheduling a training meeting with a new client. Normally, you'd go back and forth from your calendar to email and type up a bunch of times and dates that you're available. It always takes longer than you want and looks, well, terribly formatted, like this:
Wed October 25th anytime from 8:30AM to 4pm pst

Thursday Oct. 28th at 9:15am PST

MON. Nov. 1st anytime from 10:30AM-3:45pm Pst
No longer. Without ever leaving the email composer, you can insert specific meeting times for one-click booking. And you'll look sleek while doing it.
4. Check your own availability, distraction-free
So say you're scheduling that training like the one mentioned above. Ever clicked from your email to your calendar, saw something, got totally off, and forgot what your real purpose of looking at your calendar was?
Oh, of course, not. Me either. But hypothetically, if I did succumb to the distractions of the 21st century once in a while, then I would love to be able to check my calendar to see availability for a training meeting without switching tabs.
Now you can do just that. And, you can see your own availability, but also your teammates' too. So if you want your teammate Zachary's availability, too, you can see it all in one place, in your inbox.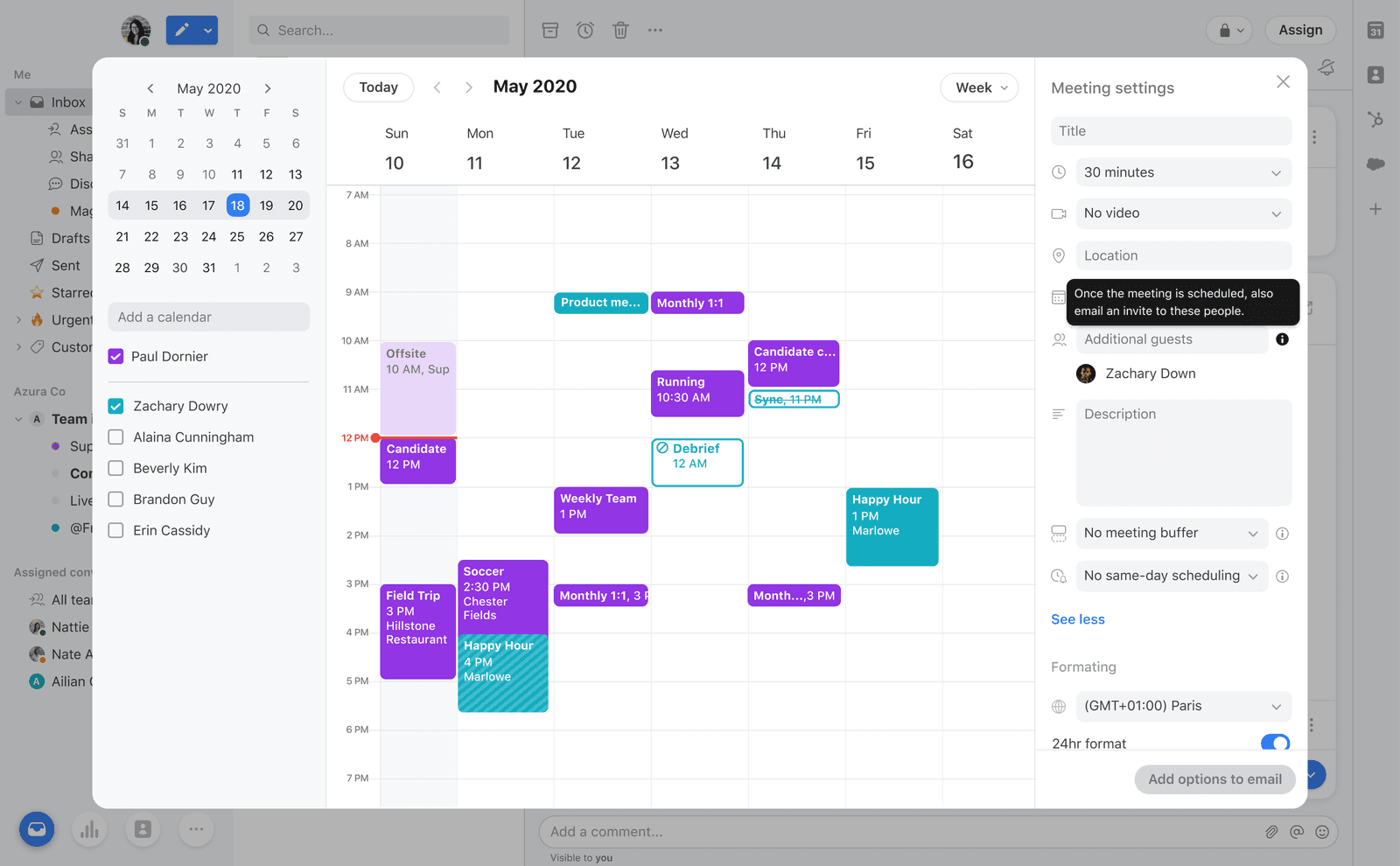 This saves you from the distractions of the world outside your inbox, but also translates into simplicity for your clients. You and your team are in sync, speaking to the client as one. All they have to do is click the date that works best for them:
5. Easily set up a video call
There are seldom meetings in 2020 that come without a video link. And it's better to have face-to-face time with your customers, anyways. From Zoom and Google Hangouts to Microsoft Teams and Skype for Business, you can easily set it up with Front Scheduling. Once a time has been booked, videoconferencing details of your choosing are included, automatically updating your calendar.
Then all you need to do is sit back, relax, and choose your ideal background for your video meeting. I like to pretend I'm hosting Jeopardy.
Written by Emily Hackeling
Originally Published: 3 November 2020