Product management is a full circle motion for our team at Front.
The first 180 degrees is all about listening to customers and understanding their needs, so we can solve them with our product. The second half is about closing the loop: communicating to customers what we've done and how we're working to meet their needs in the future.
To build product at Front, we — not surprisingly — use Front. Front allows us to take our product development process full-circle: it connects us with our customers, so we can get context around their needs. It bridges gaps between product and other departments in our company, so we can communicate what we're working on to customers. Last, it makes it easy for us to follow up with customers to let them know their issues are solved or get their feedback.
Here's how we've used Front to create a repeatable, customer-driven process for building our product. If you want to learn more about our vision and roadmap, check out our 2019 Vision Webinar with CEO Mathilde Collin.
1. Listening to customers
We are constantly seeking product feedback from customers through user research calls, customer meetings, and surveys. But beyond actively soliciting customer feedback, we make sure it's easy to reach our team. Sometimes the best suggestions and greatest insights come from our customers reaching out on their own, rather than a survey or question we ask them.
Shared inboxes for feedback across the customer lifecycle
Most often, customer feedback comes not to our product team, but directly to our customer-facing teams like support, success, and sales. That's where shared inboxes in Front save the day.
Having shared access to customer emails in these inboxes allows everyone in the company to get a deeper understanding of our customers' needs (and pain points!), rather than siloing this valuable feedback in a single person's inbox.
These shared inboxes are a critical part of our product management toolkit. Our product team gets customer insight to drive product decisions, and many other internal teams browse them to keep a close pulse on customers:
[email protected] email inbox

Escalation folders for technical support issues

Live in-app support chat

NPS Survey & Customer feedback

Twitter
In addition, our product team manages its own shared inbox, Product. Any time a teammate has a product question or a feature request — from a customer or for themselves — they can let us know at [email protected]. When we reply, we typically clarify how a feature works or give a sense of whether it's likely to be added to our roadmap. This shared inbox gives our teammates one easy place to reach the us, and also gives the product team visibility into the features people want.
Public roadmap
On our public roadmap, users can find what we've shipped recently, what we are currently working on, and some ideas of what we might work on next. It allows customers to voice their opinions by voting for the features they need most.
Anyone can upvote on the board, so customers can browse and give a thumbs up to any features they want. When we feel like a feature is important enough to be prioritized, we move it into our product pipeline. There, users can follow its progress, from design to development to shipping.
2. Prioritizing customer needs through data
So we've set up a bunch of ways for customers to reach us and express their needs. Next, we have to decide what to build and when. Data and user research drive this, and most of it is driven through Front:
Accessing customer conversations alongside Jira issues
We connect Front to Jira, so when customers make feature requests, we tag those conversations in Front with a corresponding Jira issue that tracks the feature. Now when we are evaluating a feature, we can look at the Jira issue, click through to Front, and find all the conversations in Front that have been linked to the request. We can read our customers' words exactly.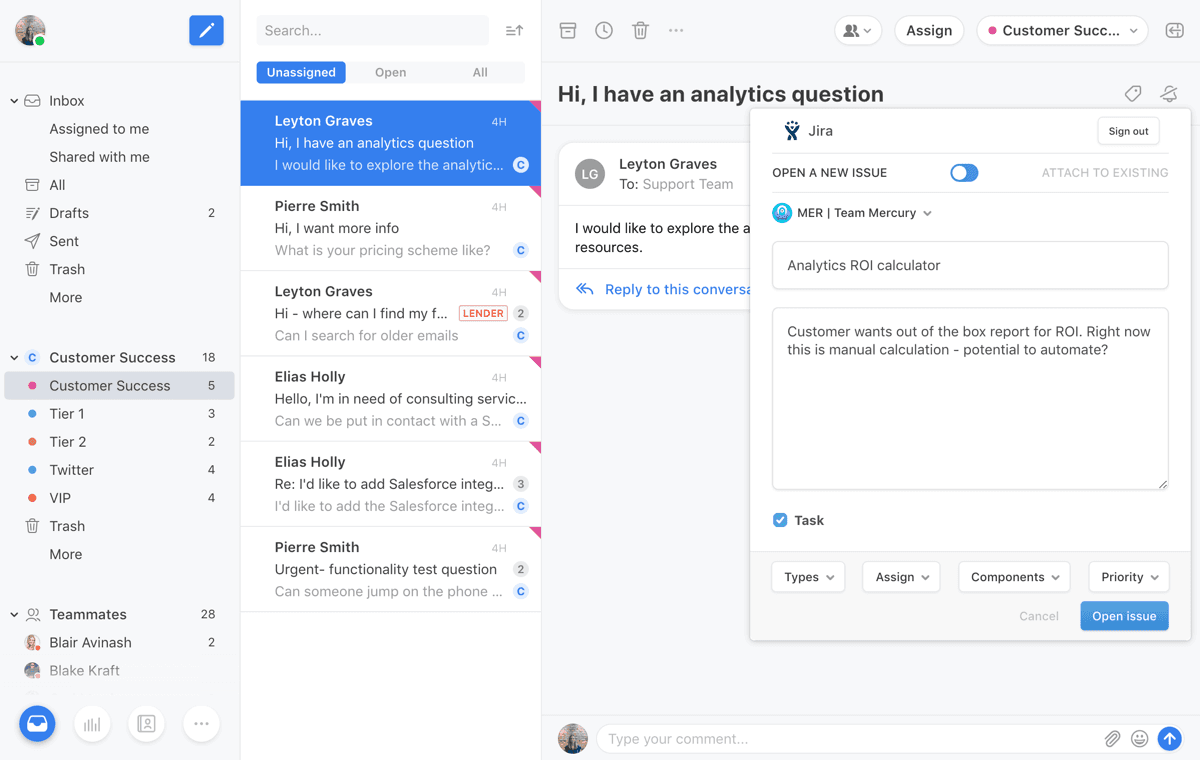 When we're researching for a feature, our product team can email customers directly to ask more questions. This is often a pleasant surprise for customers — especially when they submitted the request months ago. When we ask to hop on a call to better understand customer needs, we have a surprisingly high response rate!
Front Analytics on tags
We tag all the feedback we get from customers to keep it organized — like 🐛 Bugs or 🌚 Dark theme, for instance. But the real kicker here is that with Front's Analytics, we can access data and track trends on each tagged feature — to see who's requesting it and the volume of requests, for example.
We can reference data from customer conversations connected to each Jira issue or tag, so our roadmapping and planning exercises are more informed and systematic.
3. Closing the loop
The last part of the product management process that we find to be SO important here at Front is closing the loop with customers when we ship something they requested. Closing the loop establishes trust, and it lets your customers know that you're listening, working, and dedicated to serving them.
There's a two-way sync between Jira and Front. When we ship a feature and close the Jira issue, every conversation linked to that issue gets reopened for our customer success and support teams. That way we can update every customer when a feature they asked about ships.
Because of Front, we are able to let customers know when something they've asked for has launched, without having to remember or write it down individually. Our customers have said it feels like magic: "Whoa, you remembered I asked for this 9 months ago?! Nice!"
That's a peek into how we stay closely connected to customers and build product at Front — using Front! To learn more, watch our webinar with CEO Mathilde Collin on Front's 2019 Vision and Roadmap.
Written by Ailian Gan
Originally Published: 17 April 2020