Every year we look forward to bringing the entire Front team together for an offsite event. They've become an important part of the Front employee experience. We go big for them.
We fly the entire team to a city like Austin, Palm Springs, or San Diego and spend 3-5 days together. We give presentations about customers and do company-wide support. We hold team building and feedback sessions. We volunteer in the community. And from sea kayaking through caves, to eating barbecue, to taking a fleet of 50+ ATVs for a ride across the desert (yes, for real), we manage to have a great deal of fun.
You're probably thinking, "Not in 2020!"
And you're absolutely right. So we pivoted. Instead of, "Where should we fly, and what activities can we organize together?" the question became, "How can we host a virtual offsite that's actually fun, not a waste of time, and accomplishes our goal of bringing the team closer together?"
Helping our team stay connected was an OKR—and when we surveyed the team afterward, 90% agreed that they felt more connection to their peers after the virtual offsite.
So here's how we went about planning our 2020 virtual offsite, tips we'd recommend, plus what we'd change for next time. I hope it's useful for you and can be inspiration for your own team event. Because in a year where we're physically farther apart than ever, having dedicated time to come together is even more important.
Tips for planning a virtual offsite in 2020
After reflecting on the offsite, here are my tips if you're looking to make one of your own.
1. Make it fun
This might seem obvious, but it's worth mentioning. We deliberated what the tone and content of the offsite should be and elected to make this more of a social event than a learning event for the simple reason: serious Zoom calls are boring and not likely to bring people together. If we wanted people to participate and get something out of this, it needed to be fun. Period.
2. Centralize it around a theme the team cares about
In a typical year, Fronteers love visiting other offices for business and exploring the sights nearby. Since we can't travel much this year, and we have Fronteers across 3 offices, we decided to make the offsite a road trip theme. We "visited" each city where we have an office: SF, Paris, and Phoenix.
Something worth noting is that taking a company-wide road trip is something we'd never be able to do, even in regular times. So we harnessed the opportunity of being virtual to do something fun and different.
We had Fronteers from each office make a video showcasing what they love about their city: the sights, the best food, and more. We also got a virtual tour of the offices so if you haven't visited, you can get a taste of how they work.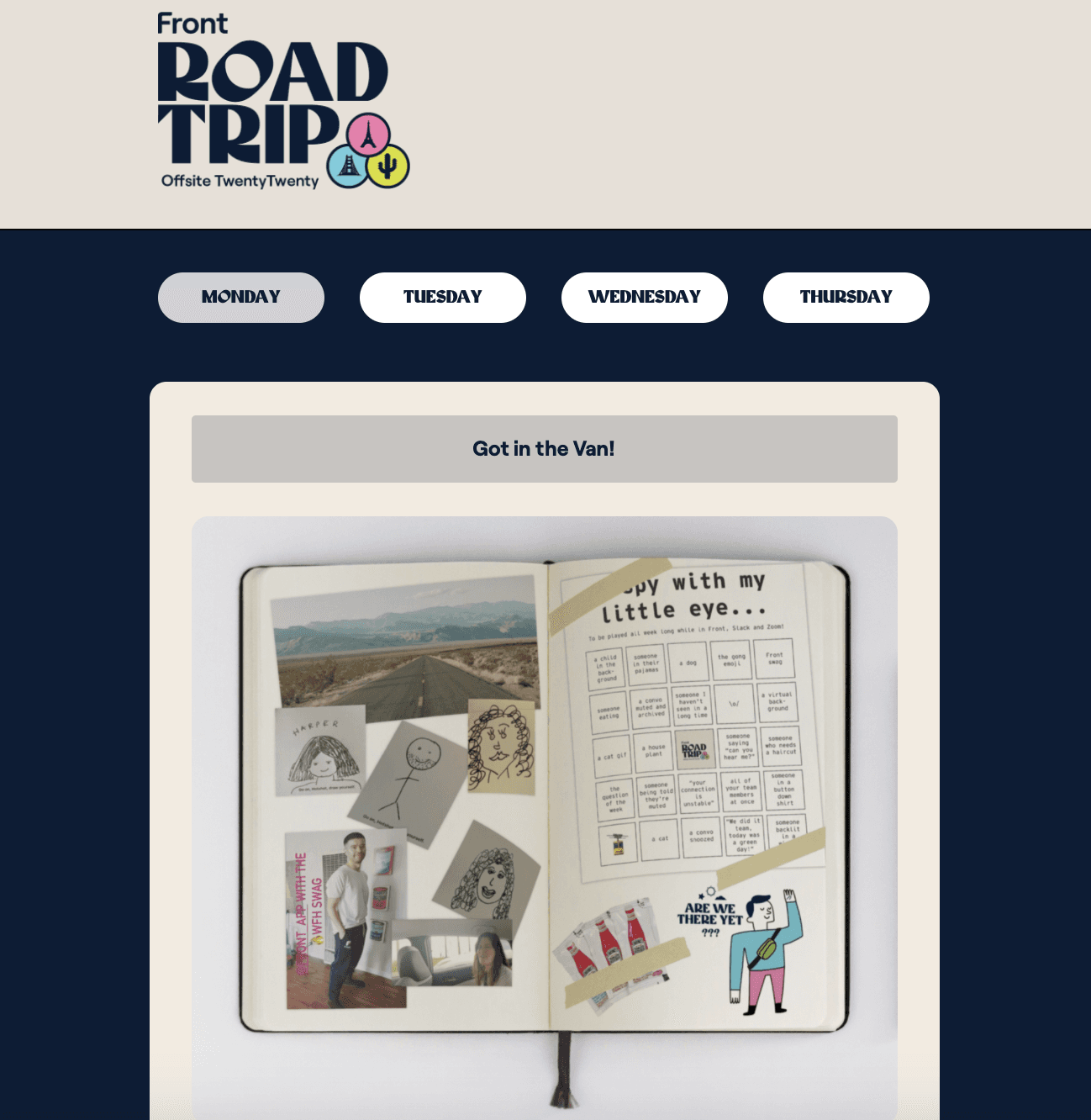 Our schedule
Monday morning: Last Quarter at Front company-wide meeting + offsite kickoff with "box opening" as a company
All week long: Fun, quick social events to do on your own time
Offline Bingo game to participate in throughout the week

Optional "Pit Stop" small group sessions each day that you can organize on your own time each day.

Each has a set of questions for the group to cover and get the conversation started, like "What was your first-ever job?" or "What's your favorite souvenir from traveling?"
Tuesday: Paris
Live DJ set from an engineer in our Paris office

Virtual escape room through PALACESPHERE (we loved the Ruby Palace)

Biggest Fan: Recorded Q&A with a customer based in France

Recorded video tour of the Paris office from an SDR and recruiter
Wednesday: Phoenix
Live guitar performance from our content marketing manager in Phoenix

Hot Ones Challenge eating wings by our CMO and Head of Growth Marketing

Recorded video tour of Phoenix from an account executive
Thursday: San Francisco
Live meditation session with a software engineer from SF

In-person outdoor meetup or virtual Front Jeopardy game

Recorded video tour of San Francisco from a designer and an engineer

Biggest Fan: Recorded Q&A with a customer based in the US
Friday: Wellness Day off to recharge and rest
3. Build an experience
Our CMO suggested we try to make this an experience, rather than a bunch of Zoom meetings throughout a week. As part of that, we wanted to have something physical in the team's hands as a memento. We mailed a box to every teammate the week prior to the offsite with a sticker that says "Don't open me yet!" We all opened it at the same time together on Zoom at the start of the offsite.
The box had a pair of sweatpants with our new logo from our recent rebrand, a Bingo board to play over Slack throughout the week, and a passport (to go with the road trip theme!) made by our design team. It also included an envelope for each day to open—as a "souvenir" from each city on the road trip.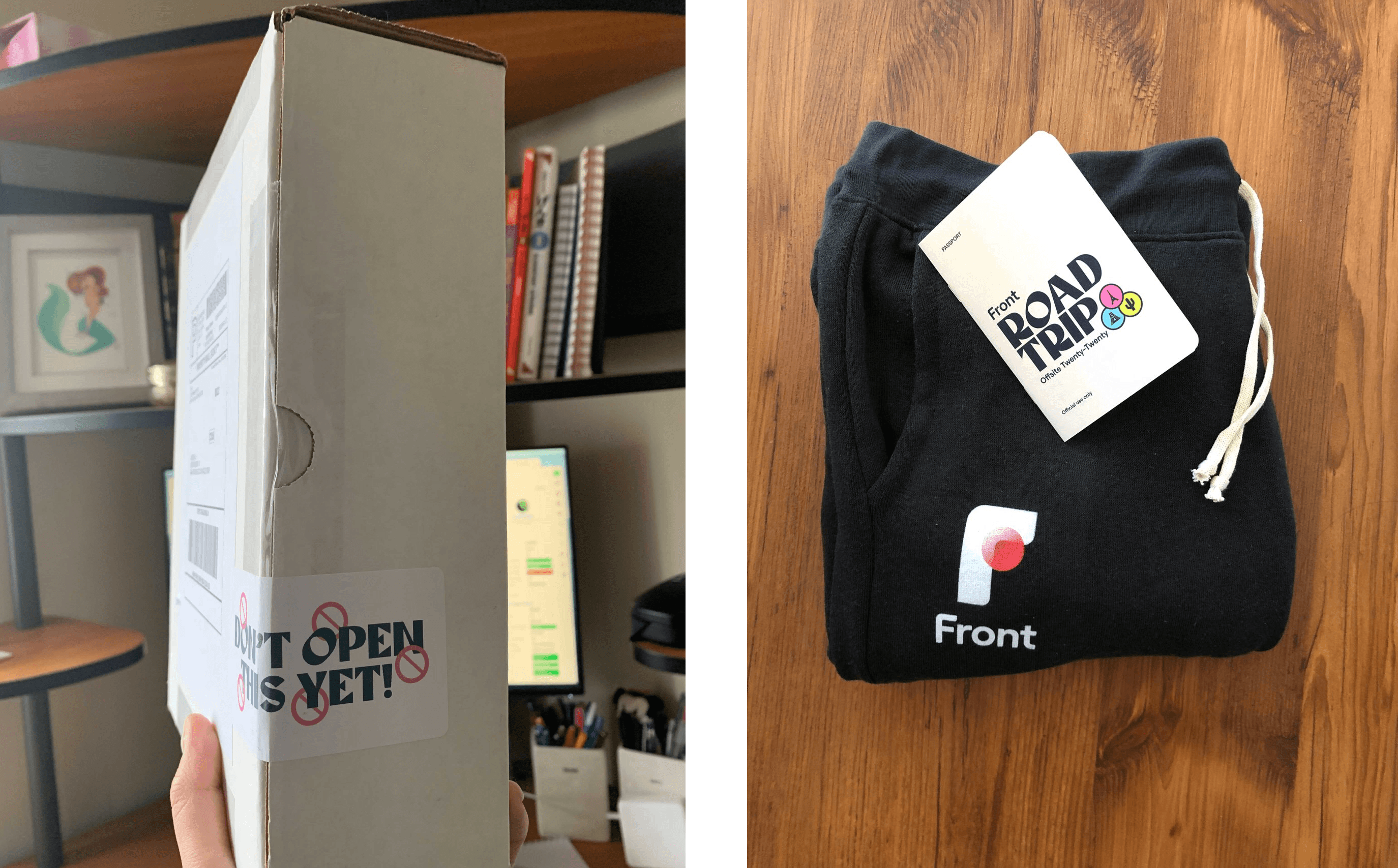 4. Make participation easy, acceptable, and inclusive
In our focus group we learned that people like to be able to do fun extra activities, but they want to do it on their own time. They don't want it to encroach on their work time. So we organized a mix of content that was consumable at your own pace and content that was live. For some events, we simply organized a group of people and allowed them to plan their own time amongst themselves. That way it's all opt-in, and no one feels locked into something.
We also paired groups up, so that people could get to know those they don't work with on a regular day. This also makes it easy for those who are new or shy to get involved in the social part of the offsite. To do this, we simply made a list in a Google Sheet and paired up different groups of 5 for each day. You could just find your name and you knew who to meet up with that day if you wanted.
5. Set expectations with managers
We got feedback that it was important for participation to be encouraged by managers. If your manager approves you taking a long lunch or participating in an online escape room, you'll feel better taking that time away from actual work. So we set the expectation with managers before hand that the offsite would take up their teammates' time.
6. Let anyone lead—not just leaders
An offsite is a great opportunity to let individual contributors take the steering wheel. That enables people who shine in certain areas to show off their skills (and it keeps things interesting. No one wants to listen to the same human ramble on for 4 days straight!)
We launched our four-day event with a quarterly reflection meeting that we call LQAF. At the end of that meeting, the leader handed "the mic" over to one of our solutions engineers, who led us in opening up our swag boxes—in the style of the influencers of Youtube. It was fun and casual and a great way for us all to start the week.
7. Allow the team's talent shine
We took advantage of us all being home to spotlight talents of our Fronteers. We had a virtual guitar performance from our content marketing manager. We held a remote Jeopardy game led by a support manager. We even had a Zoom meditation session and DJ set from two software engineers. These are all things that would be hard to pull off (lugging guitars and DJ equipment to an offsite location? No thanks.) but being at home made it simple to use the equipment the team already owned.
8. Plan for different time zones
We're spread across three offices: SF, Paris, and Phoenix. I got 1 teammate on board to help me plan across time zones and make sure events during the offsite week occurred at appropriate times. That teammate helped rally the team to participate if I was sleeping or offline.
I even downloaded a tool called Timy to help me schedule Slack messages to the team overnight. That way I could give the same experience across many time zones without being up all night to Slack the team, "Hey, virtual Jeopardy is starting!"
9. Make it feel official
We're lucky to have a talented brand design team. We branded everything from the swag to the Bingo board to the website with special Offsite 2020 designs to make it all look cohesive, lending more validity to what we were doing.
10. Diversify ways to engage
We've been reading that people in HR or People teams aren't sure how to get people to engage anymore. We certainly weren't either. By giving many options of ways to engage with their peers, I think we were more successful in reaching more people. You could engage socially over Zoom, play Bingo on your own time, watch videos, join live online events like virtual Jeopardy, or choose to meet up in person.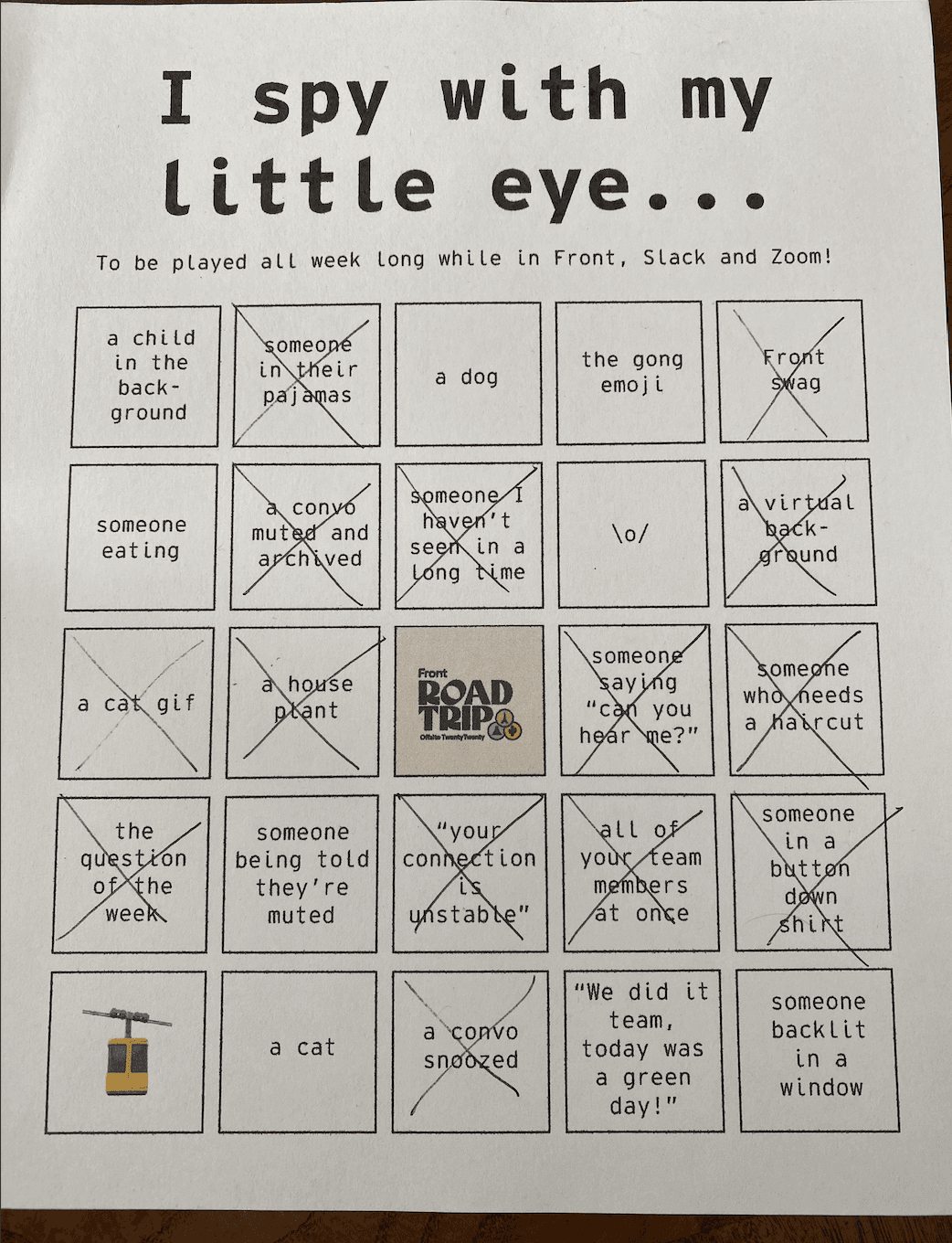 11. Get a little help from friends
Last but definitely not least, it's important to point out that this effort took a LOT of help. We delegated roles across the organization and got people involved who would not otherwise be involved in offsite production. Their participation helped bring their friends and team along too.
What we would do differently
No overlapping activities
We made certain events optional, and one of them was an in-person small group meetup (with masks and social distancing, outside) to bond with fellow teammates. If you didn't want to attend that, there was a virtual event you could attend instead. Despite highlighting the ways to participate no less than three times, people were still confused. In retrospect, I would not have held these events at the same time. I would split the invite into two separate events.
Start early
I would start planning this one quarter ahead of time. The format for the event wasn't finalized until a month before and everyone had to HUSTLE to get stuff done.
Investing in team happiness benefits everyone
Hopefully we'll be able to come together in person again soon, but until then, we're happy we've got a new outlook on structured virtual fun, which is that it can actually be, well…quite fun. Moreover, we believe more than ever that there's a strong business case for our offsites, virtual or not: they give teams a chance to come together, understand each other, and feel engaged in their work.
Written by Harper Casimiro
Originally Published: 4 November 2020