Focus on
customer relationships
Front is a customer communication hub. It makes collaboration easy and information accessible to keep your team focused on what's meaningful: building customer relationships one conversation at a time.
See it in action
Why Front?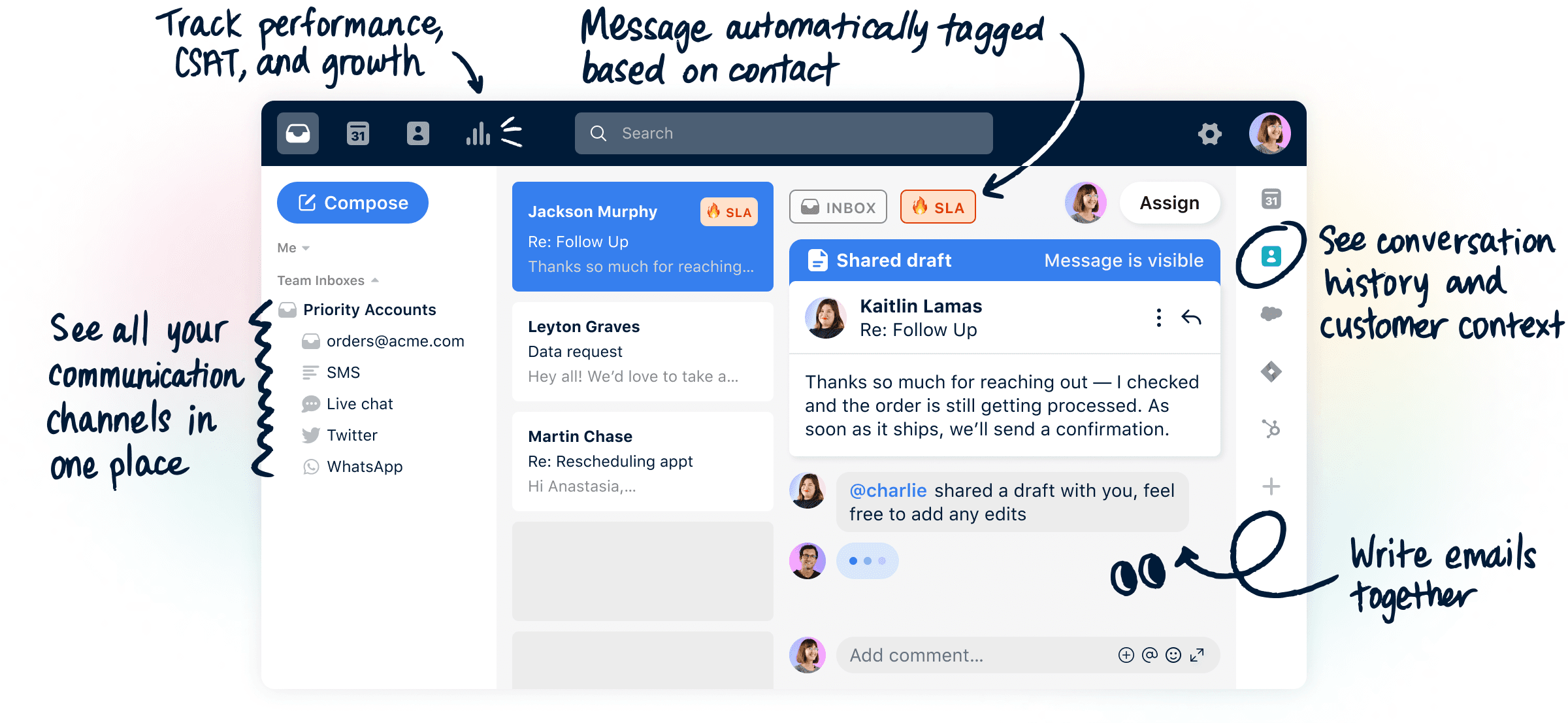 Click above to watch how Front works
The Problem
For many businesses, any customer conversation can make or break the relationship — the stakes are that high. But as a business grows, collaboration and information sharing get messy. Teams spend more time working through processes than actually communicating with customers.
But what choice do teams have? Email is obviously inefficient, but customer service tools aren't built for strong relationships.
The Solution
With Front, your team stays focused on the customer, not the process. Front puts customer conversations at the center of your team's attention and surrounds them with native collaboration and customer data. The result? Stronger customer relationships that scale with your business.
Here's how Front keeps all responses fast, accurate, and human
Every customer conversation is surrounded with team collaboration capabilities. Easily work together on complex customer responses in real time.
Customer relationships vs.

and

operational efficiency
If customer relationships are taking a back seat to operational efficiency, good news: with Front, you can have it all.
See a demo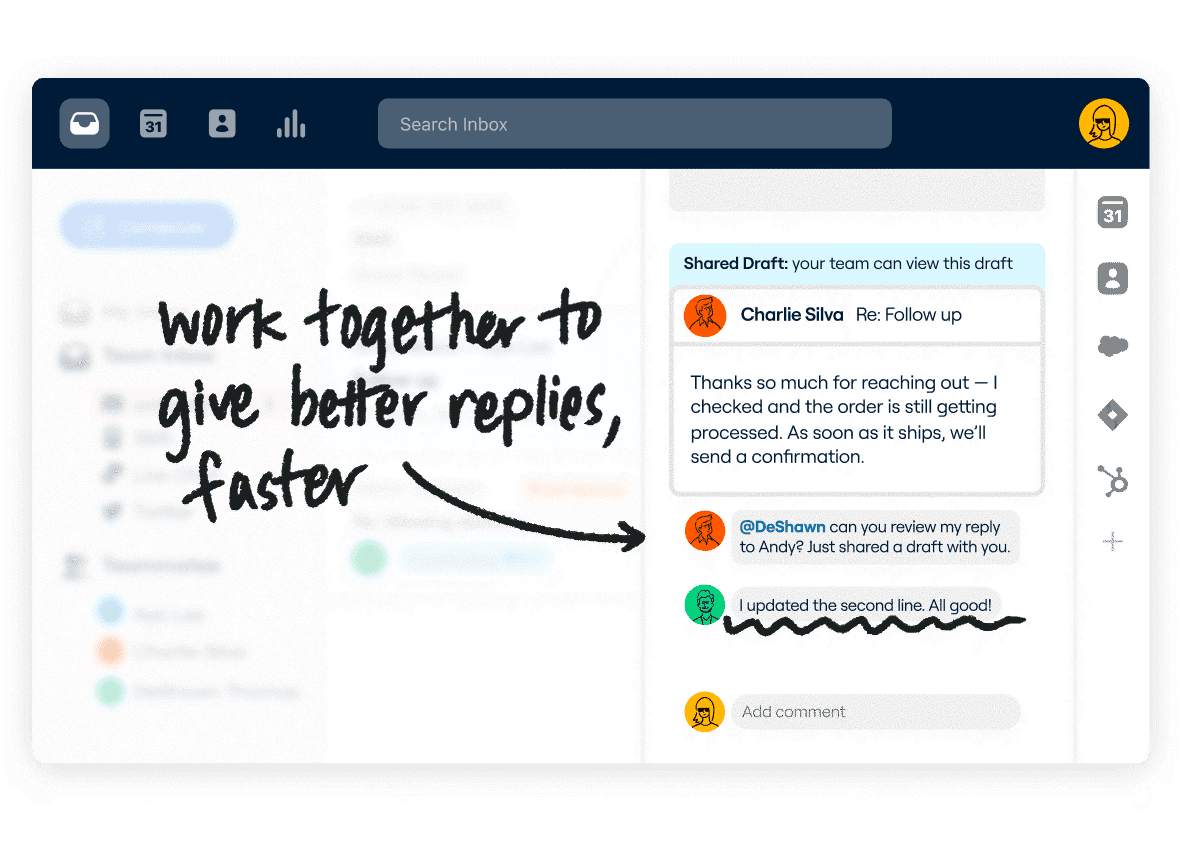 Grow your business
With information at their fingertips and built-in collaboration tools, teams stay focused on driving revenue and retention.
Control your costs
Streamline team performance with automated workflows and discover opportunities to improve with detailed analytics.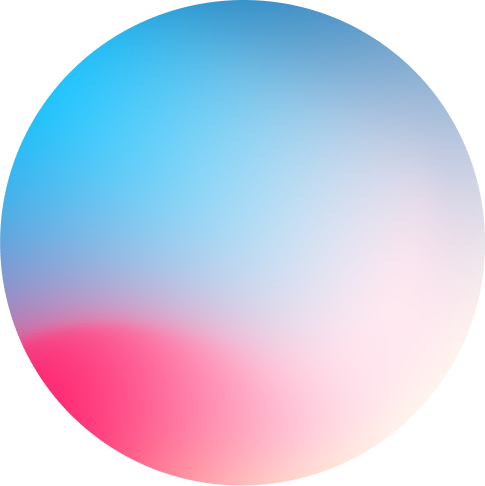 Engage your team
Front lets employees focus on what they do best—creativity, problem solving, and relationship building.
Bring it all into Front
Take back your browser tabs. Integrate your apps, data, and channels into the same tool you use to message your customers.

Integrate your favorite apps into Front—or build your own.
Turn customer conversations into business impact
Instead of two or four or ten tools, Front lets us have just one. Front is so impactful because it fosters that 'we're in it together' feeling for us. Our customers are happier as a result.
Kevin Miller
Director of Growth, Open Listings
Thanks for rules and tags in Front, we've seen an 85% reduction in SLA breaches in the first two quarters of 2020 over this time last year overall.
Jules Funderburk
Head of Account Support at Pilot
My team literally could not do what they do without Front. With one tool to manage hundreds of partners and thousands of accounts, Front gives our team the stability and security to work efficiently and deliver a great experience.
Trish Bingham
VP of Client Services at Boostability
Swipe left to see more testimonials
For teams of 5 or 5,000
Full administrative control
With Front, you have custom governance to best serve your customers. Our administrative console allows you to control permissions, provisioning, access rights, and more.
Security that scales with you
Our platform is built using industry-standard encryption. Daily backups ensure performance never slips, and each customer gets a unique enterprise identifier.

Invested in compliance
From SOC 2 to GDPR, we continuously invest in enterprise-grade compliance and governance frameworks to protect your data and keep it safe.
20 hrs
Cisco Meraki's sales teams save 20 hours every month thanks to Front-driven productivity improvements.

600+
Over 600 teammates at Shopify rely on Front to respond to millions of messages per week.
60 min
With Front, Altour typically keeps a 1-hour response time for client emails—but some departments reply in 10 minutes or less on average.
This business lost the human touch.
Is yours next?
Learn more