A friendly, responsive live chat experience is one of the easiest ways to turn your website traffic into your next customers. But as every sales leader knows, chat duty is demanding — and staffing your team to handle every incoming chat in minutes as your business grows is an ongoing struggle.
That's why every sales team needs Front and Drift! Here are 4 ways Front and Drift are the magic duo that allow your sales reps to stay on top of every message, so you can have more conversions and happier customers.
Speedy replies keep leads engaged
Website chat is very different than your other sales channels, like email. The interest of an incoming lead browsing your site is fleeting, so speed is critical.
If your team handles both email and Drift, Front allows them to tackle every conversation in one place. They won't miss a chat while working on an outbound email — they'll be able to jump into the chat instantly because it's all there in the same interface. With email and live chat in one platform, nothing slips through the cracks, so no opportunity is missed.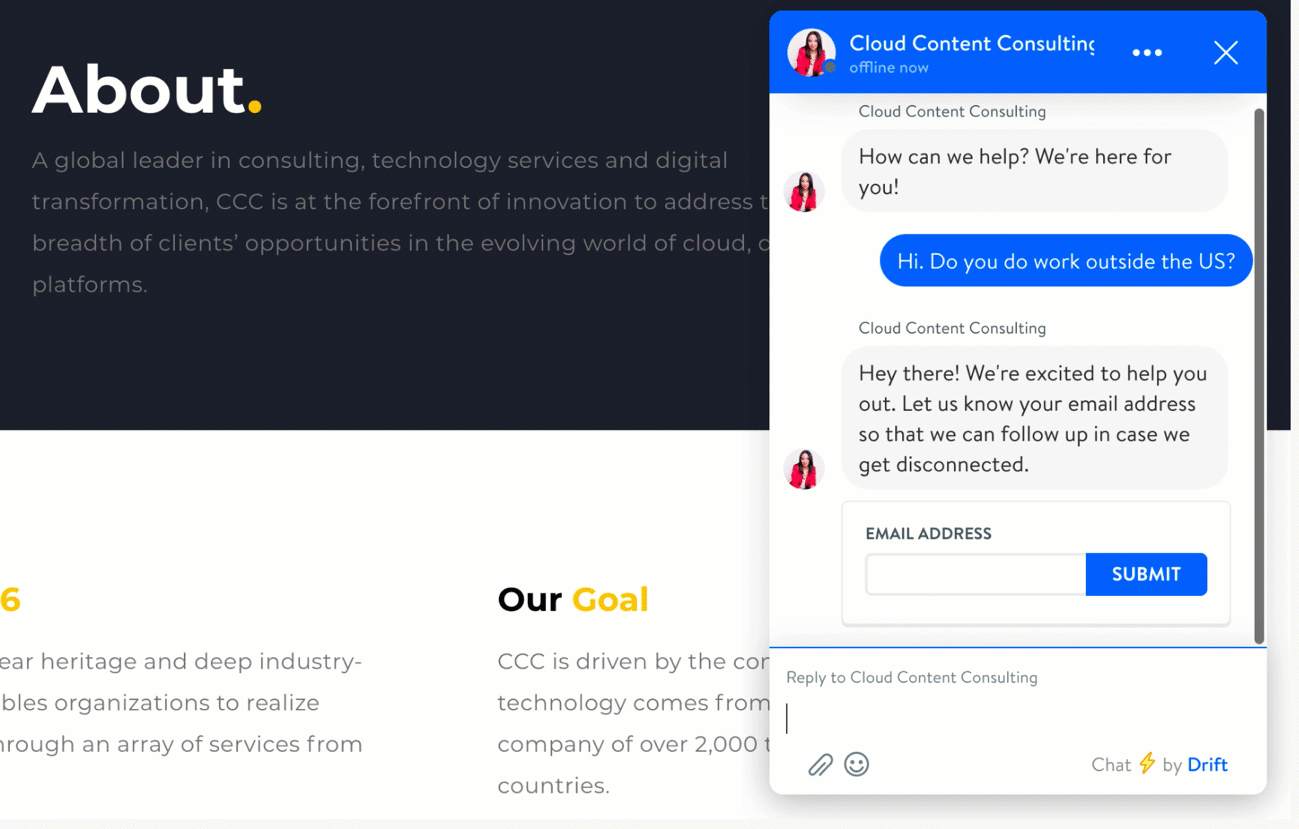 Conversation context allows your team to be proactive
When your team responds to a chat, it's critical to gather context on the lead to give a helpful response that moves the conversation forward. For most teams, this information will be consolidated in a CRM, like Salesforce.
Front integrates with popular CRMs like Salesforce and gives you access to conversation history for every contact. You can understand every chat lead's past activity and quickly determine next steps. Is your lead looking for a trial or resources? With Front, you've got the context you need to give leads what they need — stat.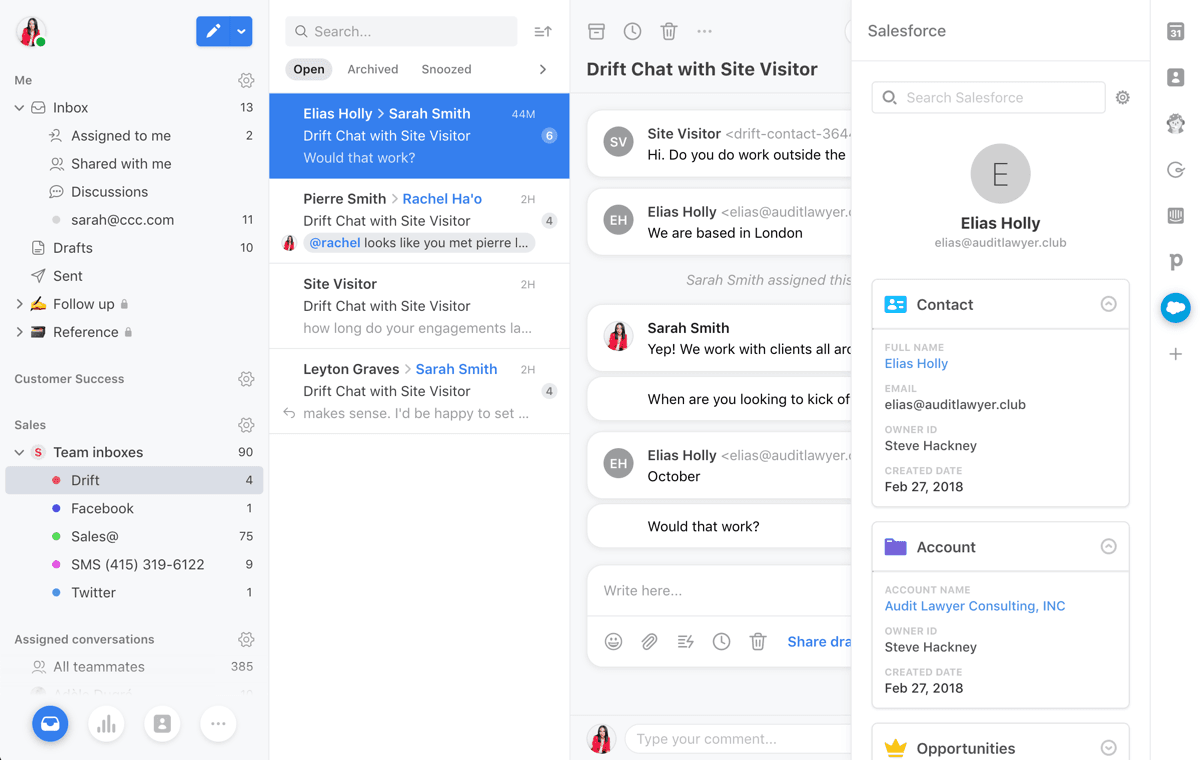 Easily grab expert assistance from your team
Some chat questions demand special expertise — which can send reps scrambling to look up niche or technical answers 😅
Front and Drift have your back in these stressful scenarios. In a few clicks, you can swiftly share the conversation with a teammate to get help drafting a reply. Effortless collaboration is a hallmark of Front, and the Drift integration lets you leverage your team's collective brains for all incoming chat messages, too.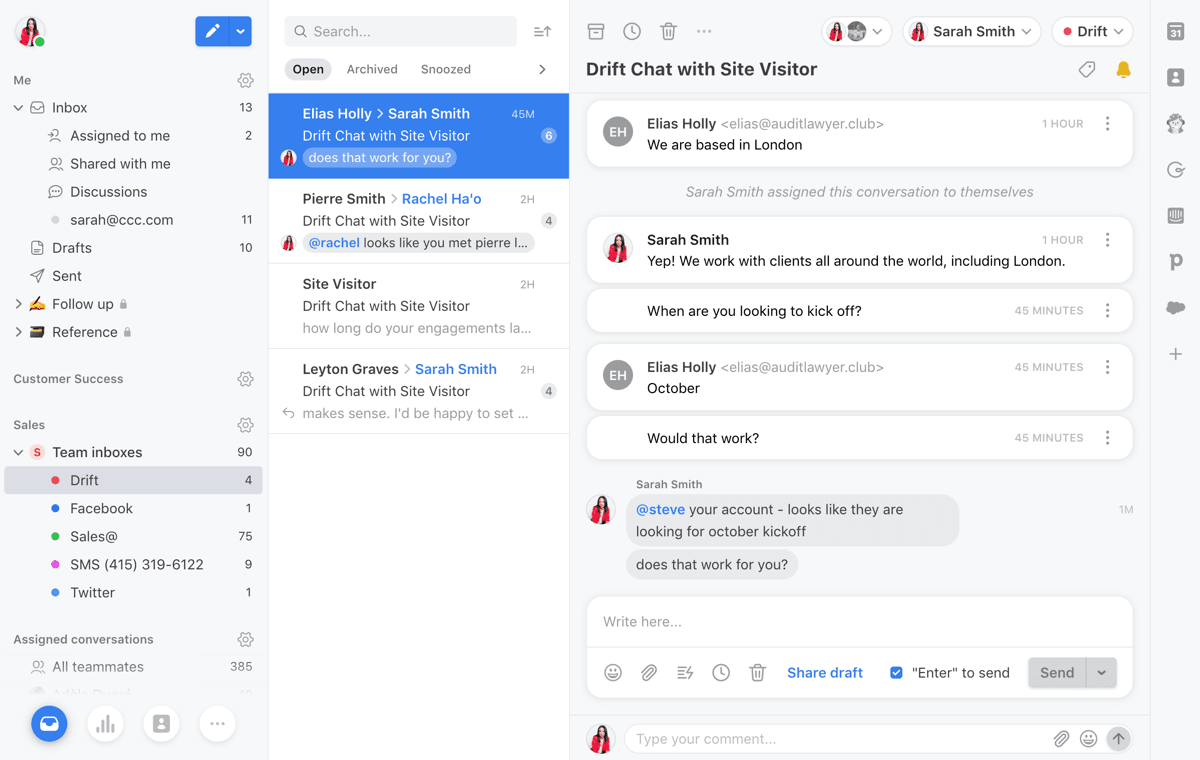 Routing to the right AE is as easy as 1, 2, 3
When your team determines a lead is a good fit for your business, things can get tricky — and a smooth transition to the right AE is critical to getting a meeting scheduled to close the deal. Now it's time to pass them to your account executive and get a meeting scheduled!
Frontfacilitates smooth scheduling and handoffs. Check Salesforce at a glance to find the AE and send a calendar link to them. Assign it to them, and voilà, you've shared the whole conversation with them. They can see all the context they need, without asking you or making the lead repeat details. It's never been easier!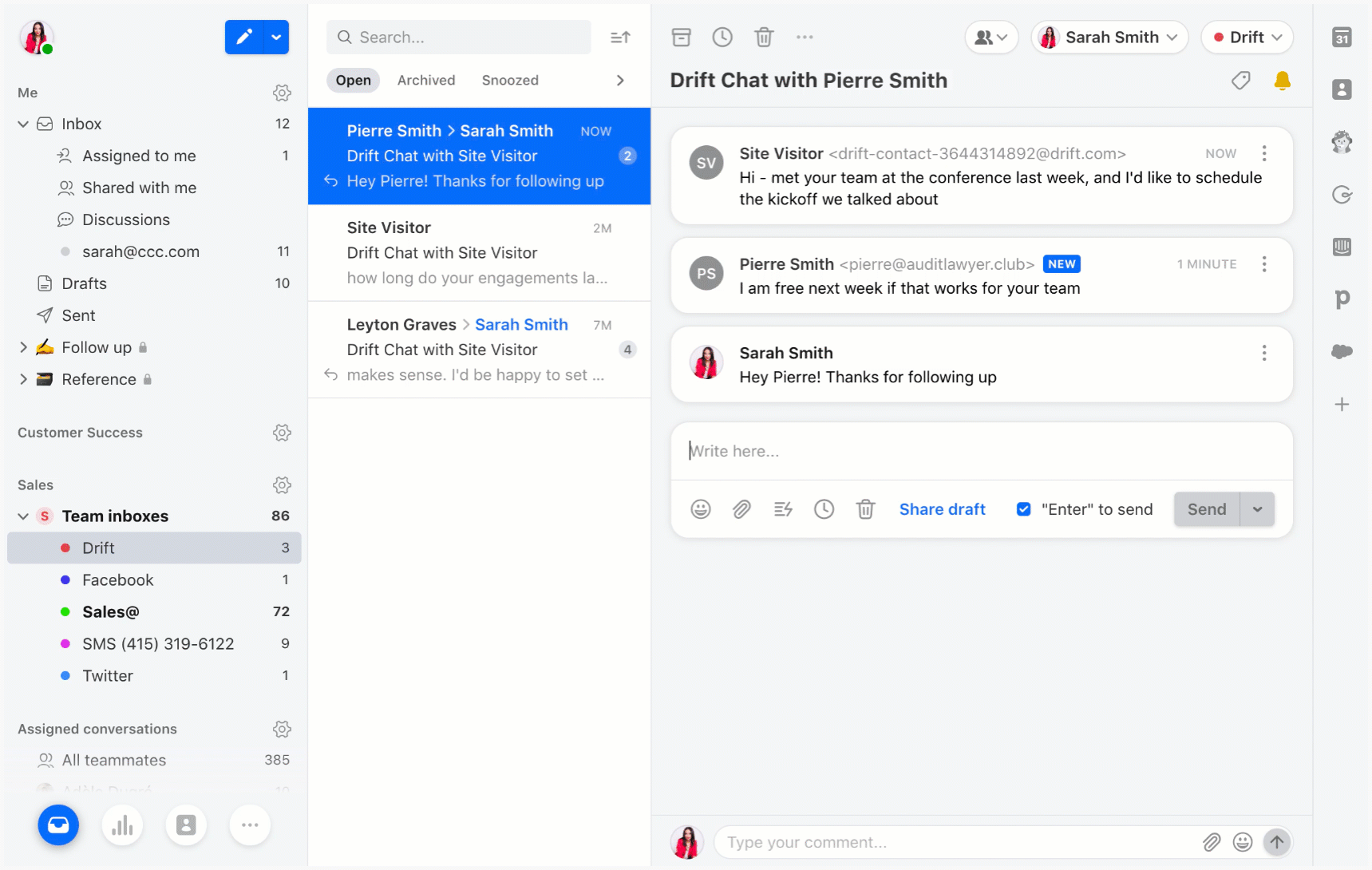 What about when a chat lead isn't a lead at all, but a customer looking for help? In these situations, Front and Drift make it easy to get the message to the right teammate. There's no "please write in to support" or "who's your Customer Success Manager?" Instead, you can assign the message to your teammates, so they can reply directly and get the customer what they need faster.
Front + Drift = Your secret sauce
Managing website chat requires quick wit, constant attention, and a breadth of knowledge on your audience and product. Staying on top of every message can be a real time drain. Front and Drift arm your sales reps with speed, context, and collaboration, so they can shine in every live chat conversation.
Written by Ryan McEntush
Originally Published: 17 April 2020