When was the last time you had such an amazing customer service experience that you told your friends about it? For many people, the answer is never.
Decent customer service isn't hard to come by anymore. Most companies worry about their reputation and make sure their reps are friendly, courteous, and engaging. These days, good customer service isn't a competitive advantage — it's only enough to keep up.
To get customers telling their friends about your business, you need to get creative. Instead of following best practices or standard strategies to improve your customer experience, look for ways to differentiate your approach and make your customer experience stand out.
Here are four companies taking an unconventional approach to customer service to get your ideas flowing:
Jet encourages personal connections
Jet is an e-commerce site known for their advanced pricing engine, where the more a shopper puts into their cart, the more they save. But they also have a pretty ambitious mission statement: "to make shopping more transparent, more efficient, and at the same time, a little more fun."
To make sure they're delivering on their promise, they're constantly soliciting feedback from their customers — a fairly common practice. Yet instead of hitting an average response rate of 8-12% from their customers, they boasta response rate of 40%. Their secret? Making their customer service reps more relatable to their customers.
When a customer issue is resolved, Jet solicits feedback with emails that feature their particular rep's picture and some of their hobbies. If a customer gives them a rating of 4 stars or higher, the customer can also recommend a small gift or a free meal as a thank you bonus. This creates a cycle of reinforcement that keeps customers happy and employees engaged: reps are incentivized to provide better service, and happier customers are more likely to be generous with their feedback.
Customers see their rep as a real person rather than an email address, and they also get to show generosity towards that person — something that's scientifically proven to make people happier. Through this simple cycle, Jet has created an ecosystem that promotes more satisfied customers and a more engaged team.
WHAT YOU CAN DO: Humanize your Customer service employees
Make it easy for your reps and your customers to see each other as real people behind their laptop screens. Jet uses a service called StellaService to facilitate real-time customer feedback and employee rewards, but here are small things you can do too:
Add photos and short bios to your customer support emails.

Train your reps to avoid customer service jargon and talk to customers like real people.

Encourage your reps to keep the conversation going even after they've solved the problem.
Build-A-Bear engages customers in storytelling
Build-A-Bear Workshop is the largest children's toy store that allows its patrons to create their own stuffed animals. Their slogan, "The Most Fun You'll Ever Make," is brought to life by the lively and energetic staff that guide children through building their new favorite stuffed animal. Children are escorted down a production line where they pick their animal, stuff it "with warm wishes", and give it "a beating heart".
They've sold over 50 million bears worldwide and are currently worth over $200 million. They're somehow able to grow and sustain a toy business in a time when every other brick-and-mortar toy store is downsizing.
Build-A-Bear has created the best possible in-store experience because of CEO Maxine Clark's customer-first philosophy:
At a typical toy store, a child's experience ends the moment they leave, but Build-A-Bear creates a story that they get to be a part of even after the child leaves the store. Everyone in the company interfaces with their customers, from their enthusiastic in-store staff to their executive team.
Not only has Build-A-Bear earned a reputation for a best-in-class customer service experience, but they've been rated one of the best places to work by Forbes for seven years in a row.
WHAT YOU CAN DO: Give everyone access to the customer
Look for ways to get everyone in the company — from the CTO down through the office manager — interacting with your customers. Here are just a few ways to that:
Institute all-hands support so everyone can learn about customers' favorite (and least favorite) parts of your product.

Send around small customer service wins to the whole team to show the value of customer feedback.

Share customer testimonials to remind your whole team that their hard work is paying off.
Starbucks crowdsources product ideas
The $86 billion coffee empire barely needs an introduction. They achieved early success by driving the specialty coffee trend, but they've maintained their growth by consistently delivering a great experience, regardless of location or changing customer expectations.
Among their many customer-centric initiatives, My Starbucks Idea was one of their most effective. Starbucks created an online portal where coffee lovers can recommend ideas on how to improve Starbuck's product, experience, or community involvement. Ideas are posted on a public forum where they can collect upvotes and comments. Customer service employees are responsible for reading through the suggestions and adding ideas to the ongoing product roadmap, which is also public on their website.
"Skinny" lattes, digital rewards, and dairy and soy alternatives are just three of the hundreds of product improvements that were created based on crowd-sourced ideas submitted through this portal: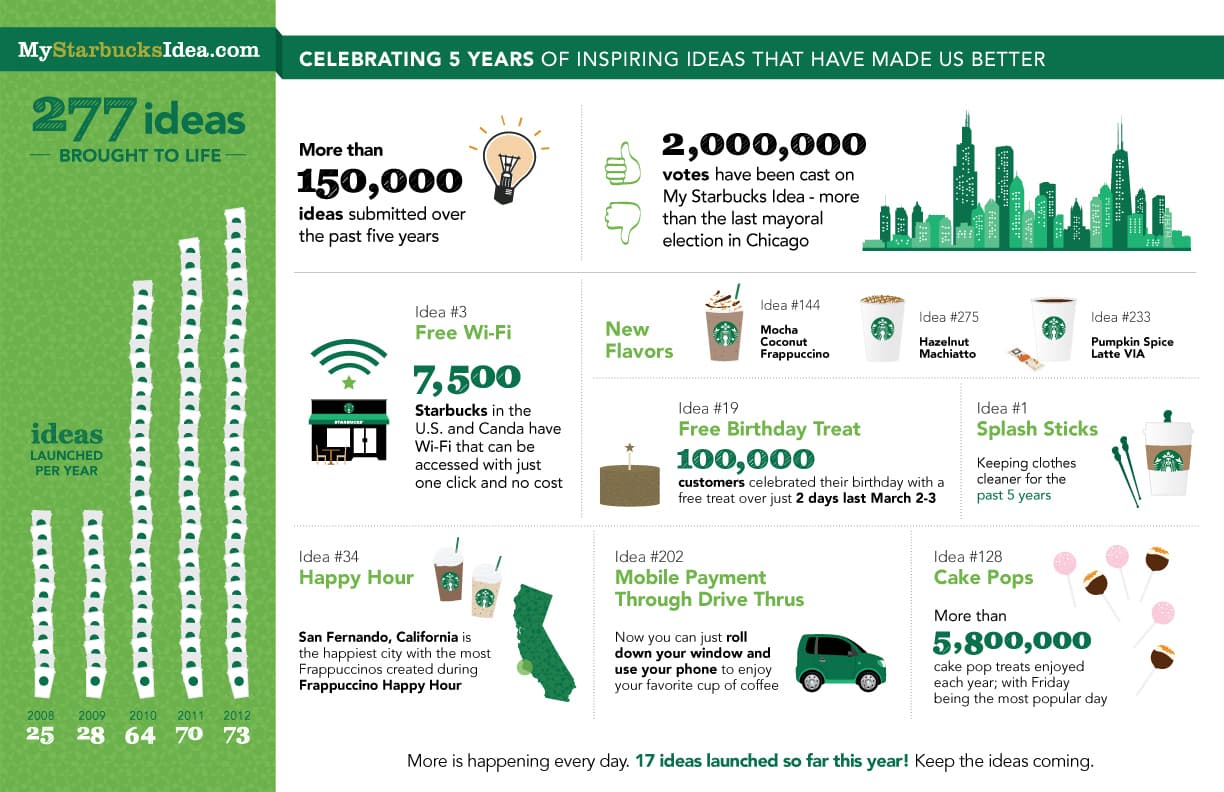 Many companies make product changes based on customer feedback. What's unique here is the lengths Starbucks has gone to demonstrate how much they value customer feedback and ideas and provide updates on improvements that are underway. This keeps their development process customer-centric and also builds a community around the brand.
WHAT YOU CAN DO: Prove to customers you're listening
Prove to your customers that you're using their ideas to guide product development. This means going further than the typical, "you asked, we answered" feature release. Here are a few ways to create a community around product ideation:
Encourage feature suggestions on your website or help center, in your app, or even in response to your emails.

Make your roadmap public to show your users what's in the works and where the idea came from. You can use a forum, or just a simple Trello board — it took us only two minutes to launch ours!

Give credit to your customers along the way by sharing customer anecdotes that have guided product development.
Cards Against Humanities makes support fun
Cards Against Humanities is the card game "for terrible people". The game, created by a comedy writing company, is a fill-in-the-blank card game that is conducive to making awkward, funny, and politically incorrect phrases. An idea that started out as a $4,000 Kickstarter campaign turned into a $12 million business.
The small team of writers took a very unconventional approach to marketing their NSFW board game. Just as the game inspires laughs for blunt and offensive language, so do all its marketing efforts. Their website, their Facebook, and their Tumblr all feature snarky comments and satirical posts to get their fans to engage and react with the same sarcasm.
The support reps are perfect brand advocates, trained to be both helpful and funny so that users can get a kick out of interacting with them. As support team lead Jenn Bane explains:
Along these lines, it's common for the support team to send out emails with controversial material: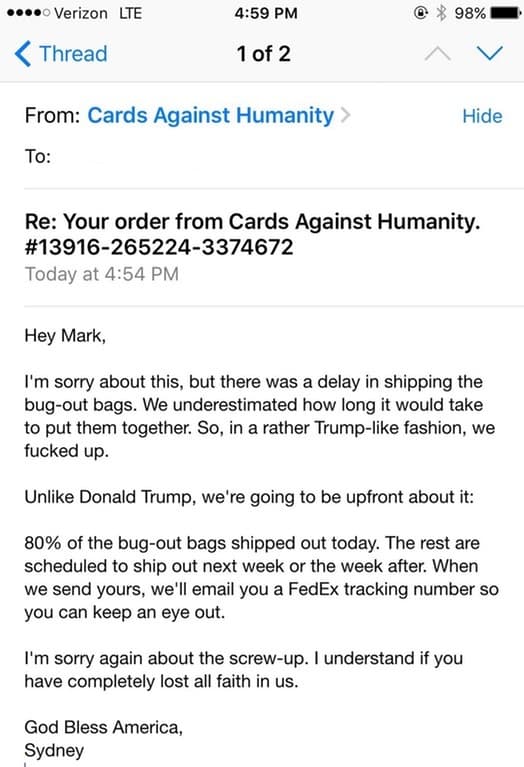 Cards Against Humanity has subverted the standard approach to support and mirror the tone of their product to give their customers a laugh.
WHAT YOU CAN DO: Amplify brand voice through social media
Instead of making social media your marketing team's responsibility, get everyone on your staff to interact and contribute to your company's social media presence. Social platforms are a great opportunity for your customers to get to know the team behind the scenes — here are a few platforms your team can use to tell your company story:
Tumblr to give your community a glimpse into team culture, the way the Cards Against Humanity team does.

Facebook to give shout outs to team members and partners who contribute to your product.

Twitter to engage customers in real time about new features, issues, or anything else that's on their minds!
Go beyond "best practices"
Customer service isn't just about fixing problems anymore. It's about finding ways to orient your company around your customers by soliciting product ideas, sharing feedback across the company, or building enthusiasm for your brand. Taking a traditional "best practices" approach might be preventing you from thinking outside the box.
Customer trust and brand loyalty comes in limited supply. To win it, take some unconventional approaches to support for an unforgettable experience with your brand.
Download our Guide to Managing Customer Relationships at Scale.
Written by Sarah Spangenberg
Originally Published: 17 April 2020