Collaboration can be transformative.
When your team works together, "I did it," becomes "We did it!" Progress updates turn into high-fives. Mistakes change from, "It's your fault," to "We learned."
Unfortunately, while 86 percent of leaders acknowledge the importance of building a collaborative team environment, only 7 percent feel prepared to make it happen.
Businesses spend a lot of time thinking about collaboration software and team productivity tools — and while these are absolutely necessary for getting work done, we can't forget about the power of face-to-face communication and interaction.
Here are five ways to build a collaborative environment for your team that go beyond apps and tech tools.
5 ways to build a collaborative team that aren't tech tools
1. Create collision in the office
People are creatures of habit. If you have no reason to go in the back corner and talk to Greg from Accounting every day, you probably won't ever venture there. But what if there's an opportunity that you could have achieved if you had chatted and opened up that door?
To fix this potential opportunity loss, Zappos physically altered its office spaces to create more "collision" in the office. As Richard Dash explains in his book Organizational Theory and Design, "Managers are hoping to spur more collaboration and information transfer by having people bump into each other and start spontaneous conversations."
Lindsay Kolowich of HubSpot wrote about several innovative ways companies are changing their offices to promote collision in the office:
Hot-desking: Eliminating assigned desk seating and instead regularly rotating desks. See how Deloitte, Microsoft, and Credit Suisse hot-desk to collaborate better.

Overlap zones: Areas of the office where employees have opportunity to run into each other and talk. These include the kitchen, common areas, and communal rooms.

Super desks: Installing large desks for many employees to sit together and work.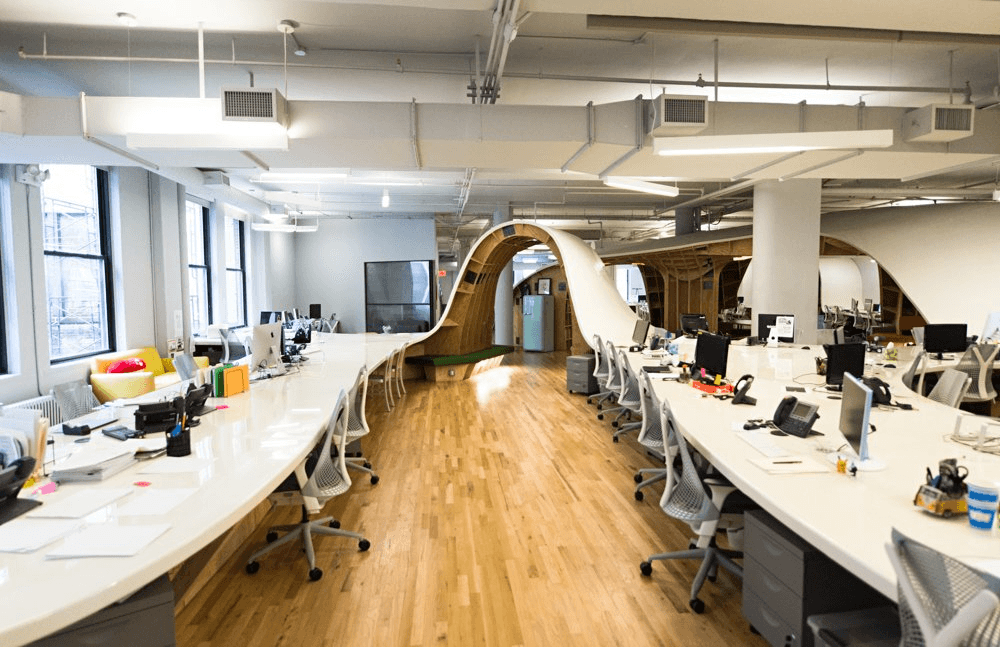 (Source)
2. Swap roles
What better way to get to know someone than to walk in their shoes for a bit? The HR department at Blinds Direct did exactly that, going as far as actually having teammates switch roles for a day.
Blinds Direct Manager Lee Fisher explains: "Usually, team members work together closely, but they don't really understand the complexities of other person's role. Spending a day in your teammate's shoes highlights their efforts, which brings more understanding and respect for one another."
Instead of all-out swapping roles, you can try a light-weight version of this.
3. Regularly survey your team
The only way to truly know how your team feels about collaborating is to ask. An easy way to get honest, uninhibited responses is to send a survey that your team can answer anonymously. UNCW gives a great example of a survey on collaboration. Try to ask questions to gauge:
Their willingness and attitude towards collaborating

Which tools they enjoy using most to collaborate, like a knowledge base or internal wiki

Moments when they feel they could use the help of a teammate or extra information that a teammate could give
4. Structure your meetings
We've all heard stories about how too frequent or too lengthy meetings can negatively affect your productivity. But they're also critical for building a collaborative team.
Set some company-wide boundaries for your meetings so that everyone knows why they're happening, and if they should be present.
For example, the team at Front uses a simple structure in the description of every meeting. Here's an example from a marketing team meeting.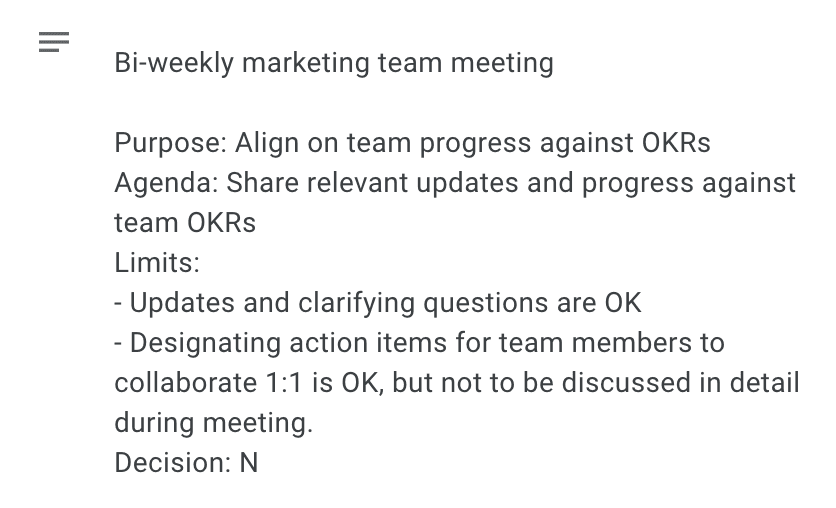 It's also a good idea to provide the team with a suggested meeting cadence, so they know what's normal for other departments. Lucid provides a great example of a recommended meeting cadence for various teams: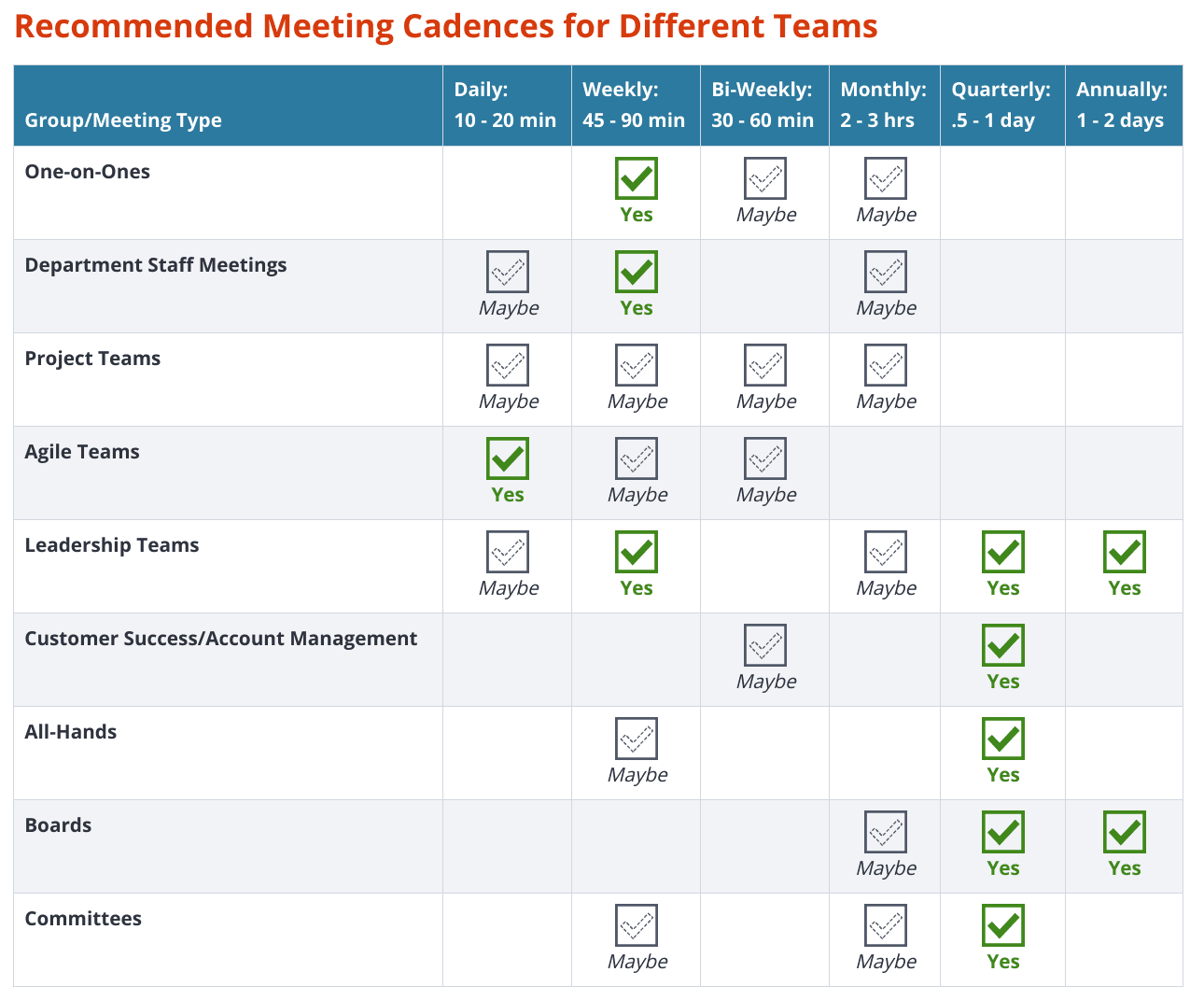 5. Get together offsite to bond better onsite.
It can be tough to break out of the "office" mindset when you're sitting at your desk all day. So if you want to help your team build relationships that go a little deeper than, "What's the status on that project?" it's helpful to organize an outlet for your team to bond — in a space that's physically outside your office.
Since you can't expect your team to organize meetings on their own, doing a team-wide offsite during work hours can be a very good use of your time. Try doing a hands-on activity that's completely unrelated to your business or product:
Woodworking

Cooking or baking

Painting

Roller skating

Gardening
These opportunities open up the door for your team to get to know each other as people, not just teammates. As a result, when you're back in the office, collaborating will become more fluid and natural.
Collaboration builds a happy team
Collaboration makes your team feel more engaged. That feeling of positivity trickles down into your customer experience, which in turn, improves your business's bottom line.
Written by Josh Brown
Originally Published: 17 April 2020