Need an answer from someone over email? Feel like you're being ignored? You're not alone. People leave emails unanswered or don't reply at all — all the time. Why?
Simple answer: There are too many. Emails have become a core part of our daily work routine. In fact, the average person spends 28% of their time on email every week. Sherry Turkle, the director of the Initiative on Technology and Self at the Massachusetts Institute of Technology, says that many people get overwhelmed with how many emails they have to reply to, so they triage, prioritize, or completely forget to reply.
"Your brain is not a perfect instrument for processing texts," she says.
Yet if you're the one that's waiting for a reply, it's, welp, just annoying. In a business setting, it's usually holding you back from your own deadlines. Financial Times writer Lucy Kellaway describes what many of us feel when our emails go unanswered — there is no clue why they haven't replied.
"What is so distracting about silence on email is that it is impossible to fathom. When you speak to someone, you can see whether they are struck dumb from amazement, disapproval, or boredom.
"Has the person even seen your message? Are they deliberately ignoring you? Are they disgusted? Busy? Out of battery?
"Or could it be that — as often happens to me — they have read the message on their mobile without reading glasses to hand, and by the time they have got their glasses the moment has passed."
And when it comes to waiting for an email reply, some are more urgent than others. You could be waiting for a response to an event invite, or something more urgent like:
Late payments/shipments

Overdue deadlines

Unsigned contracts

Unused coupons or discounts
If these emails continue to go unanswered, you risk missing deadlines or closing a deal. So, how do you get an answer to these emails?
It depends on the circumstances, but getting a reply comes down to a few simple rules: grabbing your subject's attention, keeping your emails short, and clearly explaining why you need a reply ASAP.
3 tips for writing deadline reminder emails
1. Make your headline stand out
Don't play "Where's Waldo?" in your recipient's inbox. You need to stand out.
The first stop is the email's subject. If it's too generic, you risk your reader skimming over it completely.
If you're chasing an overdue invoice or an unsigned contract, all you have to do is highlight it and gently remind them that you would love a response. Like this:
Four words tell your reader what the email is about and instill a sense of urgency that can nudge your reader into actually opening it.
2. Keep it short and sweet
People love a short email.
A study by Boomerang revealed emails that have between 75 to 100 words get a better response than longer emails.
Remember, people are busy. The quicker you get to your point, the easier it is for your reader to scan your message and reply. Here's how an overdue invoice poke could look:
It's like a quick text to a friend. It includes all of the vital information—when the invoice was issued, how much it was for, and, most importantly, that it's overdue. It also presents the reader with a crossroads: if they've paid the invoice, all they have to do is reply and let you know.
And if they haven't—the pressure is on for them to respond.
3. Make sure you clearly explain your situation
I know I've just told you to keep your deadline reminder emails short, but there are some occasions where you may need to explain your situation in more detail.
If you send out a reminder to a customer about an upcoming subscription expiration or try to close a deal on a new contract, you sometimes need to add a little more juice to your email. This requires drafting a deadline email with three pieces:
🧑‍🤝‍🧑 A quick summary of your relationship: Remind your reader about who you are and when you interacted last
📅 A reminder of the upcoming deadline: Clearly explain what deadline is approaching and how you can help them. If your reader can extend a subscription themselves or pay an invoice online, make sure you add in a link so they can take action immediately
☎️ A call to action (CTA): If you think that your reader may need more information or you want to touch base with them to talk more about their contract, ask for a catch-up
Here's what that email should look like:
It's important not to overload your reader with information. Your reminder email should have a clear message about what you want them to do and how they can do it.
Pro-tip: Creating a reminder email that actually gets replies is like finding gold. You should turn your winning email into a template so your whole team can use it to boost their replies. Using a tool like Front, you can create message templates to save time when you reach out to customers to get a response. All you have to do is draft a template, save it, and your team can use it whenever they need:
Oh, and make sure you hit send at the perfect time
There is a little bit of science that comes along with getting email replies.
It may be a surprise that if you hit send at the right time, you have a better chance of getting a response. A study by Beamery found you can get a 45% response rate for emails if you send them early in the morning or in the evening.
Yet all customers are different, so the best way to figure out when to send emails is to test, test, test. A/B split testing your emails to see when your customers are active and replying to your emails can help you pinpoint when they're most likely to be in their inboxes so you can send your deadline reminder emails at that time.
3 deadline reminder email samples you should steal
1. A short and sweet message about a subscription renewal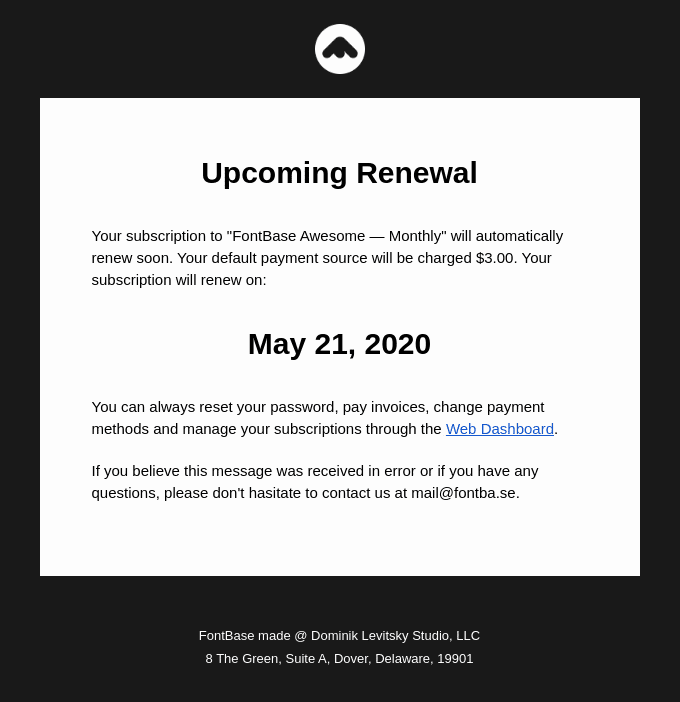 Why it's great: Your customers are busy people, so the majority of the time when they forget to pay an invoice or renew their subscription, it's because they've forgotten or they just haven't had time to do it. Any deadline reminder email you send out should reflect that. And with so many subscriptions now auto-renewing, this deadline reminder email should be just that — a reminder that payment is about to be charged to their card.
Take a look at this example. It simply tells the customer when the subscription will renew, how much the charge will be, and a link to where they can manage their payment cycle.
Short ✅
Sweet ✅
Simple ✅
2. A reminder of an upcoming event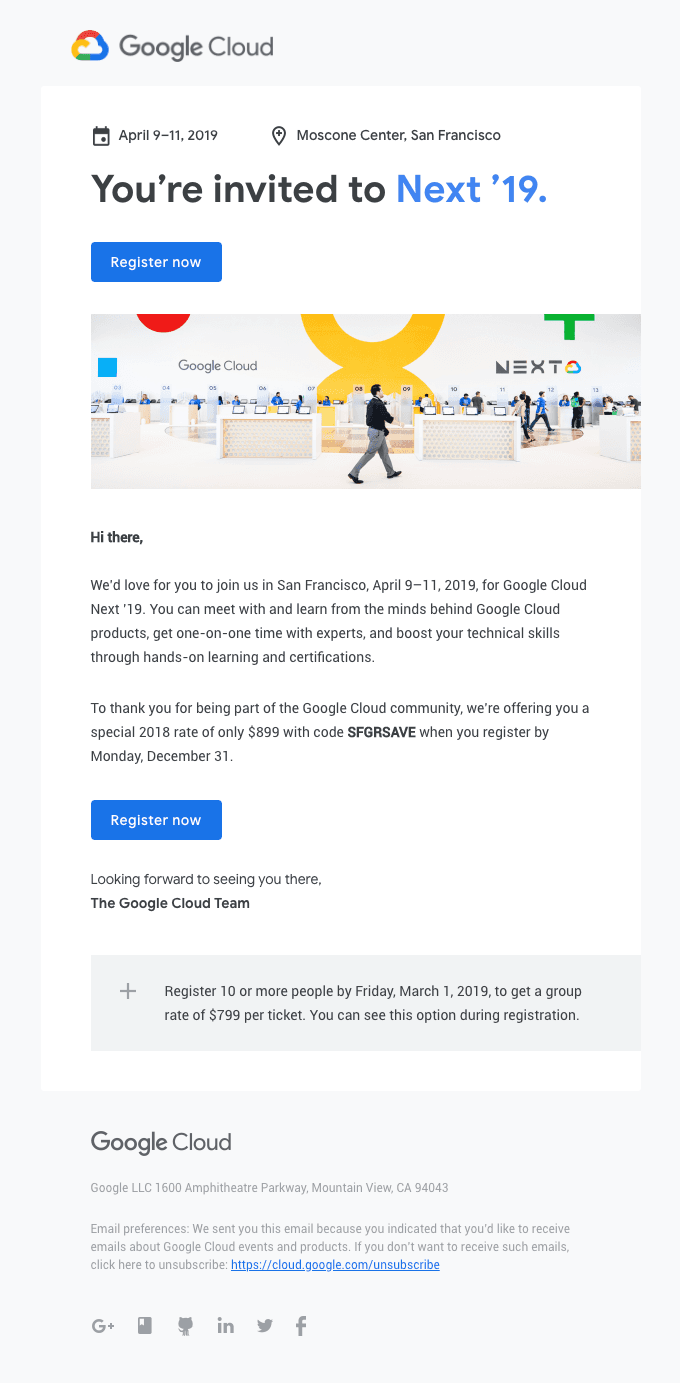 Why it's great: Whether you're hosting an event, webinar, or onboarding session, you should always give everyone attending a heads up and remind them a couple of days in advance.
This sample reminder email about an upcoming marketing seminar highlights all of the important bits: when the event will take place, how much it'll cost, and when you need to register.
There's two parts of this reminder email that make it really pop. Not only is there a discount code given (that highlighted in bold), but there are two call-to-action buttons. It leaves the reader with no confusion about what the email is about, and leaves the impression that Google *really* wants them to come to the conference! 🙋‍♀️
3. A gentle nudge about a customer's unused rewards
Why it's great: Reminder emails don't always have to be about chasing unrenewed subscriptions or unpaid invoices. This deadline reminder email sample is perfect for customers who have unused store credits or a remaining balance on their account. They may have forgotten about a credit you have given them or unsure about how they could spend it.
If you copy the format of this sample email you can tell the customer exactly how many credits they have left (or what coupon they can use), when it needs to be used by, and provide a direct link to your website to encourage them to take action!
Deadline reminder emails should be polite — not pushy.
Sending out reminder emails can feel like you're annoying your clients.
Yet there's a way not to be a burden on their inbox. If you keep your message short, explain the situation clearly, and give them a way to resolve the problem themselves — you boost your chances of getting a reply.
The most helpful advice we can give to you is that people's inboxes are a busy place. To give your email the best shot at standing out, have a headline that stands out, keep it short, and send it at a time that'll get your reader's attention.
The rest… well, that's up to your reader!
Written by Kimberlee Meier
Originally Published: 12 November 2020