We built Front to be a flexible communication hub that you can adapt to your team's unique needs. With rules, integrations, and our API combined, the sky's the limit. You can build your own automations to do things like moving messages to other inboxes, auto-replying, or triggering alerts. You can integrate other software into Front. You can even create custom apps and channels that live directly in your inbox.
Over the years, we've realized: our customers are incredibly creative. Often, you build Front workflows that we could never even have thought of on our own. That's what prompted our first-ever Front workflow competition: Flow & Tell. Our main goal? Let's celebrate the magic you're creating in Front and share it with the world to see.
The rules of Flow & Tell
It's important to note that there were so many awe-inspiring workflows submitted that judging this contest was not an easy process. There were three axes we looked at for each submission:
Efficiency: How have you increased productivity, moved faster, or saved time?

Creativity: How unique or outside-the-box is this workflow? Has anyone done it before or are you blazing a new trail?

Business value: How powerful and impactful is this workflow on your customers?
Without further ado, we're excited to share with you the winners of our first-ever Flow & Tell competition.
First Place: McQuilling's efficient ship brokerage automation
McQuilling is an international ship brokerage and marine transportation consultancy whose entire staff relies on Front—all 130+ people across Broking, Operations, Services, and Administration.
The workflow
With McQuilling's workflow masterpiece, emails are automatically assigned to the right operator for the voyage. Now they're serving the same amount of customers with 15% fewer employees due to retirement. And their customer experience? It's smooth sailing. (Get it?)
Why it's great
Through this workflow, their team saved time and cut down on context switching, so they're laser-focused on voyages, can work faster, and can even enjoy down time. Since messages are properly linked to their internal database they can quickly take action without leaving Front—whether at their desk, on the road, or in a meeting. It has also facilitated better remote collaboration during the pandemic.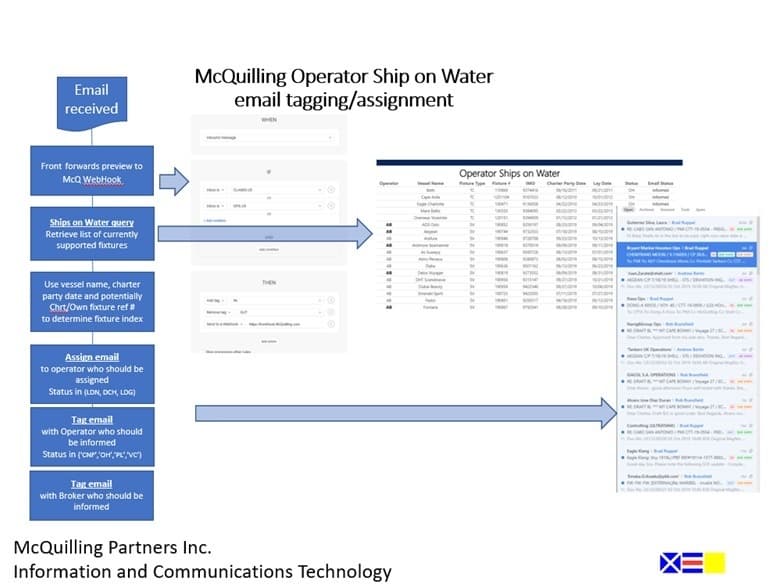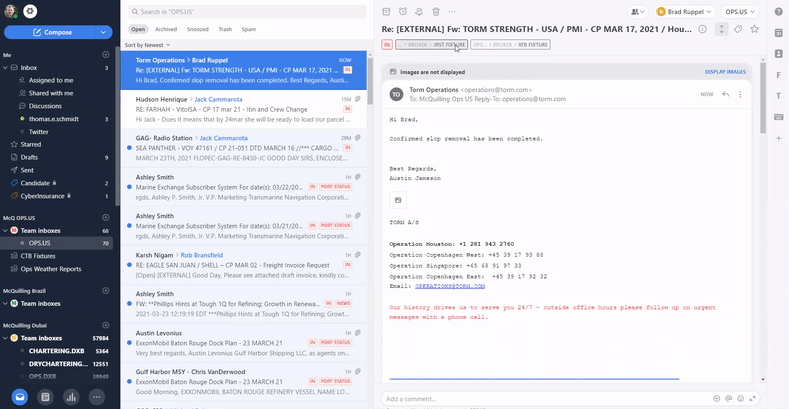 McQuilling's workflow automatically tags new emails and assigns them to the right operator. Then they use Slash commands in Front comments to take action on emails quickly.
How it works
An incoming message from a customer in Front fires a webhook to a server that extracts the vessel name, deal date, charterer's reference details, and sender from the message.

They automatically match that information to the current set of voyages, also known as 'Ships on Water', which lives in their Marine Logistics System (MLISA).

Then several things happen: the message is assigned to the right operator, the broker is notified that a voyage message was received, and the message is classified with a tag: Voyage order, Invoice, Status.

If the flow detects a problem with MLISA data, users are informed automatically in a Slack channel so they can dig deeper.

Then, if an operator needs to act on a message, update a vessel ETA, link an MLISA file, or give a status update, they can use automation in Front's comments. Comments that begin with a backslash '\' trigger webhooks that automate common actions.

Slash commands are parsed and mapped to key actions, and automatically provide success or failure feedback to the user via an inline comment posted using a bot.
A job well done, McQuilling team. We're thrilled to see what you cook up next!
Second place: Bellman's all-in-one property management portal
Bellman is a real estate company whose entire staff, including Property Managers, Accountant, Operations, and Sales, rely on Front to route messages from tenants to the right property manager.
The workflow
Bellman's team leverages a combination of tagging, rules, and Front's API to get every message, including voicemails, to the right property owner. The outcome of their workflow is incredible: 95% of emails are assigned to the property manager automatically, without anyone lifting a finger, so they can stay focused on what matters: providing fast, thorough service.
Why it's great
Thanks to their plugin, they're responding faster because triage for almost every message is taken care of instantly, instead of waiting to be sorted and routed by a human. Instead, they're seamlessly sent to the right contact, reducing response time drastically and creating an excellent customer experience.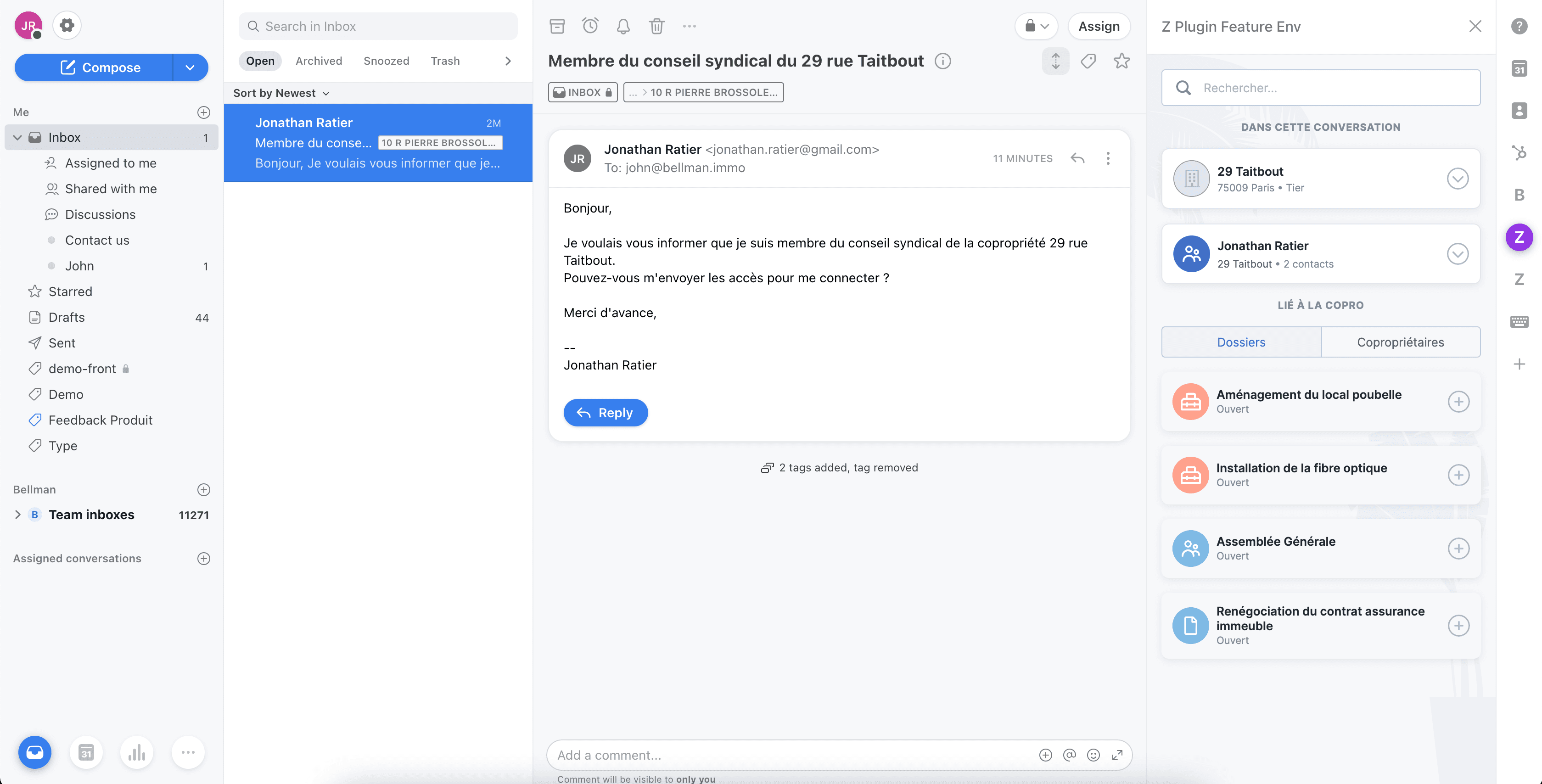 Bellman's workflow automatically tags emails for landlords and allows them to insert documents and information into emails with just a few clicks.
How it works
Auto-tagging emails for specific property managers
Every email to the Bellman team comes to a shared inbox in Front.

Each message is sent to their API through webhooks.

They analyze the conversation to identify which building it's about by matching the "from" email address with their CRM, extracting the building address with Natural Language Processing, and matching it with their database.

When the building is identified, Front's rules automatically add a tag on the conversation, so it's easy to find all conversations about this building later.

Rules also assign the conversation to the corresponding property manager to be handled.
Transcribing voicemails to emails
People can call Bellman's team and leave voicemails using Twilio.

When the team receives a new voicemail, it's transcribed to text.

They send the voice message text to their shared inbox email.

There, the conversation can be tagged and assigned just like an email.
Connecting customer data to Front
The Bellman team built a custom plugin to access their internal software for property managers and accountants directly inside Front.

The plugin displays all context about the current conversation in Front: building information, landlords, or any related internal files.

When an email comes in, they can easily reference information about the landlord or a building—like the door code, for instance. They can also send a new email to all landlords of a building, import third party invoices, or manage building files for water leaks, quotes for work being done, and more.
Our minds are blown, Bellman. Keep sharing these flows with us!
Third place: Trusted Health's TOMAS data-retrieval bot
Trusted Health's 300+ person team connects nurses looking for flexible jobs with suppliers looking to hire. Their Candidate Experience, Accounts, Extended Workforce, and Compliance teams use Front to help nurses find their ideal roles.
The workflow
The Trusted Health team built a bot named TOMAS, short for "Technical Operations Marketplace Automation System." TOMAS automates tasks, enables instant access to important data, and makes managing communication simple through a series of commands in Front's comments. Oh yeah—TOMAS is also an adorable little shark.
Why it's great
With TOMAS, instead of manually writing messages or needing to open new tabs and look up information, they use commands to take action without ever leaving Front. Front usage efficiency has increased by 35% since implementation of TOMAS.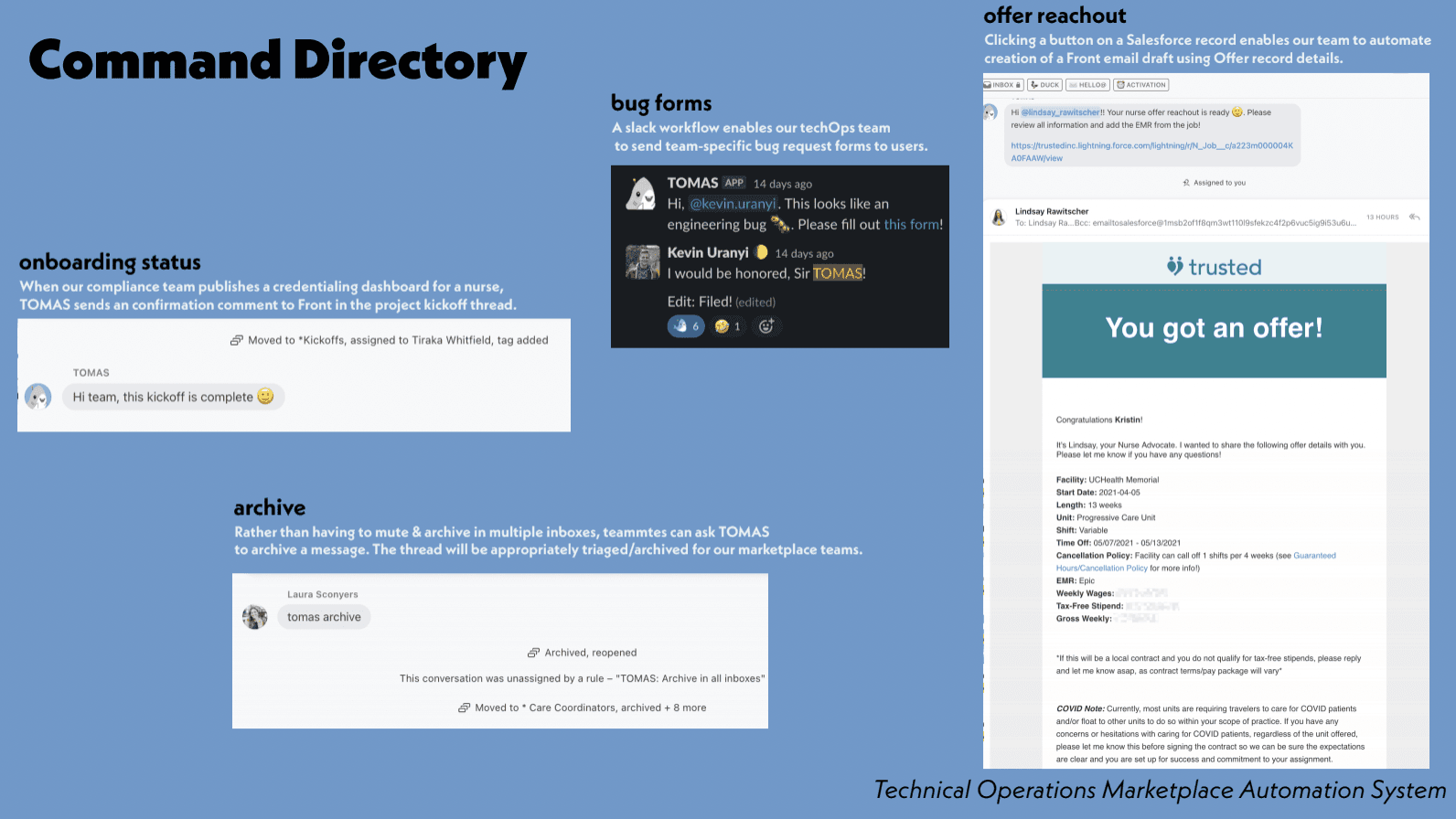 Trusted Health's comment bot triggers rules that move messages, generate drafts, and more—instantly.
How it works
When TOMAS is mentioned in a Front comment (@tomas), a rule is triggered.

The rule sends conversation details to Zapier, where a TOMAS command record is created in Salesforce.

Depending on the content of the command, along with other related records containing nurse data, various automations are triggered via Salesforce flows.

Finally, TOMAS uses Front's Core API to POST updates to the relevant conversations, adding comments, moving and tagging messages, and generating drafts.
Does TOMAS have a brother? We could use his help around here too…
Honorable Mentions
We had so many unique submissions that we couldn't stop at just three. Here are our honorable mentions for best plugins, chatbots, call logs, and most creative.
Best plugin: Simpson Spence Young's intelligent brokerage app
Simpson Spence Young (SSY) is the world's largest independent ship broker. All 400+ employees use Front to collaborate on communications with shippers and clients looking to move goods.
The workflow
SSY created a Front plugin to simplify two critical shipping processes: filing—submitting data on imports, and fixtures—another name for contracts and negotiations for chartering a ship. Their plugin allows brokers to trade with the latest data and save hours each week on manual work. How do they do it? Automatically syncing data between their bespoke ship broking app and Front.
Why it's great
Through their plugin, SSY's brokers always have up-to-date information at their fingertips. And, they're saving time since tedious work is taken care of automatically. Historically they would have printed and physically filed papers in the office; they now can search through files digitally. A bonus? They've reduced their carbon footprint since they're printing less paper.
How it works
Through their Front plugin, they can automatically extract data like ship positions, cargoes, and fixtures from new messages.

With this data, their internal ship broking app is updated automatically.

Their plugin also allows them to create or amend Front groups of contacts, saving both to Front contacts and their internal address book.

It also provides a bookmarking system, where it records the last 10 messages read and the option the save a message permanently until removed.

It remembers the message and the view the user was on when switching inboxes, so they can pick up right where they left off.
Best plugin: Curtsy's retail powerhouse plugin
Retail technology platform Curtsy is at the forefront of the secondhand clothing industry, allowing customers to buy and sell online with ease. The entire staff relies on Front to manage support across multiple platforms: in-app message, text, or email.
The workflow
The Curtsy team crafted a plugin that pulls customer information from their database and displays it in Front based on the conversation the rep is viewing. Since implementing it, they've seen some fantastic results: a dramatic reduction in response times, a boost in accuracy, and high customer satisfaction.
Why it's great
This plugin allows agents to maximize their time without sacrificing customer satisfaction. Now, agents have instant access to each user's account, instead of manually looking up information. This means they can refund, correct issues, and track down account details instantly. It also prevents any lost conversations or inaccurate replies while establishing trust with every customer.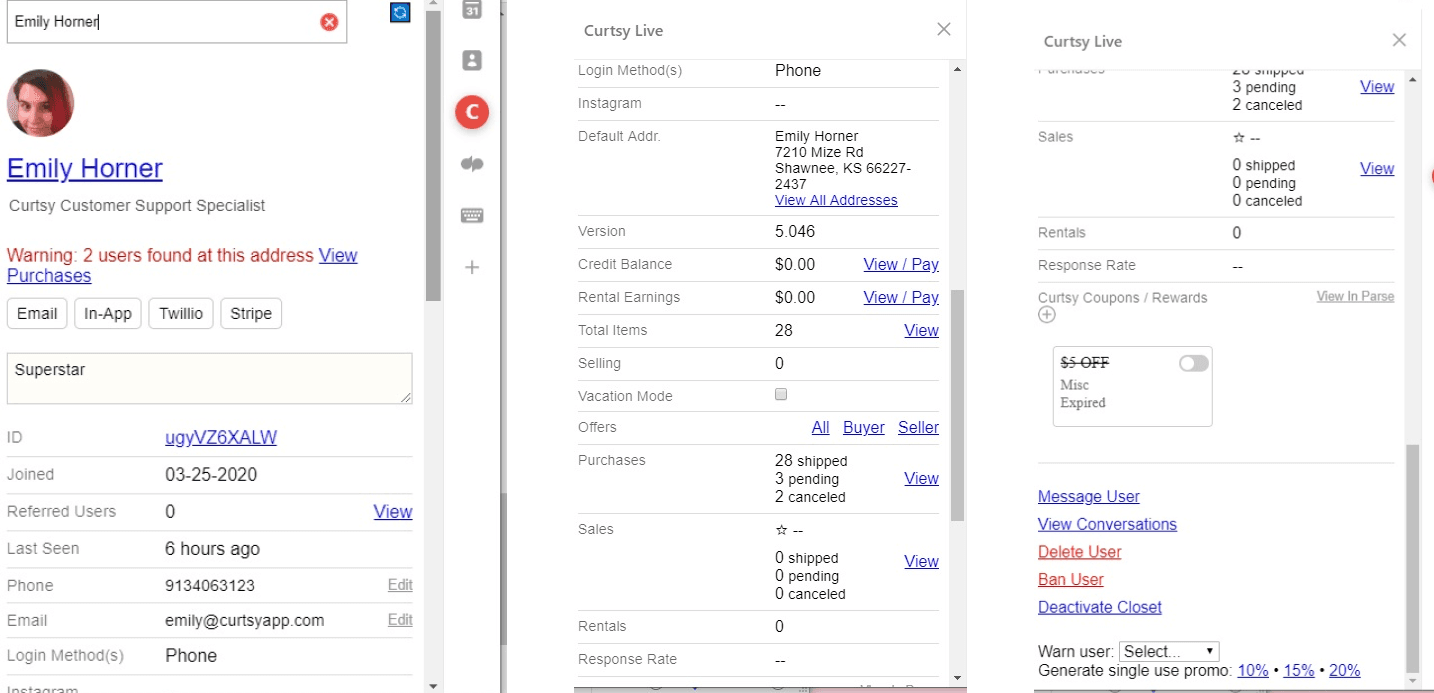 Curtsy's plugin allows them to access their customer database directly in their inbox—so they can refund, look up orders, and more without switching tabs.
How it works
When an agent opens a Front conversation, the plugin uses customer information to identify their unique ID in the database and pull relevant data into their Front app.

Agents can see when the customer joined, user stats, selling and buying information, and even have multiple ways to respond back to the customer: in-app message, text, or email.
Best chatbot: Kvik's super-fast retail service
Kvik is a Danish kitchen and bathroom design company with more than 600 employees and 150 retail stores globally. What makes them stand out? They're available and responsive on digital channels, too. Half their staff, across Marketing, Support, B2B, and 150+ stores, use Front as a centralized hub that allows stores to communicate with customers across all channels and give great service.
The workflow
The Kvik team built a Flow.ai chatbot integration in Front as sales and support tool. This means they're able to respond back faster whenever a customer reaches out via chat—meaning they can secure the deal and give customers the kitchen of their dreams.
Why it's great
One word: Speed! They newly launched this workflow, but their first success story occurred when they sold a 25.000€ kitchen to a customer who already had a meeting with competitor, Ikea. The sale was made within a single day, and the customer never even made it to the meeting with Ikea.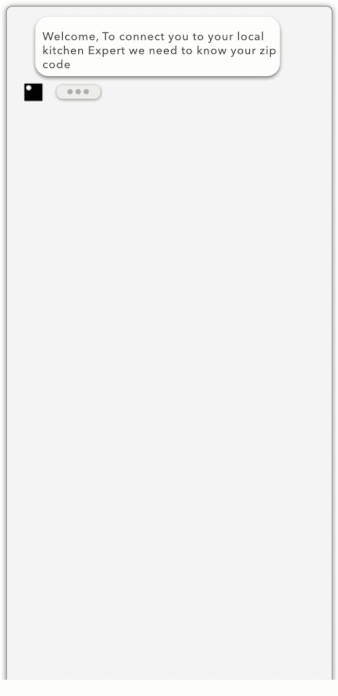 Kvik's chatbot allows them to route customer chats to the closest store, so they can respond to inquiries faster than the competition and win more business.
How it works
When a customer wants to chat with a Kvik store on their website, they enter a zip code.

Flow.ai matches the nearest store with the corresponding store team in Front.

It directs the chat to Front to the right team to be handled.

Custom workflows in Front manage if the chat is transferred to email for follow up later on.
Best chatbot: Alpaca's Facebook Messenger apartment hunt bot
Alpaca is a real estate company that relies on Front for support and operations. They use Front and a homegrown Facebook Messenger bot to help customers find their ideal apartment—all while keeping their custom Front plugin updated with the latest customer preferences.
The workflow
Their plugin almost completely replaced the need for a CRM. Instead, agents get all the customer data they need directly next to messages in Front. No context switching needed. And with their bot workflow, it's simple for a human to jump in and keep a smooth, personalized experience: they can pause and restart the chatbot, see and edit the user's apartment search preferences, and automatically suggest matching apartments for the user.
Why it's great
The plugin simplifies the lives of their agents and developers. There is no need for agents to manually look up users or match apartments in our back-end. Their developers are also happy because they could re-use existing APIs in their back-end and simply connect it to the custom Front plugin.
How it works
They built a custom plugin that automatically pulls and pushes data from our internal back-end system based on the selected Front conversation.

When an agent opens a conversation, the plugin extracts the sender's Facebook ID. They use the ID to match it with a user in our backend system.

The plugin then fetches the user record from their backend to display search preferences and contact data in the sidebar.

The search preferences of the user can be edited directly in the sidebar by agents without leaving Front. The plugin stores the edited record in their backend.

They can also pause and resume the chatbot when needed through a simple pause or resume button in their Front plugin, that triggers the action in their backend.

Their plugin fetches the best matching apartments from our backend and displays them in Front, directly next to their conversations.

Agents can then select apartment listings and share them with the user through the plugin. To make this happen, the plugin sends a request to their backend with selected matches. Their backend the sends the matches via the Facebook Messenger API to the user and the apartments get displayed in a classy, easy-to-browse carousel.
Best call log integration: Modern Empathy's Twilio voice calling
Modern Empathy is a software company that plans, designs, and installs small modular homes made specially for your backyard. Their team relies on Front to manage communications across multiple channels together in shared inboxes.
The workflow
The Modern Empathy team set up a workflow that integrates voice calls from Twilio directly into Front, so they have a log of every conversation. When a customer reaches out, no matter who's replying can see full context of the conversations the customer has had with the team, so they never ask a question twice and can give glowing customer service.
Why it's great
A log of phone calls can be seen in the same place as texts and emails, so they have full context of customer conversations right in their inbox—no confusion for the team, and just plain great service for the customer.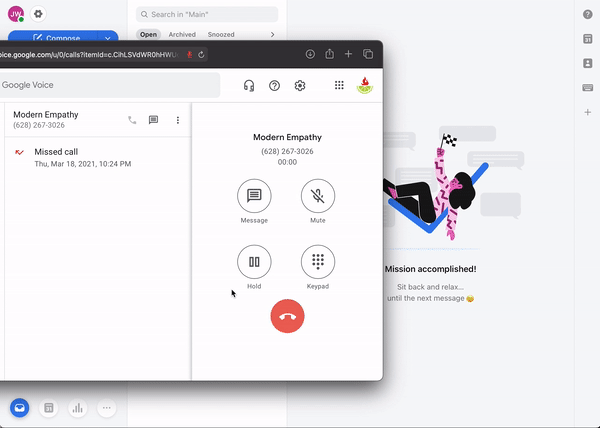 Modern Empathy's call log integration lets them track and transcribe voice calls so they can get a full view of every customer's conversation history in one place.
How it works
Their team loved the Front SMS integration and wanted something similar for voice calls.

So, when a call is made to the company phone number on Twilio, an "Inbound call" message is logged in Front from the contact that made the call.

By creating a new message or replying on a call thread in Front, staff can initiate outbound calls.
Best use of partner integration: DepositFix's lifecycle-stage tags
DepositFix offers software that allows businesses to accept online payments through HubSpot forms. Their entire team uses Front to manage team emails for sales and support.
The workflow
This workflow involves Front integrations, rules, and tags. It enables their team to respond faster than ever before, meaning they close more deals and keep existing customers happy. It also allows for top notch prioritization and measurement—their team can easily see if a conversation is from a customer or prospect at-a-glance, and they get insight to understand message volume and make smart hiring decisions.
Why it's great
Their team prioritizes sales emails so no one is blocked from using their product trial. Automatic tags allow them to surpass the step of clicking on each conversation to bring up the sidebar and see if the ticket is for sales or support. Segmentation through tags also gives them better insight into who is reaching out and why. They've been able to improve response times and use analytics to help influence whether they hire in sales or support.
How it works
They connected Integromat to Front to listen to HubSpot contacts.

Whenever a contact is created or updated in the CRM, they transfer over the lifecycle stage to the contact details in Front.

They use Front's rules to automatically tag incoming conversations based on the contact details either as an Opportunity or Customer.
Most creative: Prusa Research's color-coded message assignments
Prusa Research is a 3D printing company based in Czech Republic. Their entire 200-person company relies on Front to manage communications for Customer Support, Development, Sales, Purchasing, Accounting, and Management teams.
The workflow
Prusa Research's workflow allows them to achieve a better work life balance since the team operates on across the globe in different time zones. Their creation makes it easy to assign emails to 50+ support agents and 200+ other users across time zones based on color coding for each teammate in Front.
Why it's great
They've recently released this workflow, but they're expecting to see faster reaction and response times for support messages. They aim for a longterm better quality of life for support agents who have constantly rotating schedules. Instead of assigning messages to someone who's wrapping up their work day or offline, they can ensure messages are assigned to those who are just starting their work day.
Prusa Research added automatic color coding to their Front inbox, so it's easy to see who's available to answer a message, across time zones and varying work hours.
How it works
When a new message comes in, it needs to be assigned to an agent who can handle it.

Their plugin displays teammate names in the Assignments dropdown in color coding, so it's easy to tell if an agent is available to take the message.

Based on the color of the agent's name, they can quickly see how many emails are assigned to a teammate and if an agent will work later today, is working now, will not be working until tomorrow, or is completely out of office.
We see more Flows in our future
These workflows—and all the unique creations our customers sent in—really blew us away. In fact, we've already decided that this isn't the last you'll see of Flow & Tell. So stay tuned for future competitions where you can submit your own workflows and get inspiration from teams who are leading the way in world-class customer communication.
Written by Emily Hackeling
Originally Published: 19 April 2021