Playing soccer, riding her bike, and having friends over for dinner are a few favorite weekend activities for Mathilde Collin, our co-founder and CEO at Front.
What's, ironically, much lower on her off-hours to-do list? Checking her email.
That's because she doesn't need to: the method she uses to manage more than 1,500 emails each week in Front enables her to take that time for herself, despite leading our fast-growing global team.
Here's a look into the highly disciplined process Mathilde uses with her executive assistant to stay on top of her email, spend time on what matters, and live a life not chained to her inbox.
How Mathilde uses Front
Cutting down on email overload with a delegated inbox
The inbox of a CEO is like a revolving door: as fast as you can reply to emails, more come flying in. This is one of many reasons why Mathilde delegates her inbox to her executive assistant, Cassandra. This means Cassandra can access Mathilde's entire inbox within her own in Front.
Having a delegated inbox enables EAs (or anyone you delegate your inbox to) to take actions in your inbox, like organizing messages into private tags, snoozing messages to look at later, and assigning messages direct reports to follow up.
Cassandra can go in and archive things Mathilde doesn't need, like expense receipts and updates from apps. If she needs to, she can reply to Mathilde's messages from her own email address. She can't reply as Mathilde, but can certainly kick off a draft to save Mathilde time when responding.
Staying in the loop with comments — not forwards
With Front, Mathilde and Cassandra can easily keep each other in the loop, without forwarding emails to each other. In Front, Mathilde can just type @Cassandra to share the email with her, directly on the email thread.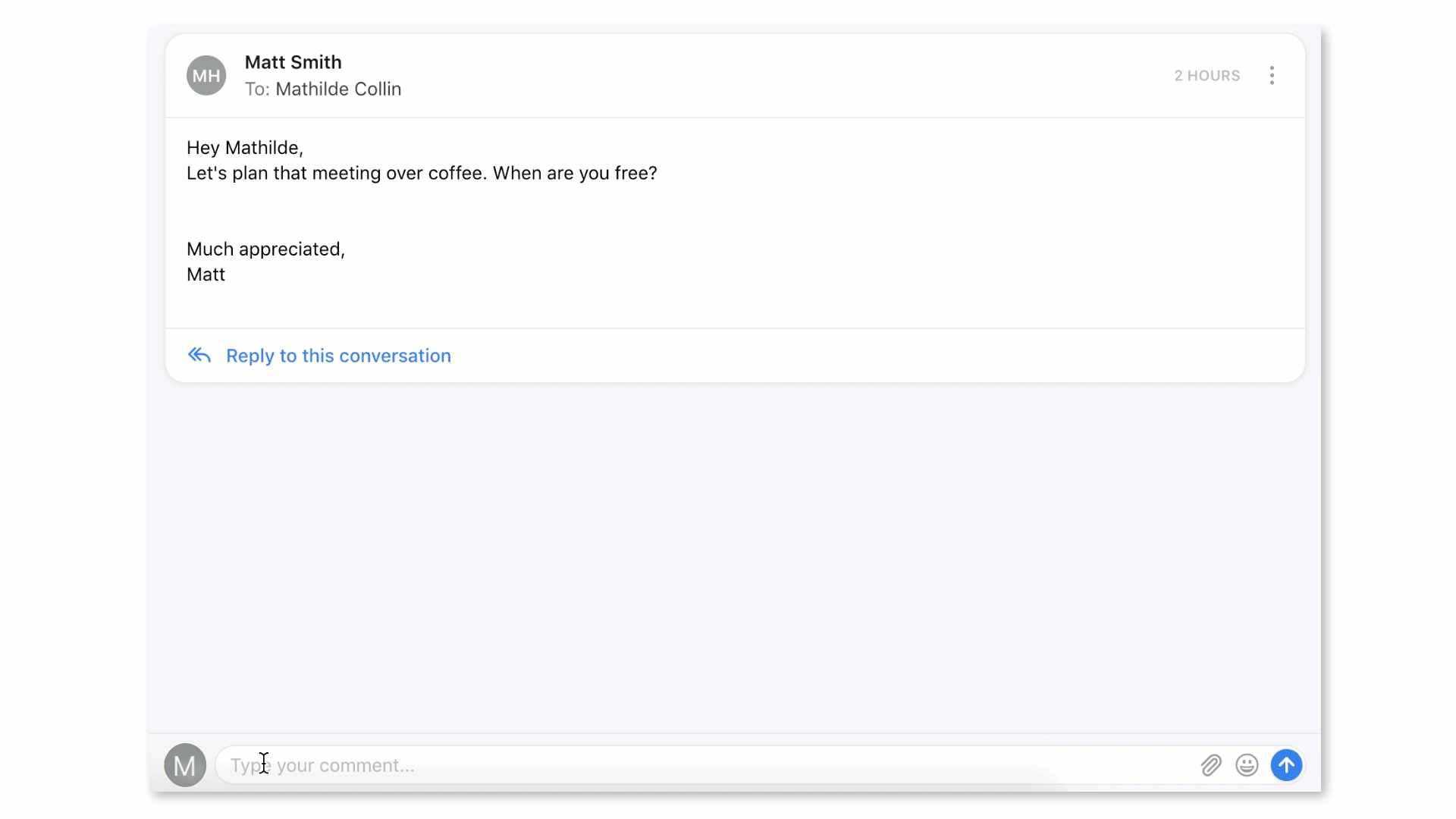 Cassandra can give her a 👍, discuss the email, or ask any questions, without cluttering up the actual email thread. They don't need to worry about their internal conversation accidentally getting forwarded to the sender — their comments are internal-only.
Scheduling & quick approvals are simple
For Cassandra, the days of navigating complicated email threads between executives to coordinate meetings are over. Instead, she can access Mathilde's calendar directly in her inbox with Front Calendar.
Without having to leave her inbox, she can select times that Mathilde is free and insert them into the email with a few clicks. If she needs to grab approval on timing, she can do so with a simple @Mathilde, how's Tues at 2pm for this call? That way she can get plans made faster and avoid clogging Mathilde's inbox even more just to chat about timing.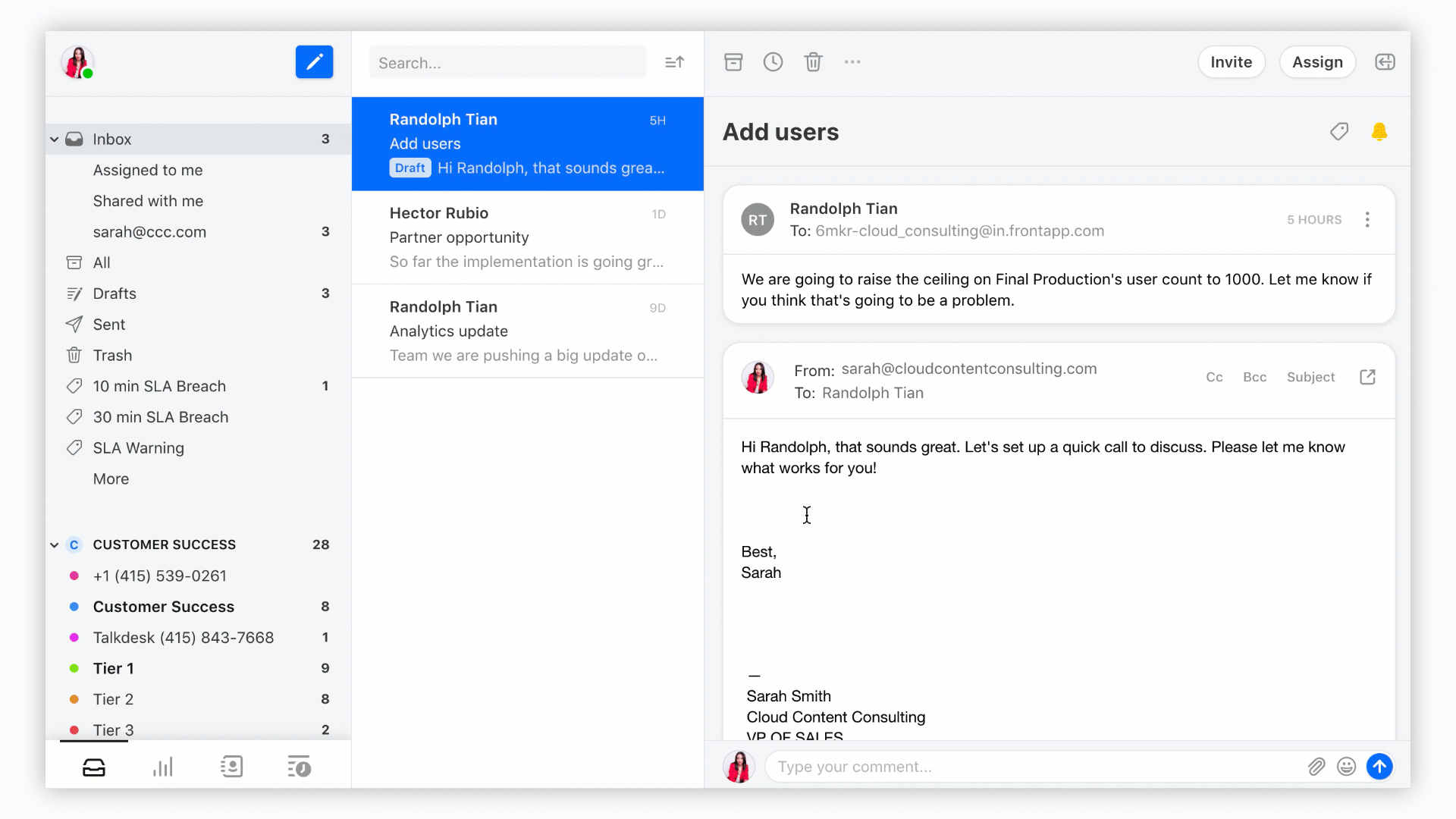 Teaming up to draft emails & updates quickly
Sending internal email updates can take a lot of time, but Front makes this quick and easy for Mathilde. She sends weekly progress updates to the company, emails in preparation for 1 on 1 meetings, and emails with details for interviews, to name a few. Cassandra and Mathilde work together on these in Front:
Cassandra drafts these for Mathilde. Cassandra can also save these emails as message templates in Front, so she has a template to start from.

She shares the draft in Front so it instantly appears in Mathilde's inbox.

Mathilde can review it and edit it to add anything she wants.

Mathilde can hit send (or schedule it to send later).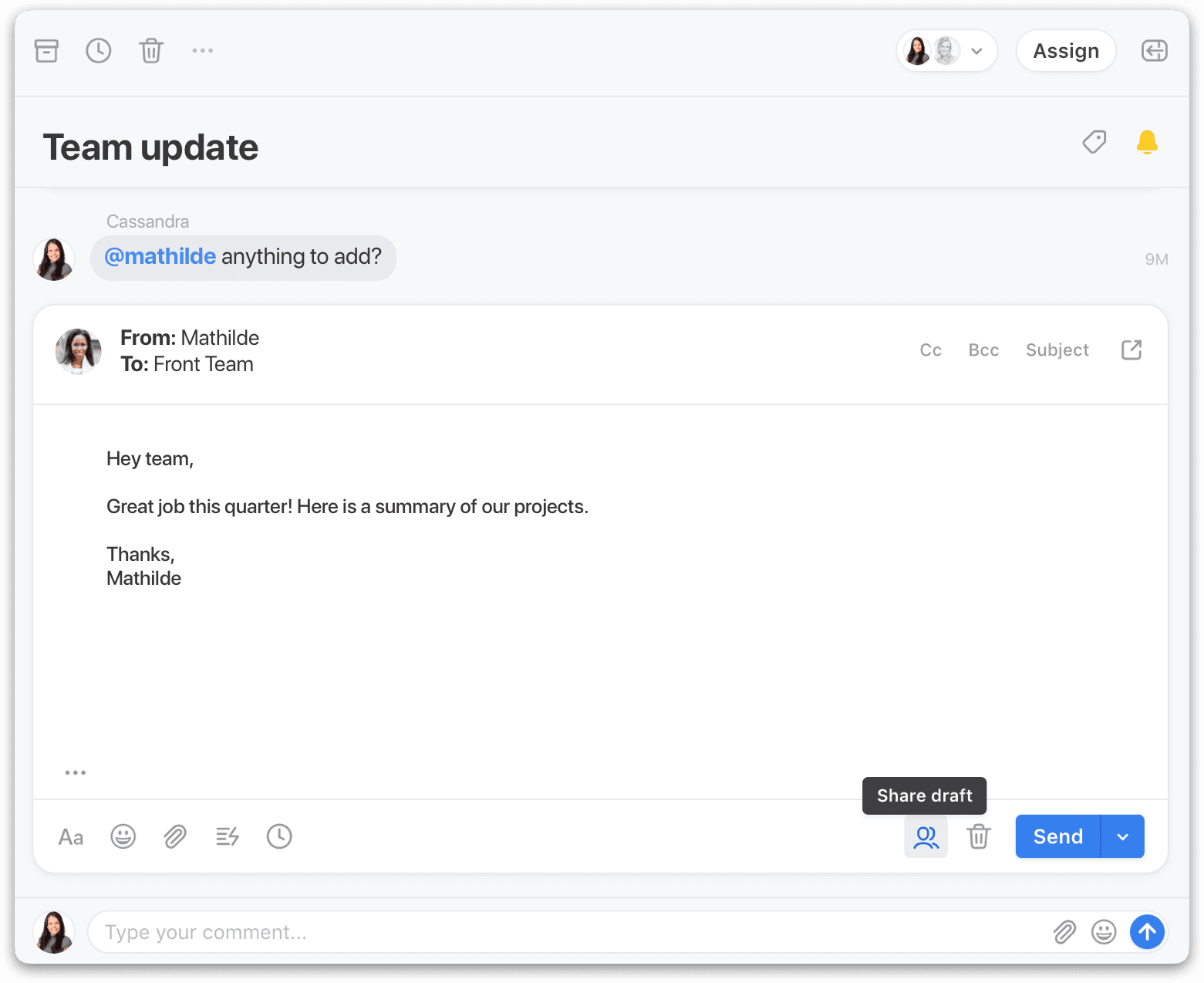 Taking vacation without constant check-ins
Front enables executives to take vacation without the stress of coming back to hundreds of emails, or needing to check in periodically for critical emails. For example, Mathilde took time off in 2018 to get married. Because of Front, she was able to actually disconnect and enjoy it.
Here's how they make vacation stress-free:
Since her inbox is delegated to Cassandra, Cassandra can go through her emails each day to assign emails to other leaders in the company to follow up, or archive what Mathilde doesn't need. That way, projects stayed on track while Mathilde is out.

Cassandra also snoozes emails so that they come back to Mathilde's inbox in a manageable way. This means she doesn't come back to a jam-packed inbox, and she also doesn't get hit with a whammy of snoozed messages the day she's back. Cassandra sets them to return according to Mathilde's calendar, in chunks of time that she's set aside specifically for email triage.

If something absolutely critical comes in, Cassandra can see it and notify Mathilde that she needs to check in.
Staying updated on company progress automatically with shared inboxes
Because of our shared inboxes in Front, Mathilde can easily keep tabs on all parts of the business.
She can hop into our support queue to answer customer questions or see what people are saying about certain features.

She can see what sales inquiries we've gotten on any day.

She can jump in and answer a tweet from our Front Twitter handle.

It's also easy for her to share information with the entire company. It's as simple as typing @all on a message she wants everyone to see.
With the company's shared inboxes accessible, we can spend less time writing and sharing team updates. Instead of filling each other in, Mathilde and her direct reports can jump right in and focus on more valuable, strategic initiatives in their 1:1 meetings.
Getting more done with transparency
The transparency that comes with sharing your inbox with others makes getting work done easier for Mathilde and Cassandra. For Mathilde, her inbox stays cleaner so she can focus on the work that needs her undivided attention. Her working hours are spent strategically, rather than dwindled away on her inbox.
For Cassandra, she's empowered to get answers on her own because she has all the context she needs in Mathilde's inbox. For example, if Cassandra sees a charge for a cafe on the corporate credit card and doesn't know what the meeting was for, she can simply search the cafe name in Mathilde's inbox, rather than having to ask.
Less time on email, more time on what matters
With this method of managing her email in Front, Mathilde can cut out the clutter from her inbox and focus on tasks that need to get done. And since she's spending her time where it's most impactful during her working hours, she's also able to take time to live her life outside of work.
Interested in exploring Front for your executive team? Schedule a demo or try it now for free.
Written by Emily Hackeling
Originally Published: 17 April 2020