Remote work is becoming increasingly common, but it's not always easy. For employers, working remotely means you need processes to enable to clear communication, keep projects moving, and get visibility to make decisions. For employees, remote work poses other challenges: understanding what's expected of you, constantly communicating what you're working on, and staying motivated without in-person contact with your team.
We're all about bringing your team together here at Front. Whether you're a team of 4 in a single office or a team of 100 based all around the world, Front makes it easy for you to work together efficiently. Below we collected some tips to help you work efficiently and stay connected to your team, even if you're miles apart.
For Front admins
1. Bring the team together with internal discussions
With Front you can bring your team conversations directly into your inbox with internal discussions. These let you start a chat thread with your team conveniently, without ever leaving your inbox. Internal discussions make it easy to keep the conversation going without switching tabs and apps and losing context on what you were doing.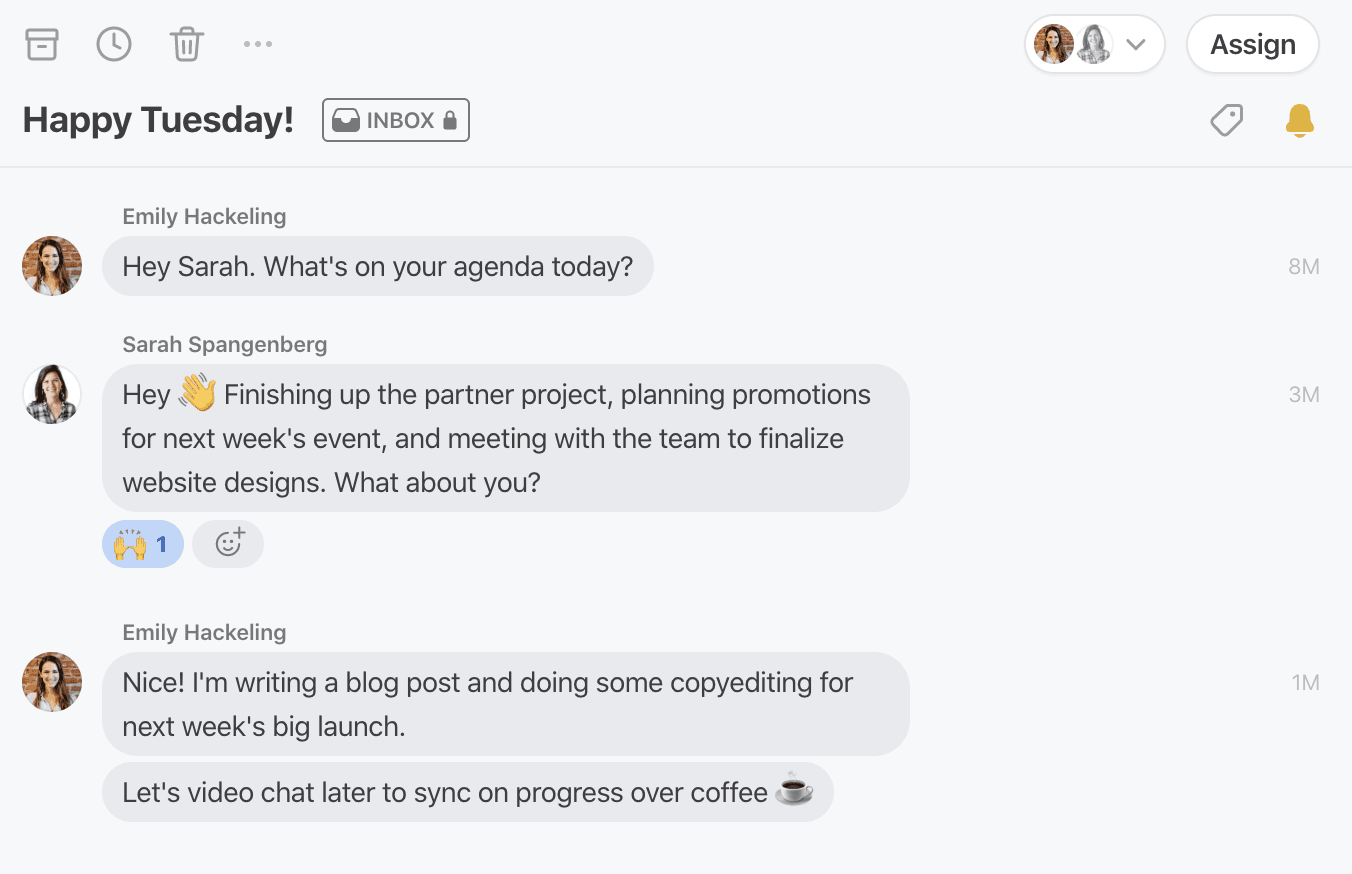 For fully remote teams, we recommend doing a Daily Internal Discussion (DID for short?!) with your team. Each morning, start an internal discussion, and each evening, end the day with that same internal discussion. Here are some morning conversation starters:
"Hello! How's it going?"

"What's 1 thing everyone's working on today?"

"What was the best part of your evening last night/weekend?"
And for the end of the day:
"What are you looking forward to after work today?"

"Best thing that happened today?"

"1 thing to work on tomorrow?"

Or a pun to end the day, like "What do you call a bear with no teeth?" (A gummy bear)
2. Keep a pulse on workload and customer experience in team inboxes
Front's bread and butter is the team inbox — and as a manager, these are great because you can easily jump into a team inbox and understand what's happening at-a-glance.
How many customers are writing in?

How many inquiries are waiting on a reply?

What do you need to help out with?
Team inboxes also help boost your team's morale — teammates can easily jump into another team's inbox and get an understanding of what's happening just by looking at the emails. Our customers have told us team inboxes do wonders in helping remote teammates feel connected and for connecting your business across teams, like support, NPS, marketing campaign responses, product feedback, and more.
Bonus: If you use tags, you can get an even better view of what's happening in your team inboxes. For instance, for messages from VIP customers, make a rule to add the tag 🔥URGENT. You'll be able to see those easily because they jump out in your inbox.
3. Check analytics to schedule meetings when the team is least busy
Analytics in Front are a Magic 8 ball for your business. Okay, maybe you can't see exactly what tomorrow holds, but hey, MNX uses it to project future business growth! You can use analytics in Front to understand your busiest time of day and day of the week, and share that knowledge with your team. With this data, you can schedule team meetings on other times and days to alleviate stress, adjust working hours if needed, and make sure everyone has a good balance of workload, even when you can't see them face-to-face.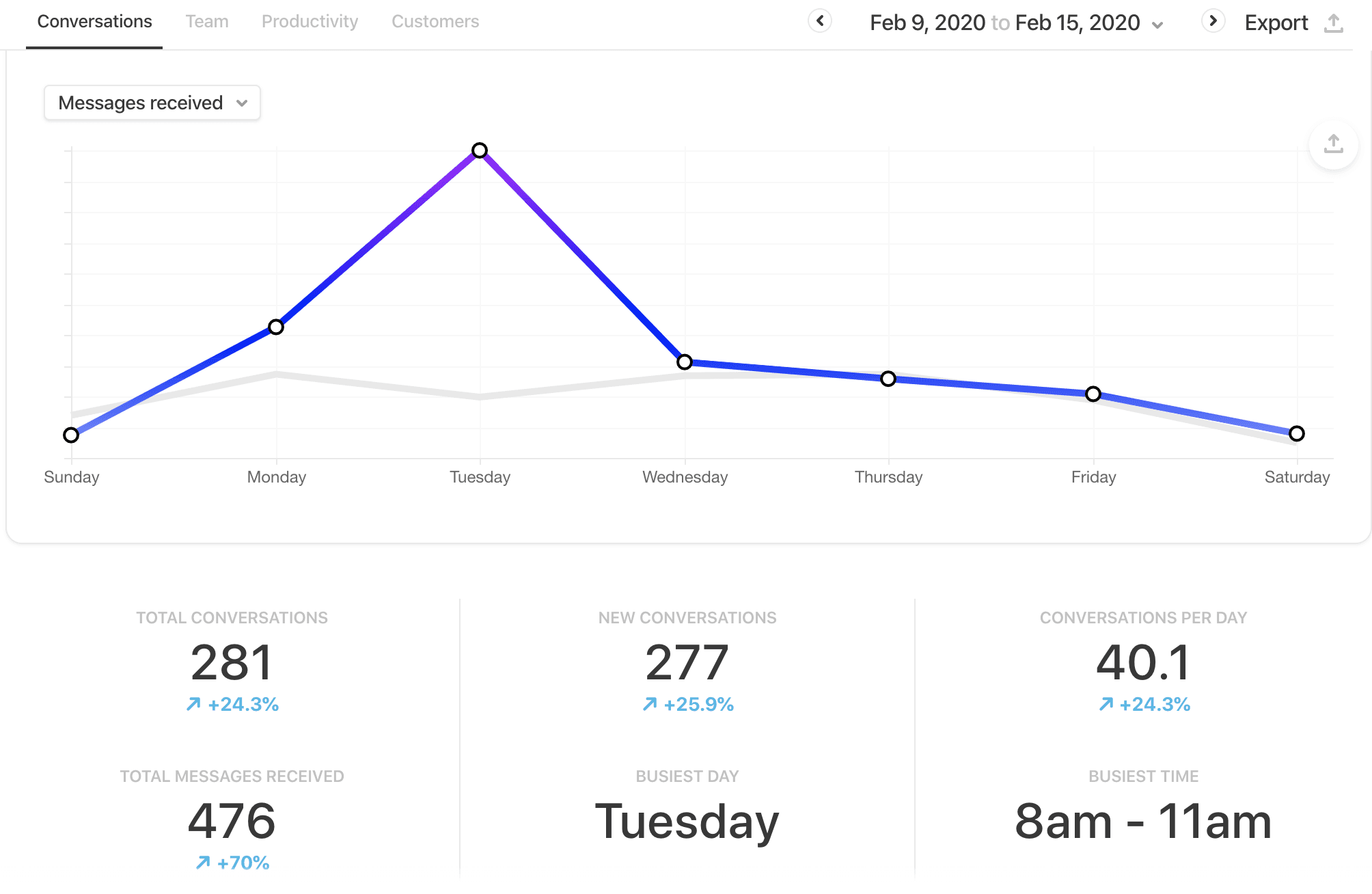 For Front users
1. Use assignments to stay on top of messages
If you're not sitting right next to each other, it's more important than ever to make it clear what you're working on. Assign a message to yourself in Front when you're going to work on it, so no one duplicates work or leaves a customer hanging.
2. Leave comments (and use emoji reactions)
Comments in Front are a great way to stay connected to your team — and if you're like our team at Front, most of your collaboration will take place in comments. Don't be afraid to show how you feel with emoji reactions too. A little 👋 and 💯 can go a long way in bringing you and your teammates together, even if you're across the globe.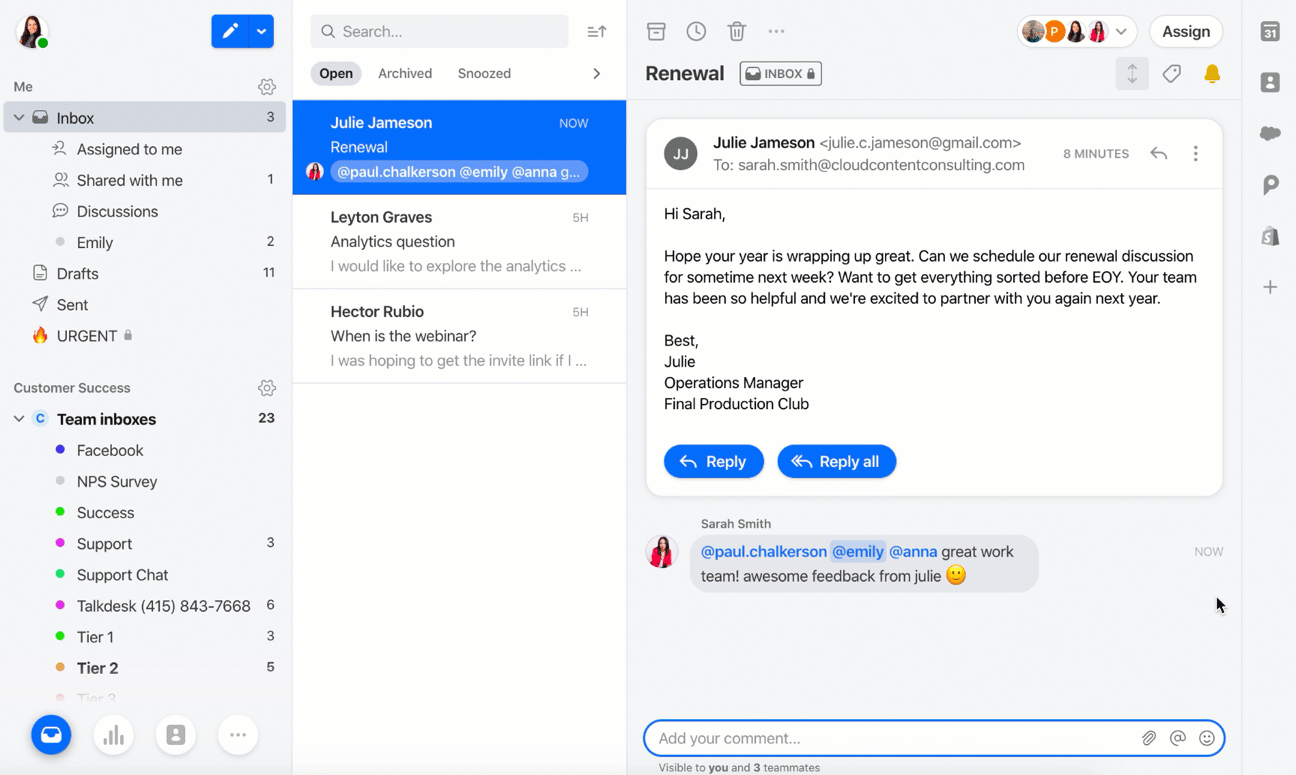 3. Set your boundaries with Do Not Disturb.
Do Not Disturb is extra important if you're working from your home. When you're just about to dive into a serious flow state, hit Do Not Disturb to mute your notifications for a few hours of uninterrupted work. And, set your DND schedule to give yourself limits for when it's time to work or take a break for the evening 💆🏻‍♀️
With Do not Disturb, you can come back to work in the morning feeling refreshed — even if you're only taking a few steps to your home office.
4. Step away from work anxiety-free with Out of Office mode
Whether it's for half a day or for a week-long stint in Hawaii, use OOO mode to keep everyone in the loop when you're out. When you're in OOO mode, your notifications are muted, and all messages assigned to you are automatically unassigned and go back to the team inbox. And it'll say Out of Office next to your name when someone tries to @mention you. That way they'll know not to assign you any work, and you can rest assured that you won't be dropping the ball on anything.
Bonus points: Set your vacation responder when you're really heading out for vacation, so everyone knows when to expect you back!
5. Schedule weekly check-ins with your teammates.
When you're working remotely, taking time to meet with teammates over the phone or video is more important than ever. You can check your team's calendars and use Front's scheduling links to send your teammates potential meeting times, so they can easily select a time that works for them. Set it to recur weekly, biweekly, even daily — whatever works for you — and that way you'll always have carved out time to connect.
Cultivate a sense of belonging on your team from afar
Feeling like you belong on a team plays a big role in feeling personally fulfilled at work — and when you're working remotely, it's even more important to be deliberate about staying connected with your team. We hope these tips help you do your best work and stay connected, no matter where you are!
Read our customers' stories of how they use Front to stay connected while remote:
HelpDocs' remote team of 4 fuels help articles for Fortune 500 companies
CHAYN's remote volunteer team fights abuse from around the world
OpenListings scales with clear communication across many states
Watch on YouTube: What is a customer communication hub, anyway?
Written by Emily Hackeling
Originally Published: 17 April 2020