From CRMs, to outbound platforms, to sales automation apps: the universe of sales tools is constantly expanding. Leveraging them to speed up your sales cycle is a no brainer.
But then the trouble comes. Your SDR swears by Outbound. Your AE swears by Streak. Everyone follows their own Salesforce workflow. With your team using multiple tools in multiple ways, staying coordinated without duplicating efforts feels impossible.
At Front, we're tackling this problem by rethinking the tool that's used by every member of every sales team — the inbox. We're turning it into a customizable platform that adapts to your sales processes and helps your team work better together, throughout the sales cycle. Here's how.
Respond to leads faster on any channel
Harvard Business Review famously found that responding to a lead within 1 hour made reps 7 times more likely to connect with them and 60 times more likely than responding in 24 hours.
Having a one hour response rate is challenging enough just for email. With the growth of live chat and social media, multi-channel sales provides a clear advantage — when you're able to execute the instantaneous follow up these channels demand.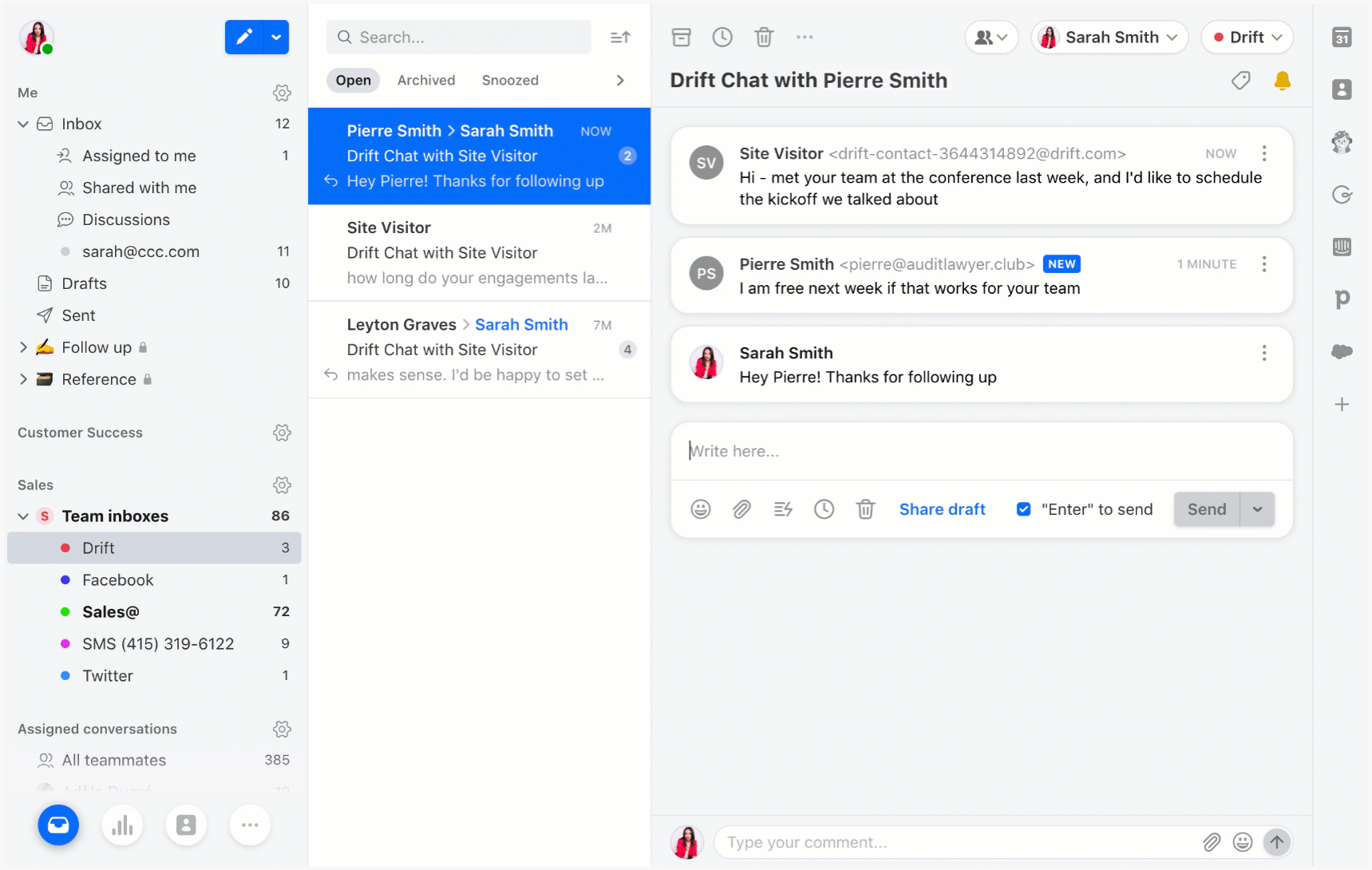 Manage email, live chat, social media, and more in a single inbox in Front
Front makes it easy to respond to chat and social media leads just like emails. Your SDR team can be on "chat duty" all the time, without switching back and forth between tools. Across all your channels, trigger-based rules assign leads on a round robin basis or to specific reps based on keywords in the message, time of day, or other business inputs. With a stream of fresh leads being assigned to them, responding quickly becomes second nature.
Facilitate smooth handoffs between reps
Behind every deal are dozens of unseen follow ups — after all, only 33% of a sales rep's time is spent actively selling. One of the most critical is how a lead is transitioned from SDR to the appropriate AE.
Without a shared platform, SDRs have to get feedback from AEs in one-off chats, in-person reviews, or forwarded emails chains. The context behind decisions isn't preserved, and the lead may grow cold while your team determines the right next steps.
Share email drafts with your team, so you can reply perfectly every time.
In a shared inbox, comments bring this internal discussion directly to the conversation. The SDR can @mention the AE to loop them in, get any insight they need, or even review a shared draft. If the AE wants to take over the conversation, they can assign the message to themselves and reply right from there. No additional emails required, and everything is saved in one place for future reference.
Personalize campaigns to follow up at scale
But even the smoothest internal processes can't replace great communication. A compelling cold email or trial check-in message is worth its weight in gold.
No matter where a lead is in the sales cycle, Front makes it easy to send truly personalized emails. In many sales automation tools, visible formatting on the message makes it clear your drip email was sent by an app, not a person.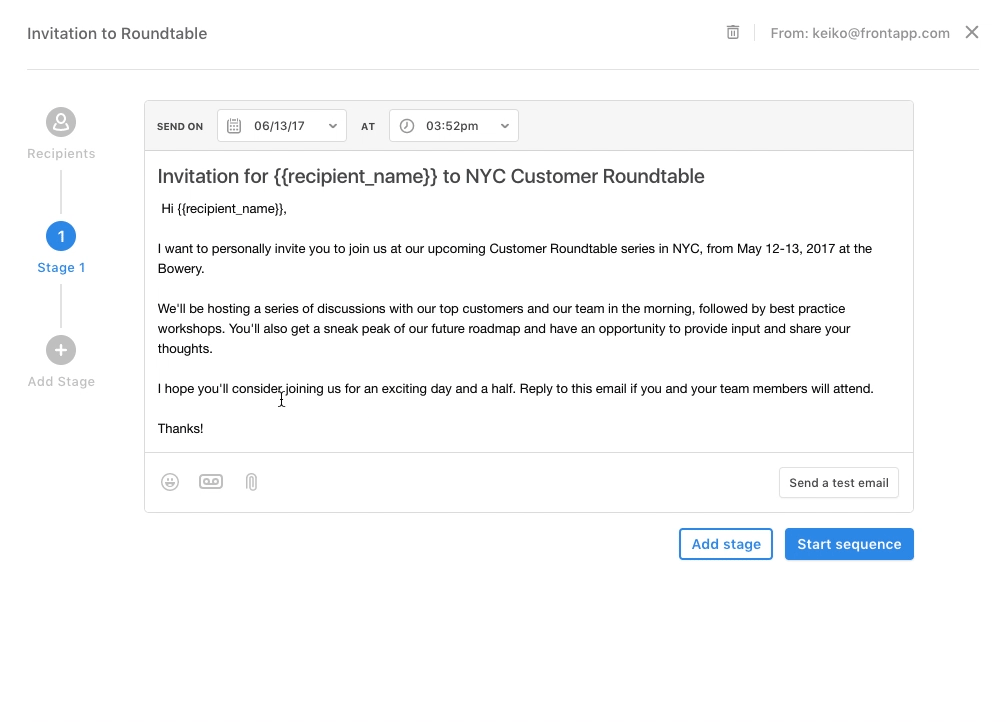 Front allows you to send automated email sequences to leads, so yo unever forget to follow up.
Email sequences sent from Front look like you drafted the message just for them. Upload contact lists, customize your messages with variables, and set up multi-touch campaigns that automatically opt-out respondents. Account outreach and follow ups feel truly personalized in Front.
One platform for a unified sales team
Everyone works differently, especially different functions within your team. SDRs need to operate at scale, coordinating with hundreds or thousands of leads at a time. AEs want to keep their pipeline moving forward and stay on top of every follow up.
Finding a tool that fits both of these needs is a challenge, but adopting a flexible platform that works for everyone ultimately allows your team to move faster as a unit.
P.S. If there's one thing your sales team can agree on, it's that no one likes doing their "weekly updates" in Salesforce. Thankfully, Front makes that easy with a Salesforce integration.
Written by Sarah Spangenberg
Originally Published: 17 April 2020