Front Chat brings live chat conversations to where your team works—your inbox.
Whether you're closing a new deal, answering a question about your business, or just want to let someone know that sweater they're eyeing runs a little big, Front Chat makes it easy to deliver a great customer experience in real time.
With website chat powered by Front, your team can reply faster to chats, emails, texts, and tweets in Front without juggling multiple tools or duplicating workflows. Behind-the-scenes collaboration is quick and seamless, and getting a single view of all your customer interactions is simple.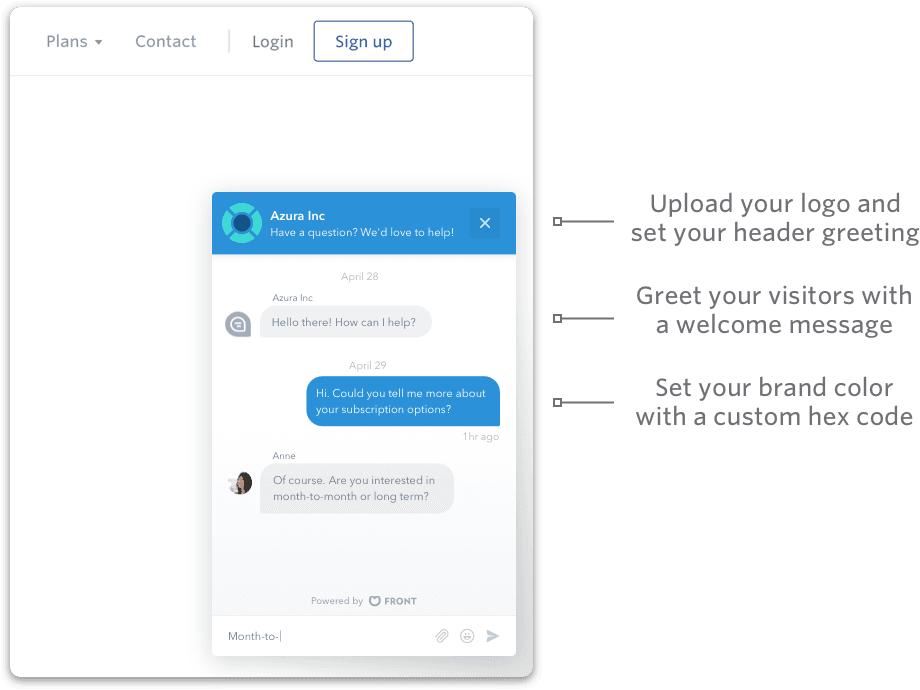 Live chat shouldn't create silos
Most live chat solutions on the market leave you with two options: choosing a bundled suite of products that includes chat, or settling for a standalone solution. In both cases, you're stuck with an app that doesn't play well with the tools the rest of your organization is using.
Getting answers quickly is critical for live chat, but most platforms charge for each teammate's access. Got a tricky message about a new feature and want to ask someone on your technical team about it? You'll find yourself kicking off a separate email thread or Slack conversation to ask them, instead of being able to loop them in directly.
And even the most standard analysis gets complicated with standalone chat solutions. Looking for every conversation related to your holiday promotion? When chat messages aren't available in the same place as your emails, tweets, and texts, it's impossible to see the full picture.
Front Chat breaks down the walls around chat
Duplicating work across tools or limiting access to conversations shouldn't be a requirement when you decide to offer live chat on your website. That's why we built Front Chat—so you can spend less time connecting your tools with complicated workflows, and more time on your customers.
With Front Chat, every message arrives instantly in Front. Whether a customer decides to reach out over chat, email, SMS, or social media, your team is ready to respond in Front. Getting help from someone in another department is as simple as @mentioning them, so you can get the answers you need faster.
When you manage your users, tags, analytics, and workflows in Front, you can use them across every communication channel—including live chat. Here's how Front Chat simplifies real-time website chat for your team.
1. Reply faster from a shared inbox
Front Chat makes it easy to keep up with website chats by bringing every part of the chat experience into your inbox. Instead of managing multiple apps or converting chats into support tickets, your team gets all the features of a chat solution directly in their inbox.
When you open a chat message in Front, you don't see all the extra formatting options you need for email. Front simplifies drafting to just the essentials, so you can reply in one click. Message templates allow for consistent answers, and powerful analytics and automated rules help your team perform at its best.
2. Get messages into the right hands
Front's powerful rules engine can assign, tag, or reply to chat messages automatically to help your team stay on top of the queue.
For example, you can set up a rule to respond to messages during your team's offline hours, so your customers know when you'll follow up. Or if you have a team expert on all things billing, you can create a rule across all your communication channels that any messages with the keywords "billing", "credit card", or "invoice" will be assigned to them.
3. Make the most of every message
Front Chat prompts every visitor for their email address automatically, so you can keep the conversation going even after they leave your site. When Front sends them a follow up email with your last message, it comes right from you personally—no ticket numbers or awkward robotic formatting included.
And once you have their email address, you can match website visitors with their past conversations or records in your CRM to get a single, complete view of your customer.
4. Chat on your terms
Setting up Front Chat is simple. There's no need to train your team on a new tool, and you can manage all your customer communication in a single account.
You can customize your chat application to match your brand with a custom color, logo, and greeting directly from your Front settings. From there, just share your unique chat application script with your web development team — once the code snippet is loaded onto your site, you're ready to get started.
Get started with Front Chat
Front Chat brings your focus where it should be—on your customers. Live chat conversations are easy to manage alongside all your other messages, so you don't need to jump between tools just to talk to your customers.
Written by Sarah Spangenberg
Originally Published: 17 April 2020