Today it seems everything is moving online and becoming less personal—from virtual work, school, and doctor appointments, to drone package delivery and robots serving coffee. But at Front, we believe technology has the power to connect businesses and their customers more meaningfully. That's what we're building: a customer communication hub that empowers companies to deliver personal, tailor-made interactions, at scale.
There are clear challenges holding companies back from delivering the best customer experience—which we explored in a report by Harvard Business Review Analytic Services sponsored by Front. Manual work, lack of visibility across the organization, and data inaccessibility topped the list of barriers. 75% said highly manual workflows make accomplishing tasks difficult or time-consuming; 65% said silos between departments prevent effective internal communication; and 63% said that customer data is inaccessible to the right employee at the right time.
We believe these challenges exist because there is a disconnect between where customer data lives and where customer engagement happens. Businesses need a way to connect the dots between their customer data, which often lives in siloed spreadsheets and CRMs, and their conversations with those customers. We're so excited to share three game-changing new features that break down these silos, bringing your CRM and inbox together.
Holistic customer context, like never before
First, we're introducing an updated inbox experience that gives you key customer context at a glance, including information about the contact and broader account involved, right where you read and reply to any conversation.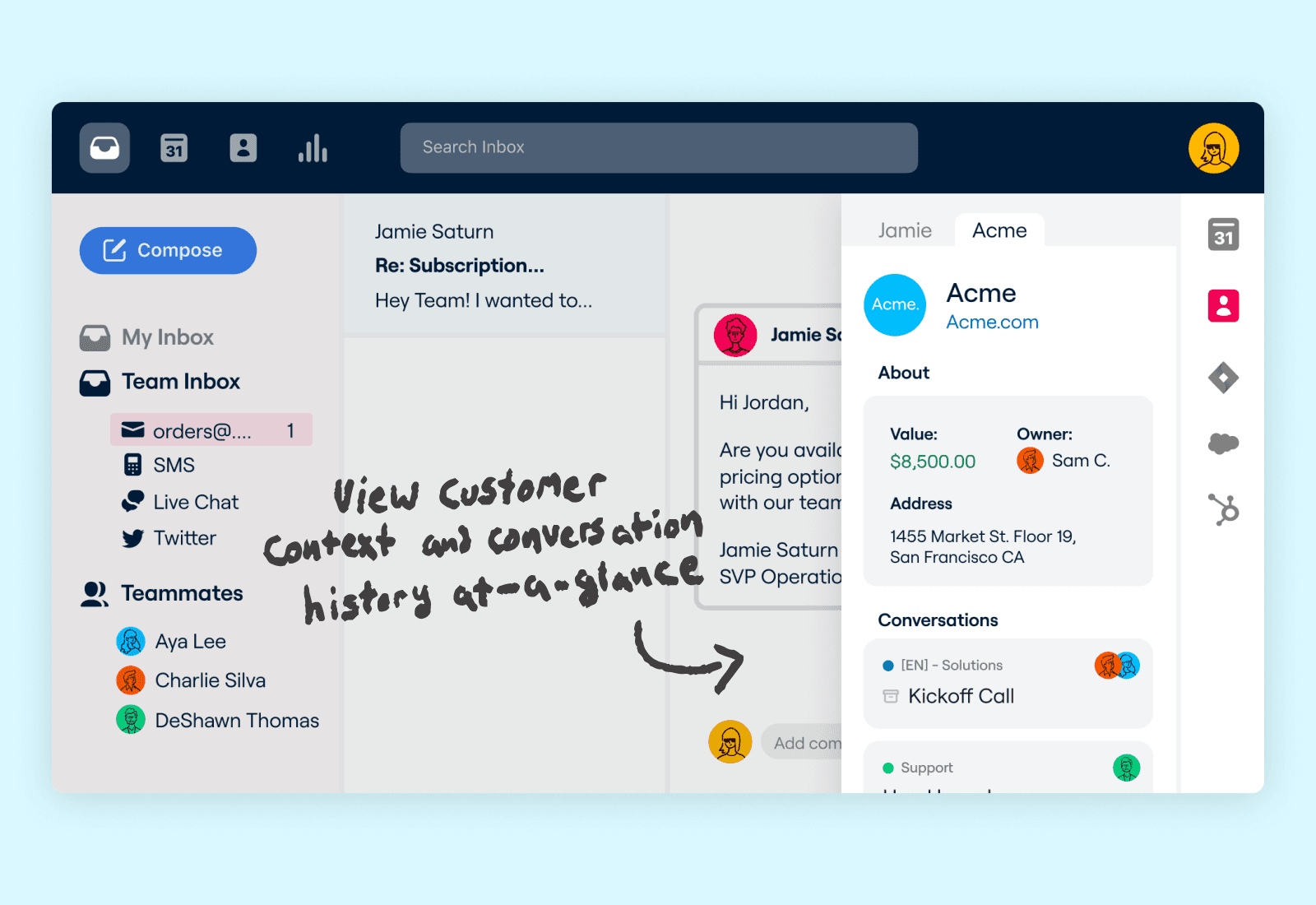 As your customers and your company grow (together!), your interactions with each other often become distributed across different teams—customer success, finance, operations, and support, to name a few. Each of those teams might be interacting with a different subset of individuals from the same company. Having insight into all conversations happening at the account level is key to delivering customer experiences a cut above the rest.
Customer context in the inbox makes this possible. A new accounts manager makes it easy to import information about the clients and organizations that you work with from your CRM or other system of record — and stays updated automatically. The new contact details panel then provides a clear, thorough picture of entire customer relationship. You'll have instant access to conversation history with the broader account and critical information like account owners, customer segment, and any SLAs—without context switching. These updates make it easy for every team member to be a true expert on the customer they're communicating with.
Automate manual workflows using customer data
Customer context in your inbox is just the tip of the iceberg. We're also introducing powerful new rule capabilities to automatically route and prioritize conversations using customer data.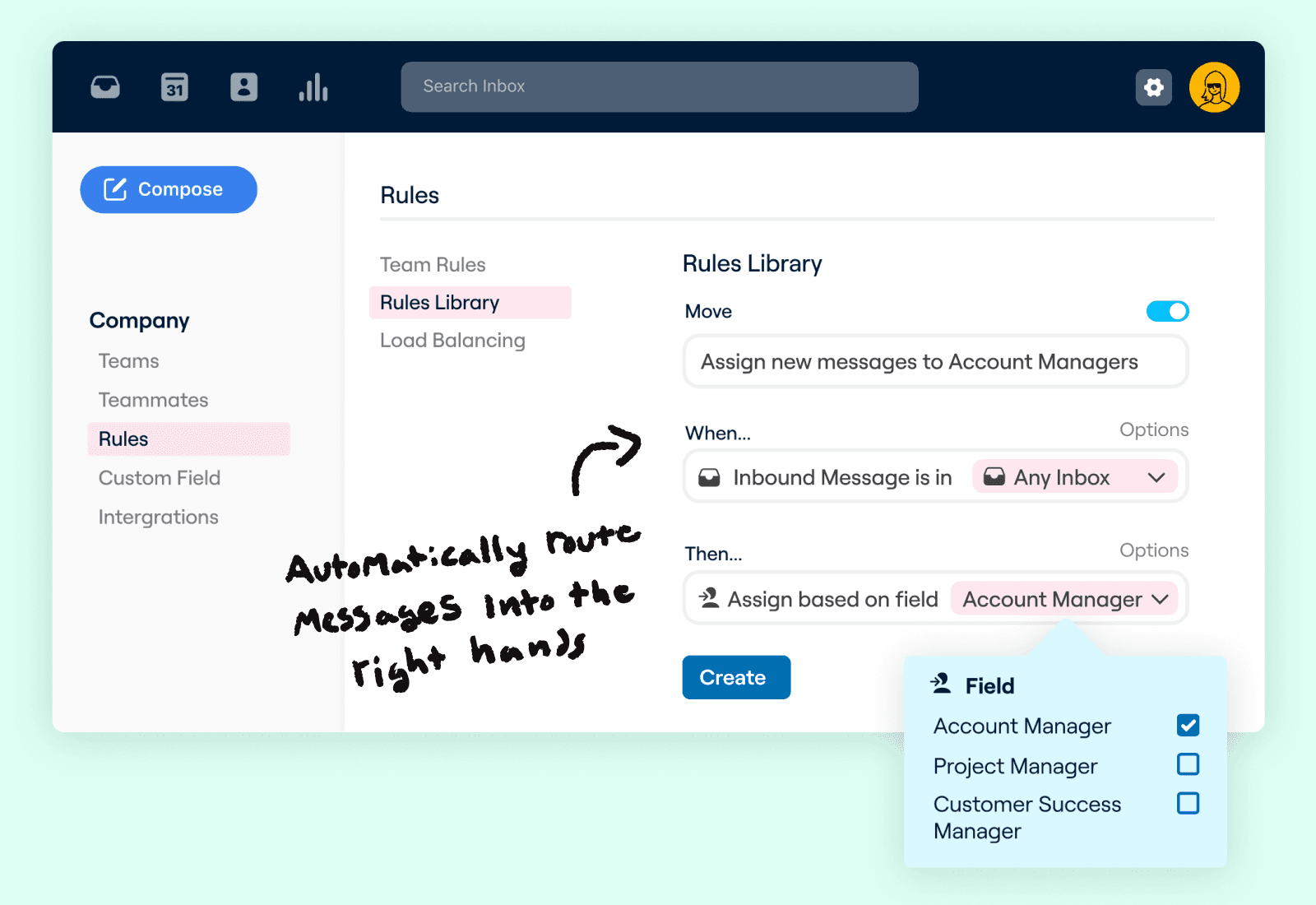 Tasks like routing customer inquiries to the account owner or flagging messages from VIP customers have historically been manual, time-consuming, and error-prone processes. The time you spend connecting the dots between your CRM and your inbox can create deep operational inefficiencies, crossed wires, and frustrated customers.
With our new account-based rules, you can now build workflows using your customer data in Front without any IT expertise or code required. Reference fields from your CRM, like account manager or annual revenue, to automatically route conversations into the right hands and prioritize messages from sensitive accounts with ease. And because Front's rules can be applied to both individual and shared inboxes, you can ensure that inquiries always get to the right team member, regardless of where customers reach out.
Customer-specific insights to help you drive growth
Teams who consistently deliver exceptional customer experiences are not just using account data to power their workflows. They're also measuring their performance to ensure every customer is receiving the appropriate level of service and identify areas of improvement.
With account-level metrics in Front Analytics, you can track your team's performance against the metrics that matter for each customer. Analyze response times, SLA achievement, message volumes, and more with ease. Preparing for your next quarterly business review has never been so easy.
When it comes to making an impact on your customers with Front, the best is yet to come
These updates mark a big milestone in Front's mission to build a world-class customer communication hub. Combining your customer data with the best platform for customer engagement means better, more tailored service to all your customers. We're so excited to see how you use these new features to "wow" your customers with every interaction.
But we aren't stopping here. If you have ideas or requests on how we can continue to improve the lives of your team or your customers, get in touch with us! Customers can start using new account-based features today—and if you're new to Front, get started to see it in action.
Written by Logan Davis
Originally Published: 14 September 2021