Microsoft Outlook has been a top player in business email for decades. But while work software evolves all the time, email has been one place that's seen almost no innovation. The way we work has changed over time — but our email hasn't. That's why we built Front.
Front is a new way of managing work email. Front enables key workflows that cannot be replicated or created with workarounds in Outlook. Instead of valuable emails getting lost in Outlook distribution lists and shared mailboxes, Front keeps your team on top of messages to respond faster, close more deals, and keep critical communication moving forward.
First, we'll cover the reasons Outlook has become costly and unwieldy for teams looking to stay on top of communications.
Why Outlook is inefficient for managing email
Traditional email platforms like Outlook don't allow teams to work together efficiently. Since work today is highly collaborative, teams need several things which Outlook does not inherently provide:
- A shared perspective on company communications.

- To be able to collaborate on email (specifically, to discuss email internally and write email drafts together).
Microsoft has acknowledged these problems and attempted to solve them by introducing other features and products: shared mailboxes, distribution lists, and Microsoft Teams. However, these solutions don't fully enable the collaboration that teams need, and in fact, they've created additional issues for teams to navigate.
1. Shared mailboxes & distribution lists lack accountability
Shared mailboxes and distribution lists have no means of giving teammates ownership over emails. This slows teams down. Both shared mailboxes and distribution lists allow you to get information to many people on your team, but they end up creating additional problems when it comes to managing customer communications:
🚫No one knows who is responsible for replying to any given email, and there's no way to designate to the rest of the team that you've got an email handled.

🚫You have no way of seeing who is replying to an email at a given moment, so teammates end up wasting time doing duplicate work or sending multiple replies to the same email.
How Front solves this: Built-in visibility and accountability for team email
Front has shared inboxes, which give your team a shared perspective on email. You get real-time collision detection, so you can see who's responding to an email at any moment. If someone replies to an email, everyone can see it and move on. You can assign emails to teammates, so it's clear to everyone who's responsible for replying to what.
"With Outlook, it was impossible to track emails, know what had been replied to, and see if anything had been missed — especially when you're getting hundred of emails per day. Front helps us keep track of them for fast follow up, which is critical to the business as a whole," said Judith Leung, Sales Support Team Lead at Cisco Meraki.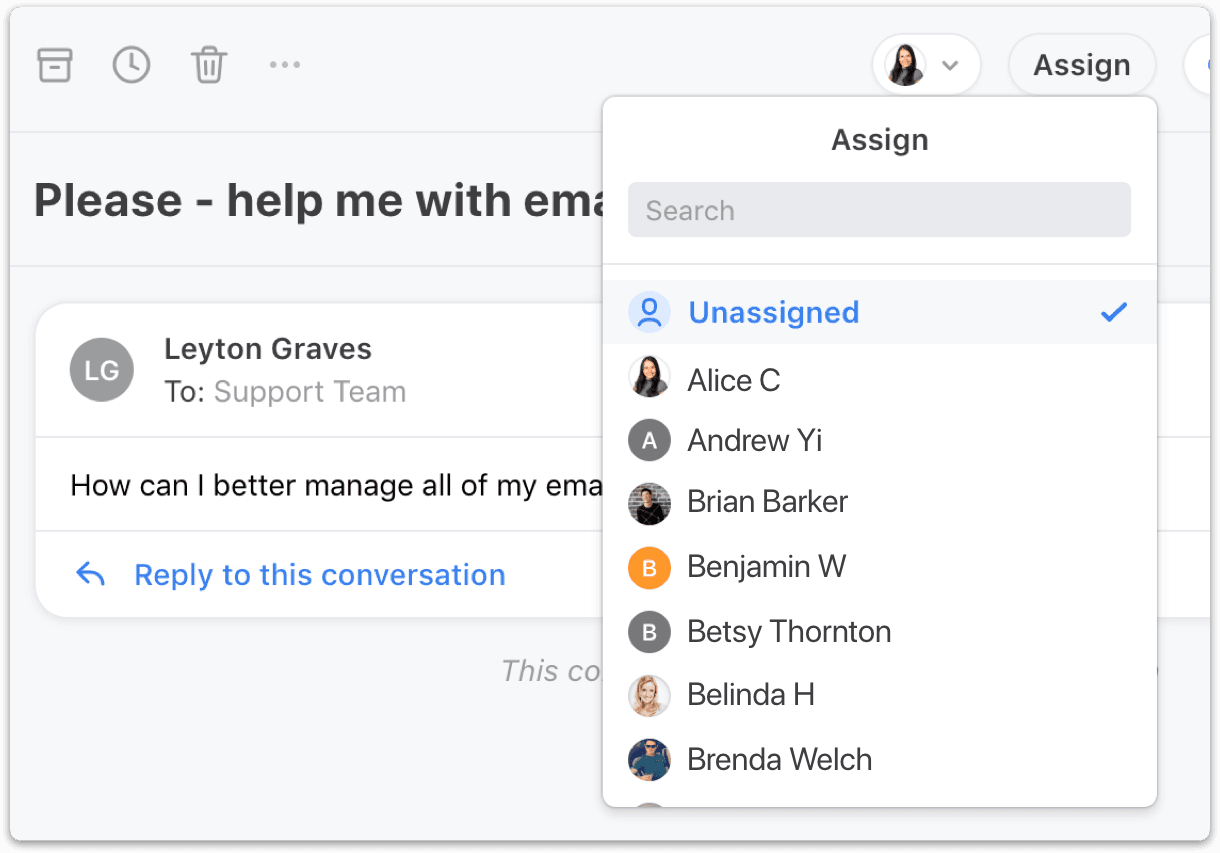 Assignments in Front give your team clear accountability over emails.
2. Microsoft Teams disperses information and forces context switching
Microsoft Teams creates disparate threads of information that make it hard to get context and understand situations holistically. Teams is a separate app from Outlook, which means your team needs to leave their inbox to chat. Often, you'll chat about an email, so you're left describing situations like: "In that email from earlier, I was going to reply and say…"
🚫Your teammates don't get full context of the email thread.

🚫No one else can access the Teams conversation to understand how you came to that decision.

🚫When you revisit the email later, you won't have that discussion to reference and jog your memory.
How Front solves this: Comments reduce email volume and keep historical context
Front allows you to comment and @mention teammates directly on email threads, so you don't have to start a chat message or forward an email to discuss it with your team. When you need to reference a conversation, all the context of the chat messages are saved directly with the email.
"We're sending far fewer emails now that we have message comments in Front, and the ability to tag emails in Front allows for faster retrieval and searches than we had in Outlook," said Kathy Costillo, Head of Technology Service Center at Countsy.
Comment, @mention teammates, and edit drafts of emails together in Front.
There are several other features that set Front apart from Outlook and other traditional email clients. We'll dive into those next.
Front is a new way to manage company communications
While traditional email platforms like Outlook only enable your team to manage email and have limited capabilities around analytics, Front allows you to get a holistic view of your customer communications, build robust workflows, and track analytics around communication to improve your internal processes. Here's what differentiates Front as an entirely new platform for managing team communication:
1. A unified platform for communication
✅Front brings email together with all your other messaging, like SMS texts, live chat, social media, and more. You work from one app to move faster, access 50+ other apps from your inbox, and get insights on your customer experience across platforms.
🚫With Outlook, you can only manage email. Your team is forced to switch between apps if you're managing communication over multiple channels like SMS or WhatsApp, and you don't have access to customer history from Salesforce and other CRMs.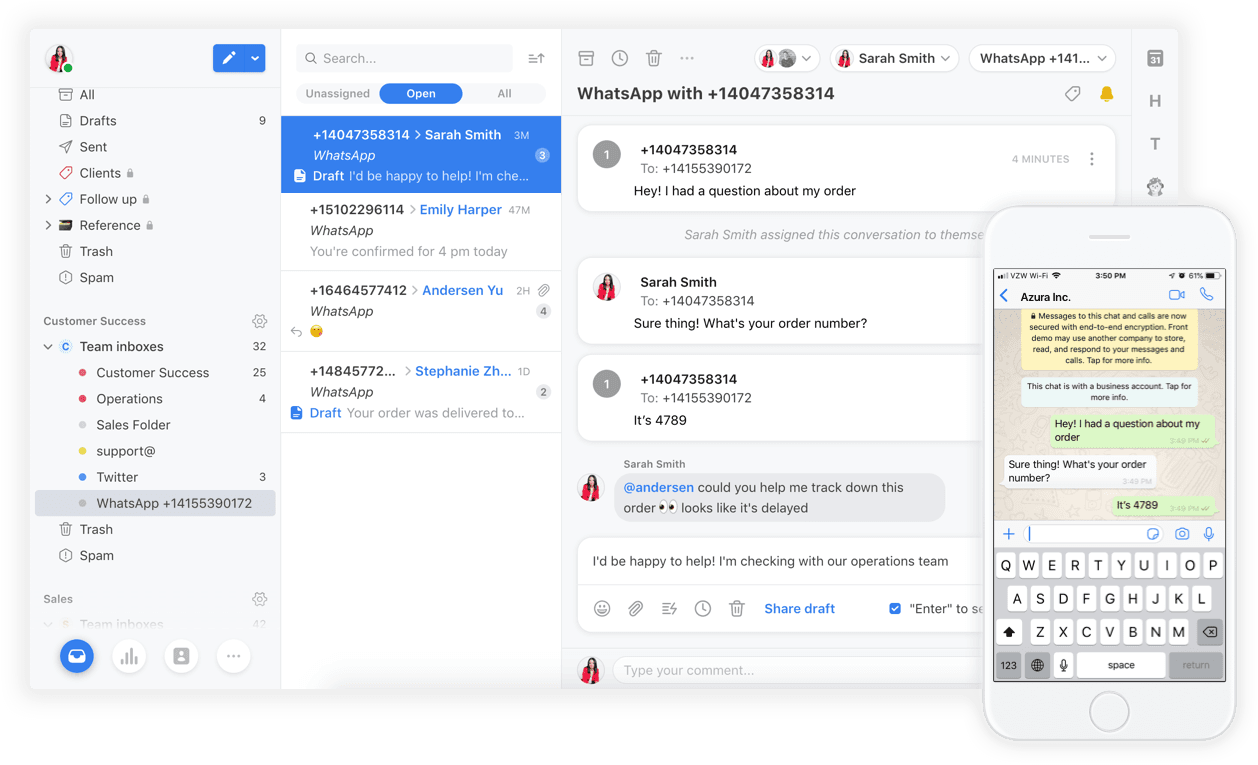 Manage email along with all your messages — like WhatsApp, live chat, tweets, and more — in one inbox.
2. Automation to get work done faster
✅Rules in Front enable you to automate tasks in your inbox. You can set rules on an individual, team, or company-wide basis to keep consistency and clarity across your messaging. You can create time-based rules for SLAs or shift work, routing rules to distribute messages to individuals or evenly among groups, and organize your messages.
🚫Rules in Outlook are limited to taking actions based on individuals and don't allow for complex or customized workflows. You cannot move emails between shared mailboxes and cannot apply rules across the company. You cannot trigger rules from other rules. You cannot apply rules across messages from other channels like SMS texts and live chat, and you cannot trigger actions in other apps from your inbox.
Rules allow you to automatically move emails, assign them to teammates, and more.
3. Analytics for data-driven decision making
✅ Front has robust analytics that enable your team to generate custom reports, measure team and individual performance, and understand your messaging habits like response time, busiest time of day, and more.
🚫With Outlook, you have to have O365 Manager Plus to generate a Shared Mailbox Report with details on top shared mailboxes used, actions taken, and mail sent and received. You cannot get insights on individual and team performance, generate custom reports, or track trends based on topic, customer, or keyword.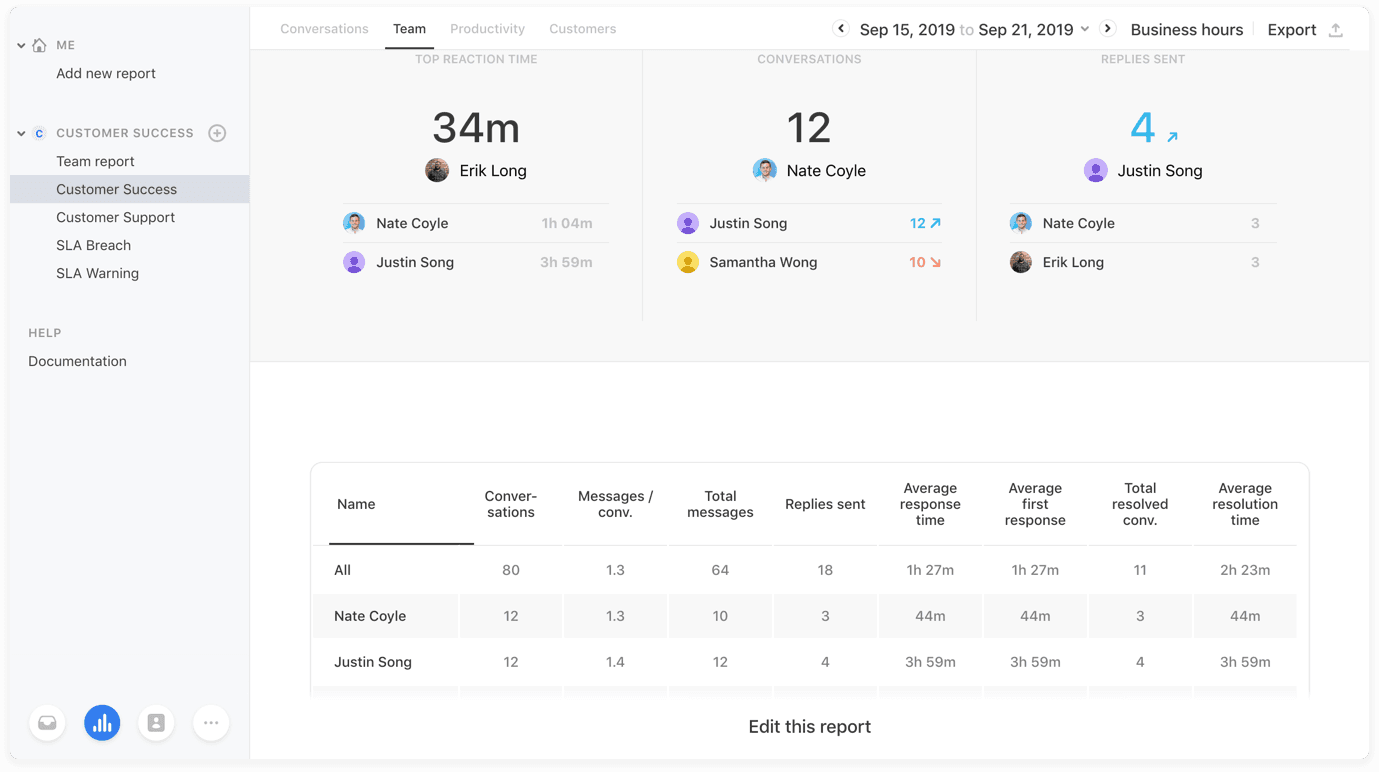 Access individual and team performance insights and build custom reports with Front.
Front enables teams to take control of company communications
Outlook turns your team's communication into a chaotic mess, which slows down your productivity, leaves room for critical errors, and ultimately holds your business back. Front is a new way of managing email, which brings clarity to your team's communication, allows your team to keep their inboxes clutter-free, and gives you seamless collaboration to get work done. For leaders, Front gives you control and insight into your team's messaging, so you can make more informed, data-driven decisions.
Learn more about Front:
Watch on YouTube: What is a customer communication hub, anyway?
Written by Emily Hackeling
Originally Published: 17 April 2020