Whats that one brand you love following on social media? You know...that company where every time you see a post, it makes you chuckle before scrolling on your merry way?
Social media can be powerhouse when it comes to communicating with customers. Maybe youre providing your main service through Facebooklike SnapTravels Facebook bot that helps you book travel accommodations.
Or maybe youre using social media to interact with your customers in whimsical ways, like Oreo or Skittles: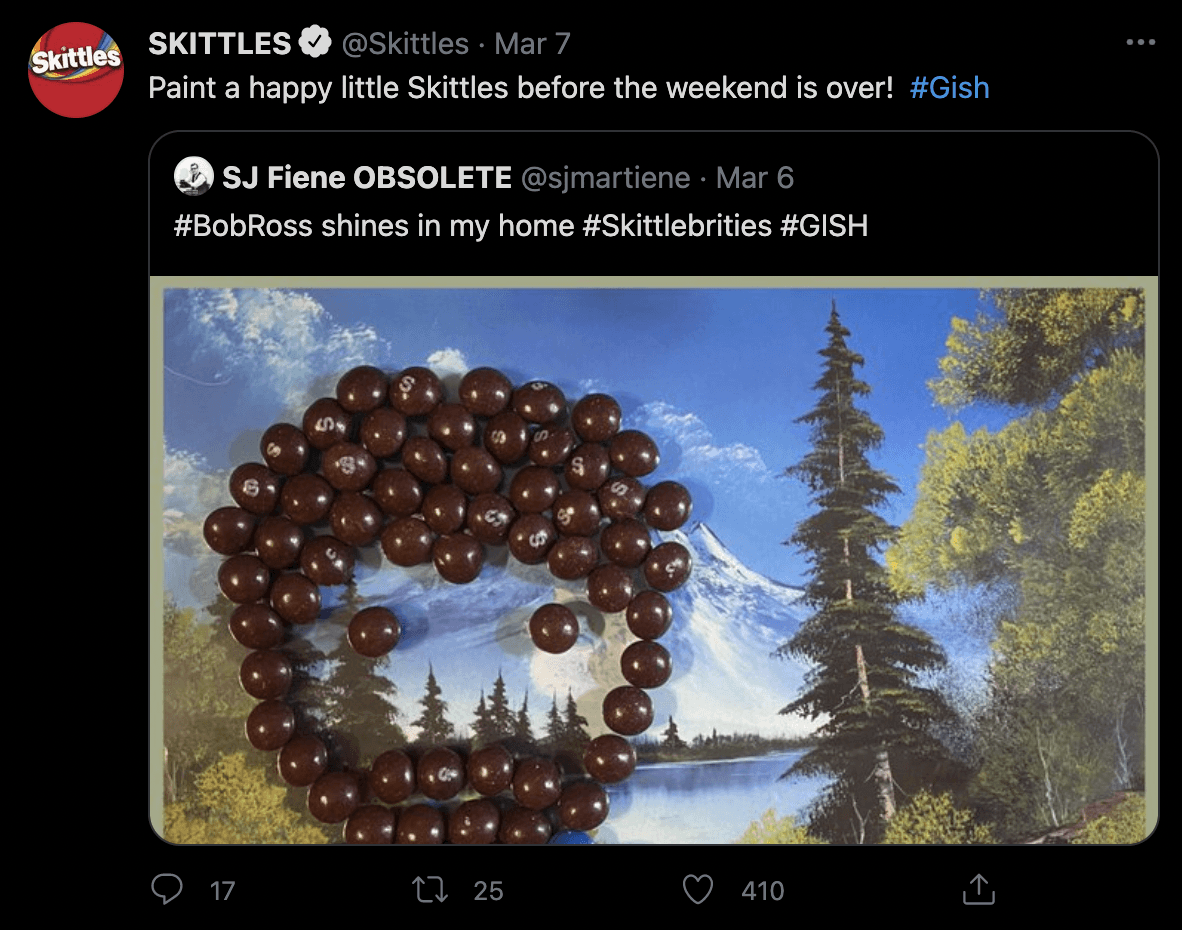 No matter which option you choose for your business, social media can be a powerful force for customer communication. Well cover why businesses do this in the first place, plus 9 of the most common ways you should be using social media to connect with your customers.
Why communicate with customers over social media?
Posting on social media is like shouting through a virtual megaphone to every one of your customers, or potential customers. According to a 2018 We Are Social report, 3 billion people are currently active on social media across the globe. And what's more interesting is that customers want to connect with brands through social media, too. A recent report by Sprout Social found consumers rank social media as the number #1 way to connect with them.
The report also found that when customers feel connected to brands, 57% will increase their spending, and 76% will continue to buy from them rather than buying from a competitor.
Social media offers businesses a unique way to connect with their customers. Sure, you can use it to communicate with customers about issues and concerns, but you can also use it to tell your company's story. Through channels like Instagram, Twitter, and LinkedIn, your company can increase its brand awareness, personalize conversations, and even give customers a sneak peek to early product launches.
Here are 8 ways you can use social media to connect and communicate with your customersnot just for marketing purposes, but for giving great customer service.
How do businesses use social media to communicate with customers?
1. Give excellent customer service
While you might not be running a business on social like SnapTravel who we mentioned above, theres a good chance that if youre on social media, your customers are going to try to get customer service there. It makes sense for many reasons:
It's easy to reach you without having to call or find your email.

It's how they communicate with friends and family every day so it's personal and familiar.

When they have a question, they just want an answer as quickly as possible. So why not reach out on social media to get a reply?
Thats why being prepared to not just use social media channels for marketing, but also for customer service, is criticaland we have some tips for giving excellent social media support.
2. Respond faster to show customers that you care
Increasing your social media footprint can be a double-edged sword. On the one hand, a broader reach means you're more likely to find new customers. However, if you don't stay on top of your platforms, you risk questions and concerns from customers going unanswered.
By listening and responding to customers on your social media platforms quickly, it shows them that you care. A recent study by The Social Habit found 32% of customers now expect a response from a company online within ½ hour. A further study by Sprout Social found unhappy customers are more likely to "call you out on social media channels. The research found 70% of customers are now willing to go on social media to raise awareness of issues.
Here's how you can use this criticism to your advantage: quick responses.
Social media platforms are public. Show your customers (and potential customers) that you're responding quickly and helpfully can be a big boost for your brand. By resolving customer complaints out in the open, you can even turn some skeptics into brand advocates.
Some customers are even willing to pay more in the future to brands who respond to them quickly. A Twitter report into consumer spending found that customers who got fast responses from airlines (within 6 minutes, to be exact) were happy to spend about $20 more per fare with them in the future.
The catch for most businesses is having enough time to stay on top of social platforms so customers don't fall through the crackswhich is where Front helps many teams. With shared inboxes, your customer service team can quickly respond to every query from customers on Twitter or Facebook all in one place alongside email. That means your social media person isnt stuck trying to troubleshoot a support question with your support team, who has no access to the conversation in your Twitter account, for instance.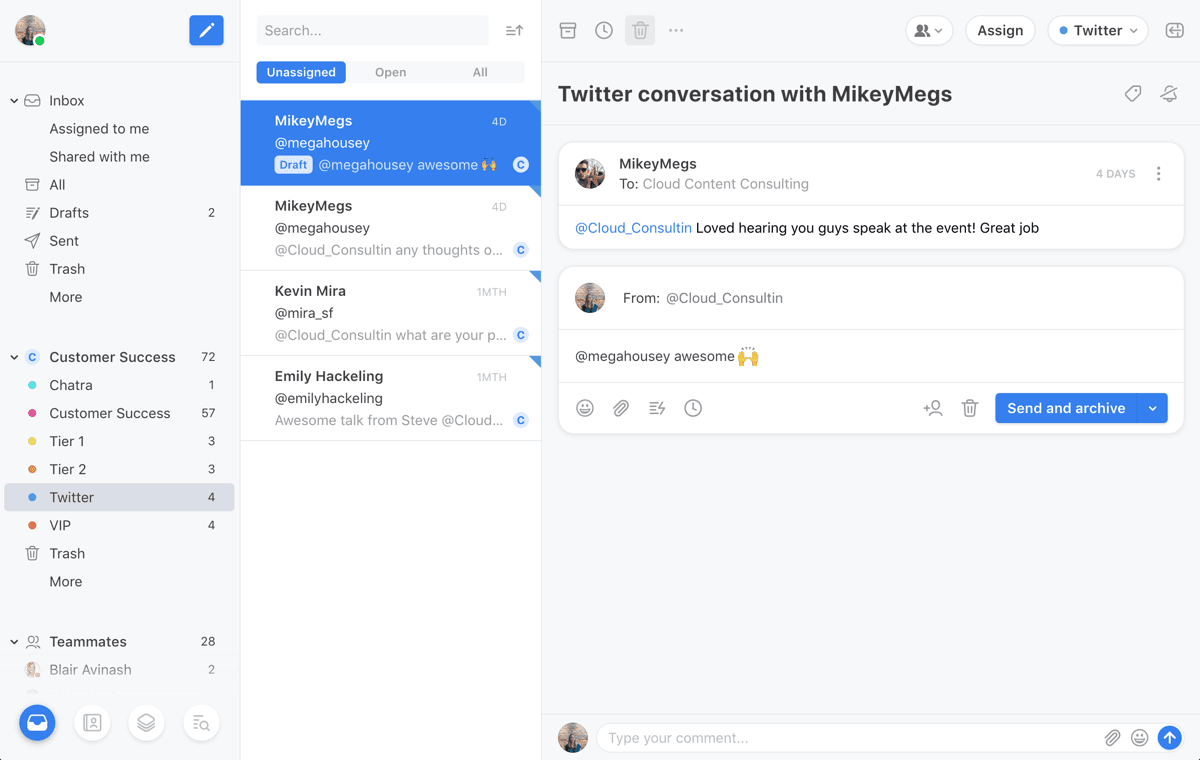 2. Keep communications personal
Your brand's social media accounts act as a gateway for customers to connect. However, it's important to put a faceor a nameto any communications coming from the account. Not only can adding a name to any replies make conversations more personable, but it also shows your customers that they're talking to a real-life human.
All you need to do is add in the customer's name to your replies, and sign-off using our own. Some tips to remember when personalizing communications on social channels are:
Always address the customer using their first name (when possible)

End any comments or Tweets with either your name, initials, or the company name

Stay professional and friendly since social media communications are in the public space and anybody can see them
Slack's Twitter account is bombarded with questions from their customers every single day. On top of replying to every single one, each Tweet mentions the customer by name before giving a detailed answer to the customer's query.
By interacting with your customers like this, it shows them that team members from customer service want to resolve their issues. It also brings accountability into the conversation. If a customer escalates a problem, it's easy for you to check which customer service member was dealing with the dispute on social media.
3. Get reviews (and respond to them)
Facebook pages provide a place for customers to rate your product or service. This means you get another place to collect good reviews (or negative ones). What makes this review option great is that customers who might never give you a formal review on G2 Crowd or some other review site might be present on Facebook and be willing to review you there.
What you need to watch out for when you choose to open up your company Facebook page, however, is negative reviews from disgruntled customers. These are inevitable, and the way you respond to them can either totally turn the situation around, or make it much worse.
Either way, having many methods for getting customer feedback is always preferable, when youre willing to share that feedback with your team to make the most of it.
4. Increase brand awareness
This is the fun part. Think Moonpie or Steakumms. These two companies are using social media to increase brand awareness, and its safe to say theyre thriving.
When youre aiming for brand awareness, your goal can be reminding customers that you exist, or getting on the radar of non-customers. The fact that 60% of Instagram users claim they've discovered or learned more about products on the platform is proof of that.
But your company will only benefit from this if you're targeting the right audience. Knowing who you're targeting on social media will allow you to shape content that speaks to them and tells the story of your brand. Instead of focusing on selling your product, show potential customers why your brand is the right one for them. Show them a side of your company they might not see anywhere else.
For Ben & Jerry's, that side is their tongue-in-cheek humor that goes into their Instagram posts.
Although it's not a direct promotion of their product, Ben & Jerrys uses social media to build a narrative about their brand. They're fun and quirky, and the ultimate goal is to get customers sharing their posts to spread the word about their ice cream.
5. Don't make every social media interaction about business
Okay, so your social media platforms can help boost your brand's messaging and products.
That doesn't mean every post and interaction you have with your customers has to be about your products. Instead, think of your social media platforms as a way to connect with your customers and target audience about topics they're interested in.
Whether it's a cute picture of a dog, an inspirational article or something your brand is doing to help the community, non-businessy social media posts can help you become more relatable.
At Front, we realized that the COVID-19 pandemic was affecting our customer's working lives. With more people working from home juggling lots of responsibilities every day, we just knew our target audience needed a way to decompress. So, we teamed up with another company, Aircall, and hosted a free digital meditation session.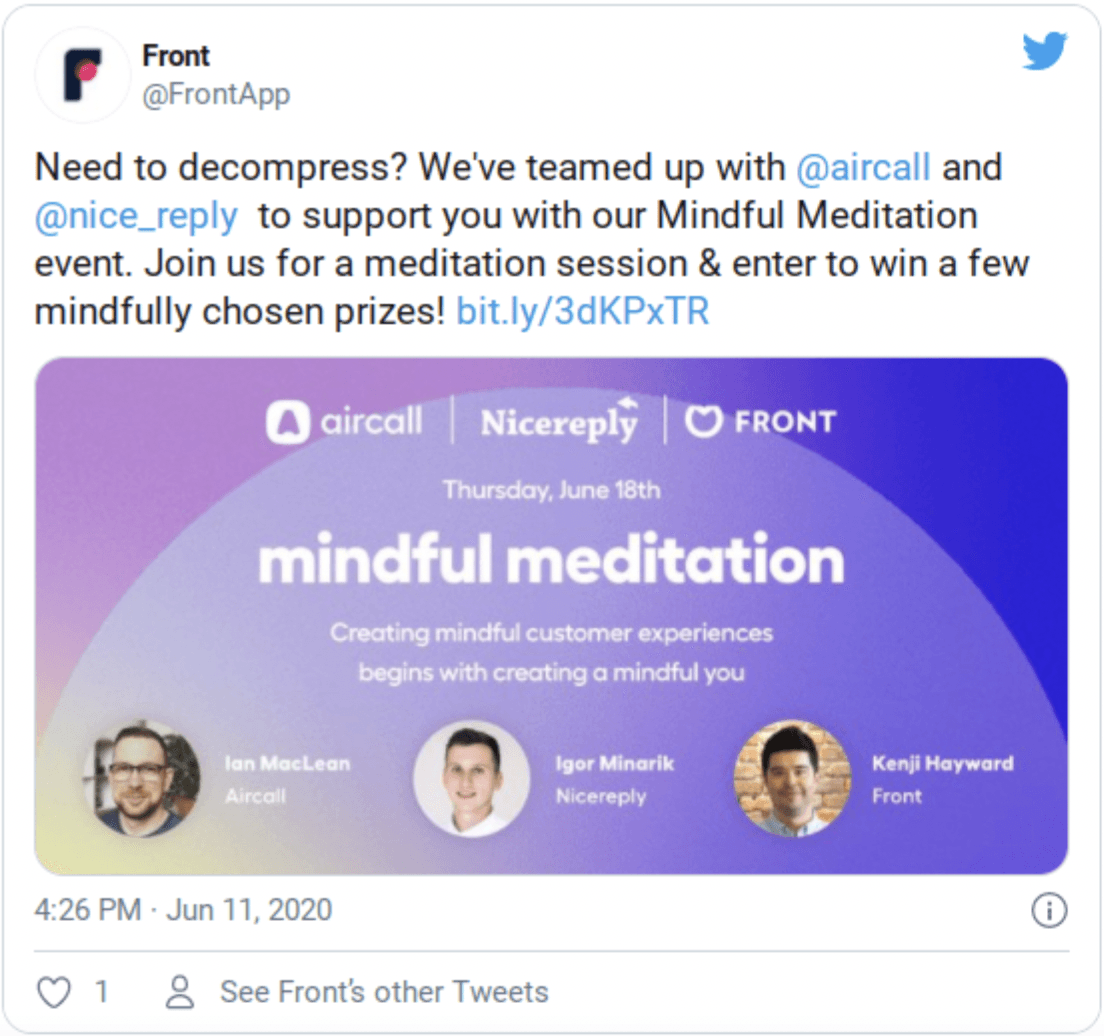 Although this had nothing to do with our product, it showed our customers that we knew they were going through a tough situation and we wanted to help them out, even if it was just a little.
6. Create a LinkedIn group for your customers
LinkedIn is where all of the B2B marketers hang out. 94% of B2B companies rely on the channel to distribute content to customers and potential clients.
If you want to go further to personalize the way you communicate with customers, try creating an exclusive LinkedIn group. LinkedIn groups give companies a space to chat about product features and updates as well as encourage discussions between customers about how to improve things.
Salesforce's Kristi Hines recommends that businesses starting out with LinkedIn groups use areas of interest (rather than your business name) to attract people into the group.
"For example, a business that sells ecommerce software can create a group about ecommerce strategy," she says.
"They could then send out weekly email or feature discussions promoting webinars about ecommerce strategy, which may ultimately lead to sales of their software.
"Your sales team can start and maintain discussions in your group on a daily basis and personally connect with potential customers when they reach out."
7. Give product updates to customers
Launching a new product or update can be genuinely exciting for your customers and loyal fans. People who love your products want to learn about and get their hands on your newest stuff first. Remember the scenes from Apple product launches?
You can use your social media channels to tell your customers about new products and give them a sneak peek about what's next. This makes them feel special (after all, they'll know first!) and can build a stronger connection between your brand and your customers.
8. Sharpen your customer data and context
The secret to success on social media is knowing who you're targeting and what channels they're using. This comes down to the quality of your data and what platforms your customers use to interact with your brand.
To communicate with your target audience well, you need to know where they hang out. Take a deeper look at what platforms your customers are interacting with most, and then focus on sharpening your communications on those channels.
Let's say your customers love communicating on Facebook. You can use that platform to ask questions and create polls to get valuable feedback about your brand and products.
It's how Starbucks regularly interacts with their (huge) online community. And they know not every question and poll has to be used for serious data gathering. Here's one poll Starbucks created on their Facebook page which simply asked customers what their usual coffee order was.
This poll worked for a few different reasons. First off, the third answer in the poll poked fun at some customer's complicated orders (one iced Ristretto, 10 shot, venti, with breve coming right up!). But the poll also generated a ton of engagement. With 2000+ likes and 1,660 comments in under 30 minutes, it's clear that Starbucks' customers liked the cheeky poll and interacting with the brand on its Facebook channel.
By finding out what channels your customers like interacting with, it's easier to get quick, comprehensive insights you can use for marketing campaigns later on.
9. Give rewards and host contests
People go to social media for really 3 main things: to see something fun or funny, to communicate, or to complain. To hit on that first one, try hosting a contest for your audience or customers.
Not only are online competitions and contests fun, but they also show your customers that you appreciate them. On top of that, contests also get some buzz going for your brand. The more excited your customers are about a giveaway, the more likely they are to shout about it on their own social channels and bring new customers your way.
After all, who doesn't love free stuff? While some brands ask customers to follow their profile, tag a friend and share a post to win, you can also get creative with your competitions. When Marvel Studios celebrated its 10th anniversary, they decided to celebrate with their followers. The studio launched a competition asking fans to share stories for a chance to win a trip to a film premiere.
Here's what you can steal from this contest idea. Instead of following a normal competition format (tagging friends and sharing a post), Marvel's competition was more intimate. By asking fans to share stories, it tapped into how they felt about Marvel films and helped them reflect about their decade of filmmaking.
You can use this same strategy when communicating with customers and launching competitions on company milestones and anniversaries. Ask themhow has our product changed your life?
Try using social media to communicate with customers
As society continues to turn more digital, it's more important than ever for companies to understand how to communicate with customers over social media. For many of us, social media is where we talk to our friends, get our news, and interact with our favorite brands. By understanding how to communicate with customers over social media, you can build trust with your brand and learn more about your target audience.
Mastering your communications across social media also gives your business a unique way to connect with customers personally. By answering questions quickly and letting them in on exciting news first, social media is a way for you to build deeper relationships with your customersno matter where they are in the world.
Written by Kimberlee Meier
Originally Published: 19 March 2021