After the last year, it's become very clear that work will continue to be more distant than ever. So the tools we use to communicate with customers and collaborate with our teams—ahem, email—need to keep up. Email is often not a solo game, especially for those in sales, customer success, and support. It involves getting internal input, getting a second pair of eyes, understanding context from other threads, and more. Now that we've reached a peak of geographically distant working, the question remains: why do most email mobile apps make it so hard to get work done together on the go?
That's why we've designed Front's mobile app for Android and iOS to enable folks to work together naturally and intuitively not only on their desktop but from their smartphones, too. So whether you and your teammates are in the same room on your computers, or working from your phones 1,000 miles away from each other, it's easy to collaborate—and your customers will get the best experience, regardless of where your team is working from.
You should be able to access all your customer messages, anywhere.
Important sales negotiation you need to follow up on while you're picking up the kids from school? No problem. Customer resolution you want to track while you're running errands? Check. Want to see the number of messages in the support queue while you're out for lunch? Easy peasy.
With Front you can access all your customer messages—not just email, but also SMS, live chat, social, and more—in one place. So no matter where you are, you can access it all, keep a pulse on customer conversations, and make sure your team has everything they need to deliver an extraordinary experience.
People should be able to write emails together, in real time.
Have you ever tried to draft an email with someone else? Maybe you emailed about the email you were going to send—or you opened up a Google Doc and wrote the email there? It just feels wrong, doesn't it? Now imagine doing that while riding the bus or waiting in line at the grocery store. It's not going to happen, and you'll tear your hair out trying.
With Front you can draft emails together in real time, so you can send thorough replies, every time. You simply start typing, select a teammate to share it with, and edit together directly, like a Google Doc. And you can collaborate on a shared draft with anyone on your team, whether they're on their laptop or on their mobile phone, so you can get all the input you need to send the best replies.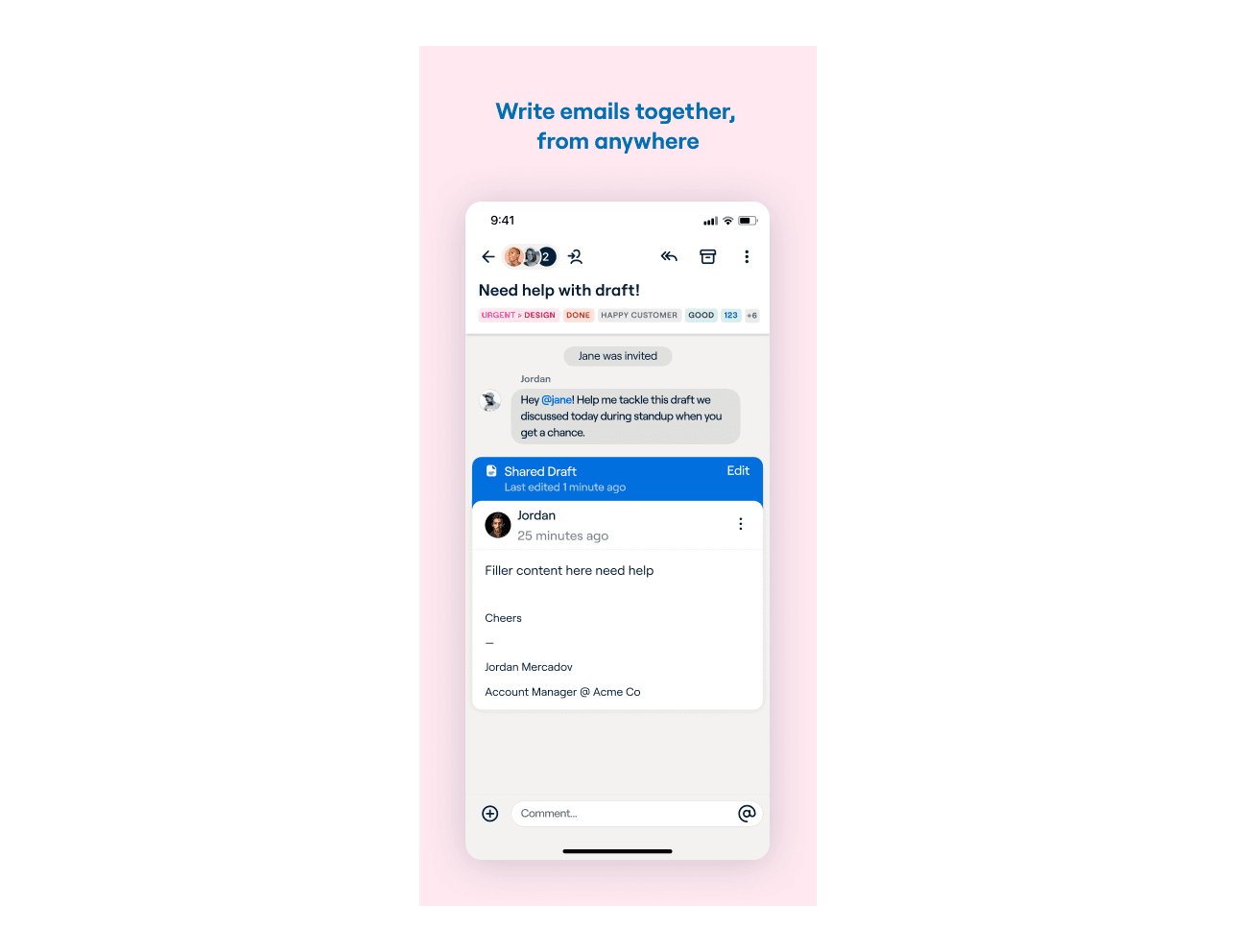 Forwarding is illogical.
When it comes to business email, there are at minimum two groups that are involved: your company, and the customer you're emailing. You and your team need a place to discuss the email that's happening amongst yourselves, more often than not—and that place shouldn't be yet another email. That's what happens when you forward an email. It's not the most efficient way to communicate.
I will be the first to say that commenting on email threads is a massive part of the magic of Front. I love it. Our mobile apps now make it seamless to comment directly on an email thread, so you can loop in teammates and collaborate on responses, with all of the context right in front of you. What's beautiful about it is that instead of forwarding an email to say, "Hey, FYI" or Slacking someone a bunch of information that then gets lost forever, all the information stays neatly within one email thread. You can view it all in one chronological place later on.
When you're on your phone, you can use notifications to get pinged as soon as someone mentions you in a comment, so you can unblock your teammates even when you're not at your desk. Got a VIP customer you want to keep tabs on? This is a great way to do so!
Group emails should have clear accountability.
A traditional distribution list creates a separate copy of an email for every single person. Technically, every single person who receives it could send a different reply. Or, no one could reply at all. The group would never know. Some email providers have tried to solve this with the concept of shared mailboxes, but there's still no clear ownership over individual messages coming in. This leads to missed customer messages or late replies.
Front enables you to designate a clear owner for every message in shared inboxes. On your desktop and on mobile, it's easy to see exactly who's assigned to an email. That way everyone can rest assured that it's being handled. If you're on the move, assigning a message to someone else takes just two taps, so if you're triaging messages on the bus, for instance, you can rest assured that nothing falls through the cracks.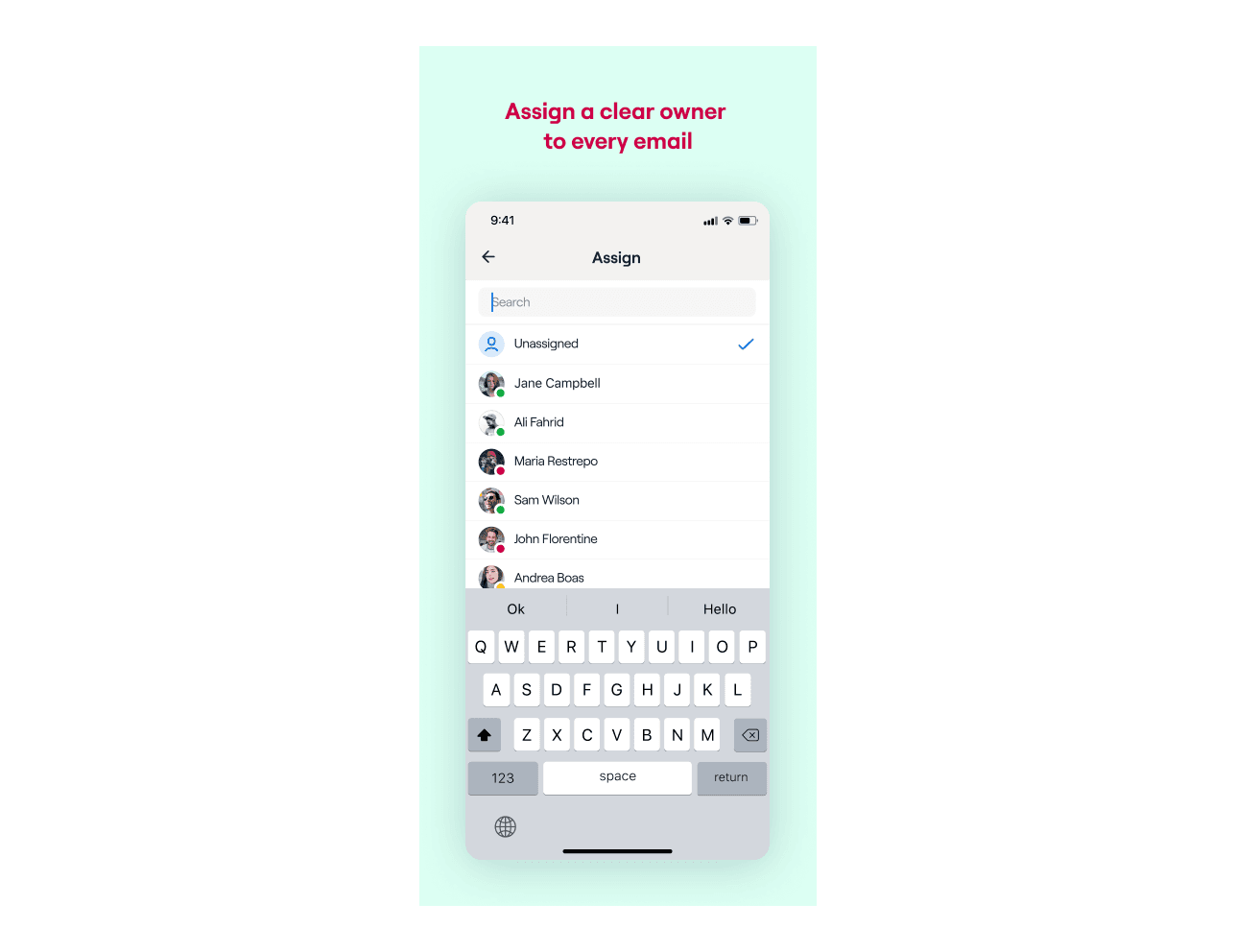 Customer communication on the go
We've been constantly evolving the infrastructure of our apps to build a mobile email experience that allows you to have tailored, contextual conversations with customers, no matter if you're at your desk or anywhere else in the world. Our future updates will include some features that encourage your team to have a healthy relationship with work email, all while delivering a personalized customer experience at scale.
Written by Nate Abbott
Originally Published: 19 August 2021