With a mission-driven ethos and customer communications powered by Front, Better.com is light years ahead of industry benchmarks.
Imagine if you could be twice as productive as your competitors. With double the productivity, you'd close twice as much. But what if you could be four times as productive? Maybe you'd close twice as much in half the amount of time. But 1200%??? At that point, you're not even in the same category as the competition anymore.
And Better.com famously doesn't pay commissions. So how do they explain such jaw-dropping performance?
Sarah Pierce, Head of Sales at Better.com explained it like this: "People have said, 'Well how are you able to have this non-commission structure and still keep up with the commissioned loan officer?' All I can really point to is our rankings among national loan officers. This year, in Scotsman Guide (which is an industry trade magazine that ranks all the loan officers in the country), we have one in the top 10 and over 40 in the top 500. We crush the list every year."
She continued, "Our technology and our mission-driven ethos, we believe, have been able to drive productivity without having to have commissions."
But what exactly does that technology look like? And how does Front make Better.com's mission possible?
Challenge
Delivering a seamless, personal experience as a distributed team
Better.com provides a 24/7, fully online experience to mortgage services customers. They do this with an extremely collaborative, team-based approach to selling and processing, with specialized points of contact across the buyer's journey. However, mortgage seekers demand an incredibly personal, high-touch experience. They're used to working with one person from end to end. They're used to being in touch over text or chat or email on their schedule: nights and weekends. Better.com needed to provide an equally seamless level of service as a team.
On top of that, with mortgage rates at historic lows, Better.com saw 200% increase in demand for refinancing. With every employee working from home during COVID-19, Better.com had to instantly scale to meet that demand with a fully remote team — all without missing a beat.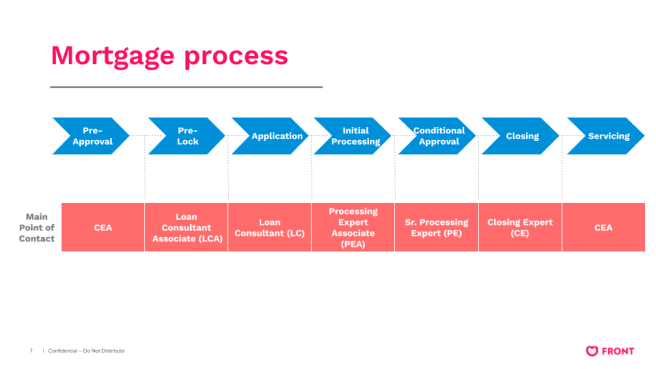 A glance at Better.com's internal mortgage process.
Solution
Getting full visibility and easy collaboration across all teams
Better.com uses Front to erase the seams between each hand-off from team to team and deliver a truly unified experience to every customer across every channel of communication. This wouldn't be possible without a collaborative, omnichannel customer communication platform.
"We have a really unique way of working with our clients," said Holly Haynes, Sr. Customer Experience Manager at Better.com. "When we were vetting our different options, we wanted to make sure that we had a platform that was just as unique as us. And that's really what we found with Front."
Shared inboxes and drafts make hand-offs seamless
Better.com's shared inboxes mirror their team structure. Each customer email or chat gets triaged to the right team's shared inbox. From there, they can assign owners, move the email to another shared inbox, use discussions to have quick chats about what to do next, and collaborate in real time on the response. When the customer moves from, say, Initial Processing to Conditional Approval, the Processing Expert can access and review all the previous interactions with the client.
Better.com's Shared Inbox panel in Front.
On top of that, unlicensed team members can draft a reply on behalf of the licensed Loan Consultant, who can review and send. This amplifies the value of the license and lets Better.com's unlicensed staff contribute much more than they could otherwise. (Mortgage industry regulations require licenses to participate in loan conversations.) This also helps give the customer consistent points of contact throughout the process — ensuring they have that personal customer experience at every step of the journey.
"I really, really love the shared drafts feature," said Holly, "because of how our work is set up. Working in the mortgage industry, it's a highly regulated industry. It requires that you are licensed before you're able to be in conversations. As something that we do to make sure that we are maximizing our workforce, we will oftentimes work with our teams to draft conversations for our licensed team members to send so that they can make sure that everything is compliant and that we are checking off our boxes, crossing our T's dotting our I's. It allows our licensed people to actually spend more time on the phone having those expensive conversations while our unlicensed people are putting their comms together for them."
Message templates cut down on response time and improve customer experience
Response time is critical when it comes to making sure every customer has a good experience. Message templates help Better.com answer quickly and accurately to customer questions while still preserving a personal touch. Message templates can be set up to send automatically, but they're also extremely customizable. Better.com can automatically insert names, titles, and other dynamic fields. Plus, they can add in any personal touch or unique copy in seconds right before they send.
"Message templates are huge, especially for the CEAs [Customer Experience Associates]," said Holly. "Because we have these message templates, we can move really quickly with the conversations that we're having with our clients and improve our response time. We've seen this work really well, especially with our live chat feature. We want to make sure that we're not only responding quickly, but that we're also uniform in the communications that we have with our clients to ensure really great quality across the board."
One of Better.com's message templates: a first-touch reply to inbound interest in an Ally Home Loan.
Message templates helped Better.com respond to the massive increase in refinancing demand they recently weathered. A huge increase in inbound communications sounds like a great thing — until you don't have enough bandwidth to meet that demand. Better.com didn't miss a beat, though.
"We leverage Front in inbound communication," said Sarah Pierce. "We always prioritize inbound communication. We always prioritize customer service over making that next sales call. That's just something we believe in, but we're always going to prioritize keeping our missed call rate low, keeping our response times extremely low over making that additional outbound phone call."
Built-in analytics prove the ROI of live chat to leadership
It's one thing to know your process is working. It's another thing to prove that to your team leadership. For example, Better.com was having a lot of success interacting with clients through live chat on their website. But what's the actual ROI of that program apart from anecdotes from customers that "they really like it?"
With built-in Analytics, Better was able to make the connection right away. "The analytics in Front have been key in really understanding what value live chat has to our company," said Holly Haynes. "Analytics has been the bible for my managers as they're working with their teams and they're looking to understand not only how their agents are working, but what impact they're having. So it's an integral part of our workflow. It's something that we're checking every day."
"Not to sell Front for you, which I'm a big believer in," said Sarah Pierce. "We were an early adopter, but the reason we actually went with Front was the omnichannel solution and the team features. Through Front, you can have an email thread, but you can also chat with other people who are working on that email comm, you can tag people and things like that."