Dealing with an overwhelming amount of email is a reality for modern businesses. According to Adobe Digital Insights' 2016 survey, workers spend more than 4 hours a day checking email — up 28% from the year prior. As much as we may want it to, email isn't going away.
For many companies, general email addresses like contact@, sales@, or help@ are the easiest way for a customer to try to get in touch. But "try" is often the key word. Nearly everyone can relate to the experience of firing off multiple emails to various support emails, hoping someone might eventually get back to you about your issue.
The team on the other end of those email addresses is feeling the pain too. Email was fundamentally designed for one-to-one communication – and presents a few problems when we try to use it this way:
Team members use a shared login to manage a single address, like help@, and have to switch back and forth between their individual email addresses and the shared one. The inbox for that shared address quickly becomes a black hole – no visibility into who's handling what, or who else might be logging in soon to deal with the other messages.

They set up forwarding from the shared address to their individual inbox. Following every thread with forwards, cc's, and bcc's generates unnecessary messages that everyone on the team spends time dealing with on their own.

Email groups are the next step: everyone receives a copy of every message automatically. Again, this means everyone on the team spends time reading and sorting the same messages. Without a way to have clear ownership or avoid simultaneous responses, customers receive different answers from multiple people — or no answer at all.
With all of this email clutter, it's easy for your team to get lost in the messy conversations shared addresses generate. Even worse, someone might accidentally respond to a customer with a message they meant to send to their teammates.
A familiar problem
At this point, teams typically go down one of two paths:
Inbox hacking: Gmail, Outlook, and other clients have the building blocks for an efficient inbox — it's just up to you to build a workflow that accommodates them. Teams can use color coded tags, convoluted folder structures, and automatic inbox filters to piece together a solution that reduces manual sorting but doesn't solve the core collaboration problems.
Help desks: Traditional help desk software emerged for exactly this purpose — to help support teams convert customer requests into tickets that are trackable, assignable, and easily indexed. While they solve some collaboration challenges, usually only the support team will tolerate them due to price and usability. That silos critical customer context in a tool that only Support is using and leaves other high email-volume teams (like Sales, Recruiting, or Finance) without a solution.
We believe the ideal solution is a hybrid of these two, and that's what we're trying to build here at Front. Front brings the power of an email client and a help desk into one centralized communication platform, beneficial for any kind of team. A shared inbox platform sits invisibly on top of your regular email client, so your customers feel like they're receiving personal emails instead of ticketed auto-replies.
We've talked to a lot of teams that shy away from the idea of a shared inbox at first — afraid of lost messages, clunky message formats, or wasted time spent sorting through a cluttered inbox.
Here's what they find out when they try Front, and how a shared inbox can work for your team:
1. Make inbox zero a reality
A shared inbox like Front allows you to manage the shared addresses your customers rely on — without drowning your team in email.
Every email sent to your shared addresses is visible in a unified inbox that your whole team has access to. With all your emails in one place, your team can claim ownership for individual messages with assignments" that give visibility into who's working on what. Handing off messages is as simple as re-assigning the message to the right person. Gathering internal feedback or coordinating next steps is easy with in-line, internal only comments that keep the context where it belongs and don't create more email.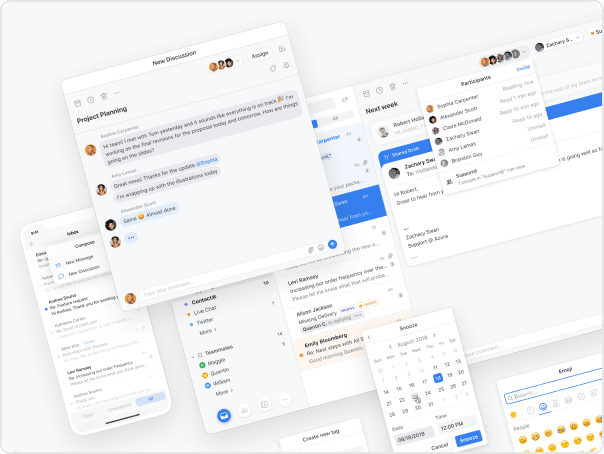 Working out of one shared inbox on a single, shared copy of each message, your team no longer sinks valuable time into duplicate work (in fact, every teammate at Instructure saves 10 hours every week with Front). Getting to inbox zero everyday not only becomes possible for your team — you can get there faster.
2. Lower response times
Response times are critical for any business today, so it's not surprising that lowering response time is a priority for most sales and support teams. We've found there are three primary drivers of response time:
Context. Does your team have the tooling and training to answer requests quickly, or do they need to switch between platforms to gather additional data?

Efficiency. Do request routing and escalation get messages to the right person quickly?

Resources. Is your team appropriately staffed to handle your message volume?
Setting the question of resources aside, context and efficiency suffer with traditional email groups and shared logins. Help desks offer improvements in these areas, but slow platforms with unintuitive UI may continue to slow down your team. Their visible message formats also leave your customers feeling like they are a number in a queue, rather than a valued part of your business.
What support tool is right for your team? Ask yourself these 6 questions before choosing a help desk.
Front's shared inbox makes lowering response times possible — even easy — by bringing more context and efficiency gains directly into your inbox:
Rules. "If-then" automations make it easy to route messages to the right person or group of people quickly. Use triggers like keywords in the subject line or message body, time of day, contact groups, and more to apply tags, assign messages, or even send automatic replies.

Integrations. Switching back and forth between tools costs your team valuable time. Our native integrations with Salesforce, Intercom, HubSpot, and more bring customer data from other systems into your inbox. You can also create and update records in other tools without leaving Front, so your CRM and other apps are always up to date.

Folders. Group email addresses into folders (like bugs@, help@, and support@ in a "Support" folder), and limit access permissions where needed. Grouping related addresses into folders allows every team to operate out of the same platform, while reducing noise and message volume for teams that don't work together closely.
We've seen teams use hundreds of rules to cut response time in half, even when handling thousands of messages every day.
3. Manage all your communication channels in one place
So far, we've talked a lot about email. But what about the other channels customers use to get in touch with your business — like SMS, chat, Twitter, or phone calls? Specialty tools have emerged to help teams manage them, but using multiple siloed communication tools introduces additional challenges. Customers need to repeat questions or provide context multiple times across channels, while your team needs to search through multiple platforms to piece together a full customer conversation history. Often, responsiveness suffers when handling requests from untraditional channels, and companies fall back to email.
Front solves this problem by bringing in multiple channel types — like Front Chat, Twilio SMS, Intercom chat, Twitter, Facebook Messenger, and more — into your shared inbox. Having all your channels in one place makes it easy for your team to get back to customers quickly, no matter how they reach out to you.
Behind the scenes, you can efficiently handle messages from these platforms the same way you do emails: with rules, assignments, and comments. You can even group multiple channel types into one folder, like a "Sales" folder with messages from your sales@ email address, SMS number, and Smooch in-app chat.
4. Promote transparency
One of our core values here at Front is transparency, and what we love most about shared inboxes is actually the transparency they foster in your team. Working in a large team can be frustrating when you don't have visibility into how and why decisions are made, and managing that team can be challenging if you don't have insight into what's going on. Sharing an inbox with your team allows everyone to have more context on decisions being made, learn from each other, and have a birds-eye view of the work being done.
This transparency can also alleviate the challenges that come with growth. When onboarding new teammates, your goal is to help them ramp up quickly on what's happening with the company and how work gets done. By granting them access to team channels and folders, new hires can instantly access all the conversation history for your team and have the context they need on day one.
Having a shared inbox also makes to easy to share feedback across the company. Here at Front, we have an open channel for our Delighted customer survey feedback and NPS scores that anyone on the team can read, comment on, or follow up on. We've found this shared access helps our team keep our customers top of mind and feel more ownership over what we're building.
5. Get more done
With all your communication in Front, your team can leverage rules, integrations, and behind-the-scenes features like comments and shared drafts to handle messages faster. There's no need to switch between platforms and apps to respond to customers, update records, or track feedback when you can manage all of these workflows in one connected inbox. With more information flowing openly through the organization and easily searchable in Front, your team can make better, faster decisions with even more confidence.
Remember that amazing prospecting email your teammate sent last month? In a shared inbox, it's right there for you to reference.

Going on a trip, but wondering what to do about your open conversations? Simply assign them to a teammate, and add any context they need for follow up in the comments.
Everyone adds more value to the team by sharing their conversations for others to learn from and saving the team time by managing messages efficiently.
We also know some of your work just can't be shared, so Front provides a space for private conversations — your personal workspace. Add your individual work email address privately in Front to manage your personal work alongside your shared team messages.
Instead of prioritizing across two separate platforms, you can seamlessly manage personal and team work in one inbox environment. If you have a personal email you'd like to share with a teammate, just @mention them in a comment to loop them in to the conversation. They won't have access to the rest of your inbox — just the message you'd like to share with them.
6. Get insight
Email is famously hard to measure and track. Your team spends hours each day in their inboxes, but what's really happening in there? You might be wondering:
How quickly are they getting back to customers?

What's the busiest day and time for us?

How often is an issue or topic coming up in customer conversations?
The answers to these questions are either buried in individual inboxes or not accessible at all. Without some major investigation and potentially custom data analysis, you're not likely to find them.
That's why we've made powerful analytics reporting a priority for Front. You can tag messages to track customer questions or feedback and build reports to see how frequently those issues come up over time. Front reports also shed light on response time, message volume, and performance at the team and individual level. With these numbers in hand, you can test how different strategies impact your team's response time, how feature releases impact feedback volume and trends, or when it might be time to grow your team.
What's your busiest time and day for email? What topics do you email about most? Check out the email insights you can gather in Front.
Why we're building Front
We've talked to thousands of customers considering a shared inbox — perhaps not surprisingly, we consistently hear the same themes and pain points from all kinds of customers.
Teams want fast, intuitive tools that make them more efficient. Managers want insight into what's going on with their team and how they can help them develop. Everyone wants happy customers and a collaborative workplace. Email is painful.
We believe a shared inbox like Front is the key to solving these problems and powering better days at work. If you want to learn more on Front, check out how Aircall uses Front to improve CX, drive efficiency, and increase customer growth.
Written by Sarah Spangenberg
Originally Published: 17 April 2020