How to unlock your CRM's data to guide better conversations with your customers in Front
When you think of Customer Relationship Management (CRM), you might visualize dashboards, conversation logs, internal notes, and that frustrating field that never seems to get correctly filled. And while CRM systems often tout an impressive — even overwhelming — menu of features and services, at the end of the day, the goal of all these new contact records, sales forecast reports, and AI-powered automated emails is to better understand your customer to increase sales. In fact, Salesforce reports that using a CRM increases sales by 29%, boosts sales productivity by 34%, and improves forecast accuracy by 42%. 
Unfortunately, many of the communication features within CRM systems fall short. It's not as efficient to collaborate with multiple teammates to resolve a customer issue. Or it's too difficult to understand message priority. Maybe it's not as intuitive to collect all the info you need and reply in one place. 43% of CRM users admit the top challenge that prevents them from delivering a good customer experience is seeing everything about the customer in one view.  
Missteps in your customer communications where you took too long to respond, replied with an inaccurate understanding of the account, or went a roundabout way to reach a resolution can be a setback to your customer experience. This is why it's crucial for the communications component to work in tandem with your CRM. It's not either or. Having both work in sync is greater than the sum of its parts to take your customer experience to the next level.
So how can you effectively leverage your CRM data to create efficient, personalized communications with each and every customer?
Wow your customers with how well you know them
When you talk to a friend, you have all the context in your brain. But when you talk to a customer, you need it at your fingertips. When your audience receives relevant content based on previous behavior, they're 58% more likely to convert. 
Responding to and resolving customer requests at scale requires a 360-degree customer view. All that context and collective knowledge need easy access in order to happen at the speed of a human conversation. But when a good chunk of your context is locked away in your CRM, you'll need to draw those insights out to use in your communications to further cultivate your customer relationships.
So how do you unlock siloed CRM data? When you sync your CRM with Front, it helps bridge that data-rich CRM into Front's communication platform. Front integrates with a variety of CRMs including Salesforce, HubSpot, and Microsoft Dynamics 365, which automatically brings up-to-date data from the CRM directly into Front — no manual CSV uploads required.
Here are three ways you can start strengthening your customer relationships after you sync your CRM with Front.
Get messages into the right hands for faster service
It's way more productive to focus on crafting your response to a customer inquiry than manually sorting through messages to see who needs to handle what. Instead of getting sucked into that time sink, automate who gets assigned to messages based on the custom field provided from the CRM sync. 
For example, a rule can be set up in Front to assign messages within a shared inbox to the account manager. That way, they can immediately begin resolving the customer inquiry and the rest of the team knows it's taken care of. For more details on the CRM sync, check out our Help Center article.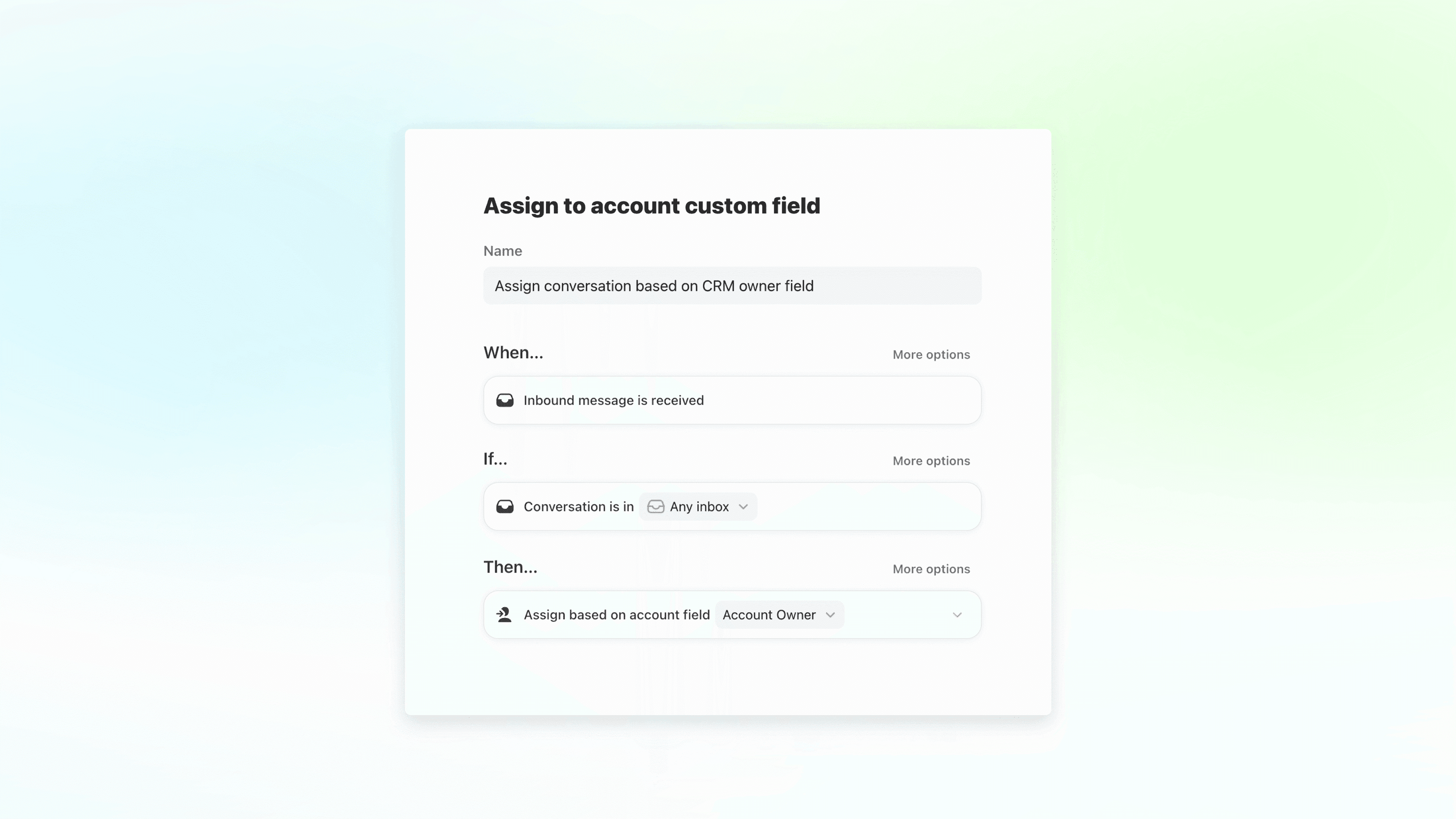 If you're having trouble sorting through the sea of messages coming from all your channels that's getting funneled into Front, you can also automate tagging based on account characteristics such as account tier, annual recurring revenue (ARR), and more. Tags serve as a quick visual cue so you can understand the topic or urgency of the message, while also enabling faster searchability and more powerful rule logic when you want to hone in on certain topics. 
If you've got a tiered system of shared inboxes, you can set your rules with the same account criteria to help automate moving higher priority messages to the right inbox.
Key takeaway: Spend more time on tasks that build strong customer relationships, rather than wasteful activities that could be automated to improve scalability.
Stellar customer service begins with informed staff
Syncing your CRM not only uses key customer data to power your behind-the-scenes automation, but also makes that critical information accessible to your team for faster, more personalized responses. Companies can configure the fields that sync into Front, like showing the status of an account to when the last teammate interacted with an account or contact.
You can also reduce the number of times you're switching back and forth between tools to grab key customer data. Here are a few time-saving examples that quicken your response times (and won't contribute to app-switching fatigue):
Use dynamic variables based on your CRM's account or contact fields in your message templates to go that extra mile for personalization, without all the extra effort. 

Easily pull up key account or contact data right next to the Front composer to inform your reply. This supplements the quick reference to historic conversations and important tags, so you have all the past context you need to pick up where the conversation last left off, no matter what channel that was on.

Take advantage of auto-suggested recipients so you can draft your responses in a jiffy.
Key takeaway: Have all the essential context gathered in one place to equip any member of your team to be able to respond rapidly and accurately at a moment's notice.
Gain detailed insights to improve your customer experience
With your CRM data in Front, you can get more granular in account-based analytics. Front makes it easy to dig into key metrics such as:
Reply time

Service level agreement (SLA) breaches

Customer satisfaction scores (CSAT)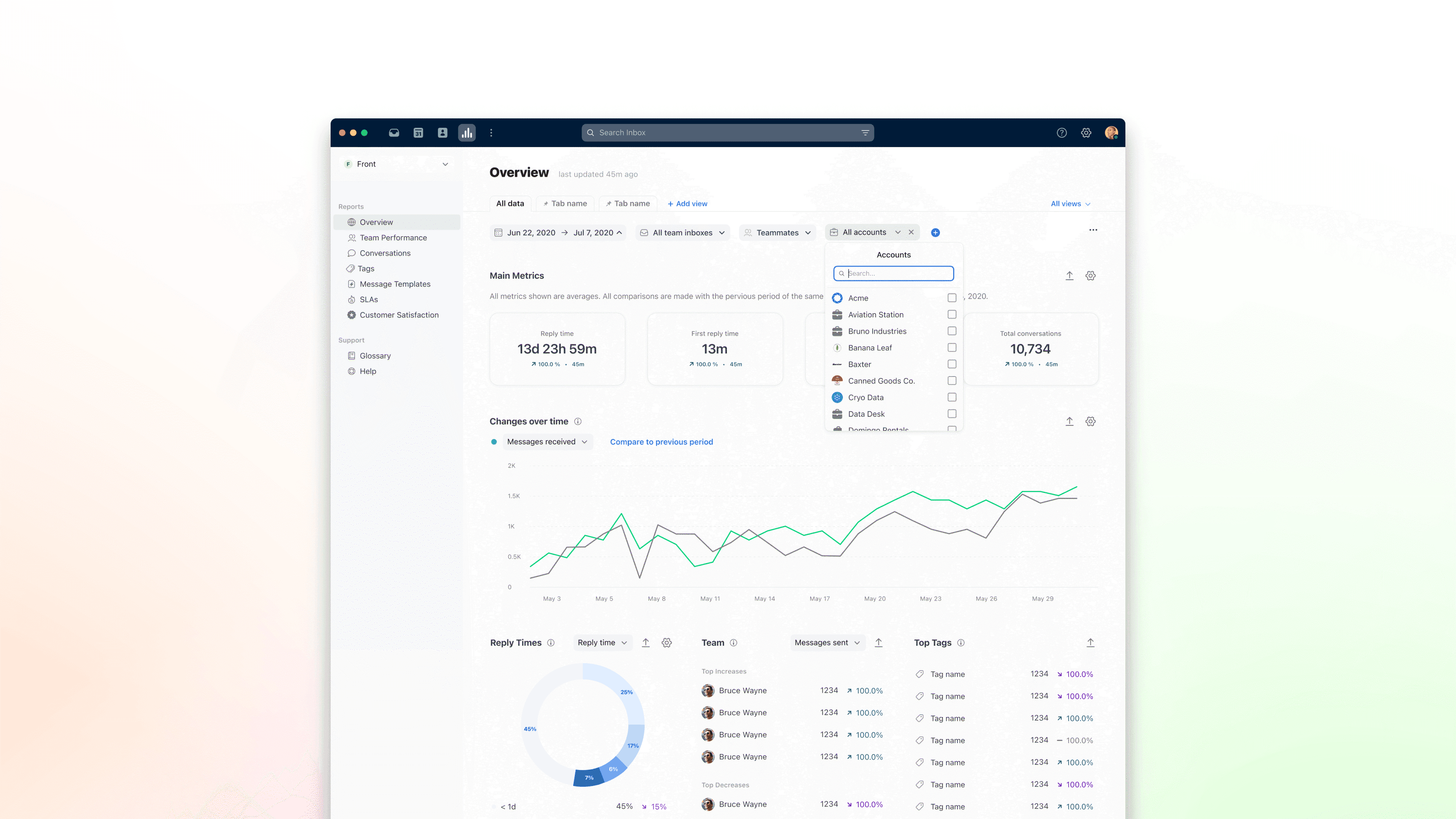 Front admins can filter down to the account level on any dashboard, enabling them to understand a single customer's or selected group of customers' experience with the business. Getting that more granular view of the customer can help identify trends or bottlenecks in service and provide guidance in the areas of the relationship that need more support.
Key takeaway: Gain visibility into areas where you can improve support to make customers happier.
Some frequently asked questions about CRM sync
How often does the sync run? Can I schedule it?

Once the CRM sync is set up, it will automatically trigger a sync every 24 hours. However, you can trigger a manual sync at any time if you need an immediate update.


Does Front automatically associate contacts with accounts?

If you do an account sync, Front will automatically associate contacts to your accounts by matching the domain. Just add an 'Email Domain' field in the sync field mapping. When you receive an email from an individual, you'll be able to view their contact details, see the accounts associated, and the account information.


What if I have a different CRM or a custom database?

You can either import your contacts and accounts via CSV file into Front, or you can use Front's open API to connect your databases into Front directly.

When your inbound messages are routed efficiently, all the customer context is accessible for resolving customer inquiries, and you've gained visibility into how your team is servicing your accounts, it's setting you up for success to meaningfully connect with your customers. Because you can extract critical customer data from your CRM, you can mobilize those insights to fuel impactful conversations that are personalized at scale. 
Curious how to get your CRM set up with Front to enrich your automated workflows? This training walks you through the process step-by-step.

Written by Andrea Kane
Originally Published: 23 January 2023