You've got text messages. You've got email. And your team needs to manage both successfully. According to a SendGrid Benchmark Study, people from all generations and continents put text messages and email at the top of their essential communication channels.
Which is why it's super important for businesses to have a way to handle emails and SMS—texts are so much more than a way to send your customers an order update. Business texts give you a more personable way to solve customer queries, keep them in the loop about shipments and product upgrades, and even offer exclusive deals.
In this piece, we're going to break down:
Advantages of SMS communication for businesses: Why is it becoming popular, and why is it better for customer experience?

Why SMS is important and should it be a part of your business communication strategy

What kinds of businesses are using SMS?

What is an SMS inbox?
And then, we'll explain how you can do all of this using a single inbox in Front. Let's get texting!
Advantages of SMS communication for businesses
Why is it becoming popular, and why is it better for customer experience? As Jampp's Joana Pic once said, the mobile phone is a bit like God – it's omnipresent.
Just think about it. When our customers wake up, checking their phone might be the first thing they do. Sure, they may be scrolling a Twitter feed or checking their inbox, but they're still on their phone and will be reading SMS messages, too.
Can you think of another communication channel that captures a customer's attention like their phone does?
The realization of just how vital our mobile devices are in our lives could explain the growing popularity of business text messages. Over 90% of SMS messages sent out are opened and read by the person who receives them. And according to Forbes, people actually like getting texts from businesses. 64% of people believe that companies should use SMS texts more often than they currently do as a marketing tool to communicate with their customers about:
Coupons or deals (77%)

Personal alerts (50%)

Being in the loop (48%)

More meaningful content (33%)
Which brings us to our next SMS advantage: text messages can play a role in improving your customer experience. SMS can be just as agile as email communication if it's used strategically in your communication plan. You can:
Send customers an alert: Like an update on a query they had, a problem with a password, or if their credit card on file is about to expire.

Confirm a meeting or purchase: Where you can include information like a parcel tracking number or link to add a meeting to their Google Calendar.

Notify them of an event or update: If you've got a product launch coming up or need to update a customer on their order shipment, a text message is a great way to get your message across instantly.
With all of this in mind, let's dig a little deeper into why you should be integrating SMS into your company's communication plan.
Why SMS is important and should be a part of your business communication strategy
We all know how much we love email at Front (well, better email). And selling over a phone call can be successful. But when we look at SMS stats… they're kinda crazy.
Let's start with a big one: 90% of texts are read within 3 seconds. As we said before, texting gives you a captive audience because phones are omnipresent in our lives. But for businesses, adding SMS into your communication plan can help create an immediate, two-way conversation channel for your marketing team.
How? Gartner found that response rates for SMS can hit 45%, partly because SMS inboxes aren't as noisy as email inboxes are. Research Director Charles Golvin says despite the numbers, SMS is still an underrated channel.
"SMS remains an effective, yet underutilized, mobile tactic among marketing leaders and is particularly valuable when used in conjunction with mobile techniques such as wallet, web and native applications to orchestrate a deepening level of customer engagement," he says.
From small rental management firms to large logistics companies, every business can benefit from SMS marketing because it gives them an instant way to communicate with customers.
For example, you can send out an SMS to a customer asking them if they want to enroll in text communications—just ask them to reply Y for Yes or N for No. You can then send out specials, coupons, order updates, and even ask for feedback using SMS.
However, Golvin says the secret for businesses is identifying specific opportunities to engage customers and prospects using SMS.
"Focus on useful and actionable pieces of information that you can deliver at their moment of peak value," Golvin says.
What kinds of businesses are using SMS?
Text messaging isn't just for businesses who sell physical products. Lots of businesses can benefit from SMS. Organizations like mental health providers, landlords, and even personal shoppers can use SMS to communicate with their customers.
Let's take a look at OpenRent—a UK online property rental service—that uses SMS so tenants can work directly with landlords.
Now, OpenRent sends a lot of text messages (an average of 200,000 every month), and they do it for one reason—tenants prefer it. Here's how OpenRent's letting process happens over SMS:
OpenRent sends each tenant enquiry through to the landlord via SMS

Viewings are then arranged by SMS

If the landlord wants to let the property, they can reply to the SMS, and it's taken off the market
OpenRent's co-founder Daz Bradbury says SMS communication is simply better for their clients than email because when tenants are out and about, it's the perfect way to communicate with a landlord. And thanks to Twilio, the company has now scaled its SMS service to handle over 100,000 rental inquiries every month.
"Being able to process tens of thousands of viewing SMS and phone enquiries—a single high street office wouldn't be able to do that," he says.
It's not just rental agencies that benefit from SMS. Ridesharing companies use SMS to notify their customers that their ride is close. Food delivery customers text to say that their food isn't far away. Doctors and dentists can remind their patients that they've got an appointment coming up (so they can reschedule if they need to instead of being a no-show). Even parking meters can message you to say your meter is about to expire so you can avoid a fine!
Okay, this all sounds great. But we know what you're thinking—who is sending all of these text messages? The good news is that, with the right tech, you can automate text messages using an SMS inbox.
Wait, what is an SMS inbox?
An SMS inbox is where all of your communications are stored, showing a phone number, message timestamps, and the text message itself.
It works like an email inbox. You can send, receive, and reply to SMS messages from your computer or mobile device and share attachments and emojis with customers just like you do over email. Here's what an SMS inbox looks like in Front using the Twilio integration: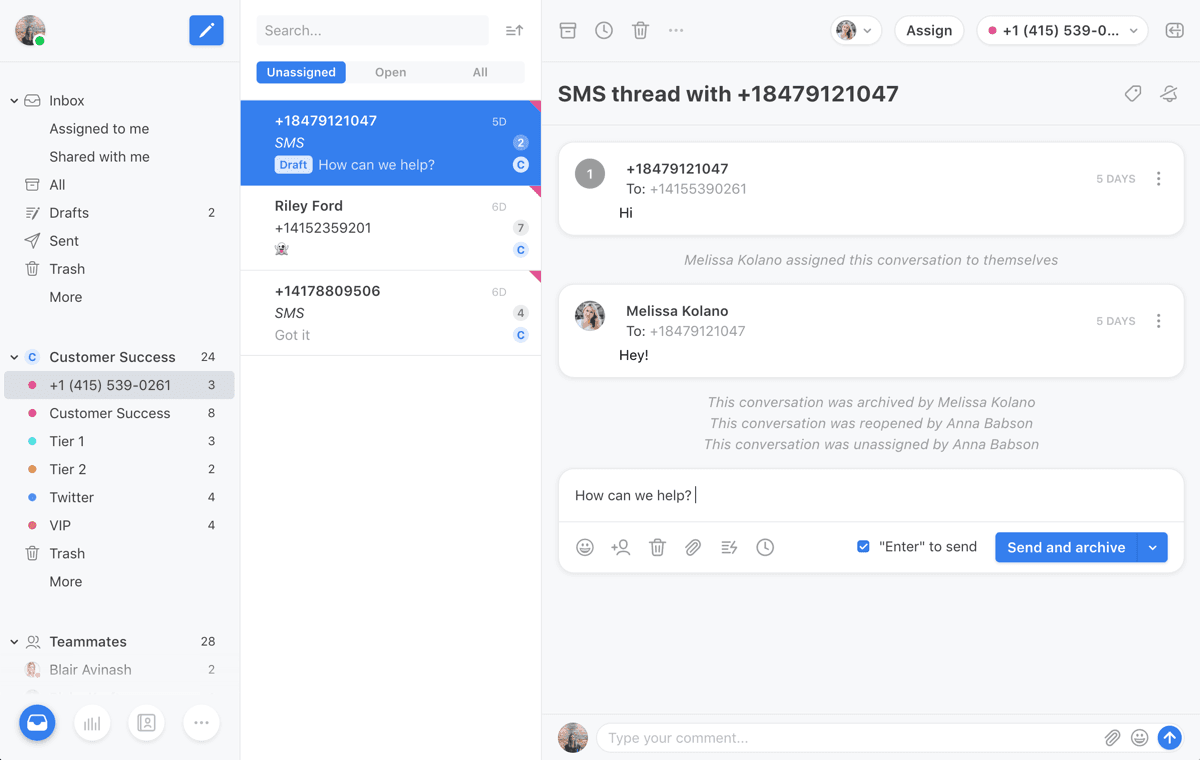 An SMS or WhatsApp lands in the inbox, and all you have to do is reply to it like a normal message. Plus, it works like any other Front inbox. You can assign messages to other teammates, reply to texts from your desktop, and easily jump between SMS, WhatsApp, and email communications.
Of course, launching a successful SMS communication system that opens up a direct line with your customers comes down to one thing—having the right toolkit.
Front is your go-to SMS communication system
There are hundreds of providers out there who offer SMS services for businesses. The difference between them and Front? Not only is Front easy to use and opens up a two-way communication system, but it also integrates with other apps so your team can talk to your customers however they choose.
We do this thanks to our multi-channel communication platform and one of our favorite integrations—Twilio. This allows you to communicate with customers using the channels they prefer, whether over email or live chat, or SMS and WhatsApp.
Once you link up a mobile number in Front, you can then text your customers using SMS or WhatsApp. Then, your team can manage these conversations in an SMS inbox, where every message that's sent, received, and replied to is stored:
If you set up a shared SMS inbox using Front, you can:
Share conversations with the right team members and then assign ownership to a text thread so somebody can deal with an issue quickly

Bring all of your SMS conversations into Front and consolidate them into one inbox that's easy to manage

Automate SMS workflows so replies can be automated or routed to the right team member
Finally, Front allows you to tag incoming SMS and WhatsApp messages using rules. You can tag, assign, and reply to customers automatically based on triggers, who the sender is, or if a conversation is assigned to a specific team member.
When SMS text is done well—it works. Want to be one of the brands successfully using SMS to reach more customers? Find out more about Front's shared inbox here!
Written by Kimberlee Meier
Originally Published: 19 March 2021