Keeping existing customers happy and engaged is more cost-efficient than attracting new ones.
When it comes to improving your customer support interactions, having technology on your side can make a big difference. Front's rules engine, for example, can help you automate repetitive and manual tasks, from assigning conversations to replying to clients.
By creating rules you can ensure that:
Top clients receive immediate support

Emails make it into the right hands

Processes are streamlined
However, wouldn't it be great if you could stay one step ahead of your customers, and anticipate their needs?
MonkeyLearn is a machine learning platform that allows you to automatically analyze and tag messages in Front by 'intent' – in other words, by actions that customers intend to carry out – giving you the chance to delight your customers and even exceed their expectations.
Be proactive with Front and MonkeyLearn
Customer intents are amazing opportunities for you to swoop in and deliver relevant information, spot problems, and prevent issues before they arise. But how can you detect intents? They're often conveyed in a subtle way and are likely to get lost among the many other glaring issues in your inbox.
Text analysis tools are the answer. As this AI technology becomes smarter, it gets better – and faster – at mining more granular information, like the purpose behind a text.
MonkeyLearn's intent classifier for outbound sales responses, for example, will automatically tag incoming emails as "Interested", "Not interested", "Wrong person", "Email bounce", or "Unsubscribe".
How does it work, though? Intent classifiers are equipped with machine learning algorithms that learn to associate words with a specific intent after being trained with several examples. For instance:
An email from a customer expressing interest in a product would be classified as 'Interested'. This might prompt you to schedule a call, send a price list, or provide more information.
A customer might be angry about receiving too many emails from your company. An intent classifier would learn to tag this email as 'Unsubscribe'. Be proactive by sending a link to these customers so they can update their settings to receive emails weekly instead of daily.
Why use intent classification in Front?
Some of the advantages of using MonkeyLearn's AI-powered intent classifier in Front include:
Teams are more efficient. Automatically tagging and routing messages by intent can save your team a lot of valuable time and boost their productivity.
Response times improve. Classifiers can work 24/7 and analyze large amounts of data, helping you respond faster to more urgent intents.
You can spot high-quality leads. When you receive tons of messages every day, it's easy to let potential leads slip through the cracks. By monitoring intents to buy, you'll never miss out on a sales opportunity.
Prevent customers from churning. Next time a customer complains about receiving too many newsletters, you can tag the conversation as 'Unsubscribe' and provide alternatives.
How to automatically classify intents in Front with MonkeyLearn
It's quick to automatically route messages in Front based on customer intent.
You just need to follow five simple steps and combine the efforts of MonkeyLearn, Zapier, and Front. Ready to go? Let's dive right in!
Log into Zapier and create a zap. To do this, select the trigger "New Inbound Message" for when a new email drops into your Front inbox. Then connect your Front account to Zapier (admin access in Front is required). Here, you'll also need to add message samples in 'Find Data' to set up your zap.

For this step, you'll need your MonkeyLearn API key. Then, add an action from MonkeyLearn to classify your emails and specify which classifier you want to use. In this case, we're going to add MonkeyLearn's Outbound Sales Response Classifier.
You can even build your own intent classifier with MonkeyLearn, and tailor it to your business for even more accurate results. Then, you can connect it to Front following the same steps – this time adding your classifier.
1. Select the text input as the message subject and the message body.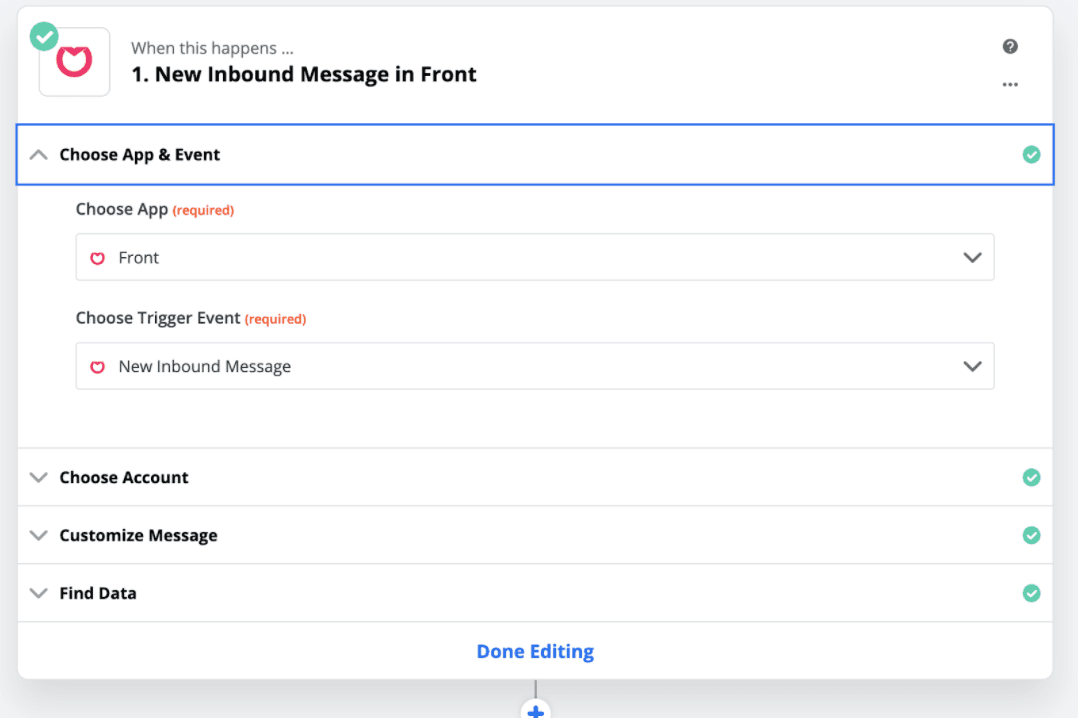 2. Now, you'll need to add a filter and rules from Zapier.

3. Finally, update your conversations in Front with your new tags and check your inbox to see if your messages are being tagged correctly!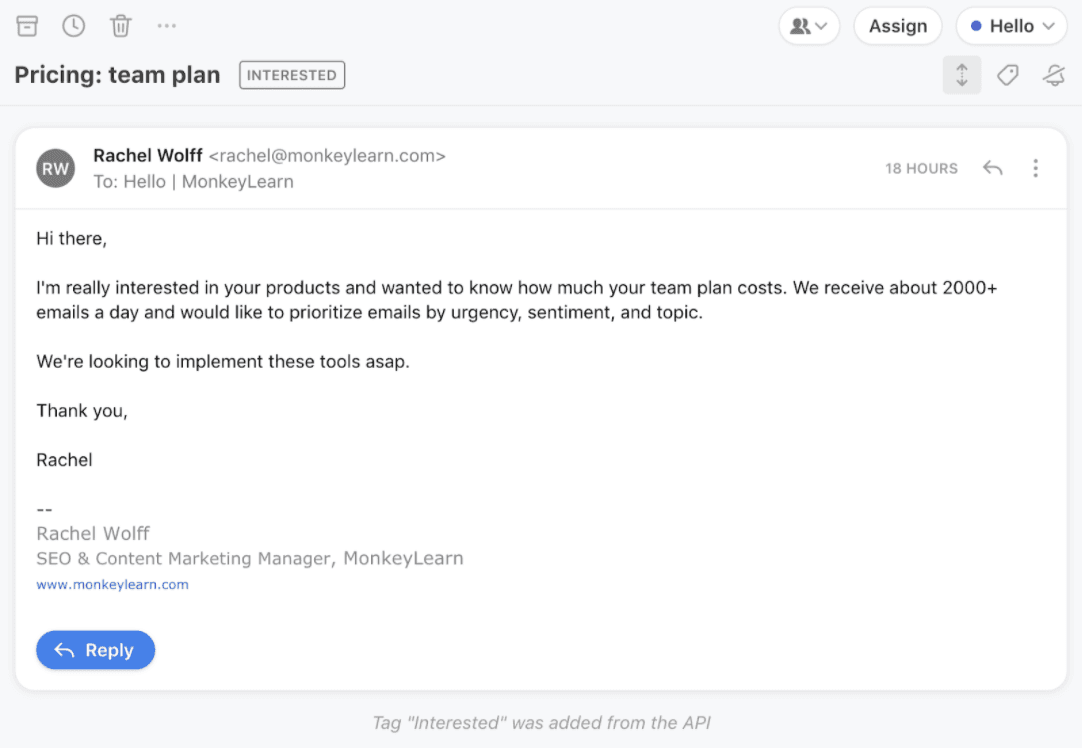 4. Once your tags are up and running, you can set up rules in Front to automate your workflows based on tags. All emails tagged as 'Interested', for example, could be sent directly to your sales team.
Take your customer service to the next level with AI
AI-powered proactive support will help you take your customer service to the next level. Using intent technology with Front to anticipate your customer's next steps allows you to take control, and offer them a solution before they ask for help.
Written by Rachel Wolff
Originally Published: 24 April 2020