It was a year of exciting progress for us at Front. From releasing a completely new version of our app and announcing our $66M Series B funding round, to serving 4,400 customers and opening our European headquarters, we've come a long way! Here's a look at what we accomplished at Front in 2018.
Growing our team and culture
At the start of 2018, we announced our $66M Series B funding round. This funding allowed us to invest even more in our product and team to power our growth in 2018 and the years to come.
We doubled our team in size, bringing us to more than 100 Fronteers. To better support our customers around the world and build a more diverse team, we opened our European headquarters in Paris, France.
Along with our rapid growth, we are thrilled to say we kept our caring and low-ego culture, as we were recognized by Fortune and Glassdoor Best Places to Work 2019. We continued to host weekly All-Hands meetings and encouraged transparency through Q&A sessions, employee surveys, and more.
We kept our signature Front fun this year, too. From a week of collaboration in San Diego, to our Third Annual Winter Concert Experience (a Disney medley!) we made an extra effort to bring our global team together.
Building a strong foundation
With our business and customer base growing, we needed a stronger, faster foundation to build upon for the future. That's why we embarked on an 8-month journey to rebuild our app, and we launched an even better version of Front in October 2018.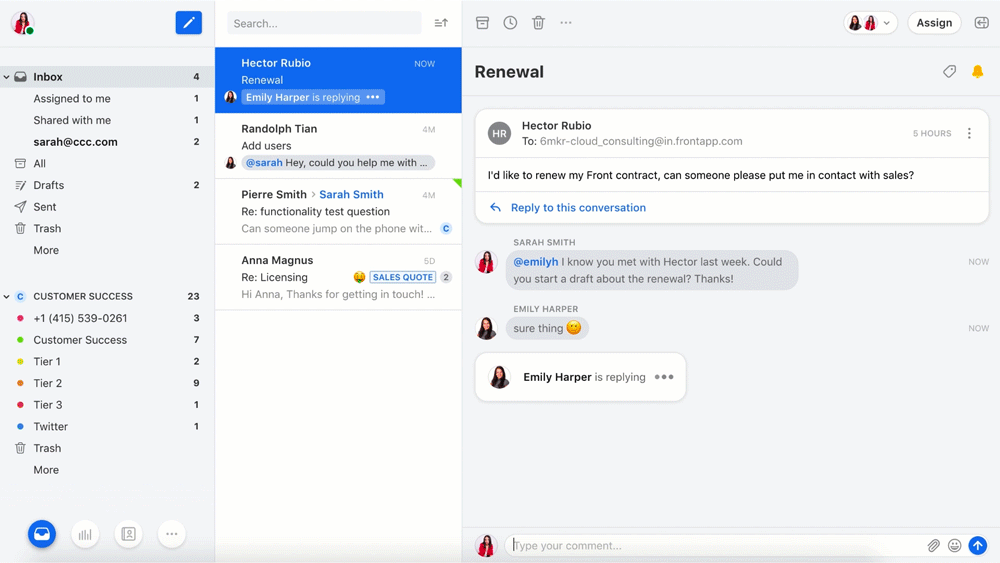 The new app infrastructure uses React, a modern language that helps us work more efficiently. While rebuilding our app, we took the opportunity to give customers more functionality and an easier, more beautiful UI.
Bringing more tools into your inbox
In 2018, we built more essential apps into Front, so you have all the context and information you need. We now have more than 50 app integrations that you can connect to your Front inbox to help you save even more time at work.
Front Calendar
Building on Meetingbird, our first acquisition, we launched Front Calendar to bring Office 365 and Google Calendar directly into Front. Now, Front users can easily manage meeting invites and scheduling updates, right from their inboxes.
Integrations
We also enhanced several popular integrations to help users get more done with all their apps, right from Front.
Our developer platform and partner program continued to grow with many new integrations from partners like Guru, PieSync, AskNicely, and Instabug. And more customers than ever built amazing plugins using our open API, enabling machine learning, database management, and more in Front.
Listening to our customers
They say that listening is one of the most sincere forms of respect. We always take that to heart, so we made sure we took the time to listen to our customers this year.
We continued to share our public roadmap on Trello, where customers can upvote the features they want most. Through this roadmap, we launched more than 80 features, but we did a final sprint at the end of the year to ship our customers' most-wanted features as holiday gifts.
Suggestions from our customers are critical to our development process, so we constantly gather feedback to guide us:
We send out NPS surveys to customers, and used Front to automatically follow up and get more insight on what's working, and what needs improvement.

In Front, we tag feature requests and bugs from our customers, so once an issue is resolved, we follow up with customers one-on-one to let them know.

Our Product team kept regular syncs with Sales, Success, and Support teams to better understand and align with customer needs.
Giving back
This year, we launched the Front Foundation to establish and grow our charitable outreach and impact on the community around us. Partnering with Pledge 1%, we're committed to give back our time and product, and set aside equity for charitable causes.
We're focusing on positively impacting areas of our local community, including, but not limited to: homelessness, the environment, health and human rights, children, and education. We took off at a running start, giving more than 300 hours of our time collectively to more than 15 organizations in San Francisco and Paris.
Our sincere appreciation
We know that we wouldn't be where we are today without your feedback and support. It truly helps make Front a better inbox, and it keeps our team moving forward every day. So thank you from all of us at Front. We look forward to helping your team work even happier in 2019!
Written by Emily Hackeling
Originally Published: 17 April 2020