Front allows you to structure your workflow and route messages based on your team's exact needs. Here are the most common support workflows our customers set up in Front that are used again and again to deliver outstanding service.
1. Routing support messages to your team
When new messages come in, you need to get them to the right person, team, or distribute them evenly amongst your team.Front lets you choose which model works best for your team, so you can get every message where it needs to go. Many teams assign messages manually, set up automated routing rules, or choose a combination of the two.
Hungry, hungry hippos approach: When a new message comes in, anyone on the team can jump in and respond. This is similar to working in a shared email inbox, except Front's collision detection and assignments let everyone know the message is being worked on, so no one duplicates work or send multiple replies.

Team lead triage: The team lead or manager keeps an eye on the shared inbox, assigning messages to teammates based on topic, customer, or level of complexity. This lets you keep control over who answers what and monitor the requests coming in, so your team only needs to focus on their assigned messages.

Round robin distribution: Use rules to evenly distribute messages to your team automatically as they come in. No one teammate gets overloaded with messages.
2. Track performance and get insights with analytics
Front lets you measure performance, track requests, and get insights to better serve your customers. Many support teams like to measure data on customers and feature requests in addition to traditional support metrics.
Measure data with message tags: With Front's tags, you can track volume and frequency around certain topics. Tag messages by product, feature, location, or customer. Then report on that tag in Analytics.

Track performance to constantly improve: Track response time, CSAT score, resolution time, and more on a team and individual basis. Make informed decisions on when to hire, how to staff shifts, and where to provide training so your team can succeed.
3. Escalating complex requests
Every support team manages requests a little differently — and Front enables you to adapt your inbox just how you need. Many teams use a traditional tiered support approach and set up an "urgent" inbox to stay on top of requests.
Stay organized with tiered support: This is a classic support inbox setup, where messages of different types or urgency go into different tiers. In Front you can create a team inbox for each tier, and route messages from channels or customers to the right tier automatically. For instance, send all live chat messages to a Tier 1 inbox for a faster reply, or send all messages about your API to Tier 3 for your technical support team or engineers to work on.

Prioritize with an urgent inbox: Many teams set up an urgent inbox. Here you can prioritize requests that need the fastest replies — like messages from VIP customers, or messages that contain trigger words like"urgent." You can automatically tag these messages with colors and emojis to make them stand out (like URGENT 🔥), and set up alerts to notify your team. You can also notify your team by triggering notifications in other apps, like Slack, PagerDuty, or WhatsApp.
4. Collaborating with your team on requests
It takes a team to give great support! Front makes it easy to for your support team to work together on messages. Teams often set up team inbox organization and set up processes for collaborating with each other on messages.
Build tags and message templates for your team: Many teams like to create team tags, so the whole support team can use the same organization for messages. You can also create team message templates (pre-drafted messages that you can send in a few clicks). This lets your team use consistent language and spend less time writing technical or wordy replies — and spend more time on personalized replies.

Ask for help with comments and shared drafts: Need help? Your team can ask for help on messages with an @mention in Front's comments. Or, create a draft and share it with your teammate for a second pair of eyes. As a team leader, be open about how often and who your team should reach out to with comments or drafts, i.e., "always share the draft with a manager for approval on pricing questions," or, "never be afraid to @mention a teammate for help!"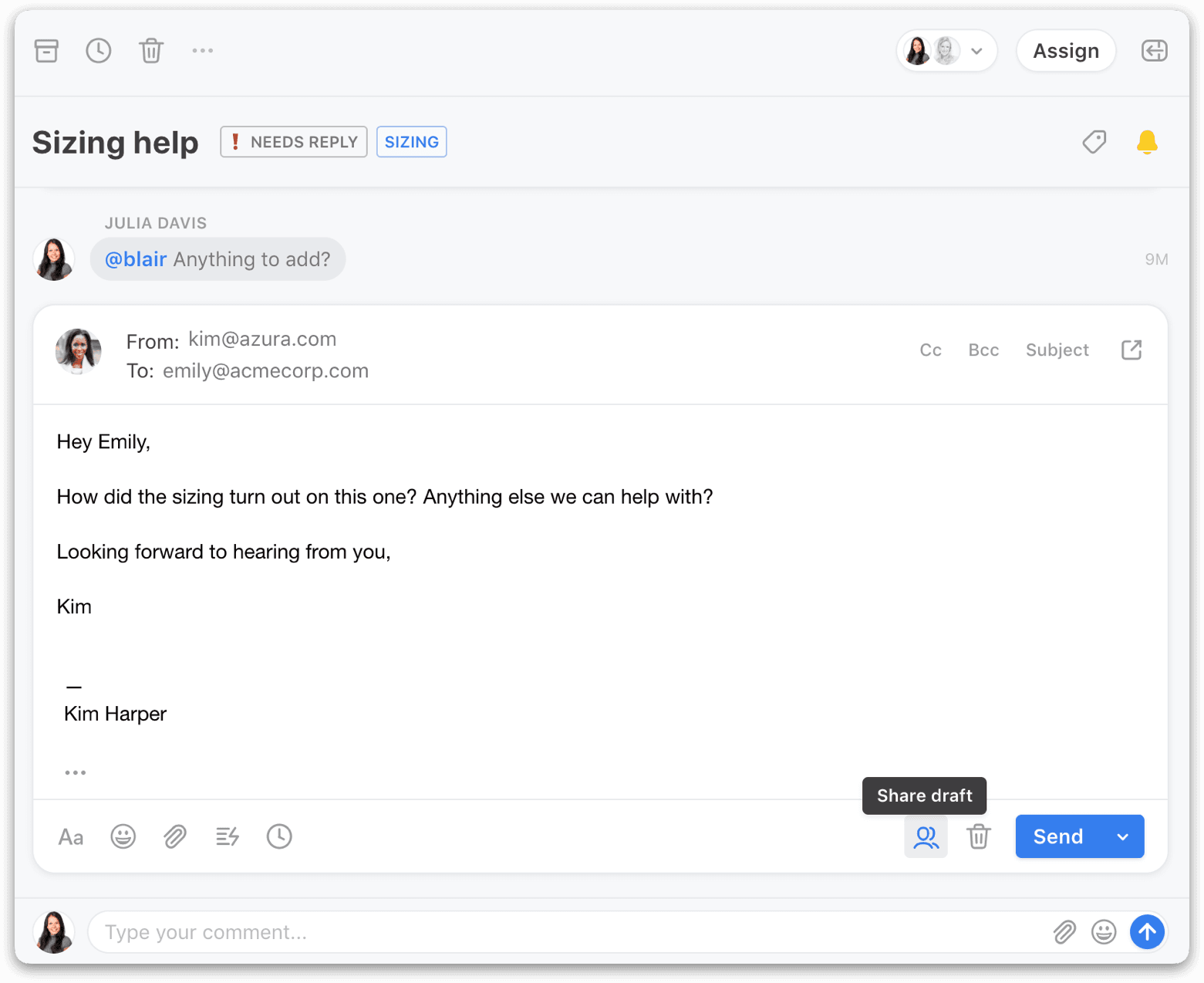 5. Referencing and improving your help center
Sometimes, you need to send a help article, video, or some other collateral for customers to reference. Front lets you access these resources directly in your inbox. Most support teams integrate their help center or internal wiki with Front.
Search and send articles in your inbox: Say you use Forumbee for your help center (like us at Front!). With Front's Forumbee integration, the team can search from within their inboxes, find the resource, and paste it in the message in just a few clicks.

Improve your help center with usage data: Add tags to messages based on common support topics — then check those tags in Analytics to prioritize what resources and help articles to create next.
Integrations
These are some of the most common tools to integrate with Front for customer support. Front also has an open API so you can connect homegrown customer databases and other support tools to customize your inbox for your team.
Communication channels
Facebook

Twitter

Drift

Intercom

Front Chat

Twilio SMS

Whatsapp

Talkdesk
Feedback
Nicereply

Delighted

AskNicely
Knowledge bases
CRM
Salesforce

HubSpot

Pipedrive
See the full list of integrations →
Written by Emily Hackeling
Originally Published: 17 April 2020