It's that time of year: to adopt a fresh outlook, set new goals, and reflect on the past year. Looking back on 2019, we're so grateful for the incredible year we had. We grew the team by 55% to 159 Fronteers, and we're now serving more than 5,500 companies in 96 countries across the globe.
Amid this exciting growth, we made a conscious effort to step back, make mindful decisions, and stay focused on what matters. Here's a look at what we accomplished at Front in 2019.
Expanding Front to new teams and industries
Improving our product is always a priority for us at Front, and 2019 was no exception. This year we focused on making our product versatile and simple for anyone to use.
Keeping your inbox organized efficiently
We set out to build even more ways to stay on top of your inbox in Front. So no matter what industry you work in or how many messages you're working on each day, you can organize your inbox how you need.
- Quick rules allow you to automate actions in your inbox in just a few clicks, without having to navigate to My Rules through your settings.

- Front Admins can make Company Rules that apply to everyone in your company across all inboxes. This way your inboxes stay consistent — no more wasting time building rules.

- Easily see the status of all your messages with updated inbox tabs: Open, Archived, Snoozed.

- Our Shifts feature helps global teams keep conversations going smoothly across time zones, and with Load Balancing, you can rest assured that no teammates are getting bogged down with messages.

- Love tagging your messages? Now you can pin your private tags to your inbox, so you can drag and drop emails into tags or browse through your messages in a few clicks.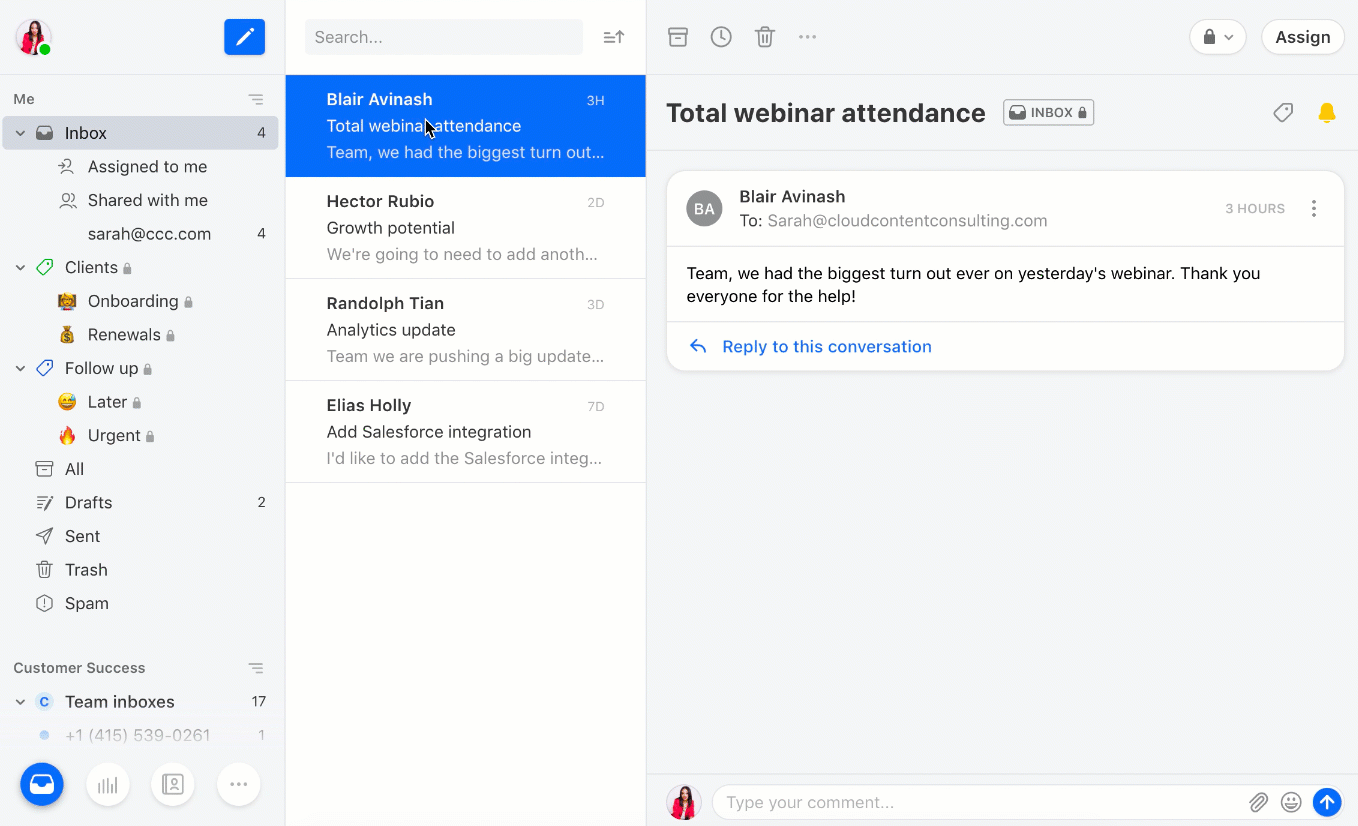 Drag and drop messages into pinned tags in Front to keep your inbox tidy.
Bringing email and calendar together in one platform
A year ago, we acquired Meetingbird to bring your calendar into Front. This year we took the next step toward integrating calendar and email with the launch of Front Calendar.
- Bring your Google and Office 365 calendars right into your inbox.

- Quickly find shared availability with teammates and book a meeting.

- Instantly view calendar availability when a meeting invitation arrives in your inbox.

- Insert and send your available meeting times directly in an email for one-click booking.

- Save and send smart scheduling links that automatically update as your availability changes.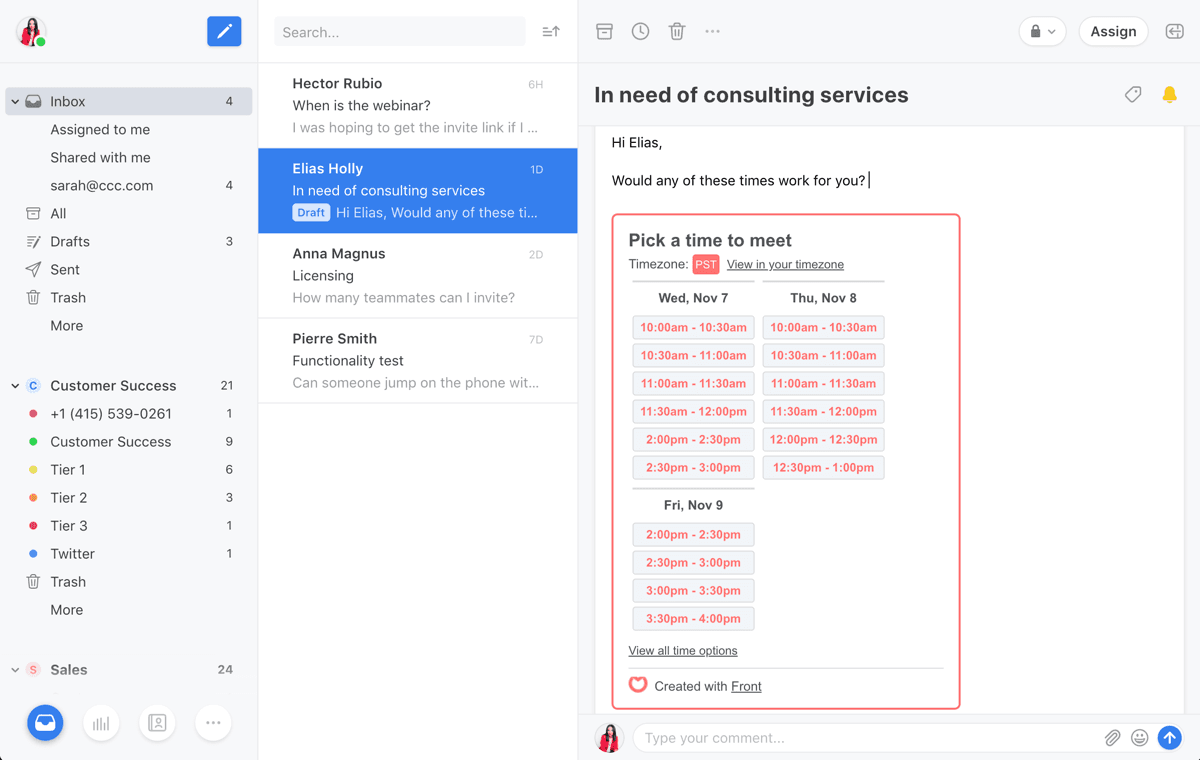 Find availability and insert meeting times without leaving your inbox.
Integrating your must-have apps into your inbox
Front integrates with 50+ apps so you can access the tools you rely on directly from your inbox. This year we redesigned our integrations panel so that you can pin the apps you use most, and we continued adding native integrations for the apps our customers requested most.
- Manage Drift website chat and WhatsApp messages alongside email, SMS texts, and more.

- Find answers faster to give better support with AI from Agatha Answers.

- Design and test bots to handle seamless customer conversations with Flow.ai.

- Build automated data workflows in a drag-and-drop interface with Parabola.

- Automate data entry for tasks like ERP updates and account reconciliation with Shipamax.

- Write better emails with Grammarly and Auto text expander browser extensions.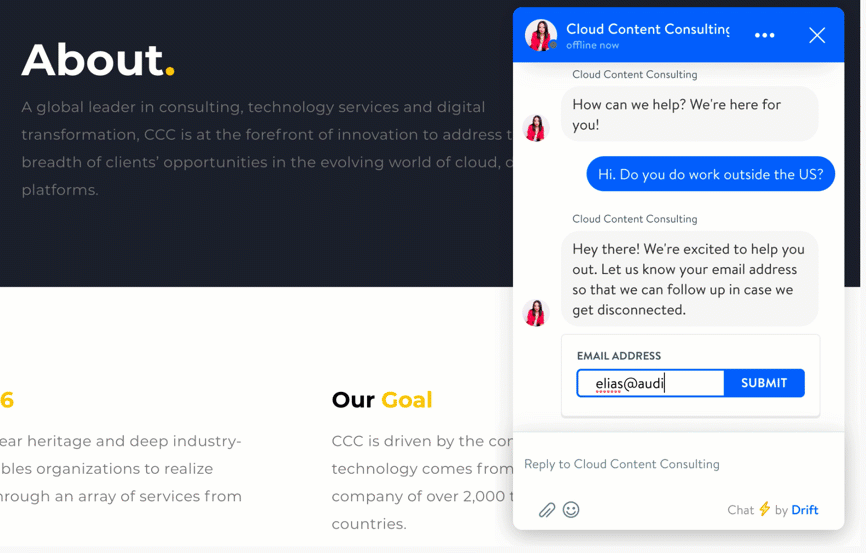 Manage and respond to Drift conversations directly from your inbox.
Making communication feel natural
Your inbox should let you communicate with the people you need, in the ways you want. So we launched some features that allow you to loop in partners, chat with teammates, and express yourself in more ways than just text.
- Invite conversation guests to comment and collaborate on emails in Front, even if they don't have a Front account.

- React with an emoji on comments, so you can express yourself, take polls, and give input without adding more clutter to the conversation. 🎉

- Start an internal discussion to chat with your teammates about anything — and keep all the context in your inbox.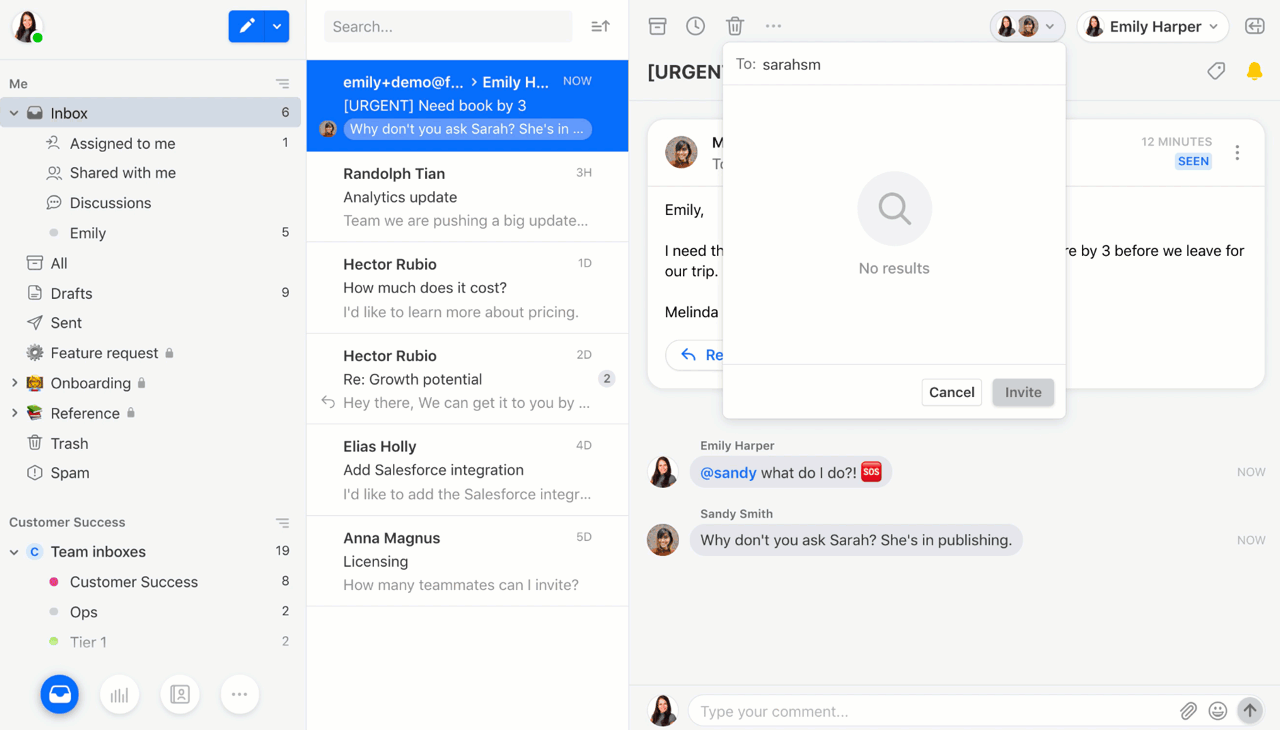 Invite an external conversation guest to collaborate with a partner or client who doesn't have Front.
Inviting teammates to Front in a few clicks
We wanted to make the process of getting started with Front a breeze, so we launched a series of features that make it simple for teams to join Front at scale.
- Add a batch of users to Front in seconds by uploading a CSV.

- Clone users to duplicate settings and permissions for new hires.

- Add teammates in a few clicks with custom templates for common roles in your company.

Invite all your teammates to Front in a snap by uploading a CSV!
In addition, we launched new pricing plans to give teams more ways to structure their Front account and workflows. We also laid the groundwork for new sign-in options, so teams will soon be able to access Front through Okta, OneLogin, and other IDPs. Stay tuned!
Growing our team while keeping a values-driven culture
Our team grew 55% in 2019. We were excited to welcome key leaders to help us reach our ambitions: CFO Jenny Decker, CMO Anthony Kennada, our Head of Design David Stinnette, and Head of Customer Success James Jaconetti.
We've also grown our geographic footprint. We expanded our San Francisco office space to accommodate more Fronteers in our HQ, and our Paris team settled into a larger office as well. In late November, we opened our third office — in Phoenix, Arizona!
As we've grown more rapidly than ever, we've made a deliberate choice to keep our values top of mind. We're honored to be named #1 on Fortune's Best Small and Medium Workplaces and Glassdoor's Best Places to Work list.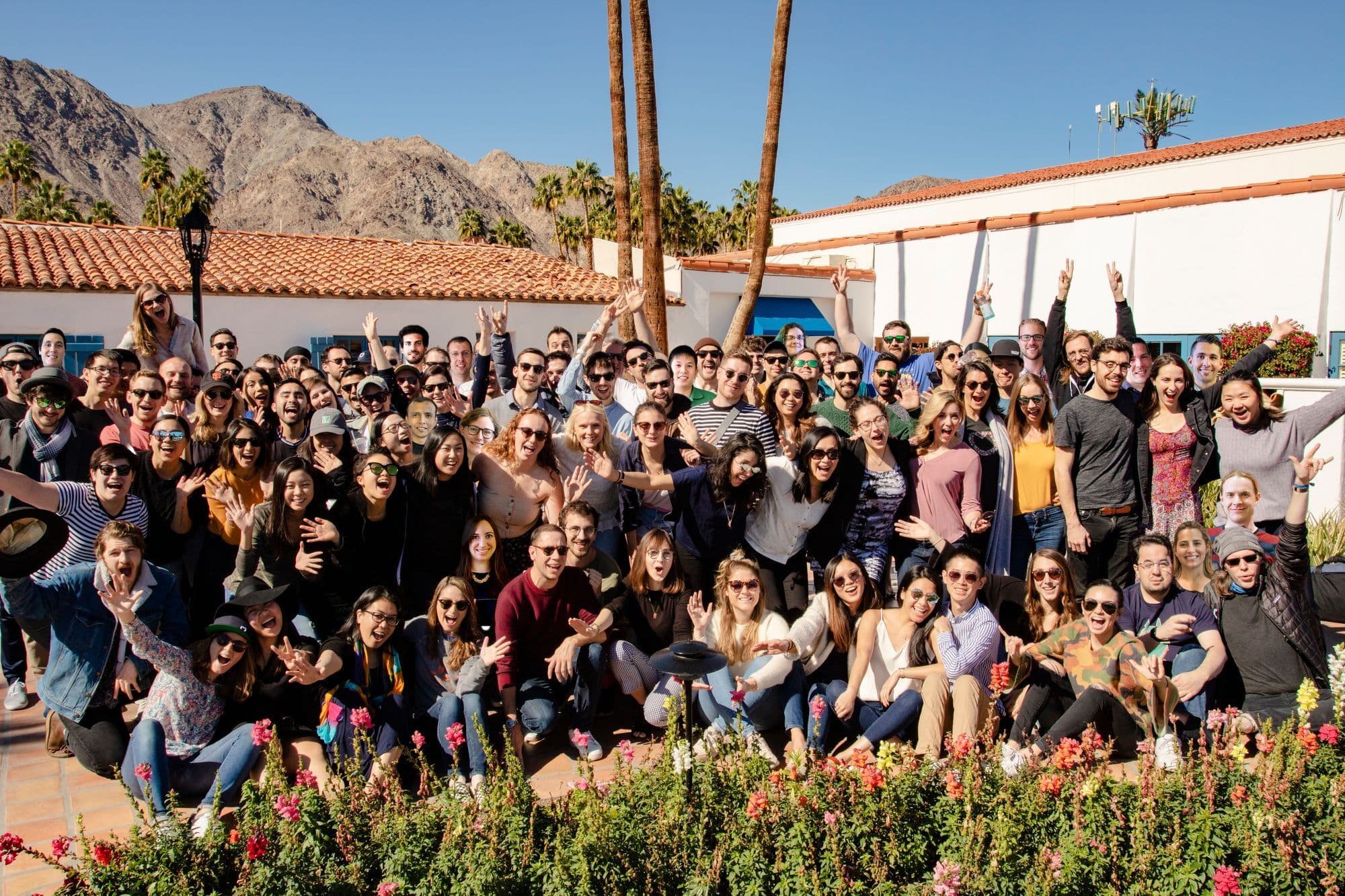 We met for an offsite in Palm Springs in April 2019 for a week of ATV riding, team bonding, and customer service.
Pursuing our mission to work happier
Our CEO and Co-founder Mathilde Collin has been dedicated to building a happy workplace since day 1. This year, she set out to dive deeper into her quest. Along the way, we've tried a few initiatives as a team, and we've learned a lot from mentors and leaders around us.
- We released our first Front Original Series, Unlocking Meaningful Work. In this video series, we feature Mathilde's conversations and learnings on what people need to find meaning in their work and be happy in their jobs.

- We cut down on distracting notifications in an effort to be more present with the #NoNotificationsChallenge. For 2 weeks, we deleted our apps, went into grayscale, and turned off app notifications on our smart phones.

- The team initiated the ongoing #ScreenTimeChallenge, encouraging us to limit screen time on our phones to under 14 hours a week. Anyone who meets this goal every week for a whole month gets rewarded with double the Health and Wellness Benefit that month.

- We began doing weekly guided meditation sessions through Journey Meditation, so anyone can join in to learn meditation and mindfulness practices.

- Mathilde gifted Daily Gratitude Journals to the team to help us all stay grounded and present as we move into 2020.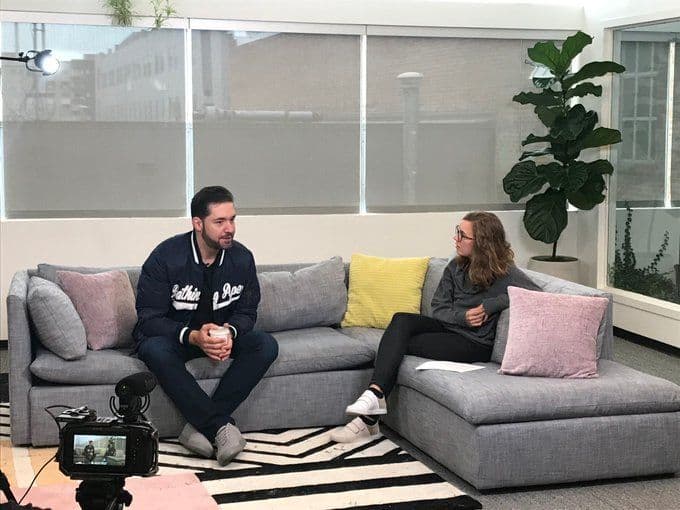 Mathilde sat down with Alexis Ohanian to film an interview for Unlocking Meaningful Work, our Front Original Series that launched in 2019.
To help other teams be happier and more engaged at work, we started publishing some of the internal communications tactics we use that have been most impactful for us. A few crowd favorites include:
We're so thankful for the support of our customers, investors, partners, family, and friends, and we know we couldn't have accomplished what we did this year without you. We've got a lot in store for 2020. Stay tuned for news and details on our roadmap coming soon!
Want to take a peek at one of our favorite projects from the last year? Watch Unlocking Meaningful Work, a Front Original Series on building meaningful workplaces and being happy at work.
Written by Emily Hackeling
Originally Published: 17 April 2020