It was once said that "time is what we want most, but what we use worst." I couldn't agree more. There are so many moments in our workdays when we wish we had more time. But what's the point of having more time? It's not actually about the time itself—it's about what your team can accomplish with it.
We've found that on average, teams using Front save 6 hours per person each week. That's a little over an hour back in your schedule, every single workday. While the things our customers accomplish in that time saved varies, there's a common thread we hear behind it all:
Improving customer engagement: When you spend less time on tedious tasks like triaging messages, for instance, you can spend more on personalizing emails or writing better responses.

Building better operations and processes: With less time spent on tedious triage or organizational tasks, you spend more time on impactful projects that lead to better customer experience or growth.

Investing in growth and revenue: When you've got more time, you can gain and serve more customers with the same team and bandwidth.

Allowing for rest and relaxation: This one's a no-brainer...when you have more time, you're less stressed, and your team can recharge and avoid burning out.
What's taking up your team's time?
Whether it's customer success, sales, support, or any other function, most teams spend a great deal of their working time in email. It's the tool companies rely on to communicate both internally with their teams, and externally with customers. What about it is taking all that time? Here's what we've heard from our customers time and time again.
No context on past conversations
When you're emailing customers, most of the time, you don't have access to other conversations that the customer has had with your company in the past, or with your teammates even yesterday. If your company is using multiple channels like social media or live chat, the problem gets even worse because you're left referencing different platforms to see what your customer's history and experience has been.
No data when you need it
And if you're using a CRM or database to hold customer information and history, this information isn't readily available right next to your inbox—instead you're left logging into multiple platforms to find contextual information. 10 minutes later, you've got a reply for your customer.
Lack of team accountability and visibility
When you're working on a shared queue of emails, there's typically no way to show that, "I've got it handled!" to your team, without replying-all. Likewise, if your team is managing another communication channel like live chat or SMS texts, it's hard to tell who's handling what. As a result, messages fall through the cracks and customer experience suffers. For companies who receive hundreds or thousands of messages per day, clear accountability on who's answering what message will enable you to stay on top of every request.
What does saved time really mean for your team?
What doors are opened up for businesses with 6 hours per person each week back on their calendar? These are places we typically see teams investing their time saved with Front.
A better customer experience
With more time on their hands, one of the largest ecommerce platforms, Shopify built an excellent customer experience for customers on their Shopify Plus platform. Before Front, Shopify's Merchant Success Management team struggled to keep up with the demand of accounts. They needed a communication process that could scale with their business growth. By using Front's rules, tags, and message templates, they removed the old processes that were slowing them down. They are now able to respond to customers faster and route messages to the correct internal person, so they can send a reply to customers faster.
Time to focus on improving operations
Cleaning Pros, an eco-friendly cleaning service for homeowners and businesses, chose to use Front to help centralize every message that comes in. In addition, Front helps them optimize their processes by looking at Front's analytics. The analytics give their team insight on response times per person and the volume of requests at different times, which has given them the ability to adjust processes internally and respond back to customers within two minutes.
OVRSEA, a freight forwarding company, has been using Front to keep their shipping operations moving swiftly. With time back in their hands by using Front, it's easy to stay on top of new requests coming in daily. "We use an integration that allows us to send automatic emails directly from Front. This has helped us respond to all the quotes without needing 10 or 20 people to do it manually." Front's message template feature allows OVRSEA to store a number of responses ready to send to customers in a timely manner.
Increased revenue
When you've got more time, your team can spend it on answering more customer requests or proactively finding opportunities to increase revenue. When WizardPins started using Front they began improving their response time to customers to stand out from their competitors. "Front puts science behind our business. We have concrete numbers that we can communicate to our clients and say 'this is what you can expect when you work with us.'"
Time to focus on growth opportunities
On the Map Marketing (OTM), a digital marketing agency, has used Front to help scale their business and has seen their business grow from a team of 12 in one office to 85 employees spread across multiple time zones and departments.
Anthony Quintero, OTM Account Executive said, "Front made all of that growth possible. It really led the way in improving our processes from an internal standpoint, which allowed us to scale. When you're a company in a high-growth stage you need a system that will centralize everything that's going on. That's where Front really stands out from the rest."
Front makes scaling simpler no matter what stage you are at in your company. Daniel Mota Pereira, Principal Operation at sennder, shared some advice for teams using disconnected tools or an inefficient communication process like his team did before using Front. "Don't wait until your team is in a growing phase. Implement Front even if you're early-stage to set your team up for success!" says Daniel Pereira.
Time to recharge and stay balanced
Instructure, an education technology company, is saving 10 hours per week per person on their client-facing and operations teams using Front. Their customer success team works together to respond to 15,000+ emails a month in shared inboxes in Front. They are now able to assign a clear owner on incoming emails and discuss them internally.
"Assigning messages saves us a lot of time, and escalation is much smoother. We're not having to forward and have multiple copies of every email. There's one thread, and all the comments and information you need are on it, says Matt Patrick, Manager of Customer Success.
Using Front's automated rules, they're applying tags to emails and getting messages to the right person instantly. In addition, the Instructure team is feeling less stress on a daily basis. Matt Patrick said it best: "Mentally, you feel better because you know exactly what you have to work on, and it's much easier to focus on just your tasks, rather than sort through hundreds of emails."
Front boosts team morale and reduces work fatigue by removing the headaches of communicating internally, forwarding emails, and having a lack of accountability on email. When team members are on the same page, taking breaks becomes much easier because you know your team has your back in your absence!
The features that are saving our customers time
Teams need easy access to information, customer conversation history, and context in order to save time. Here are the ways some customers are getting that through Front.
Rules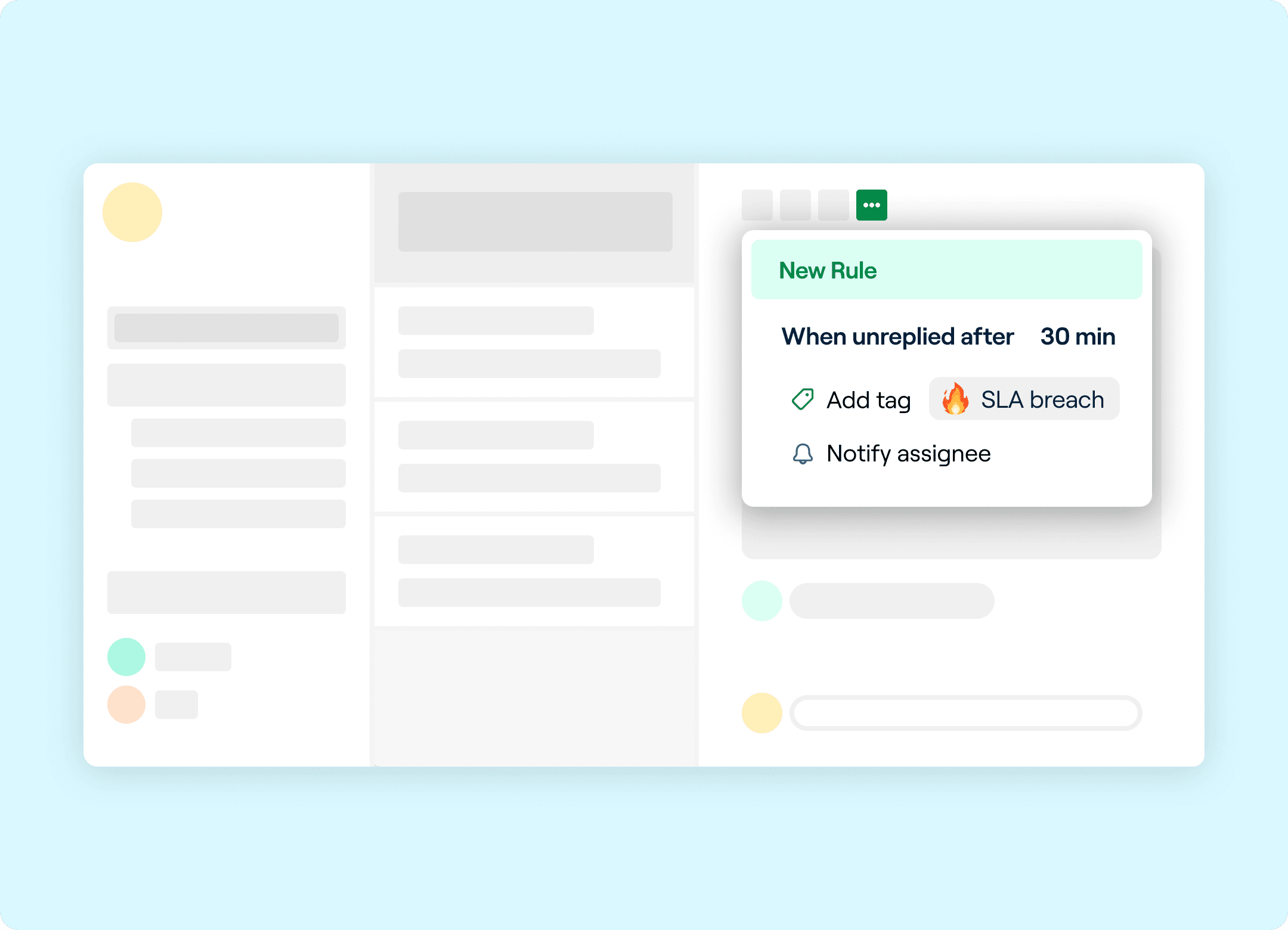 Think about the tasks you do every day at work. Maybe you label certain messages by customers, move an email into a folder, or maybe you send auto-replies. Front's rules let you take those actions and accomplish them instantly. You can build automatic workflows to sort new messages, route them to the right person, and respond on time. This removes the clutter of ongoing email threads and gives the appropriate person the right visibility on what needs to be done on time.
Comments
Do you know what made the 1992 Olympic Basketball Dream Team so dominant? Not only their talent but teamwork. Their teamwork made the dream work. But really: Front's comments let you easily @mention teammates on email threads to share information and chat about it internally. Simply collaborating internally and not writing and reading emails can save you a lot of time.
Message templates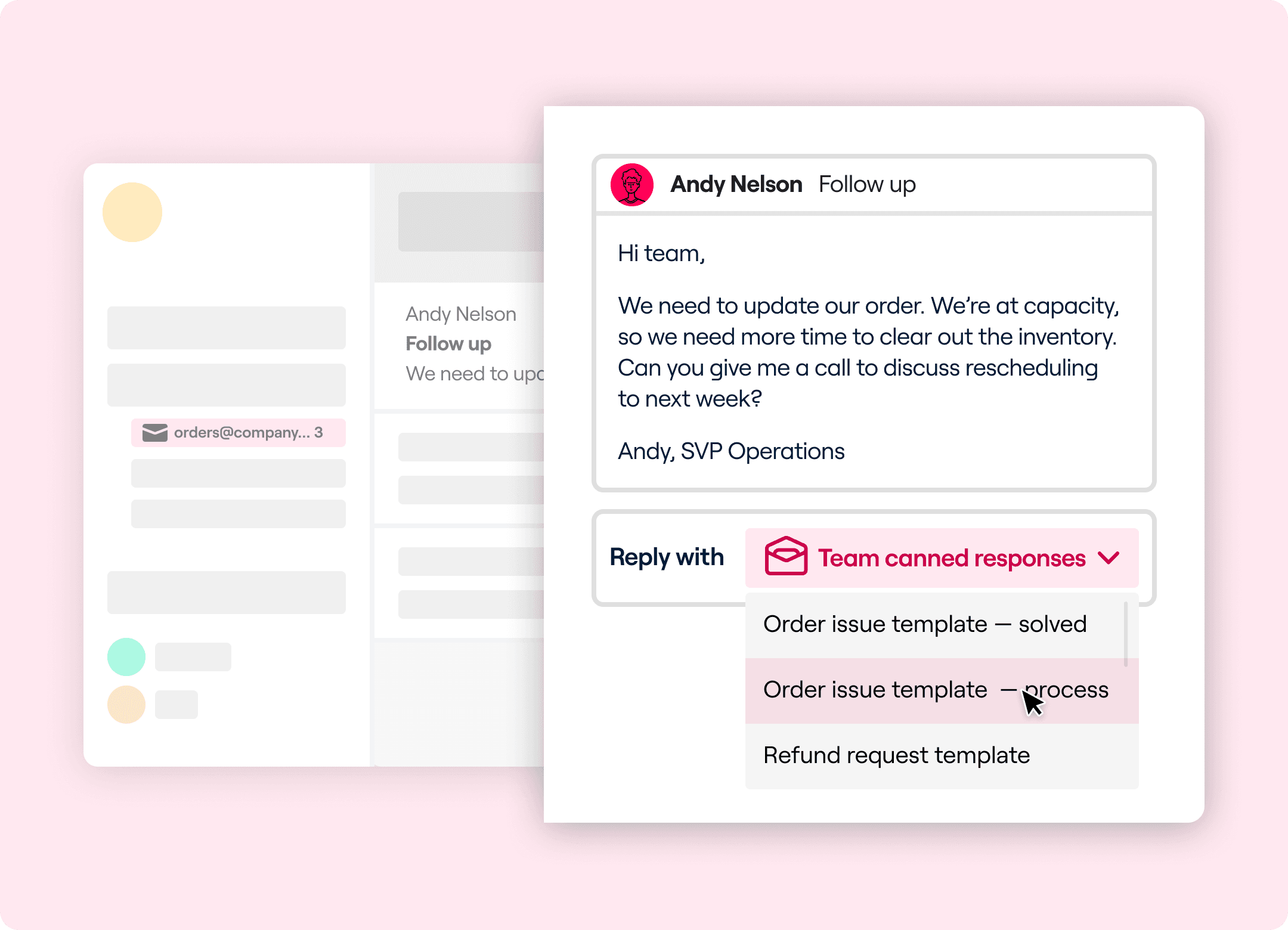 Answering and responding to emails can become very tedious. We counter that by giving customers the ability to create and save common messages to automate the tedious stuff while you quickly and easily customize the most impactful parts. Message templates will speed up response times which keeps customers happy.
Shared Drafts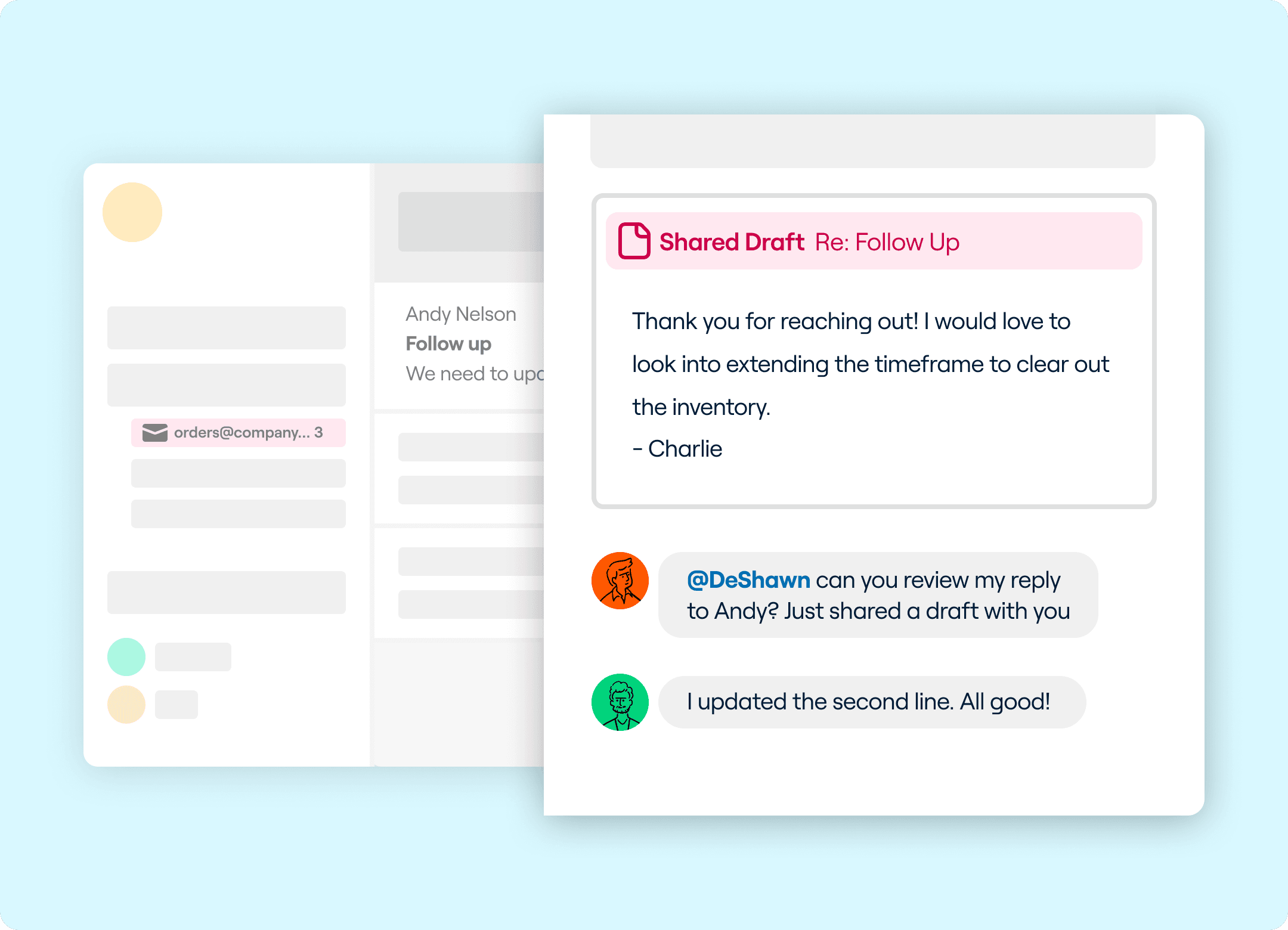 With shared drafts, you can write emails with your teammates in real-time so you can get back to customers faster. Eliminate the back-and-forth writing, reviewing, and editing your emails and simply add your teammate to an email draft for visibility and quicker responses.
Integrations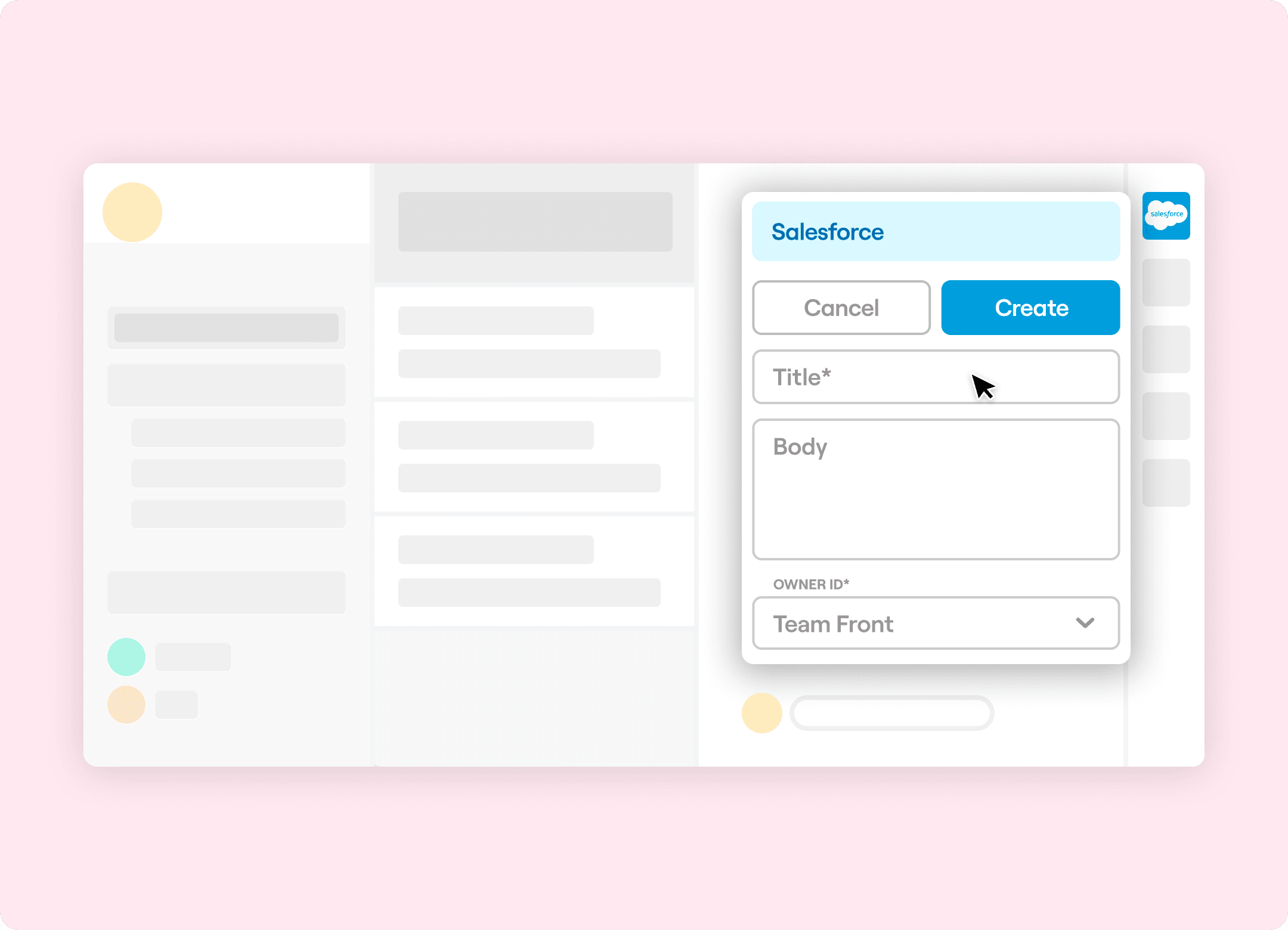 Front offers more than 60+ applications directly from your inbox to stop context switching and keep data in sync. You save time from not having to do work processes manually or switching tools to take the appropriate action.
Let's say your team uses Salesforce. Front's Salesforce integration enables high-performing sales teams to get their work done in one place. You can view, create, and edit records from Front. This allows teams to focus on the customer and keep track of all your information in one place.
Assignments
When your team isn't sure who's supposed to answer which message, several problems occur. You're usually slower to respond, so customers have to wait. Or, no one replies at all because everyone else thinks it's been handled—yikes. It's also rough for employees, who might lack confidence and feel stress when they're not sure what their responsibility is.
With assignments, every message in your inbox gets a clear owner to keep projects moving to completion. Giving teammates complete ownership gives them a sense of responsibility and empowerment to do great work.
More time unlocks your team's potential
"Time has a wonderful way of showing us what really matters." - Anonymous. We don't know who wrote this quote, but we have a funny feeling they did it with Front in mind.
So, what could your team accomplish with 6 extra hours every week?
Read more on the ROI of Front in our report with Mainstay.
Written by Jonny Parker
Originally Published: 17 May 2021