Webinar
5 ways to boost cross-departmental collaboration
Make it easy for your team to work together.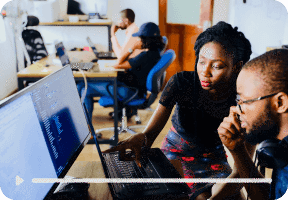 When your employees feel comfortable working together – it's magic. They communicate more effectively, build trust, and learn how to walk in each other's shoes rather than step on each other's toes. 
On the other hand, collaboration overload can be paralyzing. Too many cooks in the kitchen can slow down progress, and "super-collaborators" can monopolize projects that prevent teammates from getting their chance to step up. 
Knowing when and how to collaborate can be tricky. Fortunately, there are simple measures your team can take to break down barriers and create an environment for effective collaboration. 
Join us for a conversation with Vishal Vibhaker, Demand Generation at Front, and Jordan Mirchev, Product Marketing at Trello, who share 6 ways to boost cross-departmental collaboration.
You'll learn...
How to set your team up for effective collaboration 

Ways to reverse course on an already fragile relationship 

Real examples of what's worked for Front and Trello