I bet you can remember a time when you were impressed by good customer service.
Was it the thoughtful gift you received in the mail? Maybe your account manager always remembered the name of your kids. Maybe a company sent you a replacement product, no questions asked. 
It goes without saying that customer service is a crucial part of any business to attract new customers and keep existing ones coming back again. Especially if you've got competitors constantly improving customer experience, the pressure is on to keep up and impress.
With new technologies arising, businesses now have access to a wide range of customer service software that can revolutionize the way they interact with customers. The right software can streamline processes, improve response times, and provide valuable insights into customer behavior, allowing businesses to transform the way they operate and take their customer service to the next level.
In this blog post, we'll explore how the right software can take your customer service up a notch. We'll discuss:
The common challenges businesses face in delivering excellent customer service

The various types of customer service software available

The benefits that businesses can expect to see from implementing customer service software 

Tips on how to choose the right software

How to successfully implement and train your staff on its use
We'll also showcase real-life examples of businesses that have successfully transformed their customer service with the right software.
What is customer service software?
Customer service software helps businesses manage and improve their interactions with customers. It can streamline customer service processes, provide timely and effective support, and collect and analyze customer data.
There are various types of customer service software available, each with its own set of features and capabilities. Here are a few of the most common types:
Ticketing systems: Ticketing systems are designed to help businesses manage customer inquiries and issues through a centralized platform. Customer inquiries are tracked in the form of a ticket that's commonly in email format with a more structured management system. Typically, one team member is assigned per ticket and continues to monitor progress until the inquiry is resolved.

Live chat software: Live chat software provides businesses with the ability to communicate with customers in real time through a chat interface on their website or mobile app. This channel has been growing in popularity for businesses to provide immediate support to customers, answer questions, and resolve issues quickly and efficiently.

Self-service software: Self-service software is designed to allow customers to find answers to their questions and solve their problems on their own. Common features include knowledge bases, FAQs, and forums that allow customers to find the information they need without having to contact support.

Help desk software: Help desk software typically includes all three of the features above as a more all-in-one, scalable solution for businesses to standardize the way they provide customer support.
Depending on your business needs, you may choose to implement one or more of these types of software to help improve your customer service and support capabilities.
Common challenges in customer service and support
While every business strives to provide excellent customer service, they also face several common challenges such as:
Delayed response times: Customers expect timely responses to their inquiries and issues. The longer a customer needs to wait to hear back, the more frustrated they might feel about their unresolved issue — or worse, they feel like they don't matter.

Untrained staff: Inexperienced or poorly trained staff can struggle to handle customer inquiries and issues effectively. This can lead to poor customer experiences that can give a business a bad rap.

Lack of personalization: Customers are increasingly expecting personalized experiences when they interact with a business. With a decrease in face to face interactions and more business happening online, the pressure is on to connect with customers who don't always want to feel like a ticket number.

Limited support channels: It's becoming more table stakes for businesses to be able to support customers across a variety of channels, including phone, email, chat, and social media. It's a negative customer experience if their preferred channel is unsupported.

Inefficient processes: Inefficient processes can create workflow bottlenecks, whether that's cumbersome ways to collaborate with a teammate or several unnecessary hoops you need to jump through to carry out a task. This can create a domino effect to make it difficult for service agents to respond to customers in a timely and effective manner, which in turn results in frustrated customers, lowered employee morale, and lost business.
While these are just a few examples of what some businesses struggle with, identifying pain points can help them get a sense of what to prioritize tackling first. 
Benefits of customer service software
That's where customer service software can help. You'll need to find one that can check off all your boxes (or at least most of them). Or you might need to find a combination of software that works with your processes. Here are a few upsides to customer service software: 
Quicker response times
Customer service software can help businesses respond to customers more quickly and efficiently. Features such as ticketing systems, live chat, and automation can help businesses streamline their support processes and provide timely assistance to customers.
Streamlined processes
Customer service software opens up the possibility to automate and streamline support workflows, which reduces the time and resources required to manage customer inquiries. This can be a cost-effective way not only to boost team productivity, but also to improve customer retention.
Better customer data
Customer service software can help businesses collect and analyze valuable customer data, such as customer preferences, behavior, and feedback. This data can be used to improve customer service processes, develop new products and services, and make informed business decisions.
Boosted customer satisfaction
Customers are happier when they get timely and effective support. A consistently good experience can lead to better customer loyalty, increased sales, positive reviews, and referrals.
Personalized experiences
Customer service software can help businesses deliver personalized experiences by tracking customer interactions and preferences. This can increase customer satisfaction when businesses tailor their support to meet the unique needs and preferences of individual customers.
Finding customer service software that fits your needs can provide an essential feedback loop to improve your support processes, deliver better customer experiences, and have real impact on revenue.
Choosing the right customer service software
With so many options on the market, it can be overwhelming to choose the best software for your needs. 
How much is it going to cost? Is it going to be easy for my team(s) to train and use on a regular basis? Does it meet all the present and future requirements of our customer service workflows?  If you need help gathering what you need to consider, here are a few pointers:
Cost
This is never the fun part, but the average business has a budget. There's no shame in thoroughly evaluating a contract to make sure you're getting the most bang for your buck. Otherwise, if you can't envision the ROI, then why bother? Some software providers charge a flat rate, while others may charge a monthly or yearly subscription fee. Sometimes, some providers may offer discounts for multi-year contracts or for businesses with multiple users. Consider the pricing model and any additional costs such as implementation, training, or customization fees.
Ease of use
Ease of use is also up there. You want software that's easy to navigate and intuitive to use. Consider how easy it is to add and manage customer information, create and manage tickets, and access reporting and analytics. User interface, navigation, and the availability of user guides and tutorials are just as important; otherwise, you'll be left with a tool that's minimally used within your team or a pain for admins to upkeep. 
💡Pro tip: a designated champion of said tool increases your chances of full adoption and gets your customer experience improvements in motion.
Features
Some features to consider include:
Ticket management: How tickets are created, assigned, prioritized, and resolved.

Multi-channel support: Does it support multiple communication channels such as email, phone, social media, and chat? Can these channels be consolidated into one place for full customer context?

Automation: Does it allow for automated ticket routing, responses, and notifications?

Integration: Does the software integrate with other business systems, such as CRM or eCommerce platforms?

Reporting and analytics: Does the software provide insights into ticket resolution times, customer satisfaction ratings, and other key metrics?

Scalability: Will this software have the ability to grow as your business grows?
You'll want software that can grow and adapt with your business as your customer service needs change. Will the software be able to accommodate when you need to expand to other departments? To other regions of the world? Can it support an increase in ticket volume as you expand your channels? Will your expanded teams be able to seamlessly collaborate with each other where its easy to see the context of every side conversation? Are you able to easily access your customer data and get granular in your analytics as your workflows get more complex? 
Customer support
When you need help, can you get help? Being set up for success begins at onboarding. Can you access the resources you need to successfully implement this team or organizational change? Can you easily access the support you need throughout your journey? Look for providers that offer a dedicated support team, online resources such as knowledge bases, and community forums for peer support.
So, how do you get your team onboard?
The success of your customer service software is only as good as how well your team uses it. Make sure you're getting your money's worth by using the software to its fullest potential.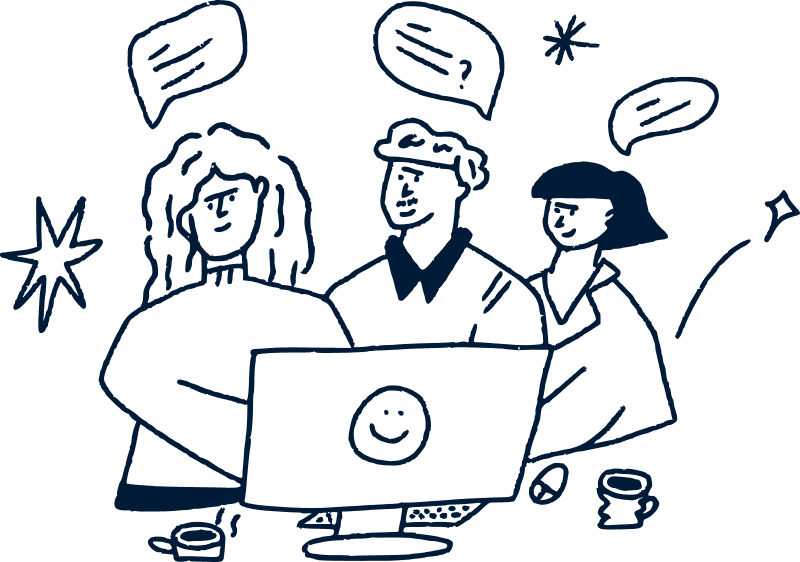 Importance of implementation and training
Proper implementation and training can help teams avoid common pitfalls and ensure that they get the most out of their investment.
Tips for successful implementation
To ensure successful implementation, businesses should:
Define clear goals and objectives for the adoption of customer service software

Assign a project manager to oversee the implementation process

Develop a detailed implementation plan, including timelines and milestones

Communicate the adoption of the software to all relevant stakeholders, including customers, employees, and partners

Test the software thoroughly before rolling it out to customers

Monitor performance and make adjustments as needed
Tips for successful training
To ensure successful training, businesses should:
Develop a comprehensive training program that covers all aspects of the software

Tailor the training program to the needs of different user groups, such as support staff and managers

Use a variety of training methods, such as classroom training, online training, and one-on-one coaching

Provide ongoing support and follow-up training to ensure that users are comfortable and proficient with the software

Monitor user performance and provide additional training as needed
If you were on a different process before, change management can add an additional layer of complexity that can reduce adoption if not properly handled.
7 best customer service software tools to drive growth and retention
Whether your goal is to expand your channels, automate customer communications, or understand your customer base, this list shows various technologies that can help improve your customer service team and keep your customers coming back for more.
The best customer service software in action
Front allows teams to deliver exceptional, personalized service at scale by:
Getting every message into the right hands without manual work

Enabling collaboration on responding to customers with all the essential context at their fingertips

Gaining insights to optimize workflows to boost customer satisfaction
Take it from our customers: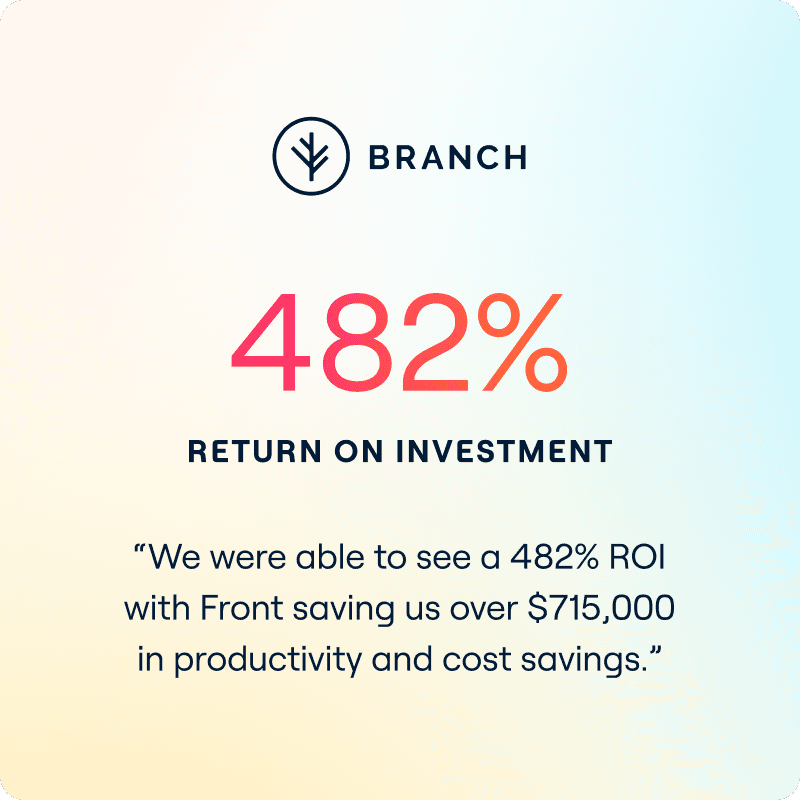 Branch saw a 482% return on investment after switching from Zendesk to Front.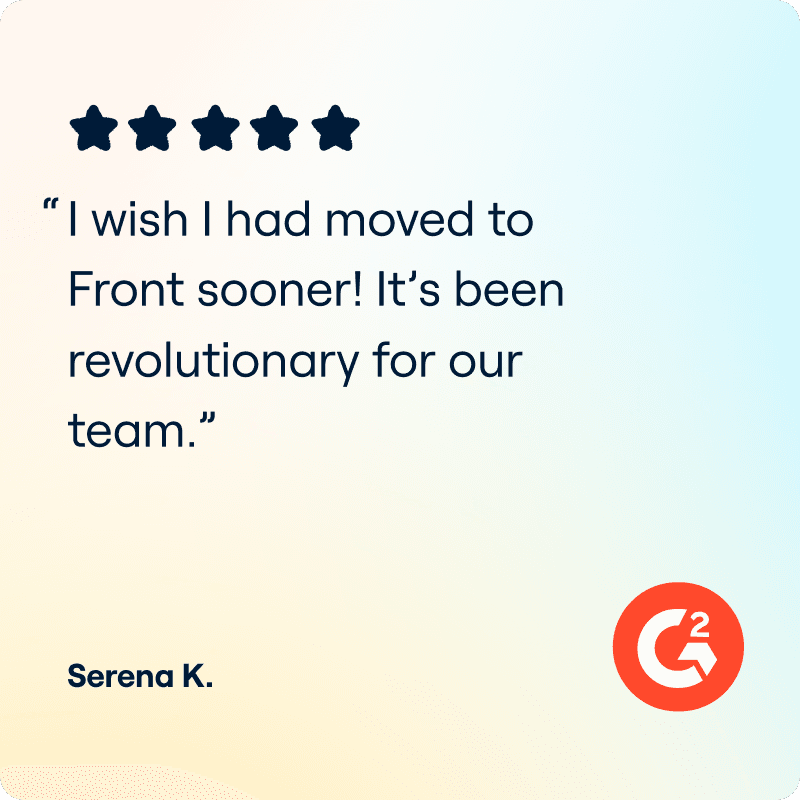 "Front does exactly what it sets out to help you with, it allows my team to retain a personable approach with our clients, avoiding a faceless ticketing platform experience for them which would've been the case if we opted for a platform like Zendesk for example.
Front is easy and intuitive to use, it makes assigning emails within the team incredibly efficient and creates a good sense of visibility for us all.
The analytics feature within Front is also a huge plus and really allows us to delve deeper into the workload we're dealing with each month and helps us identify patterns with particular clients or areas for improvement."
👉 Check out the rest of our G2 reviews.
👉 Read the rest of our Capterra reviews.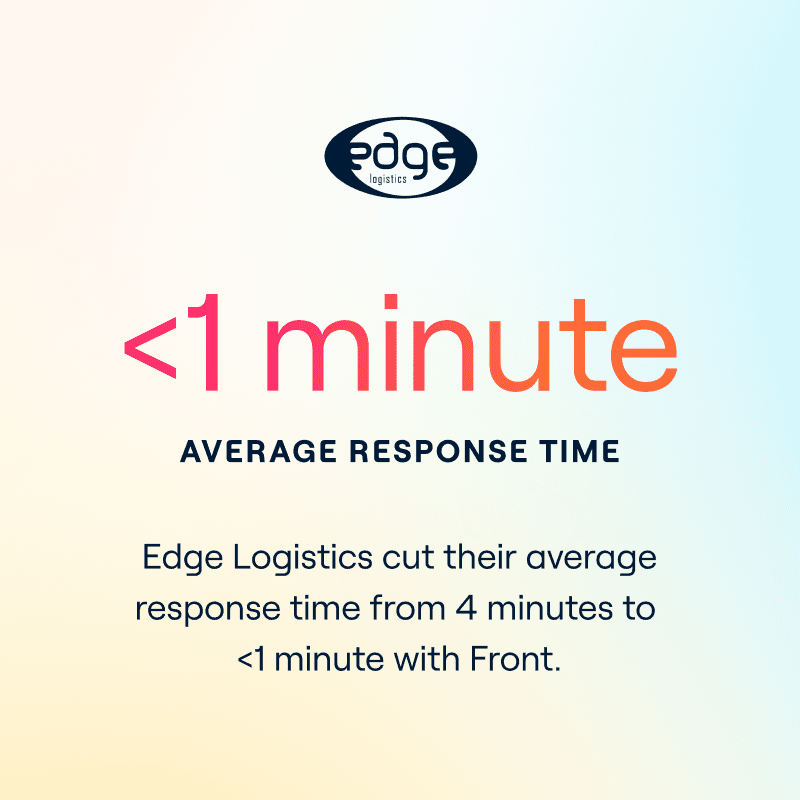 👉 Read the full customer story.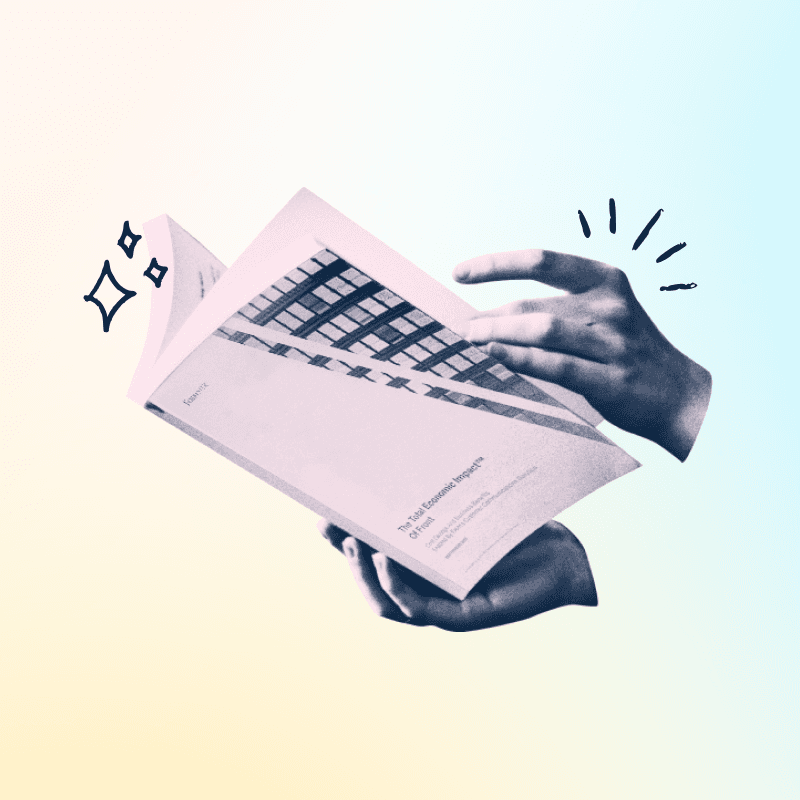 👉 Read the full Forrester Total Economic Impact study.
Supercharge your customer support
Customer service is a critical factor in the success of any business, and the right customer service software can revolutionize the way businesses interact with their customers. By automating and streamlining support processes, businesses can provide faster, more personalized support, and gain insights into customer behavior that can help drive growth and success.
Customer service software can be incredibly advantageous if businesses take the time to research their options and select the best software for their needs. Because when you find the right match that can easily be picked up by your team and scale with your company, your customer service shouldn't have to skip a beat. 
Think Front could be a good fit for your team? Get started here. 
Written by Andrea Kane
Originally Published: 13 April 2023