When you're leading a customer support team, your world revolves around your customers. But all too often, the tools your team uses to stay in touch with customers get in the way of providing great customer service.
Ticket numbers mask conversations in a robotic tone, coordinating with teammates outside your support team is a mess, and reps struggle to piece together the full picture of customer issues across live chat, social media, and other messaging channels.
That's why support teams use Front to deliver world-class customer service. Front transforms your inbox into a powerful platform where teams can manage customer requests over email, SMS, and more with the context needed to give fast, personal replies.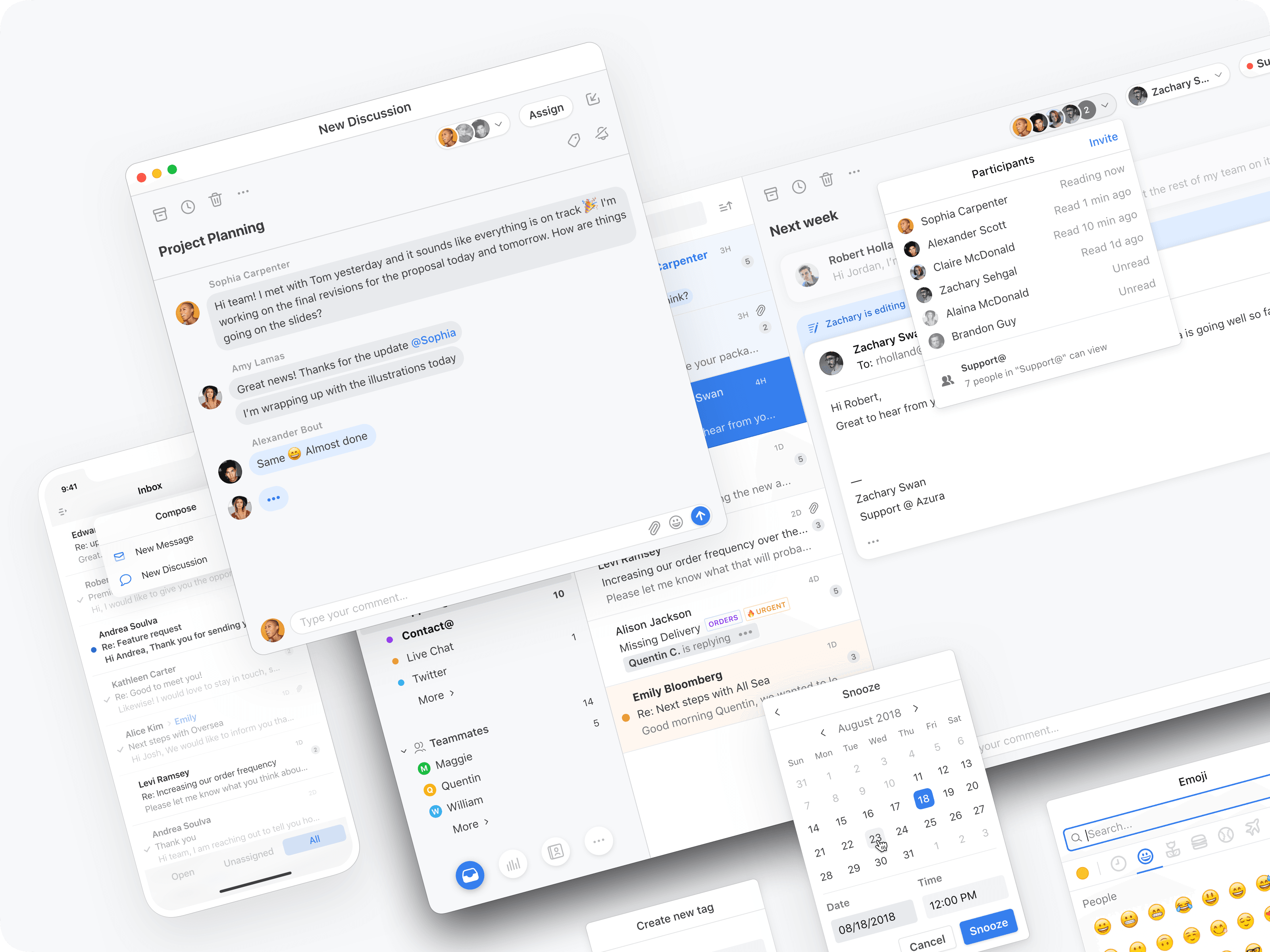 Read on to discover why teams choose Front over a traditional help desk tool or shared email account, how to set up Front for your team, and the Front workflows our customers use to fuel glowing reviews from their customers.
5 reasons teams love Front for customer support
What makes Front the best choice for fast-paced, growing support teams? Here's an overview of the top 5 reasons teams choose Front.
1. Every message in one easy-to-use platform
You can connect email, chat, SMS, social media, and other accounts to Front. It looks and feels like an email inbox, so it's intuitive for agents to jump right in and respond to customers.
2. White-glove customer service
Front doesn't add ticket numbers or funky formatting to your messages, so every customer gets a personalized response.
3. Easy internal collaboration
Assign messages, share drafts, and use internal comments to give consistent, high-quality responses. Stay organized and on track with shared visibility into your support queue.
4. Less busywork, more time for your customers
Automate tasks to route, tag, notify, or set SLA alerts. Use message templates to jumpstart thorough replies and find solutions faster.
5. Streamline your workflow with quick access to all your apps
Connect 50+ apps to access your knowledge base, CRM, CSAT, and critical information in your inbox. Find answers and share resources in a few clicks, without ever leaving Front.
Why choose Front over a help desk?
For many support teams, a help desk is where you spend 75% of your day — and budget. But help desks aren't the only way to run support. They're complicated to set up, difficult to customize, and add clunky processes to your day. Instead of a help desk, many teams choose Front.
1. Implementing Front is simple
While setting up a help desk often requires weeks of work, many of our customers have told us that Front is a breeze to set up.
In Front, all of your communication channels funnel into one platform. So when you're setting everything up, you only have to build out one routing and organizational structure for all your messages: group email aliases, social media handles, SMS text numbers, and more.
And if down the line, you decide to start using another channel, like Twilio SMS for support? No problem. All the routing rules and tags you already have in place for emails and tweets will automatically apply for your texts also. Just add the number in Front, and you can start texting customers straight away.
2. Email is familiar, so training is easy
Help desks can be tricky to learn for new reps — and training can take up hours or weeks of your team's time that could be spent with customers. Front is an inbox, so it looks and feels a lot like Gmail or Outlook. It's simple to navigate but comes with all the handy help desk features you need built in. Plus, Front makes it easy for new reps to grab help from more experienced teammates when they need it.
3. Work how you want with a customizable platform
Got a single support team, specialized teams, or some blend of the two? No problem. How about engineers who need to see tickets but not actually respond? Yup. Brand-new reps who need to receive fewer messages than the rest of the crew while they're onboarding? Front's got it handled.
Help desks often restrict you to permissions levels or make you choose from a set list of ways to escalate tickets. Front's flexible, so your support workflows match your team, not the other way around.
Routing rules: Build custom routing rules to make sure every message gets in the right hands right away. Set these up for individual inboxes or the entire team to keep things consistent.

Shift scheduling: Handle shift transitions with confidence across multiple offices or timezones. Conversations will only be assigned to on-duty teammates, so messages aren't missed.

Roles and permissions: Advanced permission levels enable every teammate to see what you want them to see. Save custom roles to easily add new teammates with the right permissions.

Integrated apps: Connect50+ integrations to Front. Grab a help article from Forumbee, update a Salesforce record, or check CSAT scores Nicereply, all in Front. See all Front's integrations.
4. Loop in other teams to collaborate and share context
Help desks are built for support teams only: you need a license to see and work on tickets, and you need training to understand how to navigate the system. Front, on the other hand, is easy and intuitive for anyone in your company to use. You can give teammates outside your support team the level of access that they need (full license or light user) to be able to work on support messages with you.
For example, an engineer could look at technical issues firsthand to see which bugs to fix. Or a product manager could look at customer feedback and see which features to prioritize.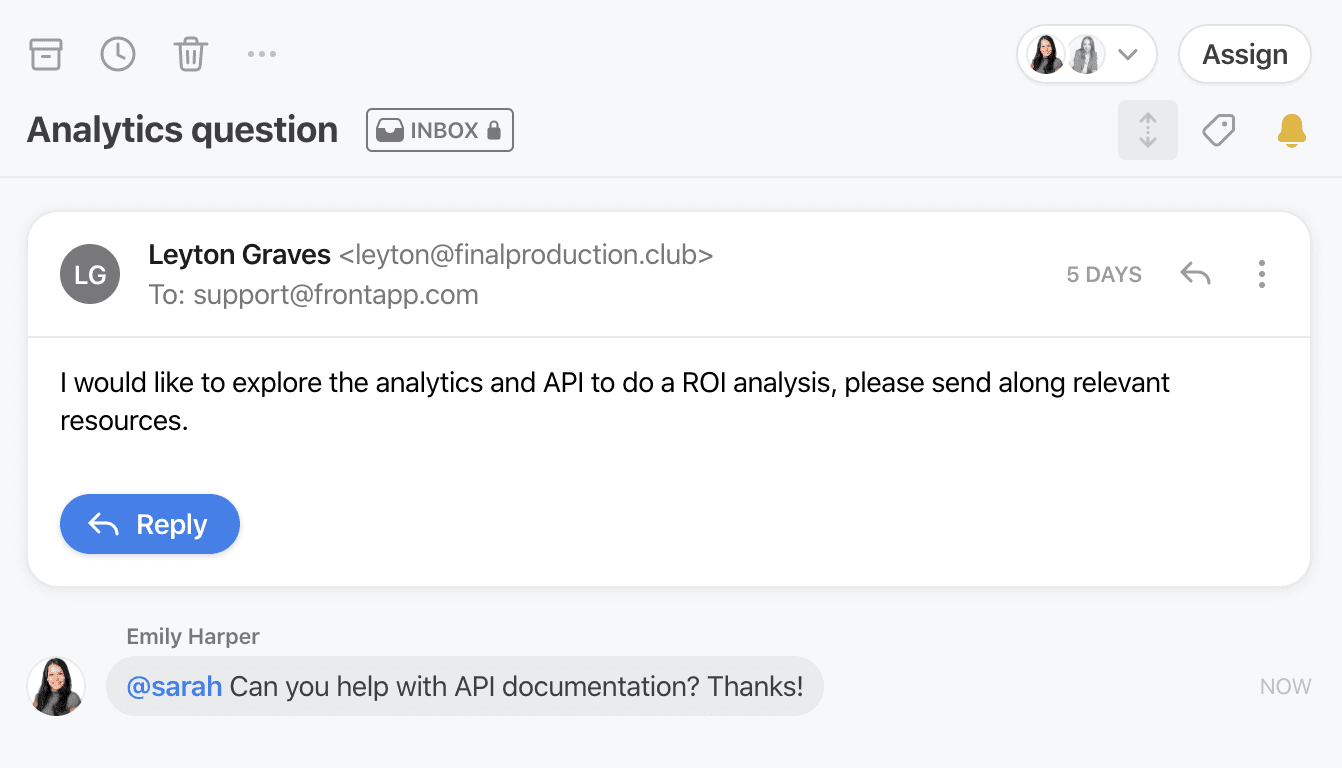 Here at Front, we use Front not just for customer support, but for every team in our company. Because everyone can see support questions coming in, we're all more in-tune with customer pain points and issues.
5. Centralize work in one place to work more efficiently
When you're using a help desk, your team has to switch tabs to check their email, reference other apps, or communicate with the rest of your company. But with Front, there's no switching tools. It's all in one place. Your team can manage their individual email in Front, alongside all your shared inboxes, and it's easy to share and assign emails meant for other teams.
Snooze messages you can't get to right away, and specify a time for them to come back up in your inbox later. Set reminders to follow up. Save message templates with resources and messages you send often, and save them for your whole team to use and learn from.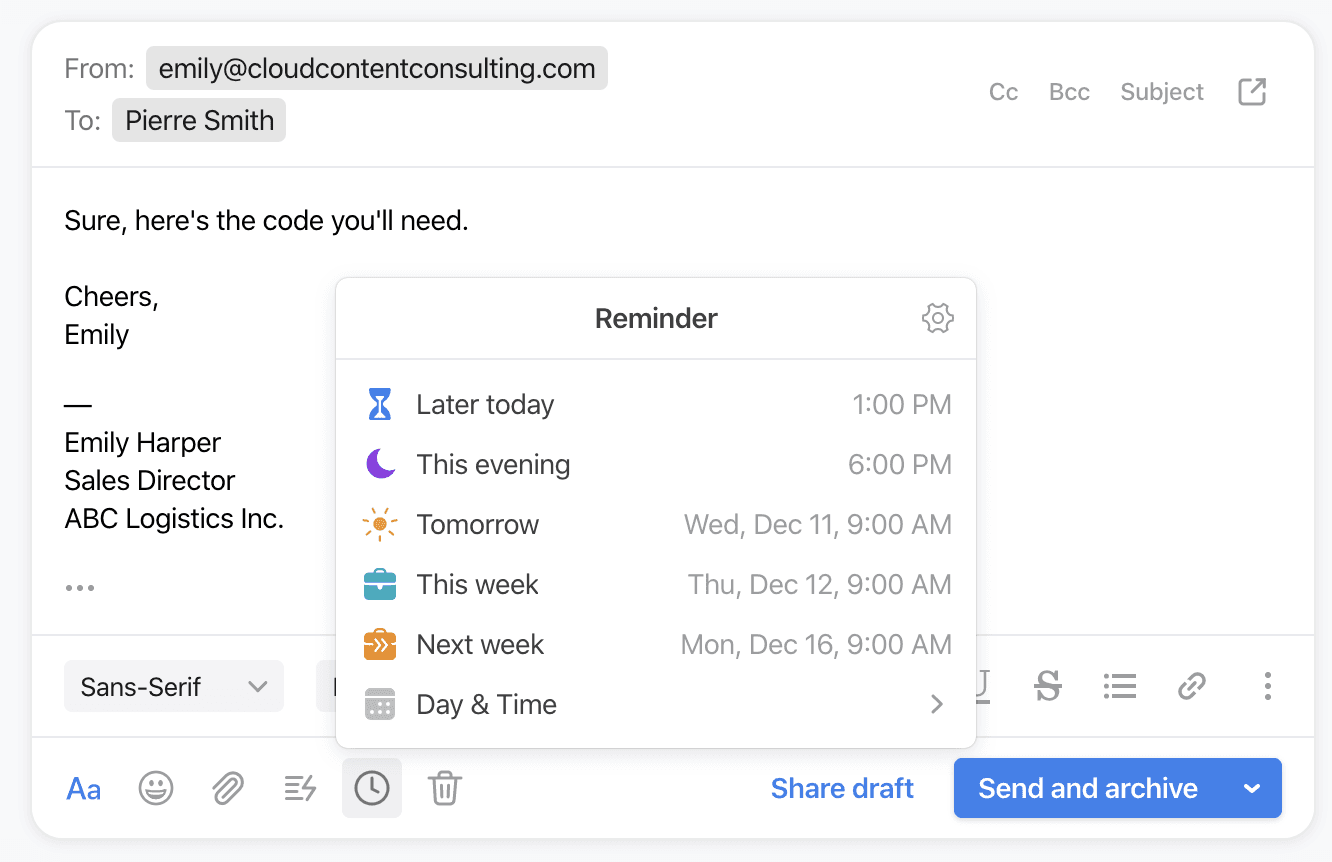 6. Track trends across channels with analytics
Traditional email clients don't allow you to measure analytics on your email. With Front, you can keep the easy and familiar inbox setup without sacrificing analytics you'd get from a help desk. When is it time to hire a new support rep? What's your day of the week? Inform your decision-making with insights on team and individual performance in Front's analytics.
How to set up Front for customer support
Getting started in Front is simple — so you can get right to responding to customers. We'll go over the basics below.
Sign up for a Front account.

Add a team inbox for your support messages, like [email protected].

Invite your team (you can do this manually or upload a CSV for larger teams).

That's the basics. You're ready to start responding to customers 🚀
Check out the Front Admin Guide →
Switching to Front from a help desk or shared inbox? No problem. Moving your existing support messages into Front is painless. If you're using Gmail, Outlook, Zendesk, or HelpScout, you can automatically import all your message history into Front.
Ready to learn more about Front?
Watch on YouTube: What is a customer communication hub, anyway?
Written by Emily Hackeling
Originally Published: 17 April 2020