Happy new year from the Front team 🙂 As we're already nearing the end of the first month of 2023, I want to take a moment to reflect on the past year and what we have in store for the coming year.
In 2022, the macroeconomy proved to us the value of customer retention. Every minute a company waits to improve customer retention is a minute too late. Customers aren't sympathetic to your cost constraints or staffing challenges — not when so many other companies are vying for their business. With the new features we launched this year and the features coming down the pipeline, we're building Front as THE tool for doubling down on customer relationships. 
We're proud of what we accomplished last year to further our vision and ready for what the new year has in store. Here are some highlights:
We launched powerful new product updates
In the past year, we've shipped a number of new product features that will help you not have to choose between efficiency and the human touch. Some of the top updates:
CRM Sync
Front customers can now automatically sync key customer data from Salesforce, HubSpot, or Microsoft Dynamics 365 into Front. CRM sync leverages customers' CRM account and contact data directly in Front to automatically assign and route conversations and enable account-based analytics. With key account and contact information in Front, customers can easily compose accurate and personalized messages.
Front Chat + Slack Connect and Facebook
We significantly enhanced the channels available in Front. This includes channels like Slack Connect and Facebook, and it also includes many updates to our live chat solution - Front Chat. Qualify and route messages more efficiently with a pre-chat form to collect information up front or by referencing the visitor URL to create routing and tagging rules based on which page the visitor initiates the session from.
Inbox Business Hours
Inbox Business Hours gives admins the opportunity to select days of the week, times of day, and timezone for business hours. Before, timezone wasn't an option for business hours and it was applied to teams, but not inboxes. Now, inbox admins can set business hours for specific team inboxes for cleaner workflows customized to various working hours and more accurate analytics on team performance.
Grammarly integration
In 2022, we expanded our integration offerings with some of the most impactful partners. One highlight (and a super highly-requested one!): Front's Grammarly integration. Now, you can now empower your team with AI-powered writing suggestions as you compose messages and comments within Front — making every customer interaction clear, effective, and free of mistakes.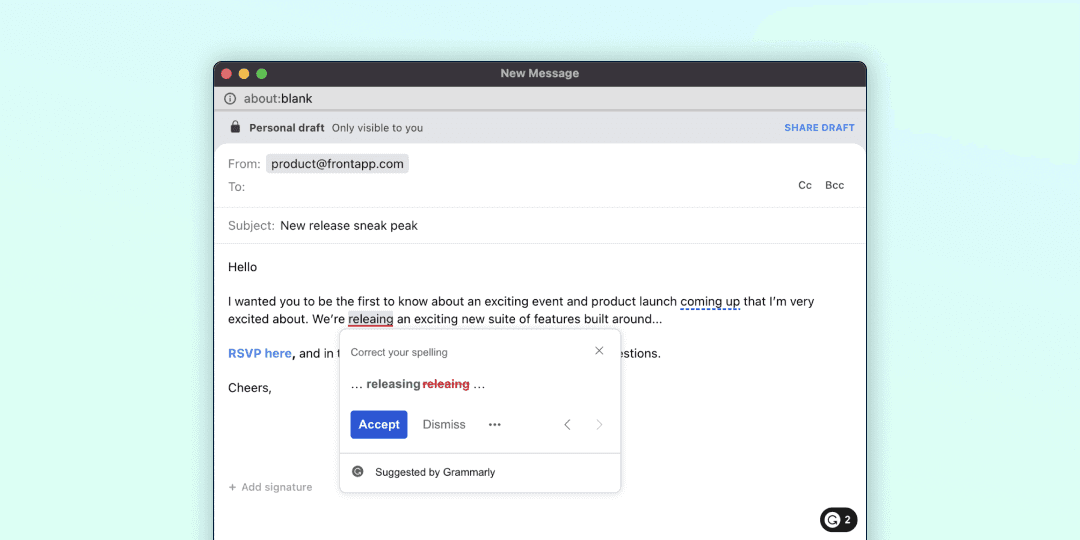 We're always working to make it easier for you to implement Front into current processes and keep your team focused on what matters most: building lasting customer relationships. This year, we'll be doing even more to bring self-service and efficiency to the forefront. More to come there… 
Don't take our word for it: independent experts validated the value Front can bring today
What do customers actually want from their relationships? We turned to the experts to find out, conducting a 2,000 buyer survey by acclaimed social psychologist Dr. Ron Friedman, "The Science Behind Strong Customer Relationships." One key finding: assumptions about what drives success over digital channels are wrong — faster and cheaper aren't as important to customers as great service and personal relationships. The more important the work issue, the higher the demand for human connection 🤝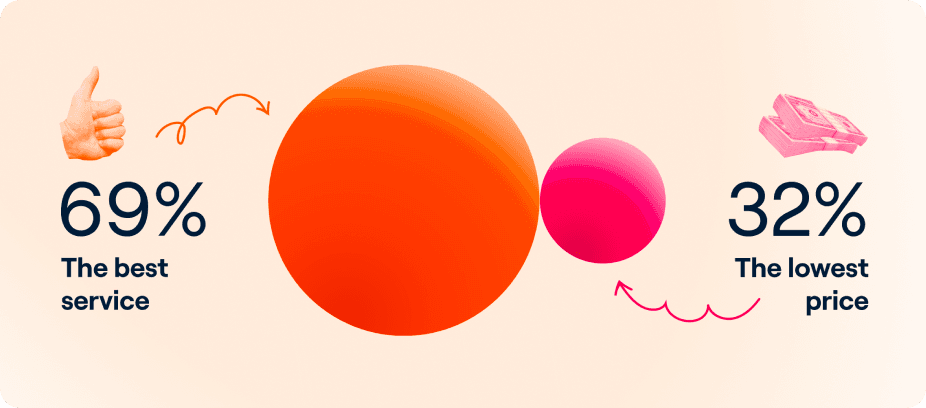 Not only does human connection mean more to customers and drive longer-lasting, happier, and higher-quality relationships — it pays off. In September, we shared findings from the Forrester Total Economic Impact (TEI) study commissioned by Front, showcasing the real economic impact of customer relationships. Businesses* realized 442% ROI with Front, which is significant, and, in our opinion, it validates you can grow your business and maintain the human touch at the same time.
In a world of higher-than-ever customer expectations, these studies further validate that human-first connection matters — and we're ready to help you continue to make it front and center of your business this year.
We raised a round of funding and paved a pathway for more connection
2022 brought some pretty major updates to the business. Most notably, we raised $65M in Series D funding last June led by Salesforce Ventures, with other participants in the round including Battery Ventures, PagerDuty CEO Jennifer Tejada, and existing investors Sequoia Capital, Threshold Ventures, and Uncork Capital. Our goal of the funding round was to continue to help businesses differentiate on relationships and become an even more mission-critical service for our current and future customers. 
We've always known we can only be strong for our customers if we're a strong team and put our people first. After a long time of working fully remote following the pandemic, we brought our team back to offices across San Francisco, Paris, Dublin, and Chicago for long-awaited in-person collaboration and many fun gatherings along the way. We hosted our fifth (!) annual hackathon with the theme of "make Front more mission critical."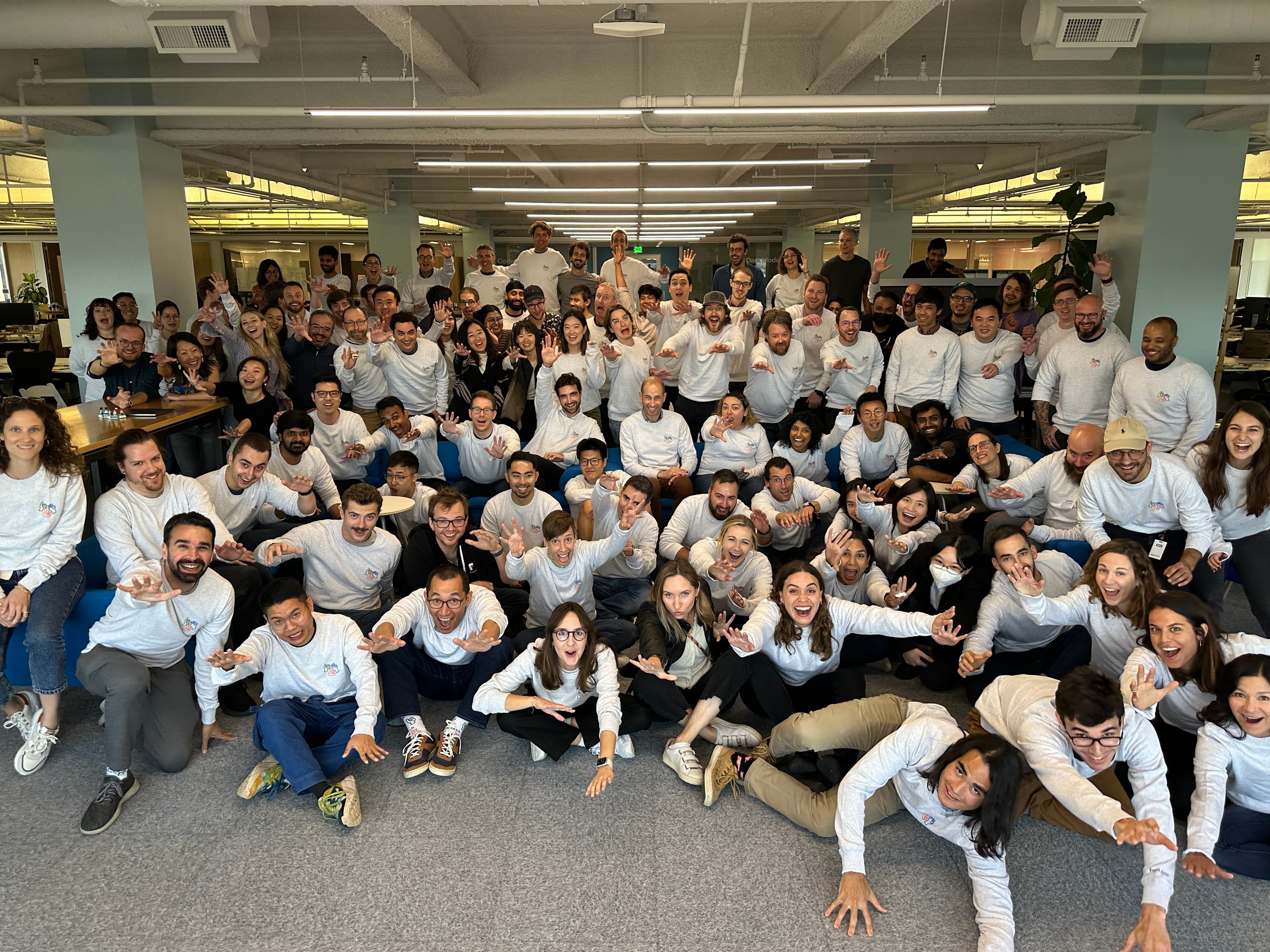 We were awarded for our culture by some of the top workplace awards: Inc.'s Best Workplaces 2022, Great Places to Work Best Workplaces for Millennials, Forbes Best Startup Employer, and more. We also received recognition from Forbes Cloud 100 as one of the world's top private cloud companies ☁️
Our hard work paid off — and we're ready to keep building 
In 2023, we'll keep putting our people and our product first. 2023 will force businesses to recognize that support interactions may be one of the highest-leverage touchpoints they'll have with their customers. Our goal is to help every one of our customers capitalize on that opportunity. We'll unveil transformative product updates like a native Knowledge Base, powerful live chatbots, and groundbreaking AI-powered capabilities to help you do just that.
Looking forward to the coming months 🚀
*Results are based on a composite organization comprised of interviewees with experience using Front.
Written by Mathilde Collin
Originally Published: 23 January 2023