Businesses are uniquely poised to make a positive impact in the world. We're not talking about making a splash with your game-changing offerings or innovative products, either.
We're talking about your human interactions. By nature, businesses come in contact with an incredibly large amount of people each day: you communicate with partners, freelancers, contractors, and, of course, your customers. This means that with every interaction, your business has an opportunity to create a ripple effect of joy and care throughout your community.
Showing customer appreciation is, at its core, showing care for the humans you interact with. And that's what every business should strive to do. After all, when you show customer appreciation, they'll return the love! Try these memorable customer appreciation ideas to show loyal customers you appreciate them, all year long.
Get personal with video

Send a card — not just on a holiday

Drop by in person

Send a survey, listen, and respond

Reward customers at random

Organize a customer appreciation event

Spread the love with a social media spotlight
1. Get personal with customer appreciation video
When you're located miles away from your customers, it can be tough to make a "thank you" email feel personal. That's why video is such a lifesaver — it allows your customers to get a glimpse of your team's personalities, see your smiling faces, and hear your voices. Video makes you human! Here are a few creative ways to incorporate video into your "thank you" messages:
At Front, we collected our customers feature requests from the year and built the ones our customers wanted most. We're releasing a new feature each day with fun "Holiday Wishes" videos, showing Front teammates addressing customers' specific requests.
We're releasing a new feature each day with fun "Holiday Wishes" videos, showing Front teammates addressing customers' specific requests.
Bombas donates 1 pair of socks for every sock that's purchased. When they reached 1 million pairs donated, they made this video to celebrate and thank their customers for helping reach this milestone.
Buffer sends customers an email on their "Buffer Birthday" to say thanks for using their product. They include a fun GIF of their team waving, which makes the message feel more personal and genuine.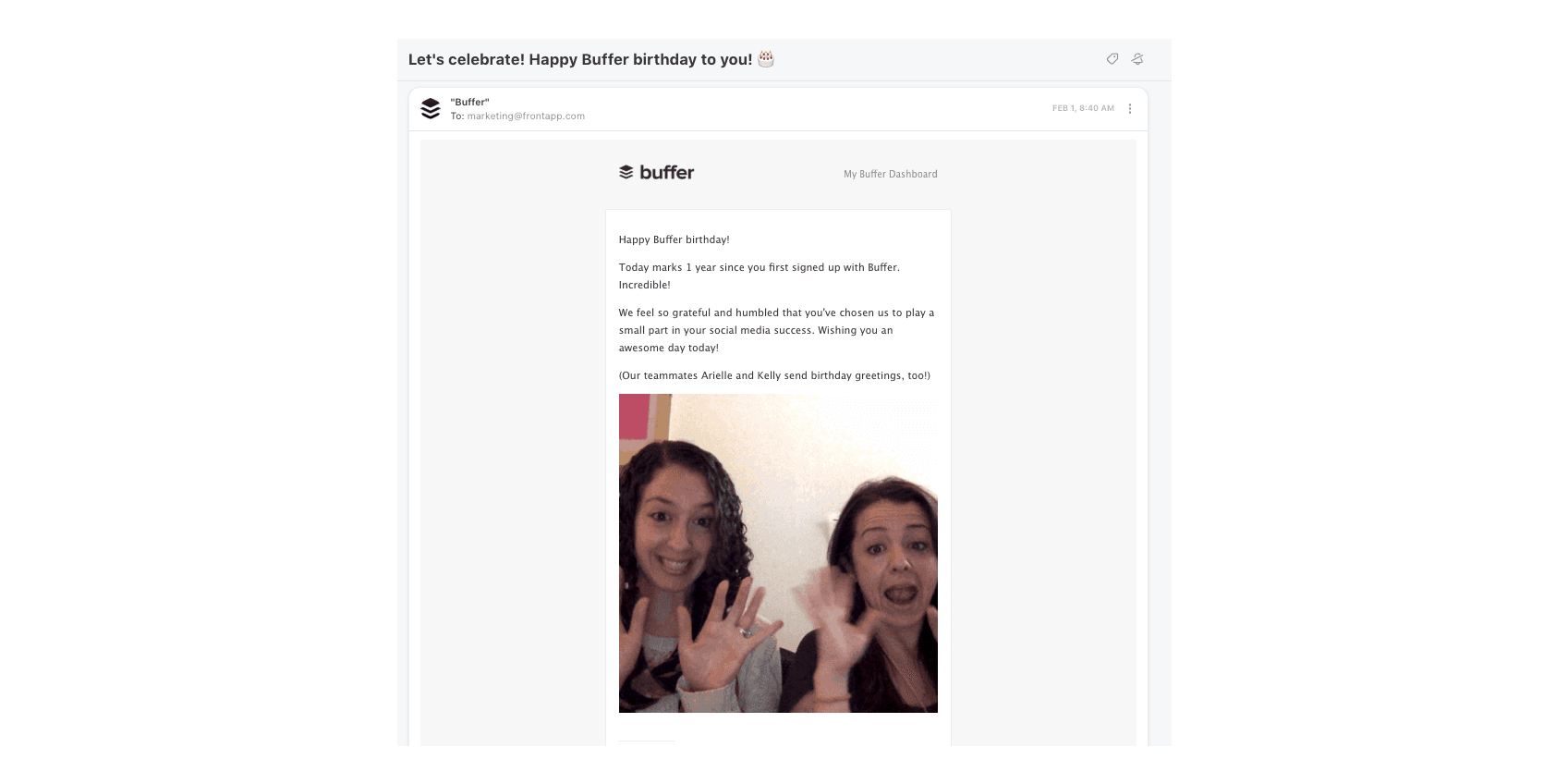 The Buffer team sends a fun GIF for their customers' Buffer Birthday to express their gratitude in a personal way.
2. Send a card — not just on holidays
A physical note goes a long way for showing customer appreciation. Wufoo has a tradition of sending personalized thank you cards to their customers every week. They reported that for about 800 customers who received cards, their retention rate was 50% better than for customers who didn't receive one.
Zapier put together a great list of apps for creating greeting cards. If you want to send personal cards in bulk, try using an online greeting card service like Felt, Handwrytten, or Postable.
Mid-February? Last week in July? It doesn't have to be Christmas or New Year's to tell your customers, "We appreciate you!" Take your customers by surprise and send cards on random days — it'll make your snail mail even more special. You can even try finding the birthdays of customers you work with directly.
3. Drop by in person
Many teams schedule onsite visits to train or upsell customers. And many teams deliver gifts to customers to express their gratitude — especially around the holiday season. But how many times has a team stopped by in person to say hello and deliver a gift to you, no strings attached?
Our friends at StatusPage (our engineering team uses their software) dropped by our Front HQ by surprise recently. They came just to say hello and show customer appreciation, bearing swag and treats for our team! We were so touched they thought of us and made that effort to show us they value our relationship.
4. Send a survey, listen, and respond
Nothing makes customers feel more appreciated than listening and responding to their feedback. Plus, it will help your team get a better sense of what you're doing right, and what you can improve.
An easy way to collect customer feedback? Send out an email or survey asking for their honest opinions. Try using Typeform or Jotform, great survey tools for collecting customers' answers and analyzing data.
Once you've collected customer feedback, though, don't just let it sit there — make sure you respond. Let them know what you're planning to do with the feedback: Are you working on fixing that bug now? Is that feature not part of the roadmap?
And later down the line, if you release the feature they requested or fix the bug, reach back out again to let them know! Our product team uses Front to automatically remind us to let customers know when we've released a feature they requested, even if it's months later. Customers are often thrilled that we've kept track and cared enough to follow up personally.
5. Reward loyal customers at random
Did you know that existing customers spend 67 percent more than new ones? And that it costs anywhere from 5 to 25 percent more to acquire a new customer than to sell to an existing one?
That's why it's so important to reward customers for their loyalty, and why many teams have loyalty programs to recognize engaged customers. But why wait for a milestone or a referral to show customer appreciation? Here are a few easy ways to surprise customers with a reward:
Send a code for a 10 percent discount

Offer a free upgrade to your next level of service
6. Organize a customer appreciation event
Events are another tried-and-true way to say "thanks" and spend time with your customers. Known for creating exceptional customer experiences, Zappos holds the Friends with Benefits Road Tour, a multi-day event held in different cities. They offer food and drinks and bring in booths from local radio stations, DJs, retail stores, and more, allowing their customers to have fun and get a chance to meet the Zappos team in person.
Showing you care with an event doesn't have to be elaborate, though. It can be as simple as inviting customers to have refreshments at your office for an evening, or hosting a customer barbecue. Offering your time goes a long way in establishing a strong relationship.
7. Spread the love with a social media customer appreciation spotlight
Social media is an easy way to highlight customers and show them some love. Beyond just following customers and liking their posts, you can create a campaign like "Customer of the Week" to spotlight customers individually. Find customers who consistently "like" and comment on your posts — or browse your "Mentions" section on Twitter to see who's proactively posting about your brand.
Choose one customer a week to post about and @mention. It can be as simple as a quick blurb about their brand, or you can drum up excitement around it with a discount, like 10% off your next purchase or next month of service.
Actions speak louder than words alone
When a customer walks away from your business, what they'll remember — and tell others about — is how interacting with your business made them feel. So make every customer feel appreciated!
Next up: Holiday Wishes granted by Front
Written by Emily Hackeling
Originally Published: 17 April 2020